We had to overcome some pretty horrific mistakes in all phases this week. Does a game like that slow down momentum, or is a win a win at this point?
There is no FULL CONSISTENCY. There's just win, baby.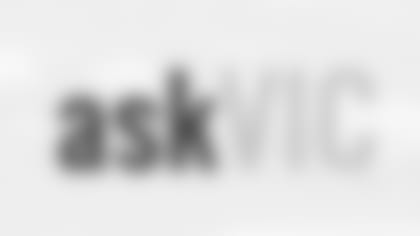 Hendrik from Euskirchen, Germany
Just read that 156 of the 162 yards Montgomery had came after contact. Those are serious running back numbers right there. He looks great, doesn't he?
Nothing beats a young player on the rise.
Gary from Minneapolis, MN
When the Bears came storming back, were the Packers playing a prevent defense? You know, the one we fans love so much. During the Bears' push at the end, Wayne Larrivee and Larry McCarren mentioned the Packers were giving big cushions and not pressing at all.
I've come to believe prevent defense is as much a state of mind as it is a strategy.
Our December friend is here. Historic rivalry. Bitter cold. Green Bay running the ball, taking the ball away and a dramatic finish from No. 12. That was the most fun I've had watching football in a while.
The fun is just beginning. September and October are for the fans that don't have the courage to put it all on the line in December. December is for the fans that want to feel the game, not just see it.
The good teams play their best football now.
All's well that ends well.
Vic, your December friend almost gave me a heart attack. How do you see the Packers' chances the rest of the way?
I see a hot quarterback, a defense on the rise and a team with the look of destiny, no weaknesses and the potential to go all the way. This is a masterful coaching job. It's one of the best I've ever seen. Now, can the Packers finish? That's all that remains to be answered.
Vic, at times it seems like the Packers' secondary is non-existent, but other times they seem poised and polished. Why is that?
It had long been said the most difficult thing to do in sports was to take a round bat and ball and make square contact. I think that act has been replaced by defending against the pass. I don't know how these guys do it.
Joe from Colorado Springs, CO
So McCarthy waits until the game is tied up, then allows Aaron to let it loose. McCarthy refuses to keep his foot on the gas. Can't take this coach anymore.
Vic, this looked like Ty Montgomery's coming out party. His skill set is rare in this league. Is it too early to liken him to a David Johnson level player?
Montgomery is unique. He's the product of Mike McCarthy's offensive genius and creativity. If I was going to compare Montgomery to a player, it would be to Keith Byars.
I was surprised John Fox opted for a tying field goal attempt on the Bears' final drive, given the Bears had no playoff implications at stake. Why not go for the touchdown? Do you think the context of the season affects coaches' decisions in these situations? Should it?
The Eagles went for two and the win, instead of kicking the extra point and going into overtime. How'd that work for them?
Can the defense keep this going?
The defense is playing its best football of the season. That's what really makes the Packers a legitimate postseason threat.
Jeff Fisher and now Gus Bradley. Why fire a coach during the season? If you aren't going to make the playoffs, isn't it better to just wait until the season is over so the transition can be organized? Or is it just about throwing a symbolic bone to the howling wolves?
The howl can become deafeningly negative and disruptive. The white flag of surrender calms fans and allows the team to begin making the transition in peace. I like the way the Jaguars did it. Why make Bradley suffer through the holidays?
K.J. from Minneapolis, MN
I started reading Wayne Larrivee's book about the Packers during their four-game skid. Besides some wonderful anecdotes, it mostly evokes again and again the strength, perseverance and patience that have made the Packers successful. Doing your job means having all those attributes, even when no one else believes in you.
Doing your job means being a pro. Mike McCarthy is a pro. So is Dom Capers. By the way, the title of Wayne's book is "If These Walls Could Talk," and it's a wonderful Christmas gift for Packers fans, especially in the midst of this late-season excitement.
Early dagger calls anger the football gods.
I didn't see anything in the book about that.
Vic, do you recall seeing a helmet decal getting knocked off a helmet before?
Nope. That is one of the coolest things I've ever seen. If a hard hit in the cold will do that to a helmet sticker, imagine what it does to other things players are wearing.
As an engineer, I'd like to inform Packers fans that contrary to what John Lynch said, force is equal to mass times acceleration, not mass times velocity.
You're both wrong. Force is equal to the want in a man's heart.
Jay from Land O Lakes, FL
Not going for the field goal on the road in the second quarter with an injured QB and up 7-0 is not smart. Please explain.
A lot of fans criticized Coach McCarthy for electing to kick field goals in Seattle in the 2014 NFC title game, instead of going for it on fourth down. He had an injured quarterback then, too. A coach does what he believes is right. Fans whine when it doesn't work.
My favorite Vic quote is "OK."
Jerry from Wilmington, NC
What would you say is the second-most iconic Packers game behind "The Ice Bowl"?
My answer would be Super Bowl I, but yours is a question best answered by Cliff Christl.
Do you think it benefits or hurts the Packers to play three divisional games to close out the season?
Ilike this format. It creates some college-like regionality and conference-like pride within the divisions. It makes December the divisions' playoffs season.
Regarding sympathy for the players competing in the cold, I would gladly run around and hit in the cold for millions of dollars.
For a million dollars, I would allow Joe Thomas to knock my C off, but only once. I would immediately request to enter the concussion protocol, and in a warm room.