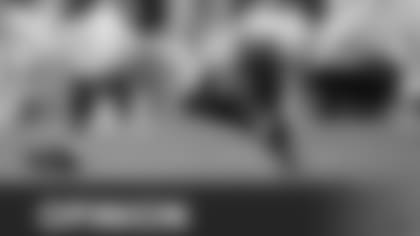 Redskins QB Robert Griffin III, shown here in the NFC Wild Card playoff game against Seattle last January, will visit Lambeau Field in Week 2 if he's recovered from his knee injury.
The regular writer of "Ask Vic," packers.com Editor Vic Ketchman, is taking some time off. Staff Writer Mike Spofford is temporarily filling in to answer your "Ask Vic" questions.
Mike, The thing that sticks out to me about the schedule is just how tough it is. Two very solid divisions in the NFC East and AFC North, plus the 49ers and Falcons. But we already knew that. The good thing is how balanced the home/away schedule is, as well as the entire offseason to focus on stopping Kaepernick (not that they wouldn't be doing that anyways).
What concerns me about that opener is the 49ers have all offseason to draw up new stuff for Kaepernick. I thought San Francisco's game plan in the opener last year with Alex Smith was precise and executed to a T. You could tell they had really focused and prepared for that game, while the Packers – for good reason – were forced to work early on two games at once, because they had a big division game against the Bears in Week 2 on Thursday. I also think the Niners used the playoff bye last year to spring some surprises with Kaepernick. At least the short Week 2 is not an issue this time, though there's potentially another issue with Week 2.
Doug from Union Grove, WI
Well, Mike, it looks like they'd better put on their "big boy" pants right out of the gate.
You bet, especially if Washington's Robert Griffin III is recovered in time to play at Lambeau on Sept. 15. As Trent from Bloomington, IN, and others pointed out, the Packers could be heavily tested early with the read-option, and we'll know soon enough if the defensive coaching staff's trip to Texas A&M was worthwhile.
Why do the Packers play the New York Giants every year in East Rutherford when the rest of the NFC North does not?
It's a scheduling formula quirk, similar in some ways to what happened to the Packers with the Cowboys in the 1990s. In 2011, the Packers and Giants were matched up as second-place finishers from the prior year, but the Packers hosted their "other" second-place game that year, against St. Louis. In 2012, Packers-Giants was a first-place pairing, but again, the Packers were hosting their "other" first-place game, against New Orleans. For 2013, the NFC North and NFC East are paired as divisions, and the last time that occurred, in 2010, the Giants came to Lambeau, so it flips this time, and the Packers are going to Jersey. I know that's hard to follow, but I hope that helps.
Mike, the Packers have the sixth-toughest schedule. But don't you think it is funny how the Broncos have the easiest strength of schedule? Makes you wonder if the NFL is paving the way for Peyton Manning to win another Super Bowl before he retires.
Hey, I love conspiracy theories, but c'mon. The statistical "ease" of Denver's schedule is due primarily to two factors. First, the 2-14 Chiefs and 4-12 Raiders are in the Broncos' division, so that's four games. Second, the regular rotation of matchups has the AFC West paired with the AFC South for 2013, which puts 2-14 Jacksonville and 6-10 Tennessee on Denver's schedule. That's a cumulative 20-76 record accounting for six of 16 opponents in that strength-of-schedule calculation, which is going to skew the numbers. Otherwise, cross-conference, the AFC West is paired with the NFC East, so that's no picnic, and as a first-place team, the Broncos will also face fellow first-place teams Baltimore and New England (their draws from the other two AFC divisions not matched with their own).
Our bye week is in Week 4? That's awful! Since we all know the cons of having an early bye week, can you give us a few pros?
Other folks, including Jason from Summerville, SC, asked about this. The pro in this case is that with the Packers playing on Thanksgiving, they get a quasi-bye in late November. The players are usually off for 4-5 days after playing on that Thursday. So this way the two byes are spread out. It was similar in 2009, when the Packers had their bye in Week 5 and played on Thanksgiving seven weeks later.
I think it would be cool if the NFL standardized how schedules were made. For example, the first three and last three weeks are division games. The middle weeks could get split up in some other fashion similar to that. It provides rivalry games at the front and back of the schedule, and gives fans a clearer outlook on the season.
I think the interspersing of bye weeks prevents it from laying out that simply. Plus, I would think too standard a structure like that would get stale after a couple of years.
Fabrizio from Fossano, Italy
Hi Mike. If you had to cross the ocean and choose a match of your favorite team to attend, what one would you choose in next year's Packers schedule?
I think the Sunday-nighter vs. Atlanta in Week 14 could be a huge, huge game.
My friend and I have already invented a sarcasm symbol. Just add a "~" after your sarcastic comment. For example: I love the Bears.~
Something tells me Vic doesn't need it. Maybe I do.
With Matthews getting the monster contract, what does that do to a guy like Hawk who has taken a couple pay cuts over the years? Do you think Hawk will have less desire?
Yeah, Hawk and all the other linebackers will just tank it this year. If they can't get paid like that, they won't care anymore. I'm sure they'll keep their jobs with that attitude, too. There won't be anyone ready to take their place.~
The Packers have eight picks and many have pegged this as a great draft to trade back. To what extent does it factor into a decision to trade that the Packers will likely not even have eight drafted guys make the 53-man roster?
Slim to none, and mostly none. Draft picks aren't guarantees. In the offseason, the personnel department thinks in terms of an 80-man roster, and you build as strong an 80-man roster as possible to create meaningful competition in training camp to make the 53. Draft picks are cut and signed to the practice squad, or claimed on waivers by other teams, every year. Also, draft trades are more about fitting a player to the value of the pick. I think only in extreme cases, such has having a dozen picks or more, is a team's current roster situation a factor.
Hey Mike, two things. Is it easier for teams to make early-, middle-, or late-round draft picks? Also, have the powers that be ever, or would they ever, run a promotion that would allow a fan to experience the draft from inside the draft room?
The early-round picks get the most scrutiny, obviously, because mistakes can be expensive, and costly in other ways. In the later rounds, teams are often deciding which players they're interested in are less likely to be available as undrafted free agents. They use the draft picks on the players they feel might be harder to sign afterward, and then they go after the others as soon as the draft is over. As for your draft room idea, this will be my seventh draft with the Packers, and I've never even set foot in that room. Does that answer your question?
Mark from Stewartville, MN
Mike, when you were a kid, did you ever dream that you would one day work for the Green Bay Packers? Can you describe your journey from high school to where you are today?
As a kid, my dream was to be the next Bob Uecker and call radio play-by-play for the Brewers. I even did a career project as a sophomore in high school about getting behind a mike. As I got closer to graduating, I felt I had a better shot to get into sports as a writer than a broadcaster, and pursued it from there. Majored in English and Spanish in college at Lawrence University in Appleton and then earned a Master's in journalism from Northwestern. I never dreamed I'd actually work for a sports team, because I always saw myself as a beat reporter for a newspaper. I never could have envisioned the advent (and power) of the internet and that sports teams would have their own media outlets, but I love the work and can only wonder what the future holds in the online world.
I got it! All I have to do is invent a new type of fantasy league that awards more points for violent collisions that do not draw a penalty than for anything else. It will become the new craze and boring, old regular fantasy football will be a thing of the past. Then new safety rules will affect fantasy football's popularity, thereby encouraging the league to stop all new safety rules and remove the ones already implemented. It's brilliant!
Hey Mike, we know how Vic feels about Seattle (the reference to "Christmas Vacation" was classic). How 'bout your feelings?
Love the Chevy Chase rant. Classic indeed. I had a very different take, which I explained several times in my online chats last season. I think the injustice in Seattle hardened the team and gave it the resolve to pull out a nail-biter against a desperate Saints team the following week. I also think the second-half meltdown in Indy acted as a similar catalyst for the lights-out performance on the road against an unbeaten Houston team. In the end, if the call goes the correct way in Seattle and there's no self-destruction in Indy, I'm not convinced the Packers' record would have been any better than 3-3 after six weeks. When they won their next three and were 6-3 at the bye, I was sure the Packers had a playoff team, and perhaps a more toughened-up one due to those events.
Dsteh from Fond du Lac, WI
All the talk of offensive tackles returning from injury, but never a word about Andrew Datko. Where is he at in his shoulder recovery?
I neglected to mention Datko yesterday in my discussion of the offensive tackles, and I should have noted him. It was an oversight. Jim from Fairview Heights, IL, and some others also asked about him this week. I don't have an update on his shoulder, and I think it would be a stretch for a seventh-round pick to go from the practice squad to a starter in one year, but Datko is definitely a prospect the Packers want to develop. Young players often show up with a different look to their bodies in Year 2. We'll see if that's the case with Datko. As Vic says, he's a jar on the shelf.
Jordan from La Crosse, WI
Hey Mike, the value of the quarterback seems to be increasing with a salary cap that is nearly stagnant by comparison. Does this devalue other positions? If so, which positions are impacted the most with regards to reduced salary?
I can't say I've studied this closely, but it sure seems as though contracts for running backs keep getting smaller. The cap will begin rising again soon, but in the meantime, any position outside of the big four – QB, pass rusher, cornerback, left tackle – is probably feeling some of that impact.
Looking at the contracts of Brad Jones/Desmond Bishop/AJ Hawk, do you think it's possible the Packers could be looking to move Terrell Manning to his college position of OLB? He seems to be athletic enough for the position and this would play into the cross-training philosophy of Mike McCarthy.
I guess I wouldn't totally rule it out, but it strikes me as unlikely. Manning is only 237 pounds, which is a bit small to set the edge against the run in the base defense. (That's usually the issue with 4-3 outside linebackers in college not making the best 3-4 outside prospects, which Jeff from Owings Mills, MD, asked about.) As for the current Packers, size for the base was a question with Dezman Moses as he grows into the position, and he's listed at 249. As far as sub-packages with multiple linebackers rushing from different angles, I could see it. Dom Capers can get creative that way.
Mike, I'm enjoying your insights in this column every day in Vic's absence. You mentioned that you and Vic have learned from each other, and you offered one thing that you've learned from Vic. What's something that (he would admit) he has learned from you?
I think I've given Vic a lot of background from the Wolf-Holmgren and Favre eras here in Green Bay. Not that he didn't know what happened, but living through it as a Wisconsin native, and covering some of it as a reporter, I hope I helped broaden his knowledge of the franchise's revival. At least I'd like to think so.
Richard from Jefferson, WI
Would Vic be considered a free agent acquisition and you an example of draft and develop?
Hey Mike, you might be too young, and too much of a fan to be writing this column. Can we get someone old with a curmudgeonly smart-aleck opinion to answer questions in here, please? Maybe someone who isn't a die-hard Packers fan, and who really doesn't know or care about what Packers fans really think?
You've got him. "The Man" plans to be back next week. He's all yours.