Mark from Stewartville, MN
Vic, how did the Packers play so well on offense with three of their top receivers out? How can they continue to be that productive?
It's Rodgers. He fixes everything. He tilts the field. This is one of the most extraordinary seasons I've ever covered. I've never covered a team that has been as resilient to injury, and I've never covered a team that underwent as dramatic and successful an image change as this one has since the end of last season. This is a coaching job for the ages, but it doesn't happen if Rodgers isn't the Packers' quarterback.
Rodrigo from Florianopolis, Brazil
A little stat shown during the game really caught my attention: Fifty of the Packers' 53 active-roster players never played for another NFL team. No other team in the league has more than 40 players in this situation. Is Green Bay the one true draft-and-develop team?
Most teams' core players were acquired through the draft. The Packers take draft-and-develop to a higher level because they apply it extensively in replacing injured players. Most teams will use their pro personnel department more liberally to temporarily patch a position of need. The Packers, however, will patch with a Myles White, for example, and they're able to do that because they use the practice squad the way I believe the practice squad should be used, to develop young talent, instead of using it as an auxiliary roster.
If Greg Jennings mended any fences before or after last night's game, could you see the Packers exploring a trade for Jennings at the deadline and taking on his contract? Minnesota could be in full sell mode.
What part of 50 out of 53 suggests the Packers might do something as ridiculous as you're suggesting? Trade a pick and damage their salary cap to acquire a player they've been able to replace with young, minimum-wage receivers? What do I have to do to convince you and other readers that want to trade every draft pick for the next 10 years for every old, worn-out, recognizable name with a few miles of tread left on his tires that the Packers don't do that kind of stuff?
What are your thoughts on holding Adrian Peterson to 60 yards?
It was a combined effort by the defense and the offense. When you dominate time of possession, you keep the other team's star offensive player on the bench. The 2011 Packers had a devastating right hook, but it lacked a jab and an uppercut. This team can throw all the punches.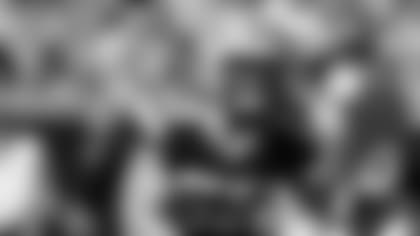 LB Clay Matthews
Get ready, everyone, it's close.
Wait for it. You can't have look out without Clay Matthews and Randall Cobb in the lineup. When they return, look out.
Michael from Brookings, SD
Vic, can you clear up what the rule is about the running back lowering his head? It seemed like Peterson did it a few times but wasn't flagged.
I'd rather not. It's a bad rule, a really stupid idea, and I'm just glad it's not being called.
I find it interesting that Mike Daniels was taken with the compensatory pick Ted Thompson got for letting Cullen Jenkins walk in free agency. Are people still asking you how we're going to replace him?
When you draft a promising young player with a compensatory pick you received as part of the award for losing in free agency the player the young player is replacing, you have effectively traded the player you lost for a draft pick. It's picks for players. It's how you keep your roster young and your cap healthy. You allow older, expensive players to leave in free agency, and then you use the pick you received as compensation for losing that player to draft the older player's replacement. It's a game of replacement and this is how you play the game. It's not genius to do it that way. It's stupidity not to do it that way.
The Vikings' home uniforms are ugly. I wish they would have not changed them. They looked a lot better last year. What do you think?
I think they looked a lot better five decades ago. Changing the uniform style is a marketing strategy. It rings the cash register. The Vikings have a wonderful tradition and it saddens me that they're willing to sacrifice that tradition for ringing the cash register. Much is going to change for that franchise when they move into a new stadium. It'll be change for the better. The uniform I saw them wearing last night is not change for the better.
Michael from South Jordan, UT
Vic, is it just me or does Eddie Lacy remind you of Washington's warhorse running back John Riggins? They both got stronger the more snaps they had.
Lacy reminds me of Ickey Woods.
Can Eddie Lacy be an MVP candidate over Aaron Rodgers? What would it take for that to happen?
He'd have to throw the ball and call the plays. Rodgers is more than the MVP of this team. He is its heart and soul.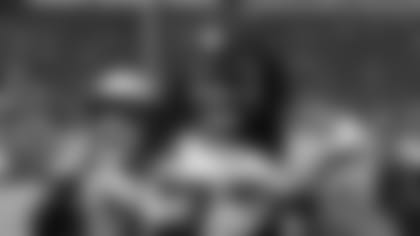 RB Eddie Lacy
Chris from El Dorado Hills, CA
Vic, yesterday Skip Bayless said Eddie Lacy is going to have a three-year NFL career because of his violent style of running. Your thoughts?
That's wimpy. No running back ever absorbed more punishment than Jerome Bettis did, and Bettis played 13 years and carried the ball more than 300 times in five of those seasons; he had a 375-carry season near the middle of his career. Eddie Lacy is in the process of defining himself. All of a sudden we feel a need to preserve him? I don't get that. I can't help but be reminded of one of my high school coach's favorite rejoinders: What are you saving it for, the prom? Hey, the day Eddie Lacy begins running less violently, he's no longer Eddie Lacy. The Packers didn't draft him to be a finesse back.
Noor from Jakarta, Indonesia
Vic, what happened to this season's Vikings? The team seems to be composed of the same key players. I was expecting a better game.
I was expecting a better game and a better team. I really like the things the Vikings have done with their roster. If I was a head coach candidate and I could have my pick of any job that might come open, I'd want the Vikings job. A lot of people said the same about the 49ers job a few years ago.
Michael from Baldur, Manitoba
Vic, the NBC guys showed a clip of Tony Dorsett running for a 99-yard touchdown back in the day. Seemed pretty fast but why were his shoulder pads so big?
Dorsett played in the player danger era.
Vic, Minnesota made a mental error. They're down by 18 and kick a PAT. If they go for two and make it, they would only need two scores.
I couldn't believe what I was seeing. Is it possible Leslie Frazier did the math wrong? Immediately, I thought to myself, "Oh, no, coach. You're gonna get killed on this one."