GREEN BAY—In the prelude Thursday morning to the Family Night kicking competition, incumbent Mason Crosby had as solid a performance as he could ask for.
Crosby and challenger Giorgio Tavecchio went back and forth with a series of field goals from 33, 37, 43, 47 and 51 yards on a sun-splashed Ray Nitschke Field, and Crosby was a perfect 5-for-5, an improvement over his 4-for-6 outing from similar distances in the opening practice last Friday.
"Today it felt exactly how I wanted it to," Crosby said, adding that he wasn't happy with the earlier field goal session but started to put things together during kickoff work earlier this week. "I feel really good about where I am right now. Felt good about the set today, for sure.
"They got off my foot quick and got up, and they stayed on a good line. That's been my focus – pick a line, hit a good ball on that line, and don't let all the other elements affect that."
Tavecchio nearly matched him, going 5-for-6, his same conversion rate in the first practice. He hit the left upright from 51 yards and then took one more crack at it and put it through.
"I felt I maybe left my leg out a little bit (on the miss)," Tavecchio said. "I haven't watched the film, yet, so we'll see, but overall I felt pretty good out there."
Head Coach Mike McCarthy said after practice that he liked the height of Crosby's kicks and gives his veteran kicker the edge when it comes to "lift," but he anticipates a "good battle" throughout camp.
McCarthy added that the two will have a head-to-head duel during the Family Night scrimmage similar to the one Crosby had with then-incumbent Dave Rayner back in Crosby's rookie year of 2007.
That's the last time Packers training camp has featured a competition at the position, and both kickers acknowledged how motivated they are each day at practice.
"It's helped me to, in a sense, focus in on what I need to do and how I need to go out and perform," Crosby said. "I think the competition is always a positive. It's pushing me to do my best every day, every time I go out."
Tavecchio remains the underdog and said he really feels pushed when Crosby gets into a groove like he was Thursday. The Family Night duel will be in front of roughly 70,000 fans with both kickers getting their first work inside Lambeau Field with the full structure of the new south end zone completed.
"It definitely makes you feel alive," Tavecchio said of the competition. "Every second, you're feeling excited and emotional. But it is a little stressful, because there's so much riding on this moment."
As for the rest of practice, some extensive red-zone work was marred by sloppy ball-handling that bothered McCarthy to such an extent that he had the team stay on the field after practice for extra ball drills.
Backup center Don Barclay struggled with exchanges once again, rolling two shotgun snaps back to the quarterback. Also, a pitch to the left from B.J. Coleman to running back James Starks failed to connect and the ball bounced well into the backfield.
"It's time to start improving," McCarthy said. "When the ball is on the ground that much, it's very disruptive to the practice, and also it's how you lose football games.
"The pitch between B.J. and James, I don't think I've ever seen something like that. I thought it was careless, sloppy, and what happens is it overshadows all the positive work that went on out there. We had some very good red-zone work today."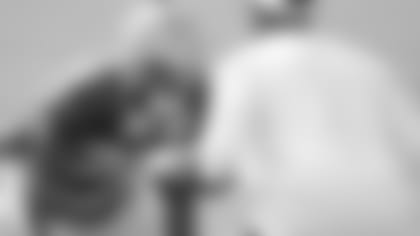 Most of that good work was turned in by Aaron Rodgers, who hit tight ends Jermichael Finley over the middle and Ryan Taylor at the pylon with well-placed throws for touchdowns. Rodgers also executed a nifty shovel-pass up the middle to rookie running back Johnathan Franklin, who found the end zone.
On an earlier play, Franklin also was picture-perfect in blitz pickup, taking cornerback Brandon Smith right out of the play when Smith blitzed off the edge.
"He expects you to understand what you have to do and understand the offense," Franklin said of Rodgers. "You just have to take a step every day and get better."
With so many careless moments in one practice, the offense will need to look cleaner in order to get better for McCarthy.
"You've got to handle the football," McCarthy said. "You've got to take care of the football. It's the most important part of our game. It's clearly, to me, the No. 1 fundamental.
"You talk about blocking, tackling and ball security. It's something you have to work on every single day. Today, that's not what you want." Additional coverage - Aug. 1