Vic, what's going to be the biggest goal during this Friday's game?
The goal this Friday is to come away from that game with the strong belief that you're ready to begin the season. The Packers must believe that to be true following Friday's game, or they can't be satisfied with where they are following a month of training camp. The third game of the preseason is the litmus test.
Mitch from Chatsworth, CA
If the Packers keep developing a good running game, how does that affect not only the pass rushers but our offensive linemen, mainly Bakhtiari?
If you make the defensive line play run, they can't play pass exclusively. In the vernacular, they can't pin their ears back and rush. Assuming you're playing against a gap-control scheme, the defensive linemen at least have to look for the ball as they attempt to penetrate the line of scrimmage. That's the edge a good running game gives its pass blockers. The defense knows where the quarterback is going to be on a pass play. The defense doesn't know where the ball is going on a running play. Fear of run makes defenders come to balance, so to speak.
Vic, I know you've already answered a lot of questions about camaraderie and mentoring amongst the players. How does the dynamic in the locker room change after the final cut? Is there a noticeable difference as the focus changes from playing for one's job to playing for the goal?
I have been watching several of the preseason games this year and I am amazed how empty other teams' stadiums are. What team has the highest attendance for preseason games?
It depends on whether you're using turnstile count or tickets distributed as the standard. Some of the waiting-list teams use turnstile count. The can't-sell-out teams use tickets distributed. That's why it's meaningless to compare attendance figures. If you're using tickets distributed, then the Redskins and Giants probably lead the league in attendance for the preseason, as well as for the regular season, because they have the most seats and they're all sold. If you're using turnstile count, it might be the Packers because Packers fans go to the game, whereas fans in other places tend to view the preseason as a surcharge for owning tickets for the regular season.
Vic, in watching Saturday night's game against the Rams, I was very impressed with David Bakhtiari and Don Barclay. They are both big and powerful men and play with an attitude. They remind me of the early days of Chad Clifton and Mark Tauscher. I know Bulaga will be back next season, but I like what I see out of both of these men. Your thoughts?
Having settled tackle positions is a luxury every coach in the league covets. In this case, we're talking about guys in the infancy of their careers. Their arrows are pointing straight up and it's likely to be that way for a long time. It's rare to have two young guys like this. The Steelers were devastated at the tackles last night. They have two young guys and they are struggling mightily. As a result, everything on offense is in turmoil. Passes are being intercepted by defensive ends and returned for touchdowns. Holding penalties are killing big plays. Running backs can't get out of their tracks. If you can't block the ends, you can't play offense. Don Barclay and David Bakhtiari might be the best things to happen to the Packers in the last two years, and I honestly believe that is not an exaggeration. If you doubt that, ask yourself where this team would be without them.
Vic, what's the benefit of signing a conditional draft pick, as opposed to just giving up a specific pick? It seems to just add another risk factor to both teams.
It reduces risk for the team trading for the player. A conditional pick usually means it's attached to some kind of guarantee. Maybe the player has to make the final roster to satisfy the condition, or maybe he has to play 50 percent of the snaps to make the pick a round higher. If you're the team trading the player, you hope he does well.
Yes, Eddie Lacy looked great and the running game looked much improved, however, the Packers still failed to convert on a big third-and-one when they lined up in a running formation with Kuhn in the backfield. The Rams defensive line got penetration and Lacy had nowhere to go. Is this something we can expect to see a lot of again this year?
It's something that has to stop. The Packers have got to start pounding out those third-and-one plays. You have to be able to reduce the line splits, go shoulder to shoulder and move the line of scrimmage. You're right, that didn't happen on Saturday night.
When are the two roster cut dates?
Teams must cut to 75 by Aug. 27, and to 53 four days later.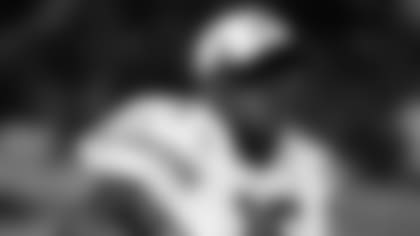 TE Jermichael Finley
Do you believe Finley has elevated his game with maturity and his new-found focus, or is this a contract-year, smoke-and-mirrors job?
I don't know what smoke and mirrors means. Is he playing for the contract or has he achieved maturity? If that's the question, then I would ask, what's the difference? Playing for the contract is the mature thing to do. This is professional football. The days of going back to the dormitory after the game are over. You play for the contract.
Steve from Lake Stevens, WA
What's the dope on Johnathan Franklin?
In the first week of training camp, every time I looked up I saw Franklin running with the football in space, darting through the secondary. Back then, Eddie Lacy looked like he was stuck in mud. Now, Lacy is the guy running free in the secondary and Franklin appears to have lost some decisiveness. Hey, Franco Harris and Fred Taylor had terrible rookie training camps, and they're the best running backs I've ever covered. For rookies, lights go on, lights go off. You have to be patient.
John from East Meadow, NY
With Williams, Hayward and Shields presumably being the top three cornerbacks on the team, are House, Hyde and Bush fighting for two spots, or will the Packers keep six cornerbacks?
I posed that question to Mike Spofford at practice on Monday. He said six and I tend to agree with him. You don't cut good corners. I'm sure of that.
Vic, I was at the Packers-Seahawks game last year. I sat at the opposite end of the field on the last play. We all could tell it was not a TD. As we walked out with our heads down, Seahawks fans hurled insults at us. As we walked to our hotel, bums on the street mocked us. Do you think Packers fans will show more class when they beat Seattle this Friday?
Seahawks fans don't travel and I haven't seen a lot of bums on the streets outside Lambeau Field. I wouldn't worry about any ugly incidents this Friday.
We had 17 players who did not play Saturday night. The Rams had nine. How does our injury list compare to the other teams in the league at this point in the preseason?
Several teams have already lost one key performer for the season, as the Packers might have with Bryan Bulaga. The rest of the Packers' injuries seem to be of the scratch and dent variety; the only one that really concerns me is Randall Cobb's. The Packers got Casey Hayward and Datone Jones back on Monday. I think the Packers are in pretty good shape. Nate from Pemaquid, ME
Was Jolly's pick the same play that Raji picked off the Bears in the NFC Championship? Is having a defensive lineman drop into coverage a Dom Capers thing, or are you aware of other coordinators doing it as well?
It's been his thing for more than 20 years. Dropping a lineman into coverage is Coach Capers' signature defensive scheme, the "Zone Blitz."
Brandon from Sydney, Australia
With the news of the trade of A.J. Jenkins and Jon Baldwin, do you think teams are giving up on players too quickly?
I like this kind of trade because it's between two teams that liked each player coming out of college. John Dorsey probably liked Jenkins when Dorsey was with the Packers, and the 49ers probably liked Baldwin when he was coming out of Pitt. A couple of years later, those players' arrows are pointing down but the Chiefs and 49ers believe they can turn those arrows the other way. If they don't, then what did they lose? This kind of trade becomes a wakeup call for those two players. It's draft and develop, but with a twist. In this case, the twist is a change of scenery. What I like most about the trade is that neither team lost a draft pick. They each get a talented guy they might've drafted, without having to spend a pick. It's as though the Chiefs drafted Jenkins and the 49ers drafted Baldwin.
What do you make of James Jones' sprint to the locker room after the game? I was at the game and it caught my eye. Looking at the stats and seeing that he did not catch a pass, I was wondering if he got a little bent out of shape. I know it's preseason, but still show good sportsmanship after the game. Making too much out of it?
He probably wanted to get into the shower before the traffic jam began. Rosters are big in the preseason. The locker rooms in the Edward Jones Dome are not big.
How does Eddie Lacy compare to Jerome Bettis? They seem to be the same type of back.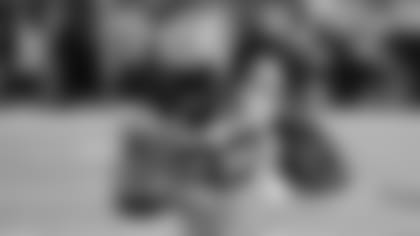 RB Eddie Lacy
They are the same type of back; they're pounders. The question you asked is the question I've been wanting to answer since Lacy didn't work out at the combine. I was looking forward to seeing him do the agility drills at the combine because I wanted to see if Lacy had Bettis' feet, but then Lacy had the hamstring and nothing was answered. I think that hamstring hurt his draft stock. What most people don't appreciate about Bettis is that he had some of the best feet to ever play the position. T.J. Duckett looked like the second coming of Bettis, but Duckett didn't have Bettis' feet and that's why Duckett wasn't as successful. Lacy appears to have Bettis' light and quick feet. I wouldn't have been able to say that in the first week of training camp. I was having doubts. Since then, I've seen evidence of a guy who can be more than a straight-line runner. That was always the question I had about Lacy because he played in a drive-blocking scheme at Alabama that was so overpowering he didn't have to move off a straight path. He's got feet. I think the Packers have just what they need.
Marcus from Pleasant View, UT
Micah Hyde looked good on his one punt return in St. Louis. What are the chances of him winning the punt-return job?
I was watching him fielding punts in practice on Monday and he was catching the ball effortlessly. He looks like a guy who was a star shortstop or centerfielder. He's one of those guys who was born to play with a ball. He's got sensational eye-to-hand coordination and the thing that really hit me as I watched him field punts on Monday is that his head didn't bob as he moved to catch the ball. If the head doesn't bob, neither does the ball. That's the sign of a natural outfielder, which is what a punt-returner is. I think there's a very strong chance he could field punts for the Packers this year. I don't know if he has the burst to be a big-play returner, but there is absolutely no doubt in my mind that Coach McCarthy can put Hyde back there and be confident the ball will be caught cleanly. That's big.
Vic, why does it seem the rest of football nation seems to loathe Packers fans?
It doesn't. I've never heard any fan from somewhere else speak critically of Packers fans. I've always heard them described in terms of those nice people from Wisconsin. I'm serious. I've never seen a Packers fan in a fight. NEVER! Packers fans are the kindest, friendliest and most well-behaved fans in the league. That's their reputation and it precedes them.
Vic, if my memory serves me correctly, fourth-round picks and above are guaranteed a roster spot the year they're drafted, correct? If so, is that covered in the CBA or somewhere else?
I'm going to assume that you're funnin' with me. Be that as it may, you can't be a draft-and-develop football team if you're going to cut draft picks following a failed few weeks. There will be times when you'll realize that you made a mistake on a guy and you have no choice but to move on without him, but development requires patience and that means finding a place on your roster or practice squad to provide your picks with the time they need to develop. That's my position on draft and develop, but one of the best personnel directors I've ever known was a draft-and-develop guy who lived by this motto: "Get 'em good or get 'em gone." His belief was that an underperforming player takes up space that could be dedicated to the development of another young player. Whatever it takes.