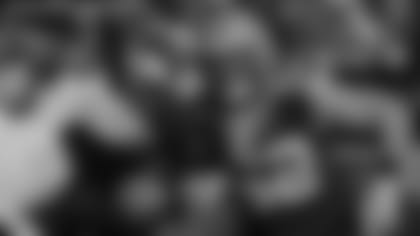 LB Clay Matthews
Allen from Birmingham, AL
Vic, one of the kickoffs to us went into the end zone just by the pylon with our returner standing and watching. We've done this before; shouldn't the returner step just in front of the pylon, straddle the line and catch the ball so we get it on the 40 instead of the 20?
That's what Randall Cobb did against Tennessee last season. Yeah, that's the thing to do, but you have to be absolutely sure of what you're doing and that you can pull it off. I like the way you think; you've made an astute football observation, and you've given me a chance to talk a little on special teams. In the years I've covered the NFL, special teams have been the place of greatest evolution. The players of yesteryear knew nothing about first touching on punts or straddling the line on kickoffs. There were no special teams coaches; all of the coaches helped coach special teams. Practices would include a brief special teams session at the end of practice. In my final years with the Jaguars, they had special teams-only practices; that's how intense the emphasis has become for special teams. On the first touching play on Sunday, we saw an example of great coaching. Everybody did the right thing. Most of the fans didn't have a clue, and I can understand why that play would be confusing, but the players involved knew exactly how to react. The next time you think these coaches don't know what they're doing, think about that first-touching play.
Brian from College Park, MD
So how many emails have you received about signing Ed Reed?
Four hundred? The first 200 made me laugh. The next 200 made me cry.
The definition of insanity is doing the same thing over and over and expecting different results. I am not one of the people that wants to fire everyone every time we lose a game, however, over the past two-and-a-half years it seems like there has been one area of our football team that has let us down consistently. At some point someone has to be held accountable for that. Is it Ted Thompson who builds the roster, Coach McCarthy or Coach Capers, or is it the players?
Everybody is accountable. So what do you want to do with them now that we're holding them accountable? You said you're not a fire everyone kind of person. Yell at them? I'm being serious; now that I have made it official that everybody is accountable, and they are, what do we do? Demand that they fix the problem? Kris, they're trying to fix the problem. This was one of the top defenses in the league in 2010. Then it hit bottom in 2011 and it's trying to work its way back up the rankings. It moved up to No. 11 last season. After a bad start to this season, it was back up to No. 11 just two weeks ago, and now it's fallen to No. 18 after two bad games. I have a pretty good idea of what this defense needs right now, but it is what it is and No. 18 isn't good enough, and I have no doubt the people who are accountable would tell you that. So now what?
Vic, I was curious as to what your opinion is on Scott Tolzien. What does he bring to the table?
He's got a good quarterback body, which is to say he's strong and thick through the lower body, which is something I've always thought necessary for a pocket passer. He's got to have a strong, sturdy base. Aaron Rodgers is deceptively powerful from the waist down. Tolzien has a good arm. He appears to be able to make all of the throws. He's very bright and coachable. He stared down his receivers a little bit on Sunday, but all young quarterbacks do that. The only thing I saw that is of concern to me is Tolzien's low release point. David Carr couldn't overcome it and he was a first overall pick. The difference is that, as a backup quarterback, Tolzien's low release point will largely be an unscouted look. Given all of Tolzien's many qualities, he could play in this league a long time. I think it's highly possible he could be Aaron Rodgers' long-term backup.
This season is over for the Packers. They aren't going to win the division and they aren't going to be a wild card. Consequently, I think all good Packers fans should be hoping this team loses all of its remaining games and ends up with a top 10 pick in the draft. What good does it do to go 8-8 and miss the playoffs? Might as well go 5-11 and get an easier schedule next year and higher draft picks.
Bob, your glass isn't half empty, it's broken into a million pieces and the water has spilled onto your lap – I just did it to myself at a public function, so I know about these things. I think the Packers are going to make it into the playoffs and, if that happens, look out. Why do I believe that to be true? Because this is a good football team that is suffering the pangs of having lost its quarterback. It needs to get him back and it needs to get back "The Man" on defense, too. They miss him big time.
S Ed Reed
I'm guessing we will avoid signing Ed Reed, as he was just released by the Texans. It sounds as if he's coming to the end of his career.
The simplicity and pure logic of your words give me pause. I sense some Steinbeck in you: "By 10:45 it was all over. The town was occupied, the defenders defeated, and the war was finished."
Vic, any chance we sign Ed Reed? He'd be a guy who could make some plays back there. What do you think?
I'm all for it. I'm a big fan of revive and develop.
Evan from Stevens Point, WI
Vic, at the game on Sunday, when McCarthy challenged Nelson's non-touchdown, the Jumbotron froze the screen with a clear picture of Nelson's hands under the ball. Do the refs get the same camera angles as the fans and TV? If not, can the refs look at the Jumbotron for reference to the call?
The referee sees everything the fans see and more. Here's the problem I have with what you're describing. At the same time the fans at the game were watching that shot on the Jumbotron, Mike Pereira was telling fans watching the game on TV that there wasn't enough evidence to reverse the call. TV provided an enlarged picture of the ball appearing to be touching the ground. I'd love to say the fans at the game should be afforded the same information that's being provided to the fans watching the game on TV, but to do that would be to prejudice the referee's ruling. In my opinion, this has become a major problem because the fans in the stands are the game's premium customer. Their experience has to be better than everyone else's. Pereira has become a staple of the TV presentation. He created a little bit of controversy in Coach McCarthy's previous challenge, on the Nick Foles fumble. Pereira said the call should not be reversed; it was. I enjoy Pereira's commentary, but I think he's become problematic.
I think we all need to look at the Giants situation. They started off 0-6 and it seemed like their season was unrecoverable. Now, they are right in the thick of things. Things change; we cannot see the future. We don't know what teams' records or rosters will look like in three weeks. Let's just see how this thing plays out.
I'm with you, Joe. Not too long ago, the Giants and Steelers were a combined 0-10. My inbox was filled with questions from people who wanted to know what happened to the Giants and Steelers, and why their windows have closed and how many years will it take for those windows to open again. I detected less in the way of concern for those teams' despair, and more in the way of delight at their demise. Well, with the right combination of results this weekend, the Giants could close to within a game of the NFC East lead and the Steelers could pull to within two games of the injury-ravaged Bengals in the AFC North. The Giants and the Steelers would each have one fewer win than the Packers would have, and the Giants would hold the head-to-head tiebreaker over the Packers. Never look down your nose at other teams in this league. Change comes quickly.
Vic, why haven't you talked about where the Ravens were last year at this time? It was injury and turmoil. I forgot what happened to their season.
Good thought. At the start of December last year, the Ravens lost at home to Charlie Batch and the Steelers. It would be the first of three consecutive losses and four losses in their final five games. The Ravens barely squeaked into the playoffs, and they certainly weren't a hot team until Joe Flacco completed that rainbow pass in Denver. Then, it all changed. That's how quickly it can happen. The team you're burying today, will be the team that rises from the grave in a few weeks, just as the team you're praising is likely headed for a fall. Quit with seven games to play? That's ridiculous.
Audra from East Brunswick, NJ
Besides his obvious executional dominance on the field, what I miss next from Aaron's absence is the lack of locker room and postgame interviews. Besides how well spoken and mesmerizing he is at the podium, he has such great wit and humor. How many other players, when asked what attributed to their 15-1 season would respond with "offseason workouts"? Have you enjoyed much banter with Rodgers?
I miss him in the postgame press conference. I like his edge. I'll never forget that great shot he took at the jockocracy media that was trumpeting the importance of players-only workouts during the lockout. It was my first regular-season postgame interview session with Rodgers. I knew right away I was gonna like him.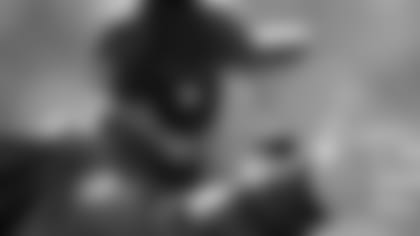 Tom Coughlin
Matt from Philadelphia, PA
Vic, you say the Giants are back. Not so fast. I see an old team that has benefited from playing three dreadful opponents: the Vikings (in Freeman's first and only start), the Eagles (who were playing their third-string quarterback), and the Raiders. Football is a young man's game, Vic. The Giants are an old, washed-up bunch.
I see a horse Tom Coughlin has finally got a saddle on, and he's ready to ride. I know Coughlin. I know his style. He's best at breaking a wild horse.
The Packers were 10-6 in 2010. You're not the first to say 9-7.
Congratulations! You're the first to find the mistake. It was just a test to see who was paying attention. Seriously, I know how the mistake was made. I was thinking of the 2011 Giants, who went 9-7 and won the Super Bowl. So, back to the original answer: Yes, I also see a lot of similarity to 2010; maybe we're witnessing a replay. Aaron Rodgers' recovery will define to what degree this season might be a replay of 2010. Rodgers missed two games in 2010. Maybe the Packers can get by with him missing three this year, but I wouldn't want to tempt fate beyond that.
I'm not trying to be as negative as this will undoubtedly sound, but isn't it possible the defense just isn't good enough? It's not like they have excelled against too many good teams. It may be more than schemes or stepping up their game and all the other stuff fans think will solve it.
They need a star player. They need a playmaker. All good defenses have one. Houston is No. 1; they have J.J. Watt. Carolina is No. 2; they have Luke Kuechly. Seattle is No. 3; they have Richard Sherman. The Packers need Clay Matthews back; they need the real Matthews back. They miss his impact. They miss the fear opposing offenses have for him. The Packers defense playing without Matthews is akin to the Packers offense playing without Rodgers. Losing both has been too much to overcome. That's my opinion.