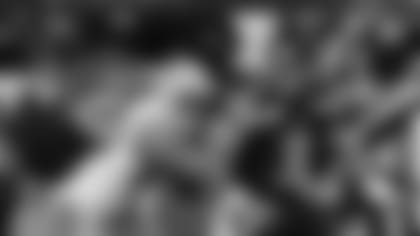 Packers LB Nick Perry chases down Seahawks QB Russell Wilson in the infamous 2012 matchup between the two teams in Seattle.
Do you think Jerry Rice is the best NFL player of all-time?
I would not grant a wide receiver that distinction. Once upon a time, the game was dominated by running backs. It was the premier position in the game and, at that time, I believed Jim Brown was the best player of all time. The game is so tilted toward the quarterback position now that I believe the distinction of being considered the greatest player of all time must go to a quarterback. That's where it gets difficult, because even though today's quarterbacks are producing yards and touchdowns as never before, I believe the old-time quarterbacks were responsible for doing more and played in a game that treated them with greater disdain than today's game treats its quarterbacks. I regard Johnny Unitas as the greatest player of all time for several reasons, two of which are that he invented the modern game, and that his prominence in football history launched the game into the TV era. Just as Jerry West is the silhouette in the NBA insignia, Unitas is the NFL "silhouette."
Tyler from Greenfield, WI
What is your take on the whole Mike Rice scandal at Rutgers?
His father, Mike Rice Sr., was the coach at my high school's rival high school when I was in school, and Coach Rice was a fiery and demonstrative figure, especially in those conservative times. Back then, there was a rule that basketball coaches had to remain seated. If a coach stood, he was hit with a technical foul; Coach Rice stood a lot. These days, Coach Rice is a color commentator for the Portland Trail Blazers TV network. He holds the distinction of being the only broadcaster ever ejected from an NBA game, but he was an outstanding coach and his son was on the fast track, until this episode. It's a Mike Leach moment and it's going to damage Rice's career. What we're talking about here is subject too intensive. I had an editor that liked to say that, and it applies here. Sometimes we want to win too much. Sometimes we lose control. That's what happened, and it's very unfortunate because it's likely going to result in a setback for everyone involved. What coaches and players and everyone involved in sports today must understand and appreciate is that someone is always watching. A camera is always recording your behavior. It's the culture in which we live. The end no longer justifies the means.
Will the Packers become like Baltimore and Pittsburgh in years to come (cap restricted), after they sign Rodgers, Matthews and Raji to big contacts?
It'll take savvy cap management and great planning to avoid that from happening. I can tell you this: Signing a lot of free agents isn't the way to do it.
Vince Lombardi came to the Packers in 1959. Who was primarily responsible for drafting players for the Packers just before Lombardi arrived?
Jack Vainisi's title was "scout," that's all, but there's no denying he was the man that built the Packers into a five-time NFL champion. Lombardi coached them, but Vainisi found them. He drafted Bart Starr, Jim Ringo, Forrest Gregg, Ray Nitschke, Ron Kramer, Paul Hornung, Jerry Kramer and Jim Taylor before Lombardi even arrived in Green Bay. Vainisi is the man most overlooked by Packers history, and it's a shame because his scouting acumen and the haul of talent he brought to Green Bay in a short period of time makes him arguably the greatest personnel man in Packers history. What would he have accomplished had he not died at such a young age and at the peak of his career? I can't help but believe that had Vainisi lived, the Packers would not have experienced decline in the post-Lombardi era.
Why are there so many small-school guys getting significant playing time? Why didn't they go to bigger colleges? What's the story on most small-school players?
It can be for a variety of reasons. A player I covered, Rashean Mathis, was a big-time prospect in high school who was on his way to Florida State when he sustained a broken leg that caused the big schools to pull their scholarship offers. He ended up at Bethune-Cookman. Some guys are late bloomers. Others fall through the academic cracks. When it's time to become eligible for the NFL draft, they're all equal. You don't draft the school, you draft the player. You find football players where you find football players, and good personnel men find football players in out-of-the-way places. Tony Villiotti offers an interesting analytics piece on the subject. According to Tony, the Packers are third-lowest (70.3 percent) in drafting players from AQ schools; the Seahawks lead the league with 90.1 percent of their players coming from AQ schools. The Super Bowl-champion Ravens are at 75.3 percent and, of course, their quarterback is a small-college product.
Chuck from Eight Mile, AL
Aaron Rodgers has two years left on his current contract. Why don't you let him play for what he agreed to and spend the money on obtaining a defense to stop Atlanta and San Francisco?
If he gets into the final year of his contract, he might decide to test free agency, which would force the Packers to franchise him, and then they'd have a real salary cap problem on their hands. Playing hardball like that creates enmity.
Trey from Jacksonville, FL
Who do you feel is the best player in this draft?
That's the $64,000 question. Is there a player in this draft truly worthy of first-pick money? Consensus opinion is that Luke Joeckel is that guy, but I like Eric Fisher's physique and upside more. I think Fisher could become a better player. The problem with Fisher, however, is that he didn't face the quality of competition Joeckel did. Do you really want to make a MAC player the No. 1 overall pick? Then there's Ziggy Ansah. He's the fastest rising guy on the board and he has sack-you, strip-you potential in a game that reveres pass rushers nearly as much as it does passers. The problem with Ansah is that there's not much tape on him; he could be a flash in the pan. Joeckel would be hard to pass. A guy coming out of the SEC, where he had to play against pass rushers near the equal of what he'll see in the NFL, gives you a sense of security Fisher and Ansah don't.
Has Lacy performed at a pro day and what does Tony think of him?
Lacy did not work out at the Alabama pro day on March 13. Any team interested in drafting Lacy will likely arrange to work him out prior to the draft, not only to test that hamstring but to see if he's as athletic as his production would suggest. Tony likes him, especially for a team such as the Packers, because Lacy is that between-the-tackles pounder that can hammer out the hard yardage and carry the ball deep into the fourth quarter when the Packers have the lead and are trying to finish an opponent.
Jeff from Colorado Springs, CO
In response to Walt's tantrum, the Bears and Vikings are spending big to catch the Packers, and the 49ers are only signing short-term free agents because they know they will have to pay big when Kaepernick's rookie contract is up.
What you're describing is the same advantage the Packers have enjoyed with Aaron Rodgers through the early years of his career. He was a bargain and it helped the Packers build a roster that won a Super Bowl. The Steelers won two Super Bowls within the first six years of Ben Roethlisberger's career. Tom Brady's three Super Bowl wins were within the first five years of his career. Joe Flacco got his win in the fifth year of his career. The salary cap is so critically important in today's game that staying young has never been more important because young players are bargain players, and young quarterbacks that ascend quickly are the greatest of those bargains. Colin Kaepernick and Russell Wilson are offering their teams big advantages, but the bill will eventually come due. Nobody can run from the cap forever. Eventually, all teams will have to suffer its consequences and find ways to overcome it without having to cut and gut. Spending big in free agency isn't the way.
Mattias from Soldiers Grove,WI
After looking at the preseason schedule, I was excited to see we play the Seahawks. This is the most excited I have been for a preseason game ever. Is it worth getting excited for this game?
It adds a little spice to the preseason, especially with it being the third preseason game, which means the starters will play a significant portion of the game, and also because it's a nationally televised game, which will provide Packers fans with a stage to act out their anger about what happened last year. But would a preseason win over the Seahawks satisfy Packers fans? Would it settle the score? I don't think so. Let's just say this one is practice.