GREEN BAY – Nancy Martin could look at any situation and see the positives. It was her ultimate gift and one she passed down to her son, Eric Dunlap.
If things didn't go right, it's OK. Tomorrow was a new day and a new opportunity to make it right.
She kept that perspective in 2011 when she and Eric just missed out on purchasing Packers stock. Life was different back then, simpler, with word-of-mouth still ruling the day, which could be tricky for far-flung fans like Nancy and Eric.
Living in Virginia, Nancy still bought the family tickets anytime the Packers were in the Washington D.C. or Baltimore area. When Eric got engaged to his wife, Harriet, Nancy moved mountains to surprise him with a congratulatory signed photo from Brett Favre.
And, by golly, she was going to get him, and herself, that Packers stock.
"If you think about the last time it happened, 10 or 11 years ago, the social media thing is not where it is now, as well as the accessibility from iPhones and iPads and all that, and we missed it," Dunlap said. "So, after we both found out that we missed it, she just said, 'The next time it happens, I'm definitely getting a stock,' like adamant about it."
Eric had his mother on the forefront of his mind last Tuesday, as he logged onto his computer to participate in the sixth stock offering in Packers history. It was emotional and serendipitous, as last Saturday marked one year since Nancy passed away at 73 years old due to complications of COVID-19.
Eric, who resides in Reston, Va., bought shares for himself and his family to honor Nancy.
"I did not sleep well on Monday night because I was really excited," Dunlap said. "I was on my computer and my iPhone and my iPad early on Tuesday morning, in queue."
Eric's love for the Packers started in the early '90s. With his parents divorcing when he was little, Eric lived with his mother in the Dallas area during the school year and spent summers in Wisconsin with his father, Bill, who was the Dean of Education at the University of Wisconsin-Eau Claire for many years.
In Appleton for something work-related, Bill decided to bring Eric to see Lambeau Field and it just so happened the Packers were practicing that day. Eric walked in a Dallas Cowboys fan, like his father, and left with a new team to cheer for after a chance encounter with then-Green Bay quarterback Don Majkowski.
"All my friends, and I still get it from them, especially as an example when Jason Garrett beat Brett Favre, I get to hear about all the great things about the Cowboys and all the not-great things about the Packers," Dunlap said. "But my loyalty just stuck with the team that wasn't in the big market like Dallas. When you take the tour that almost the entire city can fit in the stadium, it's just a cooler story."
Nancy and Eric's stepdad moved to Fairfax, Va., after his freshman year at Baylor. As Eric's Packers fandom grew, Nancy happily went along for the ride. The two had their crowning moment together in 2016, when Nancy surprised the family with tickets to a preseason game between the Packers and Browns.
The following year, they all got together again at Nancy's behest to go the Packers' preseason game in Washington. After the game, just like he once did with his father, Eric and his son met then-rookie running back Aaron Jones.
Aaron's mother, Vurgess, even took the photo for them.
"So, we like to take credit, since he met my son, of what (Aaron's) become, even though his parents had a lot to do with that," said Dunlap, laughing. "But we take credit for his success."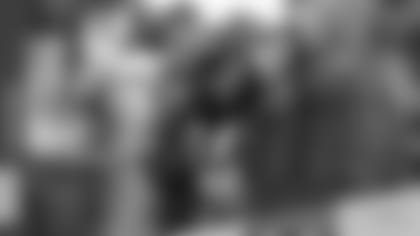 Today, Eric's basement is decked out with signed jerseys from Favre, Bart Starr and Aaron Rodgers that his mom gifted him over the years. There's also the signed Allen Lazard football his daughter, Paige, won as part of the Packers' Letters to Lambeau initiative.
Eric is currently making room for the most meaningful piece of memorabilia – adding his stock, as well as the rest of the family's, to the green-and-gold paraphernalia.
Losing Nancy last year was earth-shattering, though Eric remains forever grateful to the Inova Fairfax Hospital for allowing him to visit Nancy the day before her passing.
For Eric, having the opportunity to fulfill her wishes last week brings a sense of closure and provides him a memento to remember his mother by for the rest of his life.
"It was a very positive distraction," Dunlap said. "It was really awesome, especially the timing of everything. It just was really ironic and the fact that it happened when it happened, and here we are literally a year later. It's amazing to me."