Nate from Bloomington, MN
Vic, in light of the Wells report, what sort of punishment would you be in favor of regarding not only Tom Brady but the Patriots franchise?
I am beyond outraged. I expect punishment to be stiff, and I'll comment further when the league announces the punishment. I think this is the most demanding challenge of the commissioner's powers. He gave the Saints what I consider to have been a one-year death sentence for bounties. In this case, we're talking about the ball, the centerpiece of the game. We're talking about the integrity of the game and a franchise that had already compromised it. I think this is also a test of the media and football fans. How accepting are we of this?
Vic, have you ever had the privilege of getting to see a team's draft board before, during or after a draft?
I was doing a draft-day radio show in Jacksonville when I came back to my seat in the studio to find a picture of names on a board on the table in front of me. What's this, I said? It's their draft board, I was told. I immediately tossed the picture aside. You don't mess with that kind of information. It is nothing but trouble and the videographer who shot that picture found trouble. Everybody in this game knows how guarded that information is and I'm respectful of it. How can you violate that code of secrecy and expect scouts to talk to you?
Is it possible too much emphasis is put on the value of a kickoff-return specialist? In an average game, only two or three kicks are returnable.
It's not overrated in Green Bay, or in any of the cold-weather cities. Late in the season, the return game becomes huge. The ball doesn't fly as high or as far, and a big play in the return game can change the outcome of a big game down the stretch. The Packers offered little in the way of a threat in the kickoff-return game last season. I expect that to change this year.
"Cause I'm a football guy." Do quotes like that make Ted a good interview?
Quotes like that make for a good story because they give us a feel for what's ticking inside. I don't want the long, rehearsed, politically correct statement. I want the raw emotion. I want to know what a guy is feeling. I think that quote speaks volumes.
Why do people want to sign old receivers? I think the Packers will have the best trio in the league this year. Adams is a playmaker.
The natural attrition at the Packers wide receiver position is the best example of football being a game of replacement. It's how you stay young forever. That's the goal: eternal youth. Never get old.
Caleb from Eau Claire, WI
Vic, do you think the Packers have an every-down TE on the roster, or does it look like more of a platoon position?
I think Richard Rodgers has every-down potential.
I do not really read your stories, but I caught this chat on Google. I think you are being very standoffish with the fans that support your site and the Packers. Maybe just don't do a chat if you do not like it so much. It was kind of painful to read.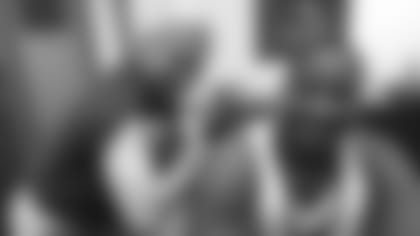 Vic, recently, on another site, a portion of Mike Daniels' offseason workout routine was posted. It was intense! Is it possible for fans who live quiet lives of desperation to conceive of the crucible that is the NFL player's life?
I recently moderated a conference call with Packers suite holders. Mike Daniels participated in the call and I couldn't help but notice his arms were very strong looking. I told him I had been doing some pushups recently.
Scott from Greensburg, IN
Do you consider free agency to end with the draft and the subsequent undrafted signings, or are there still some hidden gems or potential bargains available?
There are probably some guys left that could help a team, but I try to ignore them. I have a very cavalier attitude toward free agency.
Why is an offensive lineman referred to as a "jar"?
It's a term I use to refer to what I believe must be a constant supply of young linemen; I call them jars on the shelf. I didn't expect the term to catch on the way it did; it was just something I invented. I think a team needs to always have a couple of offensive linemen on its practice squad. They never seem to go to waste. In many cases, they become long-term starters. The one that jumps out at me is the Patriots' Dan Connolly. I remember doing a feature with him when he was an undrafted rookie in Jacksonville. He got some development time and he just completed his eighth season with the Patriots.
Brian from Fond du Lac, WI
"What if the needs changed?" I often say the secret to happiness is knowing the difference between what you need and what you merely want. What if what you think you needed was simply what you wanted? What then? You won't be happy.
You can't always get what you want … but if you try sometime you find you get what you need.
Scott from Lincoln City, OR
Vic, so what you're saying is Jack Del Rio wanted a WR with the fourth overall pick because of his need for job security.
Winning is good, losing is bad.
You seemed a little tense yesterday. Not to beat a dead horse, but can you explain why using BAP we wouldn't draft a Malcom Brown, Randy Gregory, Eric Kendricks, Stephone Anthony or Rowe, instead of getting Randall, who wasn't rated that high? I'm fine with the pick, but does that mean Ted knows another team has Randall high on their board as well? Or does it mean Ted had Randall as his highest rated player out of everyone left at pick 30?
Ding, ding, ding, ding, ding.
Vic, the Packers chose not to exercise the fifth-year option on Nick Perry. What exactly does that mean for the team and the player?
It means this is a prove-it year. It worked pretty well for Randall Cobb.
Vic, Elliot Harrison from nfl.com is going out on a limb and predicting a Packers-Colts Super Bowl. Would you add that as confidence in our draft and free agency choices?
I think he's saying Aaron Rodgers and Andrew Luck are the best quarterbacks in their respective conferences.
Mike from Jacksonville, NC
Now that this year's draft is officially over, do scouts immediately start looking at next year's draft prospects?
Ted Thompson has not traded down to accumulate extra picks as much recently as he used to. Do you think his draft philosophy has shifted somewhat or is this just coincidence?
It likely means he didn't have to move to pick one of the players he had targeted.
In my honest opinion, I think everyone involved would be better off if the Packers gave Colt Lyerla another shot in the NFL.
I've never known an undrafted rookie who didn't make the final roster to create as much buzz as this one has. My inbox is still full of him.