Andrew from Redcliffe, Australia
Do the Packers get any form of compensation for having to play five preseason games?
They receive an extra game to evaluate young talent.
Vic, I first want to thank the American Forces Network for allowing soldiers to watch almost every sporting event either live or played again. This is a huge morale boost to the soldiers. Things like the NFL draft are viewable. My question is what does Tony have to say about Scooby Wright from Arizona?
My inbox has been Scooby Wright crazy for a month. I don't know what the link is between the Packers and Wright, but he's approaching Ha Ha territory. I've already written Tony thinks Wright would've benefitted from staying in school another year. Here's some advice to those readers who want to know what Tony thinks of a prospect: Google the prospect's name and Tony's name.
Vic, do you see No. 3 wide receiver as a wide open competition between the young guys, or does Adams still have the edge?
I see wide receiver as being a wide open competition this summer.
Vic, if the Packers need a chaser at ILB, could they possibly convert an OLB that has good speed? What would be the biggest problem in doing this?
The big problem is they'd have one fewer pass rusher at outside linebacker. I also prefer the weakside inside guy to be more compact physically. I think it favors being able to sift through traffic. The guys with length can struggle with pad level when they're moved inside. I think this draft is loaded with weakside inside linebackers.
Anthony from Milwaukee, WI
Is Darron Lee playing outside or inside LB in the NFL?
He has the ability to play both, but I think he's a perfect fit for weakside inside in a 3-4. I think he's a carbon copy of Ryan Shazier.
Ian from Kirkwhelpington, England
Vic, I was surprised by your answer on Saturday that the Packers have specified targets in the draft. As a BAP team, I guessed, as an overseas fan, we would have 300 names listed on the board in BAP order. Please, can you explain why not?
Nobody knows because nobody outside the Packers' draft room has seen the Packers' board, and as Ted Thompson would say, it's proprietary information. I suspect they do have a board with 300-plus names on it, and they've evaluated each prospect and are prepared to pick or not pick each guy, but every team has a short list. They bring those guys in for visits prior to the draft. This isn't bingo. You don't wait for a random number to be called. You know what's available and you know who you like and want to join your team. The trick, in some cases, is moving to where those players fit. In other cases, you've already anticipated who will be available where you're picking, and you've discussed that potential group and what you might do should it fall that way. Personnel departments spend countless hours on this stuff. Very little happens in the draft for which teams are unprepared.
The greatest play I have witnessed was the winning touchdown at the Ice Bowl. What was yours?
If by witness you mean having been in attendance, then it's the Immaculate Reception. I will never forget the feeling of surprise as my eyes moved to the right to follow the ball, and then seeing it fall into Franco Harris' hands. I'll remember that moment and the roar of the crowd for the rest of my life. I watched the Ice Bowl on TV. I will forever remember where I was and the pounding in my chest for that play. What Bart Starr did in accepting responsibility for that play may be the most courageous act in pro football history. He willingly stole the spotlight from Vince Lombardi. Amazing!
Vic, some people say that Vince Lombardi pulled the breaker intentionally, shutting off the power to the heating coils under Lambeau Field prior to the start of the Ice Bowl. He knew his team was getting old and they were outmanned by the Cowboys, and he was looking for an advantage. Is this true or not, in your opinion?
Those kinds of stories make for fun conspiracy theories and debate, but Lombardi would've never done that. It was his heating system and he was embarrassed it didn't work. I witnessed something similar for the 1975 AFC title game. The Steelers had a quirky groundskeeper named Dirt DiNardo. He rigged up a crazy invention for keeping the field warm overnight. I witnessed it the night before the game. He used the tarp to build a tent over the field, and then blew warm air under the tarp, in effect, creating a rain forest in there. The tarp broke during the night and the field froze along the sidelines. The Raiders accused the Steelers of freezing the sidelines on purpose, to make it difficult for Cliff Branch and Fred Biletnikoff. The Steelers never said much about it. I think they liked the story. Intrigue sells.
Vic, Zach Brown is somehow still available. He's young and he's fast. What are your thoughts on the Packers bringing him in as their chaser, and finally solidifying Clay's move back to the outside?
Why is he still available?
Vic, you answered Tim from Asheville about what goes on in the draft room before a pick, to a point. With all that prep and input leading up to a pick, what happens during those last minutes when the team is on the clock? If they are so prepared, why does it still take so much time before they announce their decision?
They're probably on the phone with the player, getting all of his contact information, making sure he hasn't sustained an injury since the last time they talked to him, and discussing plans to bring him to the team's headquarters to meet the media, etc. What's the rush?
Vic, saying Jordy Nelson is healthy, do you play him in the preseason or do you not run the risk with him (or anyone for that matter) getting injured again?
Here we go, huh? If I was a coach, I wouldn't play my key personnel in preseason games. It's just not worth having to endure the fans' and the media's whine about the risk of injury. I think it's become a distraction. The young guys are all out to make a roster, and the veterans are trying to get to the season healthy, and that's a bad combination. If I believe Nelson is ready to play, that's good enough for me.
Matthew from Maffra, Australia
I was watching some highlights of Joe Greene and heard someone ask him about kicking dirt on the field; everyone laughed, including Joe. Was that you asking the question?
Yes, and it was a stupid question.
Vic, even though she took some liberties with the song, Lady Gaga's performance of the National Anthem at the Super Bowl was the best I ever heard. What did you think of her rendition?
I'm not a music critic. My specific complaint about personal expression in performing the National Anthem is about holding that one note. Some of the singers are doing it to ridiculous excess, as though it's a contest to see who can hold the note the longest without passing out. I don't think it's appropriate for a rendition of the National Anthem to cause the crowd to giggle.
Vic, our family vacationed last week in D.C. and visited the Lincoln Memorial. The word "that" appears no less than 13 times in the Gettysburg Address, including a consecutive usage (that's right, a "that that") in the second paragraph. That's a lot of "that's" in what may be the greatest speech in American history. Audience and purpose.
It was a speech, not a news article. There's a difference. We speak for dramatic effect, as evidenced by four score and seven years ago, which is a ridiculous way to describe the passage of time. If Lincoln had been writing a news article in today's culture, he would've probably been writing according to AP style, which would've required him to begin the Gettysburg Address with "Eighty-seven years ago." He was speaking for dramatic effect. Let's give it a rest, OK?
No Jets mentioned in the lack of "The Man"? Do you know something we don't?
I don't know where the Jets are with Geno Smith. He was "The Man" when the Jets played in Green Bay in 2014. I think he has talent.
Does the Chiefs signing Andy Mulumba count toward a compensatory pick for the Packers? There is something about the Packers not tendering Mulumba that I don't understand.
Failing to tender a restricted free agent is the equivalent of releasing him. The Packers will not receive compensatory pick consideration for Mulumba signing with the Chiefs.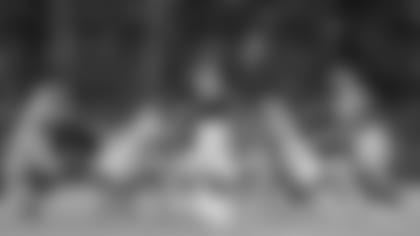 ](http://www.packers.com/news-and-events/article-cliffs-notes/article-1/The-Greatest-Quarterbacks/bbee1c75-2b9f-4112-86ea-4f2881d564fe)Michael from Savage, MN
Vic, I am curious on your take on Cliff Christl's column on how we should judge how the best quarterbacks should be measured? He seems to point away from who won the most championships versus who won the most games. Thoughts?
I disagree with him. I don't think quarterbacks should be penalized for winning championships, which is what you do when you don't assign greater weight to championships.
Looking back over the last three drafts, which player has been an absolute steal for the Packers?
David Bakhtiari immediately comes to mind. You don't expect to find a franchise left tackle in the fourth round.