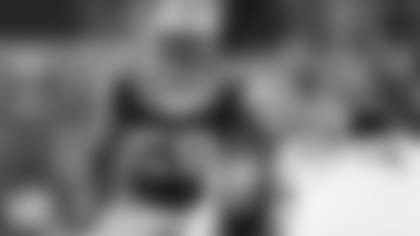 ILB Brad Jones
The regular writer of "Ask Vic," packers.com Editor Vic Ketchman, is taking some time off. Staff Writer Mike Spofford is temporarily filling in to answer your "Ask Vic" questions.
Mike, is Vic as tight as he seems? I personally agree with him 89 percent of the time, but man, is he wound tight.
You haven't figured out yet that he says things in this column just to bother people?
John from Bloomington, IL
Hey, Mike/Vic. The emergence of Brad Jones last year was a real bright spot for the season and he was basically a third-stringer filling in for a few other injured players higher up the depth chart. Is the talent level so close that a player can get that opportunity and excel like that?
Some players grow and develop rapidly when given an opportunity. Bishop did, then Jones did, when he found a home at inside linebacker after initially playing on the outside earlier in his career. Others don't seize it. It's not just about talent. It's also about situation, preparation, attitude, coaching, etc. That's why scouting and drafting is a projection-oriented business. Players rarely stay the same.
Hi Mike! Vic posted a question recently regarding the 49ers starting out their championship days as a finesse passing team with no run game. Then they turned into a balanced attack and eventually got to No. 3 in the league in rushing. So what was the biggest factor in achieving that balance and do you believe the Packers can achieve that same success?
It may not be this simple, but their personnel at running back certainly changed. When the 49ers won their first Super Bowl following the 1981 season, their leading rusher was Ricky Patton. The next Super Bowl ('84), it was Wendell Tyler. The next two ('88-'89), it was Roger Craig. Then in '94, it was Ricky Watters. The only one I'd never heard of as I did the research was Patton, so that must say something. We'll see what that means regarding Eddie Lacy and Johnathan Franklin. The Packers' leading rusher in 2010 was Brandon Jackson, who was allowed to walk in free agency after the Super Bowl.
Tom from Tree of Knowledge Corner, MA
OK, so we can't make too much about how players looked during OTAs or "the underwear Olympics." However, is it possible for a player to look bad during these?
Sure. Receivers still have to catch the ball, and their one-on-one matchups with DBs can be watched closely. Players can also blow assignments and make mental errors, but only the coaches are going to know that because they know the specific calls. They use film sessions to try to get those mistakes corrected before training camp.
Aaron from Washington, DC
Hey, Mike, I asked Vic this a couple of times, but he never picked it. I guess it's because I wasn't fawning over old-time backs or Adrian Peterson. (If you're reading this Vic, know that I'm kidding. I appreciate all the players of the past and present eras.) Anyway, here's my question. What is the "arm strength" that scouts talk about when discussing a quarterback? I've heard analysts/scouts say a prospect has good accuracy, but weak arm strength. Why can't a quarterback just hit the gym like crazy? Isn't that what the big time, superior training staffs are for?
The true test of arm strength is the throw from the left hash to a receiver making an out cut to the right sideline (or vice versa). It's a long throw that is ripe to be picked if it doesn't have enough zip on it. If it were as easy as hitting the gym, there wouldn't be a pitcher in the Major Leagues throwing less than 95 miles an hour.
Currently the Packers somehow still have $16M in cap space, partly due to the Bishop release. Any idea what the heck they are planning to do with that? Sign Raji to an extension before the season? Who else is due? Nelson/Cobb are locked up for two more years. If there aren't any other key players to sign, I'm a little surprised they let Bishop go for only $3.5M. That's so cheap for a leading tackler and would be great insurance at a critical position. In Ted we trust ... but this is still surprising.
Many of you sent in comments and questions about the cap with regards to the Bishop move. I'm not going to predict what the Packers will do with the money, other than knowing some of it will be used within the next month or so to sign first-round pick Datone Jones, to answer a question from John from Bremerton, WA. But if you want the list of players still on the young side who are potentially headed for free agency in 2014, I believe it includes the following: Raji, Finley, James Jones, Shields, Dietrich-Smith, Burnett and every other member of the 2010 draft class except Bulaga. That's not an exhaustive list, but it's close.
Just out of curiosity, how many emails did you get with variations of "Bishop was released … the sky is falling … the end is near … the season is lost"? I was reading a while ago about Ross, moving on from the muffed punt in the San Francisco game and I was wondering, do you think there really is such a thing as one play changing the outcome of a game? Not referring to "Fail Mary" for example, but that Ross play. San Francisco won fair and square and a muffed punt would not affect the way the defense was playing, or even the offense, but I could swear that something changed after that play. Am I just imagining stuff (known to happen sometimes)?
Regarding Bishop, hundreds of emails, though a minority of doom-and-gloom scenarios. Most fans just want to understand, and that's fine. As for the Ross play, I do think it changed things and helped San Francisco relax. Had he not fumbled, the Packers would have had the ball with the lead and a chance to go up two scores. They never got the ball with the lead the rest of the game. That said, the 49ers came back from 17 down on the road at Atlanta the following week in the NFC title game, so I'm not going to say that one play changed the outcome.
When will we know whether the backup QB is currently on our roster?
I'm not expecting the Packers to bring in any more quarterbacks, but I think the concern Vic expressed in his editorial the other day stemmed in part from last season, when it took until the final preseason game for Graham Harrell to ease a lot of worries. He played superbly in that game, and he needs to show more of that earlier in August this year. Mike McCarthy said as much in his final OTA press conference.
Welcome back, Mike. So, you say if you have a passer that can run, why not start him? OK, so you have Brees and a RGIII type QB, even Andrew Luck, who showed us he moves well on his feet. Are you still willing to go with a passer who can run, or stay with Brees?
I think your hypothetical is a little unfair, because if you have Brees, you aren't likely at the top of the draft to get your RGIII, or Luck, who were the top two overall picks. But I'll say this: the 49ers replaced Alex Smith, the No. 1 overall pick in 2005, with Colin Kaepernick, whom they drafted high in the second round six years later, and never looked back. The Seahawks signed Matt Flynn in free agency, drafted Russell Wilson in the third round, and went with Wilson. That should tell you something.
Tim from Indianapolis, IN
Outside of Clay Matthews, who is the Packers' best defensive player?
Right now, I'm inclined to say Morgan Burnett. For the Packers to return to a championship-caliber defense in 2013, which Dan from Sioux Center, IA, inquired about, I think the answer to that question needs to be B.J. Raji, Nick Perry and/or Datone Jones, with Burnett continuing his ascent to an elite level.
Mike, your response about practice squad eligibility makes no sense. How can any player be disqualified from eligibility due to reason 2 but not also fit the criteria to be disqualified due to reason 1? Can someone be on an active gameday roster eight times without being on that team's 53-man roster five times? Explain how this is possible.
Sorry if that was confusing. The two qualifications were described as either/or. If a player does not have an accrued season (more than five games on the 53-man roster or IR), he's eligible for the practice squad. If he does have one accrued season, he's still eligible if in that one season he was on the 46-man active gameday roster for no more than eight games. Hope that clears it up.
Mike, do you agree with "players, not plays"?
A few others, including Dave from Glenview, IL, took Vic's bait here, too. For the most part I do. If you gave me a choice of having a better scheme or better players, I'd take better players. If the players are equal, scheme can make a difference, so I don't dismiss it, but players aren't truly equal very often. One guy usually is, or makes himself, better than the other guy.
I don't expect the Packers to retire a lot of numbers since they have 90 players in the offseason, but I still think they should at least "temporarily" retire some for at least a few years. I see No. 85 is already given out to someone on the roster, but I hope No. 80 will be "temporarily" retired and not used for a while. What are the numbers that are officially retired?
The five retired numbers are 3 (Canadeo), 14 (Hutson), 15 (Starr), 66 (Nitschke) and 92 (White). No. 4 (Favre) will be the sixth. What you're suggesting does occur occasionally, though in some cases it just sort of happens and then takes on a life of its own. For example, no one wore Paul Hornung's No. 5 for 20 years after his final season in Green Bay (1966), then it was assigned for a few years, and now no one has worn it – in a game, that is – since 1988, though I did see a tryout player with it at rookie orientation this year. Shane from Brodhead, WI, asked about Curly Lambeau's No. 1. It hasn't been worn since Lambeau wore it in the mid-1920s, but undrafted rookie QB Matt Brown is currently using it. I would suspect if Brown makes the roster or practice squad, he'll be assigned a different number. That happens all the time when the roster drops from 90 to 53 plus the practice squad.
Mike, which first-year coach do you think will have the biggest turnaround? Excluding Andy Reid since he's already been a coach.
In that case, I won't pick Bruce Arians, because he coached the Colts most of last season, but I am interested in what he might do in Arizona with Carson Palmer. The NFC West is a really tough division, though. Like most observers, I'm especially curious about Chip Kelly in Philadelphia, because he's bringing something new to the league.
Greg from Eileson AFB, AK
Mike, I've been hearing a lot lately that the huddle is going to be another relic of our fathers' football, due to the fact that the no-huddle gives you more "punches" to throw. Will there still be huddles in tomorrow's game?
Perhaps not, and that may depend in part on Kelly in Philly, but I think there will always be coaches and teams trying to dictate tempo in the other direction. The fast break in basketball didn't make everybody abandon the half-court offense.
Steve from Eau Claire, WI
Mike, people have been wondering if maybe even 11-5 might not be good enough to get a playoff spot in the NFC this year. That actually happened to the Patriots back in 2008. Do you see the NFC being as loaded this year as the AFC was that year?
If 11-5 doesn't make the playoffs, that would really be something, but anything is possible. The difference between this year's NFC and 2008's AFC is that five years ago, San Diego won the AFC West at 8-8. I don't see that winning any divisions in the NFC this year.
Hey Mike, hope you're enjoying your time at the helm of "Ask Vic"! I was wondering if you could clear something up about our rookie wideouts. You said in yesterday's "Ask Vic" that Charles Johnson "looks the part of the big, strong, pluck-the-ball receiver, while (Kevin) Dorsey reportedly has speed to burn." I thought Johnson was the fast one, who ran a 4.3. Is Dorsey faster yet, or was that a simple mix-up on your part? Thanks.
Kelly from "Way up nort," WI, asked about this, too. It wasn't a mix-up. All I meant was that – based on what little I saw because both players sat out most of OTAs – the first thing you notice about Johnson is his size and strength, and from what I've heard, Dorsey's best asset is his speed. I don't know which guy is actually faster. Again, I'm eager to see both players in camp.
Paul from Farnborough, United Kingdom
Dear Mike, wouldn't it be a good idea to start the season a couple of weeks earlier and have a two-week break for all teams halfway through the season instead of all this bye week nonsense? It would give teams the chance to re-evaluate things, players to get a little healthier and the fans a chance to take a breather before the final push.
The bye weeks aren't nonsense to the TV networks. They give teams a break without removing the games from TV for an entire week or more, like you're suggesting. By the way, you're the first fan I've ever heard ask for a breather. I can nominate you for Vic's hall of fame if you want.
Mike, my favorite sports tradition is the NHL series-ending handshake line. Could the NFL adopt this for the Super Bowl or have the post-game festivities become too much of a show in the NFL?
You're right about the festivities, but I also think it's fine for every sport to do its own thing. Football has the coaches' handshake. Baseball has nothing. Time to go home. That's OK by me, too.
Hi Mike. Any idea when the training camp practice schedule will be released?
It should be coming out any day now. We'll have all the details on the site very soon.(Afternoon update: It was posted today, and it's all right here.)
Mark from Stewartville, MN
Mike, I enjoy your "Things you might have missed" feature. Could you explain the process of coming up with your ideas for that, and also, how much work does it take to produce that segment?
Thanks for watching the video series. I hope to bring it back for the 2013 season. Production-wise, I have to hand it to our multimedia gurus, Duke and Tyler, who handle all the technical stuff, which includes syncing the iPad with a different computer whose software is recording my work on the telestrator. It's pretty cool. The ideas are what the title implies – things that were interesting or impactful in the game but not obvious, or probably not discussed much by the TV commentators. For example, last year I found out after the game at Detroit a game ball was given to Ryan Pickett, who hadn't received much post-game pub, so I went to the video to find out why the coaches recognized him. A month later, the game at Chicago hinged on two red-zone stops in the second half, and Brad Jones had a big hand in both of them. The segments are fun to work on and educational for me, and I try to make them informative for the viewer, too.
Luke from East Dubuque, IL
Mike, I loved your Jack Nicholson comment. Does Vic (or you) ever yell any other movie quotes in particular situations?
The day I met Vic he quoted "Caddyshack" in a conversation, and I knew then that we'd get along just fine.