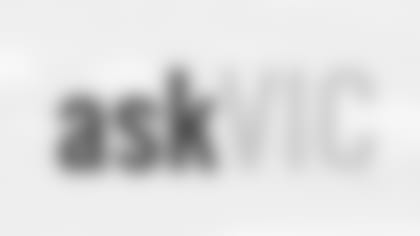 I know he's probably going to be gone before Ted Thompson can take him, and he's more likely to take a pass rusher anyway, but I would like to see Kevin King in Green Bay. His size, his hands and his speed could potentially lock up a lot of teams' No. 1 receivers.
I'm fond of scoutspeak. Scouts tend to speak with a kind of blue-collar philosophy that makes the draft and acquiring football talent easily understandable. For example, you don't draft the conference or the school, you draft the player; that's scoutspeak. Here's another one: You can't draft everyone. In other words, target the prospects you like and who you believe might be available to you, or for whom you're willing to move in the order. It sounds as though you would make King one of those players. We're at the point now that, figuratively speaking, picks are already being made.
Do you think having over 20 coaches per team can become a problem? Quality of play continues to decline. Now the Packers have hired a perimeter coach; too many cooks?
Play is not declining. The quality of play has never been better, and coaching is the main reason for it. More is better, in terms of preparing players to play the game. If there's a problem with the increase in the number of coaches, it's the game may have become too structured. We expect perfection. Is that a good thing?
Carlos from Buenos Aires, Argentina
Vic, do you feel we are going to improve on defense next year?
That might be the No. 1 question confronting the Packers. Defense is an issue; it must improve for the Packers to clear the final hurdle. Improvement is the expectation, but how much improvement is realistic to expect? There are holes to fill. This draft is critical to the Packers' pursuit of improvement on defense.
Lori from Heredia, Costa Rica
Vic, what jumps out to you from the Packers' 2017 schedule? Which game would you most like to attend? I'm guessing it would be the Steelers game.
It probably is the Steelers game. The ingredients are flavorful: Thanksgiving weekend, prime-time game, playoffs race coming into focus, Rodgers vs. Roethlisberger, etc. I like it. The Atlanta game is certainly another such game. The two that jump out at me in tandem are the final two: Vikings at Lambeau Field in Week 16 and at Detroit on the final Sunday. Those two will likely decide the NFC North title.
Steve from New Britain, CT
Both Ted Thompson and Rodgers have said they expect to negotiate a new contract extension at the end of the 2017 season. How much do you think it might impact Rodgers' performance on the field this year, his fervor to win another title and the amount of money and length of his next contract?
For players of Aaron Rodgers' esteem, contracts are about more than money. They're about status. They define where those players rank at their position. Rodgers is as competitive as any player I've ever covered. He's intensely proud of his reputation as an all-time great quarterback. I would expect the anticipation of a new contract to be important to him. It should be. It'll define him.
Jerry from Wilmington, NC
Vic, what do you think about Gruden's quarterback camp? What's it mean that five of the seven quarterbacks who participated in it played in the ACC?
It means the ACC is the reigning king of college football, as punctuated by Clemson's national championship. The ACC has a sensational Boston to Miami East Coast footprint. That's a lot of people and TVs. The SEC should be very concerned. I was flipping the channels one night last week when I came upon Jon Gruden's show. Nathan Peterman, a rising prospect in this draft, was the guest on the show. I stopped and watched, as a trick shots clip caught my attention. One of Peterman's tricks was to throw a football over the head of his tackle – he wasn't wearing a helmet – who was standing motionless about 10 yards away. Peterman whistled a pass inches above the kid's head and he never flinched. It was the coolest thing I saw on TV all last week, easily outdistancing a Sean Spicer phenomenal press conference. I like Gruden's show. He puts a lot of personality into it.
What do you think this year's Packers team has to do to get off to a hot start?
Win at home; that'll do it. A fast start is every team's goal, but I'm not a fast start kind of guy. What did 6-0 accomplish? In my mind, it's how you finish that counts. The Packers finished strong last season and it took them within one win of the Super Bowl.
Vic, why do people who hate this column so much feel the need to read it every day and then complain about it?
They want to read what they think. They complain when the author of the column has a different opinion.
Mark from Indianapolis, IN
I thank all of you for covering various topics that have nothing to do with the Green Bay Packers, NFL or football. OK? Going to websites is now completely outdated. OK? Goodbye packers.com. OK? You have just been replaced with an app that constantly brings me nothing but the 13-time champions and greatest sports team ever, Green Bay Packers news, information and opinions. OK? As all of you make it perfectly clear, you, my friends, are not the only game in town. OK?
Are particular agents more likely to direct their players to specific teams?
If you're talking about agents for undrafted free agents, I believe the answer is yes, and that's why it's important for teams to develop relationships with agents; they control the flow of undrafted players. If the agents believe you'll give their clients an even chance to make the team, or maybe even favor undrafted players, they'll tend to guide their clients in your direction.
Vic, have you ever covered a draft in which you struggled to analyze the decisions made by the team you covered?
All drafts have a theme to them, and the theme usually makes sense. I covered a team that had need for a defensive tackle and a cornerback, and then drafted multiple players at those positions. The criticism was they drafted the same guy over and over, but the team believed it was a player away from the Super Bowl at those positions and there was reason to believe the team was right. Ten years later, the same team did the same thing, this time picking a pass rusher with each of its first two picks, trading up for each of those players. The difference was that team was not one player away; the theme was unfounded. If I've covered a head-scratcher, that's the one. It's important to get the theme right but, in the final analysis, themes don't make or break your draft, the performances of the players you pick do.
Erick from Charlottesville, VA
Vic, a couple of years ago, I had a feeling the Packers would get Ha Ha Clinton-Dix. This year I have that same feeling about T.J. Watt.
Pass rushers are historically over-drafted and I can see Watt moving up to where the Packers are. I see him as a top prospect for a team that needs to add a pass rusher.
David from San Francisco, CA
If teams nearing playoff contention can get there quicker with a deep draft, will there ever be a day all 32 teams have a shot at the Super Bowl?
I think there always has to be a bottom tier of teams, but I can make a case for 26 teams being Super Bowl contenders this year.
What's your view on paying college athletes? When I listen to the talk on TV, they never mention it's the taxpayer, as usual, that ends up footing the bill.
It's coming; it's inevitable. I recently read a news story claiming 224 million Americans fit into the top one percent (wealth) globally. It would seem the American taxpayer is doing pretty well.
Bob from*Grand Rapids, *MI
Now that we are almost upon the draft, Vic, who does Tony Pauline see being available as BAP at pick 29?
Tony thinks four cornerbacks fit late in the first round: Marlon Humphrey of Alabama, Tre'Davious White of LSU, Adoree' Jackson of USC and Chidobe Awuzie of Colorado. Tony also puts UCLA outside linebacker/defensive end Takkarist McKinley in the late-first area, and Tony agrees Watt's pass-rush value could move him into the bottom of the first round.