Lori from Heredia, Costa Rica
Vic, who is most likely to write a memoir after they retire, Ted Thompson, Mike McCarthy or Aaron Rodgers?
I don't think any of the three is likely to pen a memoir, but I would be most interested to read what Coach McCarthy would write. There's a side to him I find especially interesting. His take on the game intrigues me. I wish he was more open in expressing his thoughts. I would love to read his thoughts on the big games, big wins, heartbreaking losses, the fans, the media and the pressure that goes with being the head coach of the Packers. I've found Coach McCarthy to be a guy with more to say than any coach I've covered since Chuck Noll.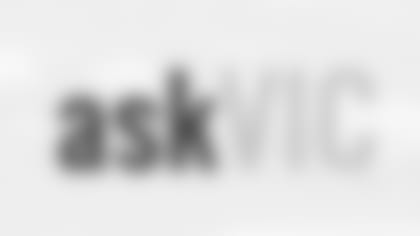 The problem with the free-agent craze is not one of the free agents we wanted last year would have helped us. We wanted an inside linebacker above anything, and any of those free agents would've just slowed the development of Jake, Blake and Joe.
Think about this: Casey Hayward was the free agent that might've helped the Packers the most. What does that say about the value of signing your own guys?
Vic, do you miss covering the combine? Editors seem to stay plenty busy during it.
The combine is old home week for those who've spent a lot of years covering or working in the NFL. That became especially true for me in recent years. Everywhere I went, I bumped into guys I had known or interviewed from 10, 20, 30 years ago. That's what I miss most about not covering the combine. I miss seeing those people. I also miss the feeling of reconstitution the combine creates. With the combine, a new season begins. As for the event, it's grossly overrated and over-covered. In many cases, I felt guilty for the information I was providing because most of it was hype intended to promote the value of a player. If I was a coach or general manager interviewing a player at the combine, one question I would ask is: What don't you want me to know about you?
I am sick of the Belichick/Patriots references. If there was a model that was perfect, everybody would copy it. Time to quit. Shanahan was a genius, too, until Elway retired. Insiders, what is your take on my rant?
Given that most teams draft BAP, how do the Packers and other teams conduct mock drafts? Do they have special insight as to how other teams will value the same players?
One way to conduct a mock draft is to assign teams to each of your scouts, and then have them pick for those teams in a mock draft. I can remember getting calls from scouts I knew, and they'd ask me who the Steelers liked for their pick in the first round. Those calls didn't come as often once I began working in the team website business.
Nathan from Baltimore, MD
At what moment did you know you had covered your last game?
When Larry Fitzgerald scored in overtime of the playoff game in Arizona. I remember whispering to myself, "Dash 30 dash."
Aaron Rodgers stated "all in" when the 2016 season ended. How much pull or influence do you think he has with Ted Thompson if a specific player is being targeted in free agency and discussed in those circles?
The Packers are trying their best to surround Rodgers with talent that'll take the team to another championship. I would expect his opinion to matter.
Are there cases where a team has created cap space by lowering overall salary but making more of the remaining contract guaranteed? Would players go for that?
It's called contract restructuring, the players love it and it's often accompanied by the faint sound of a train whistle in the distance. The team will negotiate with a player a contract extension that converts salary to signing bonus, which is divided evenly over the life of the contract. All of a sudden, a portion of the player's salary in the current year is pushed out onto future caps, creating more cap room in the current year at the cost of cap room in future years. The money, of course, is in the player's pocket – they love that. It's common for teams to restructure their quarterbacks, but if they do too much restructuring at other positions, they'll find themselves walking on the tracks.
Brian from Melbourne, Australia
Let's say the Packers re-sign Perry, Lang, Lacy and Hyde and don't restructure any contracts. How much room would that leave us for free agents? Enough for one top-notch guy, 2-3 mid-level starters or more?
Most teams can't sign all of their guys and other teams' guys, too, without creating cap room by restructuring. Rule of thumb in the salary cap era is you have to be willing to allow players to leave, and that means being confident in your ability to replace them. This is a game of replacement.
So, only 16 teams earned compensatory picks, but we see that three of the four teams in the conference championship games earned a pick. High-quality teams perform at a high level, and thus release high-quality players?
I read with interest a story in profootballtalk.com about compensatory picks being a reward for smart teams. "The teams that have been wise about not over-spending in free agency and keeping themselves in good salary cap shape are the ones that keep getting lots of compensatory picks, while the teams that overspend in free agency are the ones that don't receive compensatory picks," the story said. The Packers have received the second-most comp picks; the Patriots are No. 4. "The 10 teams that have had the most compensatory picks have won most of the Super Bowls since 1994, with a total of 14 titles for those 10 teams." Yes, successful teams understand the need to make tough decisions and allow players to leave. They understand the value of salary cap health and the need to avoid being reckless in free agency. Why don't the fans understand as much?
I watch a lot of the football programs year round and one thing you always hear people say a lot in the offseason is you can never have too many weapons on offense. I would really like to hear your thoughts on if you think this is true or not.
If you have a top quarterback/running back/wide receiver trio, you probably have as many weapons as you can afford and you'll need to find ways to scheme some additional weapons. The balance your trio has created should allow you to scheme some extras. I think the trio of Aaron Rodgers, Eddie Lacy and Jordy Nelson did that for the Packers in 2014.
If you could relive any NFL season, which season would it be?
The candidates would be 1978, 1996, 2014. They are my favorite seasons of the three teams I covered.
My son got Madden 17 for Christmas. It appears the trick to winning is acquiring the highest-rated players.
I figured the trick to winning would be acquiring the best plays.
Gabriel from Appleton, WI
I think it was you who said Mike McCarthy was very impressed with Randall Cobb's combine interview. How much of that is make or break? Would a less articulate wide receiver with the same stats give a team reason to not draft him?
Talent usually trumps attitude, but as the gap narrows, attitude begins to win. The ability to verbally express a winning attitude is a talent that resonates every bit as much at the combine as the player's 40 time or cone drill.
Justin from Trabuco Canyon, CA
Vic, I know free-agent questions get annoying, but if the Packers don't bring Lacy back there's an obvious need to get another running back. What are your thoughts on Latavius Murray and his fit with the offense? His running style seems similar to Adrian Peterson's.
I like the crop of running backs in this draft class. I see power backs, speed backs, guys with wiggle and utility types. Murray is a pounder and I think you can find that kind of back in this draft without spending a first-round pick. My interest in free agency would be for a pass rusher.
Vic, be truthful, you miss the great outdoors of Wisconsin, don't you?
I rode my bicycle over a lot of miles of Wisconsin roadway, and I greatly enjoyed the roll over the farmlands of Greater Green Bay. I made the bicycle season last as long as possible.
William from Torii Station, Japan
I love the draft and develop process – I don't mind Ted Thompson not being as aggressive in free agency as we would all like – but I would love to see an aggressive move in the draft this year. One player I have my eye on is Reuben Foster. I would love to see him in a Packers uniform. It would be a really aggressive move.
Foster offers difference-maker potential. He's a run-and-hit playmaker and he can be used in a multitude of ways. He's a defensive coordinator's dream. I think Foster is the kind of player the Packers need to add to their roster.