Vic, I've been watching football for 50 years. I can't really say I know any more than the next guy, but from an eye test viewpoint, Aaron doesn't look like he's in the moment by a long shot.
He hasn't lost his focus, but he's not on top of his game. Why? That's the question, and it has to be answered and resolved for this team to be a championship contender. Mike McCarthy has told us repeatedly the Packers' philosophy for winning is built around the expectation for success at the quarterback position. That position must play at a high level for the Packers to be the best they can be, and nobody knows it better than Aaron Rodgers. You must have faith Rodgers will figure it out and fix it, because to lose faith is to lose hope.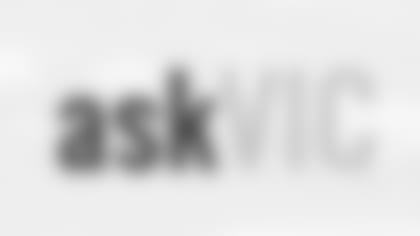 You can't win turning the ball over four times. How do you not turn the ball over four times? How do you keep Aaron Rodgers from turning the ball over?
You begin by running the ball. The running game fixes everything. The Cowboys ran the ball, and that's why they're winning with a rookie quarterback.
The first step in fixing a problem is admitting there is one. Think McCarthy will admit there's a problem with the offense now?
Problems will be identified for the team to address and resolve. How does it help to identify problems for public consumption, which would include providing a scouting report for future opponents?
Gar from Virginia Beach, VA
Well, is there a silver lining to this game other than it's over?
The good news is the Packers will play again in four days.
Balint from Budapest, Hungary
Being from Europe, I don't fully understand what McCarthy means by fundamentals. Can you please elaborate on that?
Fundamentals begin with blocking, tackling and ball security. Communication at the line of scrimmage and in the secondary are fundamentals in the mental part of the game. When Coach McCarthy speaks of failures in executing fundamentals, you can assume those are some of the troubled spots.
Jerry from Wilmington, NC
Vic, is it me or did the Dallas offensive front seem like giants compared to Green Bay's defensive line?
The Cowboys' offensive line is a star-studded cast built on prized draft picks over several years. While other teams were picking wide receivers, the Cowboys were picking big guys. The Cowboys are now experiencing the fruits of their labors.
No, the season is not over. No, we should not call for anybody's head. And, no, Aaron Rodgers is no longer the best QB in the NFL, not as long Tom Brady is slinging and guys like Prescott are on the rise. And, yes, football is a what-have-you-done-for-me-lately kind of game. My most optimistic assessment: Our team's best days of the season are ahead. What did your eyes tell you?
The Cowboys, in this particular game, were the more physical team.

What are the excuses for the offense this time? Can we all just admit (including the coaches) that something is very wrong and it starts with Rodgers?
What you're really asking me is if you have my permission to give up.
Vic, is this one of those games we (as fans) should throw away and just move on from?
Yes. Why hold onto something you can't fix? It's up to the coaches and players to correct mistakes. All you can do is watch.
Well, the Badgers lost, the Packers lost, and a very expensive coffee pot my brother bought me exploded all over our wood floor and tasted soured besides. Overall, a tough week to be a Wisconsinite.
If losing two football games and a coffee pot qualify as a bad week, you have a very good life.
I can't wait for you to condescend all over us in your answers.
Michael from Eau Claire, WI
Vic, any words of encouragement? Tough loss.
All I ever see is you, the Packers, saying calm down, we got this. But after the Cowboys game, I'm not sure that's possible. Something has to change. This is not the Packers offense I know and love. Thoughts?
It's not the Packers offense of 2011; I get that. All teams experience ebb and flow. You are what you draft and this team has drafted for defense over the past several years. The defense, in my opinion, needs to carry this team right now, as it works to smooth out the rough spots on offense. Of course, I'm a defensive-minded guy. I've set high standards for this defense.
Boos for a team that is now 3-2. I could not believe what I was hearing. Keyboard warriors hammering Rodgers and McCarthy postgame. I could not believe what I was reading. That is every bit as frustrating as watching the offense try to figure things out. Watching supposed fans seemingly give up or rail against this team. It's a short-memory, bitter, cynical fan world these days, and it's really sad. A season ebbs and flows and this is just one step in the journey. This team is not very good right now, but that does not mean it won't be good Thursday or the next week and beyond. These things can change. But to watch the fans feeding on media and self-driven fears of a decline, and negativity without thinking about what this team has done in years gone by is really disappointing. Thom Brennaman called Packers fans among the best in North America on the broadcast. How about they start showing it by giving unwavering support, rather than feeding on fear?
The heart is a lonely hunter.
Christopher from Echo Park, CA
Do you dread opening your inbox after a game like that, or do you buckle up and lean into it?
I read the questions and select those I believe to be representative of the game we watched, and then I try to answer those questions in a sane and responsible manner. It saddens me to see fans despair over defeat and I attempt to comfort them as the truth might allow, but the reality is there will be other defeats. If you can't endure defeat without losing your balance, football isn't a good game for you.
Jake from Howard's Grove, WI
Tell me something to make me feel better.
You spent your Sunday afternoon watching a football game, and you will likely spend Thursday night watching another one.