Hi everybody. Mike here. Family Night is about to get underway. The players haven't come out of the tunnel yet, but throughout the night, Wes and I will try to provide updates on the action while answering your questions. In the meantime, ask away.
Hi Mike, will there be any live pass rush drills or half lines tonight?
I would imagine so. It's just like a regular practice.
Are the Packers streaming Family Night from their site?
No, sorry, but we'll have all kinds of videos and stories after it's over. I'm your live entertainment if you can't see it on local TV.
I just want to let you guys know, you're doing a great job with the Insider Inbox. Keep up the good work.
Thanks Jimmy. Appreciate hearing that.
Comment From Robert Schuknecht
Based on the pictures tweeted the weather looks beautiful.
It is a dynamite summer night in Green Bay. Couldn't ask for anything better.
Any signs that Barclay is back to 100%?
He definitely looks stronger and more confident than he did last year. Being another year removed from the injury has been a big positive for him. He's going to make a strong bid for a roster spot.
Hi Mike, Hi Wes. Thanks for the chat. Unless I have missed something, I haven't heard anything about new LB Lerentee McCray so far in camp. What's he been up to?
He hasn't worked with the starters during team drills, but the second and third units. I've seen him get into the backfield a couple of times. Given he missed the whole offseason program, he seems to be doing a good job getting caught up.
Mike, what's your favorite part about family night?
I'd say the fireworks, but I don't get to see them because I have to work. I saw the show once, many years ago, and it's pretty cool.
Hey Wes and Mike, great job on the insiders box and the Training Camp coverage. I'm really enjoying the updates. Anyway, what are your personal feelings on the NFL overtime rules? I tend to think if there is so much controversy coming out of a randomized coin flip, there's gotta be something wrong with the rules.
I think they've done as good a job as possible to make it fair, without going to the college OT rules, which I'm not in favor of. Hey, if you lose the toss and give up a touchdown, that's on you. You just have to keep them out of the end zone to get the ball back.
Mike, Who are you interested in watching tonight?
Nobody in particular. But I am interested in seeing the half-line and team drills from up above in the press box, because it's easier to see what's going on in the trenches compared to being on the sideline at practice.
What do you think is the weakness of the Packers? The D-line depth has me a little worried against the run.
I've called that the roster's weakness, but mainly because you just don't know what you have yet in Clark and Lowry. If the two draft picks can step in and play right away, it's less of a weakness.
Hey Mike. I'm excited about the prospect of Blake Martinez. How is he looking lining up with the starting cast? In addition, is it due to Barrington being out, or is he the real deal? Thanks!
I'm very curious to see what happens with the ILB reps when Barrington returns. Martinez certainly looks like the real deal, and I've commented before how Jake Ryan reshaped his frame a bit to get faster. I like what's brewing there.
MM's comment about keeping only 5-6 receivers seemed uncharacteristically forthcoming about his plans. You think it was only said so that the wide receivers would hear it?
That was sort of my thought when I heard it.
With family night being a ticketed event, that welcomes scouts from other teams to attend the practice. Does this mean that the Packers will be more careful of what they show to the public, to maintain secrecy?
To some extent, but if you work on things you're going to show in the preseason games anyway, you're not giving anything away other teams won't find out about in August.
Hi Mike, Of this years undrafted rookie free agents who has caught your eye the most?
Dorleant the CB from N. Iowa has flashed to me, but it's awful early.
This is a full practice, not a scrimmage. So no 11 on 11?
They will have some 11 on 11 periods, but only for certain periods of time.
Which rookie on each side of the ball has jumped out the most so far?
Comment From Vic from somewhere in South Carolina
How are you two getting along? Finishing each others sentences yet?
No, Wes has too many problems with his grammar.
Mike,after Lacy's weight loss,do you think he has lost any of his power. Am a big Lacy fan and I really like seeing him run over people.
If anything, the lost weight will make him more powerful, because he'll hit the hole at higher speed. That's the idea. It's not like he's slimming down to 210.
Mike, given all the available statistical analysis of going for it on fourth down when inside the opponents 40 Yard line. Why do you believe coaches (teams) have been reluctant to do so?
Field position, momentum. There's a lot to consider.
Do you see this as the year HHCD really breaks out as a premiere safety?
Yes, and if he does, that could take this defense up a notch, with Matthews going back to OLB and all.
Comment From Cameron K-MHave you noticed Beniquez Brown at ILB? I think he has a chance to be Gunter or Shields, as the UDFA guy who surprises those who haven't seen him play in college. Brown was a stud in the SEC.
I haven't noticed him, but the preseason games will provide him a chance to thump some people and move up the depth chart. Like I've been saying, it's early.
Mike...I am a bit concerned about Jordy. What say you?
If Jordy's not concerned, which he said he isn't, then I'm not concerned.
Does Christian Ringo have a legitimate chance of making the roster?
Yeah, he does, but it won't be easy.
Some players coming out of the tunnel now.
Hey Mike. Has defeating press coverage been an emphasis for the receivers in camp this year? Have you seen anything to suggest the receivers are going to do a better job against it going forward?
I haven't seen a lot of WR/DB 1-on-1 drills yet, but I believe they're coming. They always do them in camp.
Mike, haven't heard much about Davante Adams. Is he having a slow start to camp?
I've seen him make some plays, but he hasn't had that gonzo day just yet.
Does Packers.com have anything special planned for Brett Favre's HOF induction this Saturday?
I will be in Canton from Thursday through Sunday night's game to cover all the events. Larry McCarren and our broadcast team will also be there.
Mike, did you get a new picture? I think I see a fancy new haircut.
Where have you been? Put that pic on my stories back in June.
Per NFL rules, are teams allowed to re-sign/extend players just 2 or 3 years into their rookie contracts? I think the Packers should lock up some guys early. I think Bakhtiari's price has only gone up. Same will happen with Haha, QR, and Randall. Those guys are studs and I want them to remain Packers for 8 years.
That four-year rookie draft pick contract can't be extended or re-negotiated until after three years.
Who is the LAST person on the roster you'd pick a fight with? My pick would be Peppers.
Comment From Robert Schuknecht  
Do you expect all of the PUP list players to be active by the regular season?
That's McCarthy's expectation.
Does Richard Rogers look like he may hold off Jared Cook as the top TE ?
No way to know. Cook hasn't practiced yet.
Hi Mike. Who along the offensive line should be the highest priority for a new contract before next year? The Eric Fisher deal muddied the LT market a bit, it seems.
Yeah, I haven't studied that, but heard about it. I expect the Packers to have enough cap room to do what they want to up front.
Comment From terry Mike, what do you think the chances are of green bay going all the way this year?
Get to the playoffs and roll the dice. All teams look different in January than they do in August. It's just how this goes.
How's the punter competition looking?
I think we're going to see some punting tonight. This will be a good environment for it.
Dom Capers and MM have referenced moving Morgan Burnett down closer to the line of scrimmage in a hybrid role in a effort to patrol the middle of the field better. Would you interpret this to mean that they're looking to play something similar to Seahawks with the single high safety?
Not exactly. What you're referencing is in a sub-package with two other safeties behind Burnett. But they can always move Burnett down in base at times if needed, too.
Hi Mike. How has Bulaga looked so far in camp. Not much reported on him.
That's always a good thing with a veteran offensive lineman, isn't it? There hasn't been much reported on Sitton either.
Since I can't watchin anything streaming from Alaska...has any on-field activity begun yet?
Everyone is out and going through warmups now.
Realizing that there's always some change from year to year, but it's rarely a rookie who makes a difference, how would you rank the Packers threats to keep them from the Super Bowl? I have it: 1- Seattle 2-Carolina 3- Arizona 4- Minnesota 5- NY Giants (because Eli has eliminated us twice already)
If I were to pick the NFC playoff field right now, I'd pick the first four you mentioned, plus the Packers and whoever wins the NFC East. But things rarely go the way they're predicted at this time of year.
What allowed the 2014 line to be so dominant and can they reach that level this year?
They were healthy and playing every game. They were together for 17 of the 18 games, including playoffs. Last year it was 8 of 18 games. Huge difference.
Hi Mike. Is it possible to post a picture in the chat from the press box so we can see what your view every game is? Thanks.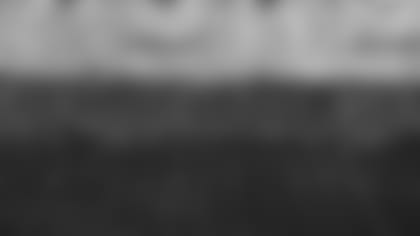 Mike, what position do you think the Packers are stronger depth-wise?
Do you think management will try to lock up David Baktiari sometime this season before he hits free agency? I would imagine the left tackle position would be the most expensive.
Yes, it would be, but we'll just have to see. They didn't reach a new deal with Daniels until December last year.
Do you see any possibility of Pack keeping only two running backs (Lacy & Starks) with Montgomery and/or Cobb in the backfield at times?
I've said it's a possibility. How likely? Dunno yet.
It appears Sam Shields is not practicing tonight, fyi. Also, rookie O-lineman Josh James is not practicing.
Thanks, Wes. The G's not white!?
Yes, thanks for the photo, Wes. They don't fill in the G until the regular season.
Correction, Shields is out there. Sorry for the mis-info
Haven't heard much about Ripkowski this camp... Do you think he can fill the void left by Kuhn?
He has to, doesn't he? Look, he's not going to be a 10-year vet right away, but they clearly believe in him and are going to give him every chance to be the guy.
Do you think starters will play in in the HOF game?
Update on our color rush uniforms?
Still a secret. The league will be announcing them at some point, probably a couple of weeks before the game? I don't know.
Where has Fackrell been? No news.
No, not much to report yet. But we'll see in the preseason games. Fortunately, the Packers have depth at OLB and don't need him to perform right away, unlike Clark and Lowry.
Do the trainers ever let the guys from the website take a look at Jordy's knee so they can report accurately to the fans?
Do you think it's feasable for Janis to make the team this year on Special team ability alone?
Mike, how do you feel about the WR's this year? Will they make the jump everyone is expecting or will it be a repeat of last year?
If they're healthy, I would expect elevated play. I think the injuries to Cobb and Adams were more of a factor last year than they let on.
Do you think Vic is watching the chat tonight?
He's in bed by now, isn't he?
Did you bring your family to Family Night?
No, but they're probably going to watch some on TV at home. They've been to this before.
One of my favorite aspects of our offense is the lack of TD celebrations (often just see a handshake or a helmet bump); classy, professional. Is this a MM thing, or who's responsible for that type of mentality across the board?
I could be wrong, but I thought I remember Jordy being the first one to do the handshake, but it might have been Driver. My favorite celebration was when James Jones put the ball behind his back and started tapping his feet and spinning in a circle. He said that's what his son did on the kitchen floor and told him to do that in a game. Loved that
Is Wes raiding the concession stand? He's not answering any questions
I'll let Wes take over for a while now. Have at him. Thanks everyone.
What up yo? I'm taking the reins from Mr. Spofford. On-field introductions will begin momentarily
Who has the edge for 3rd String QB? Callahan or Williams?
I think Callahan has the edge based on having a full offseason program under his belt whereas Williams was a late add. Both should get plenty of work in the preseason though with the extra games
Hey Wes! Welcome to the pack! What have been your influences to become a writer?
Too many to mention, but I am very happy to be here. Hopefully I'll have a thing or two to contribute this year.
Not yet...About 10 more minutes
Wes, have you run into any Packers playing Pokemon Go yet?
Ty Montgomery was tweeting about catching some a few days ago. I know Mike Daniels is a big fan, too
Regarding Adams, how has he looked so far?
He's had a few nice catches in the early going, but still a little too early to draw conclusions. Very interested to see him in the preseason.
Wes, do you think it's fair that the teams who play in the HOF game have to technically play an extra preseason game instead of it counting as one of their usual 4?
I get why they play the game, but yeah it does seem like it would make more sense to make it one of the four. Regardless, it will give us an early glimpse at a lot of the rookies and younger players. Personally, I'm also excited to see Tolzien and Hundley taking a few snaps against one another.
I think Rob meant, have YOU (literally) run into any Packers players (while not paying attention and) playing Pokemon Go (on your phone)?
Sup bro. Is Larry Mccarran fun to work with? He seems like a cool dude.
Working with Larry McCarren is a dream come true. He's one of the best in the business and a pleasure to work with. His experience is unparalleled, but he's also incredibly helpful and giving. Tremendous talent and broadcaster, and an even better human being.
Wes, Is TJ, practicing tonight? I know he said he wanted to.
Vic was a hot dog guy. Are you a hot dog guy?
I'm not...unless I'm at Miller Park
Will there be any 11v11 tonight at family night?
Wes,what is your take on the Packers maybe going for 2 more often this season.
That's a great question. I think we'll see it a lot in the preseason. But your guess is really as good as mine about how often we'll see it in the regular season. To steal a line from Mike McCarthy, it'll probably depend on the game situation. If an opponent goes that direction, it will be interesting to see if the Packers follow suit.
So...Perogi or Bratwurst???
Kinda. He's still doing his column on Mondays and after games
Hey Wes, Do you think the Packers could only keep two running backs and have Ty Montgomery play as a scat back on passing downs? Would allow us to keep 7 receivers.
I think anything is possible. If seven receivers prove worthy of roster spots, the Packers will have some difficult decisions to make. Cobb and Montgomery's versatility certainly adds credibility to your theory.
Wes, have you been surprised at all with any part of training camp thus far?
I don't think so. The players who have played well - Abbrederis, Trevor Davis, Randall/Rollins - aren't total surprises. I think Justin Perillo has made some nice catches.
At the owners meeting it was mentioned there may be Packers everywhere prep rally in MN this year. Can you give any info on that?
Who's your breakout player of the year
Wes, what are your thoughts on a weekly Packers podcast this season? I miss Tuesdays with Aaron!
Mike Spofford and I actually have started Packers Unscripted, which can be found on Packers.com or downloaded on iTunes. It's currently two days a week (publishes on Wednesday and Friday morning), but will be five-days-a-week during regular season
Wes, I've always been curious to why the packers don't normally keep a 'scat back' on the roster to create some extra gameplanning and mismatches for the opponent? Any insight to why not?
They did a few years ago with DuJuan Harris and kept it alive with using Cobb in backfield. Just have trended toward power backs last two years
WHAT ABOUT OUR D-LINE DEPTH/ IS IT ENOUGH?
They need Clark and Lowry to play right away, but I'm fine with the depth right now. Once Pennel is back, I don't think it's an issue. I think Daniels and Guion can carry the load in the four games he's gone
Is Kenny Clark the real deal at NT? Saw him pummeled into the ground by double teams at the first padded practice.
I thought he looked really good in one-on-ones.
Wes, I've heard some great things about Starks so far, but not much about Lacy other than he looks quicker. Is Lacy back to his old self in half lines and 11 on 11?
Coaches were raving about him this week. I thought he looked strong in Thursday's half-line drills.
what's the biggest change now that you're inside the organization?
If winter was coming which Packers player would you most want at your side?
Jason Spriggs. Absolute monster
wow nice voice in that 8th grader!
That national anthem was incredible.
Do you see a 5 receiver package this year with Montgomery and/or Cobb lining up in the backfield? Could be quite a difficult think for defenses to scheme against.
Absolutely. One of the things I felt the Packers lost last year with all the injuries at receiver was being able to use Cobb and Montgomery out of the backfield.
What question are you already tired of answering?
How to pronounce your last name
Bring back the Psycho Package!!!
I remember asking former Packers linebacker Dezman Moses about that in 2012. He didn't even know what it was. That dime package has taken on new forms and news. NASCAR is pretty similar with all the LBs blitzing
What's the scoop on Sam Barrington? Is he on pup? Any concern there?
He is on PUP. McCarthy said this week he thinks everyone will be back at some point in camp. With the extra week and game, I don't think it's too much of a concern they're holding six guys out. A lot of time left
Which of your many Q&A platforms is your favorite?
They're all cool. I really like Periscope. Feels more personable, but they're all cool
Is Jered Cook supposed to practice tonight?
He's down on the field but not practicing yet
Since your last name is difficult to pronounce, do you have any nicknames? My nickname has been Gouda for about 24 years
Mr. H. At least, that's what Delta workers call me when I'm checking in
Comment From Michael in Winnipeg 
Wes, with the new job, how many hats did the Packers give you?
Mike Vandersnick gave me a nice white cap from last year. Picked up this year's camp cap this week. I suggest you do that same. Very comfy
Hey Wes,I watched Jered Cook for the last few yrs, he played for 2 bad teams and 2 less then average QB's I think he was a great pick up He's a very tough matchup for a linebacker your thoughts
I agree with Randall Cobb - he's huge. My jaw kind of dropped a little when I saw him on the field for his first OTA practice. I think he'll complement Rodgers well. Excited to see what he can do in the middle of the field
How would you react if during a practice McCarthy called to you "Hey Wes we need one more guy for half-lines"?
Barrington on base; Martinez on nickel and dime?
The Packers have a lot of options once Barrington gets back on the field. Keep in mind Joe Thomas is also back. He's put on some more weight this year. Barrington was slated to be a three-down linebacker last year. We'll see what Packers have planned for him in 2016.
I know they'll both make the team
I really like Ryan and Martinez both. Martinez was taking dime reps this week. I'm sure they'll both get a chance to grab the spot
Comment From Michael in Winnipeg
Is the tackling donut out on the field?
Biggest cheer so far at Family Night was Rodgers hitting the hoop from about 50 yards away.
Hows Peter Mortell going?
Punters were just on the field. Don't have the exact numbers but seemed like Masthay kicked well. Mortell had a few mis-hits
What is the deal with the red stocking caps on the helmets?
What do you think of Ty Montgomery's hat?
The donuts were used when they were in helmet and shorts, not full pads
Comment From Kim from Kansas
Prediction - Hail Mary will make an appearance this season. Yay/Nay?
If the Packers keep 6 DL to open the year (not counting Perrell), do you have a sleeper that they might keep for depth early in the season.
Christian Ringo has looked good early on. Could see him taking a step
Abby just got a huge cheer for a juggling catch. You think he has a strong chance to make the 53?
Hard to say right now, but he hasn't hurt his chance this week. Off to a strong start
Comment From Peter From Sydney Australia 
Hi Wes - have you seen a difference in Richard Rodgers' off the line speed since he has lost some weight? I think he could potentially have a break out year and be a little bit like Jordon Reed
It's early but think he's looked more explosive so far. Made a couple nice catches in camp, too
Any signs of Peppers slowing down?
I don't think so. Packers being smart with him early.
Comment From Kim from Kansas
McCarthy beard is back! I think he needs to keep it for the regular season! Thoughts?
I can't grow facial hair. I respect those who can
Any practice squad players from last year that look a lot better besides Ringo.
Rob Daniel has looked good. Spent all of last season with Packers before being called up for Arizona playoff game. Ed Williams also has caught everything thrown his way so far
Hi Wes, How is Mike Daniels looking in camp?
Comment From Peter From Sydney Australia  
Hi Wes Im coming from Sydney in October rd 6 to experience my first Packers game - what are some of the things I must do whilst I spend my time in Green Bay?
Lambeau Field tour, for sure. Also suggest checking out the Heritage Trail through Green Bay
What game are you most looking forward to this year and why?
Vikings on Christmas Eve.
We've gone this hole time and we haven't talked about Quinten Rollins, Damarious Randall or Ladarius Gunter. Can you talk a little bit about how those guys are doing? I really loved Gunter coming in as an UFA. He can ball.
Wrote about Randall and Rollins earlier this week. Both look good so far. Working both inside and outside. Gunter also diversifying his skill set. Future is bright at CB
I'm watching Lowry closely this preseason. When have the Packers had a true 5-tech lineman?
Haven't had a guy with that length since Capers has been in GB from what I can recall
Blake Martinez just blew up a screen in an early team period
Blake Martinez had double the amount of tackles any of his teammates had at Stanford. Steal of the draft?
Almost triple. We'll see but I like what i've seen so far
Lacy sure looks strong with the ball in his hands
Do you think Janis can make the team strictly off of special teams ability? Especially if it means taking the spot of another receiver?
I think you'd be hard-pressed to find a better gunner in the league last year. His combination of strength, speed and size made him a legitimate threat to returners. Very disruptive
How tough will that first game in Jacksonville be? They had a great draft, Ramsey, Jack etc., the heat and obviously they'd love knocking off GB to open their season.
They're a popular preseason team. I'm sure it'll be a stiff test when you also factor in the heat. OK, back to Mike.

Comment From Peter From Sydney Australia
With morgan burnett getting more reps as a hybrid LB in the dime package -are coaches looking to put micah or banjo at SS
Hi again everyone. I think Hyde would be the first choice, but Banjo could play it, too
Looking forward to seeing the Vikings open their stadium up with a loss Week 2, How say you?
That is going to be an emotionally charged game, I imagine. Should be fun
Do practice squad memebers get a salary?? I heard the answer awhile ago but forgot..
Yes, they do, but it's not nearly as much money as being on the 53-man roster.
I love the Ginger Wolverine(Tim Masthay), but it's really hard not to root for Mortell givin his story. Any shakeup with the punting competition?
Masthay definitely was the better punter tonight, so far. He's leading the competition based on the first week.
When, O, when is Ty going to be ready?
kind of a strange schedule if you ask me....three game home....away....bye in week 3...etc
Yes, it is quirky. I would agree. To have four straight home games, with the bye in there, is really strange.
Rodgers just hit Adams down the sideline on a go route over Gunter. Nice throw and catch.
Mike, Bryan Price looks awfully big. has he made any impressive plays yet?
I saw him in the backfield a couple times in the last team period. Looks like he could be a disruptive player.
i really dislike the bye so early - but alas
I agree, but we'll see where the team is when it comes. Back in 2013 when it was in Week 4, I remember there being significant injury issues, and it helped to get the week off early.
Rodgers to Perillo, who seems to catch everything. Janis on an end-around. Great way to showcase his speed.
Does Nick Perry get 10 sacks this season?
Mike what do you think of the DB's abilities to cover big and fast receivers?
I'm in favor of it. You don't find many small and slow receivers in the NFL. OK, sorry, I'll quit channeling Vic.
Comment From Kim from Kansas
Based on what you've been hearing during off-season/pre-season of other teams, which home and away games will be the toughest for the Pack this year?
That three-game road stretch in November, with back-to-back prime-timers out East, will be really tough.
Perillo seems to catch everything, but he seems on the slow side...ala Rodgers...
He's not the most athletic looking tight end, no, but you don't keep making plays like he does without having something to offer.
I'll hopefully be at two of those three games out east. I'll try to bring some good luck.
If I'm not mistaken, Packers haven't played at Philly since the '10 wild card game that started the run. Seems strange, but true.
Comment From Peter From Sydney Australia  
Just read Lowry got a sack - is it possible to see Lowry contributing learner than expected for the Pack
Lowry had a nice play in half-lines I saw, too. Good sign.
Seeing some pretty good jump from Datone on the outside. Will be interesting to see how that change works out.
He's a motivated man. Never underestimate a motivated professional athlete.
Defence is going to be much improved, I believe we're going to see a lot more successful pass rush this year, your thoughts?
The pass rush needs to be able to do the job in the fourth quarter, and that means having enough effective guys to rotate and keep fresh for crunch time. That's what they're after.
Rodgers to Rodgers for a nice tip-toe catch along the sideline.
Abby wide open deep over the middle from Rodgers. That was too easy.
Your head of my online stream Mike! Spoilers!!!! Haha. Just kidding. Glad you guys are doing this tonight! Thanks for answering our questions
You got it. Thanks for logging on.
Datone with another pressure.
Is there anyone that is on the team right now that you look at and say he has no chance to make the team?
Forget size/speed. If Abby keeps making plays every practice there's no way he's going anywhere.
Long way to go, but your sentiment is more than reasonable.
what defense are they trying there? With only one DL on one side?
It's a dime package. A variation on a traditional dime.
McCarthy said there was a lot of penalties on the first day. Has that been cleaned up?
Not as much as he would like, I would guess.
What do you think Vic is doing right now?
Still recovering from last night's birthday party, I hope.
What ranks will the Packers' offense and defense be this season?
They're both capable of top 10, and that would be a good combination.
Almost a TD by Janis from Williams. Looked like the throw was behind him, unless he was trying back shoulder.
Gilbert picks off Williams in the end zone on a ball for Henry. Underthrown.
Comment From Kim from Kansas  
So during this "Move the Ball" time, what are defenders allowed to do to get the play downed? I'm know no real tackles, but I see offense play through even when they're touched.
There are only nine defenders in these team periods. It's not a full pass rush.
Tonight's attendance: 66,397
Mike or Wes, do either of you play fantasy football? If not, would you ever consider it?
I played about 15-20 years ago, but I gave it up because I didn't like how it was changing the way I watched games. Don't regret the choice.
How can we, as spectators, decide whether offensive gains are on the part of a well put together offense or a struggling defense?
You really can't, but somebody has to win each rep, right? That's why the coaches watch all the film.
All right, folks, we have some other duties to attend to soon, so we're going to sign off. Thanks for all the participation. Talk again soon.