Welcome back, Vic. You said you would revisit this at a later day, so have the Seahawks found a cheaper way to build a championship team?
Yeah, they have. It's a novel concept: Find a quarterback in the third round with whom you can win a championship while he's a $681,085 cap hit. Wanna try it? Let me know when you find another one of those guys and all of the defensive talent you need to surround him. Russell Wilson's contract expires after the 2015 season, which means the Seahawks will have to do a new deal with him before that, probably prior to the start of the '15 season. That's when the Seahawks' way will have to change; the current model isn't sustainable. Sometimes you just get lucky.
I think a big reason fans don't respect the history of the game is because many perceive it as being inferior in quality compared to today's game. In contrast, fans of MLB and the NBA tend to believe the quality of those sports has decreased over time.
I don't know about NBA fans, but you're right about football and baseball fans. Why is it that way? Today's baseball players aren't bigger, stronger, faster than Babe Ruth? Why do baseball fans revere Babe Ruth and football fans chortle at Jim Thorpe? Football fans aren't as reverent as baseball fans, and I think it has something to do with the personality of the sports. Football is about aggressiveness. Baseball is about the slow patience of a 162-game season. George Carlin had it right. All of the baseball jargon is light and friendly. Football language tends to be challenging and militaristic. Baseball is extra innings; football is sudden death.
Vic, with the recent success of the Seahawks and seeing that we play them next year, I just wanted to ask, what was "Ask Vic" like the day after the Fail Mary?
Oh, it was great. Everybody got a good night's sleep and we all spent the next day laughing and cutting up about the previous night's game. Everybody was complimentary of the replacement officials and nobody was angry at the commissioner. What I especially remember is that by the time our plane landed in Green Bay, I had close to a thousand e-mails from fans who wanted to share their joy with me.
Vic, I pray to the football gods that Aaron Donald is picked by Green Bay. I haven't followed drafts for very long but I can say with complete confidence that I've never seen a highlight reel like his and he backed it up at the Senior Bowl. He is beyond special and his size concern is by far outweighed by his natural strength and speed. I also think he has incredible football smarts. If you watch the videos, he's the first one off the ball and he's headed where the play is going almost all the time. Great to hear that you want to be happy! I already see the results.
Yes, happy. I'm very happy, and I want to be liked, so I'm very happy you like me. As for Donald, I have never seen a Senior Bowl performance as dominating as the one he gave us a few weeks ago. It was almost too much to believe, just as it's almost too much to believe that one man in one year could sweep the four major college defensive player awards: Outland, Lombardi, Bednarik and Nagurski. Then he goes to the Senior Bowl and rag-dolls an offensive lineman who was an Outland finalist. Be that as it may, I have spoken to several scouts since the Senior Bowl and every one of them has said the same thing: He's too small.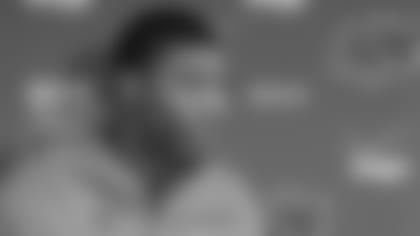 Oklahoma St. basketball player Marcus Smart
Do you think the success of football has changed the fans? Or do you think society has changed the fans? Give us your thoughts.
I watch the tape of the Texas Tech basketball fan and I think to myself, "What's happened to us?" But then I think back to the fan that poured a cup of beer onto Jimmy Piersall's head, and how the fans so tormented Piersall that they helped ruin what should've been a great baseball career. Nothing's changed.
From what I've read, the salary cap train has officially pulled into the station in Detroit. Suh will be a $20 million cap hit for the Lions. If they keep him, which they will, how do you think they'll deal with the cap?
Push it out, push it out, waaaaay out.
Tery from Springfield, MO
Can you enlighten us as to the history of fan noise? I see pictures of fans in suits and ties. Did they yell and scream to the same decibels as the bare-chested, face-painted, spike and scull-wearing lunatics of today, or did they enjoy the spectacle with pipe firmly clenched between their teeth?
My dad smoked cigars. The first thing he did when he went outdoors was light a cigar. He cut the grass with a cigar in his mouth and I'll always remember him with a cigar in his mouth as I sat next to him at games at Forbes Field or Pitt Stadium. I don't ever remember seeing him with a painted face, standing and howling while the offense was in the huddle. What I remember is that if there was a good play, he'd take the cigar out of his mouth and cheer. If there was a bad play, the cigar would droop in his mouth, which is also what it would do when he found out the seats for which he paid $3 and was promised they weren't behind a pole, were behind a pole. That's when I'd say, "I can see fine, dad." I'm really glad my dad didn't paint his face and howl.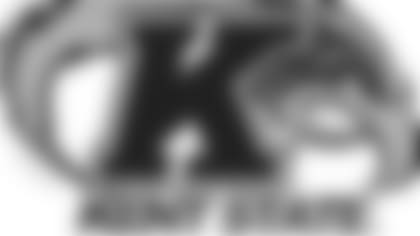 You, of all people, should know that you can't give up your seat because there is always someone behind you waiting to take it. Why is "Ask Vic" shorter than "Ask Mike"?
Apparently, we were taught differently. I went to Kent State, where I was taught the length of a story should be like the length of a woman's skirt: long enough to cover the subject but short enough to make it interesting. Just above the knee is a good story length. Mike went to Northwestern, where apparently they wore their skirts down to their ankles.
Scott from Lincoln City, OR
Vic, if we can't afford to keep the best developed talent once their rookie contracts expire, aren't we just developing talent for other teams?
In some cases, yes, that's what you're doing, and then you're taking the compensatory picks you receive for having lost those players in free agency and using them to select new players to develop. The process is ongoing. It keeps your roster young and ascending.
Scott from Lincoln City, OR
Vic, if it's really over for Peyton Manning, what would you do with him if you were the Broncos' GM?
Manning has one more year at a $17.5 million hit, then the hammer comes down in 2015. I would target a quarterback I like in this draft and have him ready for when the hammer comes down.
Bill from Coral Springs, FL
Your relationship with the players is purely professional, which means you have gotten to know them. I've never spoken with a Packers player, but I watch them play on Sundays with more attention I give most of my friends. When the Packers lose, I get sad. When they win, I'm happy. How do reporters build these professional relationships with players and not get emotional about their careers and the season?
I didn't say I don't have emotions for the teams and players I cover, it's just that when you're cheering, I'm working. My emotions come at more reflective times. I spent time last week reflecting.
Who is key to the Packers' improvement on offense?
What's to improve? They were No. 3 overall with the No. 7 run game and No. 6 pass game, and Aaron Rodgers missed half the season. They were No. 9 or better in nine of the 11 most important statistical categories. I keep hearing about how bad they were in the red zone, but maybe that's because they were No. 2 in the league in red-zone trips. Only six teams in the league scored more red-zone touchdowns. Truth be known, the Packers offense achieved look out in 2013, but it was disguised by Rodgers' injury and the slump into which it sent the team in November.
The Michael Sam situation is an impossible one for organizations. Drafting him invites the circus into your locker room and puts everything that happens under a microscope. Was he cut because he was no good or because he was gay? Was he in a training camp scuffle because that is what happens at training camp or because he is gay? Is he not getting playing time because he needs more time to develop or because he is gay? The fact is his presence on a team is going to be a headache and a huge distraction, not because he is a gay football player but because the media is going to be obnoxiously ever-present because he is a gay football player. Teams need to make the decision if his talent justifies all the baggage that comes with it.
Everything you say is true, but I don't like it that you've decided to blame it all on the media. Hey, the media didn't call Sam this past weekend and say, "Let's do a press conference," and all of the questions about Sam in my inbox aren't from reporters, they're from fans. You're not media, are you?
Paul from Farnborough, UK
Vic, I'm a little confused. On the one hand, we speak of having patience and not changing things too dramatically to avoid falling into the win-now philosophy. On the other hand, the salary cap, player contracts, injuries … mean the team will be gutted every couple of years anyway, so why not go for broke every season?
The team isn't going to be gutted. That's what draft-and-develop is intended to avoid. The mania to win the Super Bowl every year, which causes teams to make short-sighted decisions, can send you into rebuilding phases that'll result in several non-playoff seasons. That's no fun. I want to know in training camp that the team I'm covering is a playoff contender. As long as we have that, we have hope. The alternative is depressing. Trust me, I've covered the alternative.
I just realized that crazy Nike mess that everyone was making fun of a year or three ago has just become the most classic uniform in Seahawks history.
That's what I call a winning uniform, because you better win if you're gonna wear it. Even my pleated khakis would look good on the Seahawks right now.
Peter from Mount Horeb, WI
Vic, do we have a team full of young lions?
Young lions such as Eddie Lacy, David Bakhtiari and Don Barclay helped give the Packers offense a fresh roar last season. The defense needs some of those guys.
Mike from Pickerington, OH
Vic, you say your relationship with the players is strictly professional. So what would Jack Lambert say to you if your paths crossed today?
Probably the same thing he said to one of the Raiders captains during the coin toss for the season opener in 1976, which was the first year the NFL planted an open microphone for that ceremony. I can still remember the place exploding with laughter.