GREEN BAY – It's always been more about the people than the records for Mason Crosby.
After the Green Bay Packers drafted the Georgetown, Texas, native in the sixth round in 2007, Crosby approached his fledgling NFL career with two guiding principles – be accountable and be available – to both his teammates and his family.
Fifteen years and 255 regular-season games later, it's brought the 38-year-old kicker to this moment. Tonight, when Crosby takes the field against the Los Angeles Rams, he's set to tie Brett Favre's record for most consecutive games played in Packers history.
The achievement comes after Crosby quietly broke Morten Andersen's record for most consecutive games played by an NFL placekicker when he kicked off in Buffalo on Oct. 30. Among specialists, only punter Jeff Feagles (352 games) has made more consecutive NFL regular-season appearances than Crosby, whose rookie season in Green Bay coincided with Favre's 16th and final in a Packers uniform.
"Obviously when you get here, you know that Favre had that run and how tough he was and his longevity," Crosby said. "You get 10 years in and it's like, 'All right, I still haven't missed one.' You start kind of chipping away at that and thinking let's try to have as many consecutive as possible.
"It's just being available, trying to keep your body as healthy as possible. Even if I'm dinged up and stuff doesn't always feel perfect, it's just knowing that it's important to be on the field and be available for this team."
The consecutive games played mark is the latest in a series of Crosby's career milestones. He's nearly lapped the field when it comes to scoring. In 2015, Crosby shattered Ryan Longwell's record for most points scored in team history (1,054) and has since pushed his total to 1,877, which currently ranks 12th in NFL history.
He's one of only four players to play at least 16 seasons in Green Bay, trailing only longtime teammate Aaron Rodgers' 18. Nobody has played more games at Lambeau Field than Crosby's 126 appearances. Along the way, the veteran kicker has made the eight longest field goals in Packers' history, including a career-long 58-yard attempt in 2011.
"I always had that mentality from a little kid where I want to play, I want to be involved." Mason Crosby
Crosby also has 12 game-winning kicks on his ledger, including an emotional 51-yard attempt as time expired in the Packers' 34-31 win over Dallas in the 2016 NFC Divisional playoffs.
To get here hasn't been easy. Crosby has overcome injuries, illnesses, professional setbacks, and personal adversity to suit up in every game the Packers have played since 2007. Looking back on his journey, Crosby credits his parents, Jim and Karen, for building his ironclad resolve.
"Growing up, it was kind of a mindset of, 'If you're not injured or hurt, you're going to find a way to be out on the field,'" Crosby said. "I always had that mentality from a little kid where I want to play, I want to be involved, and I'm going to find any way possible to do that."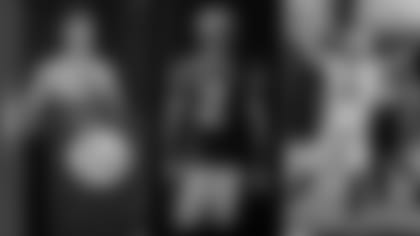 Momentum swings
You have to travel back more than 20 years to Crosby's days at Georgetown High School for the last time he missed a game, stemming from a knee surgery his sophomore year. He later became a two-time All-American while playing in 50 straight games at the University of Colorado from 2003-06.
The game changes once you're in the NFL, though. It's a week-to-week league for many specialists, a byproduct of playing a position without a playbook and teams often only carrying one kicker, punter, and long snapper on their 53-man rosters. It takes talent, discipline, and toughness to last with one team for 16 seasons.
"It just shows his character," said punter Pat O'Donnell, a ninth-year veteran who signed with Green Bay in March. "Lasting 16 seasons, especially in Green Bay, is not an easy task. When the weather starts changing, the body breaks down a little bit, but just seeing the way he prepares every week has been amazing for me and our room, in general."
After unseating Dave Rayner for Green Bay's kicking job, Crosby began smashing team records right out of the gate. He was named the NFC Special Teams Player of the Month during November of his rookie campaign on his way to scoring the most points in a season by a Packers kicker (144). To this day, that is still Crosby's highest point total in a season, though he also matched it in 2013.
While Crosby settled in, won a Super Bowl and signed a contract extension, his career hit a snag in 2012. He endured a nightmarish season in which he made just 21 of 33 field goals (63.6%), including a stretch of eight consecutive games with at least one missed attempt.
The Packers stood by him, though, and the 6-foot-1, 207-pound kicker responded with a career-high 89.2% conversion rate the following year. Even through his 2012 struggles, Crosby maintained his NFL postseason record of 23 consecutive made field goals from 2010-16.
"Lasting 16 seasons, especially in Green Bay, is not an easy task." Punter Pat O'Donnell
In 2015, Crosby surpassed Ryan Longwell as the Packers' all-time leading scorer. Five years later, he became the first Packers kicker to go an entire season without missing a field-goal attempt. Over the 2020 and 2021 seasons, Crosby set a club record with 27 consecutive field goals made. He's currently on pace to notch his ninth season with at least an 80% conversion rate on field goals.
"As a young rookie, it's being able to see his process every day, and the way he can sit back and then all of a sudden turn it on when it's time to perform," long snapper Jack Coco said. "It's a performance-based business, and the way he presents himself is at the utmost professional level. It's an honor that I've had the opportunity to work with him, a 16-year veteran. It's unbelievable."
Although Crosby has sent the Packers' all-time scoring record into orbit, it takes more than just on-field success for a kicker to make it every Sunday. To sustain his body, Crosby has adjusted his offseason kicking routine over the years and been diligent about weightlifting and nutrition. When Rich Bisaccia was hired as the Packers' new special teams coordinator earlier this season, he consulted Crosby when determining how to build the specialists' schedule.
"I don't know if there's some magic potion to it, but I know mine is a really good balance of putting the work in, doing the physical side, but also the rest and recovery," Crosby said. "Just having the right mindset, too. Just the mindset of I am going to battle through illness and aches and pains, and little strains and different things. I'm just going to find a way to battle and adjust and adapt so that I can be available on Sundays."