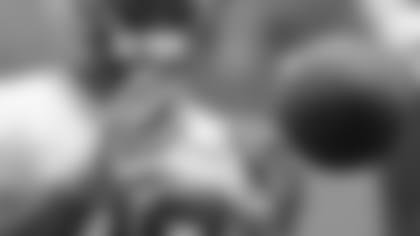 Vic, we have heard of the following Underwear League top performers thus far: Carlos Gray, Chris Harper, Richard Rodgers and Sean Richardson. Which do you feel has the best chance to contribute early on in the year?
Rodgers made the play of the spring yesterday, a one-handed catch that caught the head coach's attention. He has a unique opportunity to be the pass-catching tight end the Packers lost last season. As I watched Rodgers pull that pass down with one hand, turn up field and thunder down the sideline, I experienced a "who dat?" moment. It was as though a voice from above said, "Did you see that?" Another one of those and Rodgers has a chance to win Underwear League MVP.
Vic, I understand why teams are signing players at this time of year, but why are they releasing players now?
Evaluation is daily. When you've made a decision on a guy, why keep him?
You said before that teams need to figure out a way to enhance the stadium experience. The Jaguars seem to be taking some creative approaches with pools and cabanas and NFL Red Zone so fans can watch their fantasy teams. Is this what you envisioned?
I didn't envision swimming pools, but whatever it takes, right? The new owner in Jacksonville is attempting to create  buzz for his team: new scoreboards, swimming pools, cabanas, creative ticket-pricing, half-painted helmets, a new face-of-the-franchise quarterback. It makes perfect sense. Winning, of course, is the best stadium experience and creates the loudest buzz.
There were times when Tramon Williams looked like the No. 1 corner in the league late in the 2010 season. Do you see him regaining that form?
I thought he regained his 2010 form in the second half of last season. Williams was, in my opinion, the Packers' No. 1 corner when last season ended, and he was playing at a level just beneath Richard Sherman.
Tudor from Saint Augustine, FL
How does Everbank Field rank as far as press-box-to-locker transition and stadium aesthetics? I finally got to go to some games and it's become almost unbearable to watch them on TV now.
I always thought the view out the south end zone to the river is one of the best in the league. My eyes naturally went there. As for getting to the locker room after the game, the elevator is a little small, and that often caused a long wait, but I knew a secret way to get down to the ground floor. There's a staircase just to the right of the elevator. It dumps you outside the stadium, but I had a code for the security keypad that got me right back inside, a short walk from the interview room. It's all about getting down to the interview room and locker rooms after the game. Whatever it takes.
Raymond Berry and Johnny Unitas perfected the back-shoulder pass.
I'm not surprised. Unitas invented the game.
What is it that drove you to this profession, and what keeps you so enthused today?
I have limited intelligence and I was absolutely sure I didn't want to work in the sintering plant, and sports writing was the next career up from the sintering plant. The games have always been my excitement. Once upon a time, I enjoyed training camp as much as I enjoy the games, but I have difficulty now telling the difference between training camp and OTAs. The Oklahoma drill is gone and so are the dormitory-room interviews that allowed and demanded a level of writing above what's possible today. Game day has lost none of its appeal. I feel the same excitement for game day now as I did for the first regular-season pro football game I ever covered, the 1972 season opener. I love game day. If that ever changes, I'm done.
In high school football, I noticed that for the first few weeks of practice our bodies were pretty much covered with bruises. Toward the end of the season, the same stomping of your arm by the cleated RB would peel skin off, but not bruise. My theory has been that the body undergoes certain changes as a result of the frequent pounding. I agree with you; you can't get into football shape without contact.
At the end of every season, I would say to myself, "I'm going to keep this shape so I don't suffer as much at the start of training camp next summer." But I never could. It didn't matter what I did, for the first two weeks of training camp I would feel and look as though as I had been dropped from a plane. I spent all of the time between practices lying on my cot in the gym, and when it was time to get up, I barely could. By season's end, however, I was playing basketball in the gym after practice. Training camp was always the place where the body was conditioned for hitting. Not anymore.
Michael from Gainesville, FL
Vic, how did the public react to domed stadiums when they first came about? Love at first sight?
The Astrodome was dubbed "The Eighth Wonder of the World." The first time I was in it, the only thing I wondered was why they built it. It was bad, but it ushered in the era of dome-stadium construction and the next big model, the Superdome, was magnificent, but did we need all of that expensive roof? Next came the ugly bags, but now we've reached a point in dome construction that makes it feel as though you're in a real football stadium, not an armory or a parallel world. I was a dome hater, but not so much now. Domes are all about the roof.
A trivia question for lighten up week: Who is the lightest player to ever play in the NFL?
Gerald McNeil, 145, is probably the lightest player I've ever covered.
Paul from Farnborough, UK
Vic, at what point during the offseason are you itching for the new season to get started again?
After all these years, my body has a seasonal clock and the alarm goes off in July, after the vacation season. The Packers Hall of Fame induction ceremony helps trigger that alarm, and so does the shareholders meeting and our "Ask Vic Day." By the way, "Ask Vic Day" registration will be offered soon. We're going to do the dinner and a movie thing on the Lambeau Field North Balcony. Spots will be limited, so you might want to be ready to register when it begins.
Chan from Jacksonville, FL
Vic, are you really going to avoid watching the World Cup completely? It's in Brazil.
I've closed the blinds, just in case. By the way, I saw a soccer game two nights ago. I couldn't help but see it. I was riding my bike and I heard this terrible screaming up ahead. When I got there, little kids with big pads on their legs were running around a field. Their parents were crowded along the sides of the field – it's a little playground in my neighborhood – and they were yelling, "Get it, get it, get it." I averted my eyes and pedaled faster. After I was out of range, I felt a sadness come over me.
Vic, the week is finally here. The U.S. Open! How do you feel about it being played at the redesigned Pinehurst with no rough?
This could be a game-changer for golf. They're going to play Pinehurst No. 2 dry and brown. If this works, golf could become more affordable for us. The overwatering has to stop. It's too expensive. The trees are soaking up most of that water, so the USGA is promoting more links-type golf. Oakmont started the craze for the 2007 U.S. Open when they cut down hundreds of trees and returned the course to its links roots. High rough is being replaced at Pinehurst with waste. The U.S. Open and the British Open are my favorite tournaments. The Masters is flowers and whiny music. The PGA is an afterthought. The U.S. Open and British Open are the golf season. Now we'll find out who the tough guys are.
Hey, I think you are a great football mind. That said, as a journalist, why do you acknowledge so many negative questions? Could you just hit delete and answer football questions?
An artist has to show dark to be able to show light. If the canvas is all light, it's blank.
Ryan from Platteville, WI
What can you tell me about Letroy Guion? I haven't heard much about him.
I found myself staring at him yesterday. He has one of the thickest-looking bodies I have ever seen. Everything about him screams defensive tackle. I liked him a couple of years ago with the Vikings. I wrote about him as one of my value targets in free agency. I'm looking forward to seeing how Coach Capers uses Guion in a 3-4. He reminds me of a couple of other guys Coach Capers coached, Brentson Buckner and Gary Walker.
Vic, in keeping with the spirit of "Lighten Up and Have Some Fun Week," let me recommend an obscure rendition of "Save The Last Dance For Me," by the Beatles. They recorded it during the "Let It Be" sessions in 1969 and it sounds as if it came late in a long day at the studio, because it's evident they were lightening up and having some fun. No doubt they performed it as a young band doing cover tunes.
It's possibly the worst thing I've ever heard. If they had sung that song on Ed Sullivan, nobody would've remembered them.
You said you think the Vikes should play Bridgewater right away if they view him as the quarterback of the future. Do you feel the same way about Bortles? The Jags have already said he will not start at all this year.
The Jaguars must feel Bortles can't advance quickly enough to be ready to play this year. You have to know there's a reasonable expectation for success before you can send a young quarterback into the game. Having said that, I'd be surprised if the Jaguars' opinion doesn't change at some point this season. When you draft a guy No. 3 overall, he's "The Man." It's not if, it's when, and usually it's sooner than later.
"My depth chart looks nothing like your depth chart." Love it. How's your depth chart looking, Vic? Primed and itching to go?
What I think Coach McCarthy might've been saying is that his depth chart includes a lot of positions our depth chart doesn't. Coaches envision players in specific roles. Eddie Lacy is the Packers' feature back. James Starks is their complementary back. DuJuan Harris might be viewed as a change-of-pace back. Johnathan Franklin might be viewed as an open-spaces back. Those might all be positions on a coach's depth chart, and that's why I say we spend way too much time worrying about the team's official depth chart. Everybody has a role or they wouldn't be on the team. That role is a position on the depth chart.
I'd never been to a Packers game until the Wild Card game vs. San Francisco. It was so cold I had beard-sickles. Even though we lost, I will never forget it. It's going to be a tough game to top for me. What's the most memorable game you've ever covered?
I have a very good memory. I don't forget good games and I've seen a lot of good games. If I had to pick one, it would probably be the 1975 AFC title game. I knew I was covering something that transcended football. There was something wrong about it. It made me feel uncomfortable. It didn't belong to the NFL, it was the sole property of two teams that hated each other so deeply that no other game mattered. I'm not even sure what I covered was a game.
King Sal from Chandler, AZ
Vic, all hail the king. Thank you for responding to my most recent comments. I appreciate it. Now I have an actual football question for you. Between the hamstring and the thumb surgeries, do you think Clay Matthews will be able to stay healthy this year? I think our defense really depends on its playmakers staying healthy.