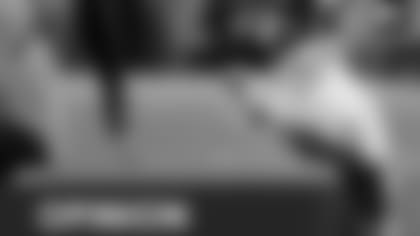 Alabama RB Eddie Lacy
So stoked to see the Packers pick Datone Jones. What do you think he'll bring to the team that we were lacking in previous years?
He brings more big athleticism to the defense. The Packers need more of that on their defensive line. It's been a line of big-guy plugs, and that's OK in a 3-4, but when you add a guy who can hold the point and chase the ball, you take your line to a higher level of play. This pick is similar to last year's pick. Nick Perry is a big, athletic linebacker that played end in college, and Jones is a big, athletic defensive end that can play in space as you would expect of a linebacker.
Luke from East Dubuque, IL
Hey, Vic, is there any possibility the Packers would ever go back to wearing green undershirts at home? I think that made the home uniform look so much better and uncluttered. They should wear white undershirts on the road.
Is this a trick question?
Aaron from Eau Claire, WI
Vic, I think of you as being an awesome grandfather rocking in his chair and telling his grandkids about the game of football and having memorabilia all around his living room, each piece with its own story. In a few years, do you want to babysit my kids?
I'm not a kids kind of guy. Mostly, I'm looking forward to spending time in the grill room.
I usually get your allusions, but "egg in a cup look" escaped me. Can you elaborate?
A player whose neck is so thick that his head looks like an egg in a cup.
Vic, I'm sure lots of fans are upset about not getting a RB but, to me, it's not rocket science.
I'm not sure what that means, but all of the running backs are still available; apparently nobody else felt the need to draft a running back last night. Nothing was lost. I want the Packers to draft a running back. I have a feeling they might do that today.
How's that for value? Love this pick. Very happy for Ted Thompson to stick to his guns and not draft Eddie Lacy. How do you like this pick?
Jones was drafted right about where he fit. Tony Pauline had Jones going to the Colts at 24, but they picked Bjoern Werner. I like this pick because I fell in love with Jones at the Senior Bowl, where he was the only defensive linemen on the north squad that had any success in pass-rushing drills against Eric Fisher.
Dan from Lake Tomahawk, WI
I see Tony Pauline had Datone Jones at No. 23 in his top 32 right before the draft, and I know you loved him at the Senior Bowl. Is this kid going to be the piece the Packers need to push the defense into the top five?
The board is still full of big space-eaters, guys like John Jenkins and Brandon Williams. Give me one of those guys and I think the Packers can become an elite defense.
Kelly from Santa Clarita, CA
I'm happy with our first pick in the draft and think that Jones will be an excellent addition to the defense; however, I'm more than a little alarmed by the Vikings' three picks in the first round, and I'm sure I am not the only one. Picking up two strong defensive prospects and a wide receiver, in addition to signing Greg Jennings and still fielding Adrian Peterson, the Vikings suddenly look a lot more formidable. What perspective can you offer to sooth my anxiety?
I have no soothing words for you, Kelly. In my opinion, the Vikings were the big winners last night. I liked the first two picks, but the clincher was when they traded back into the first round for Cordarrelle Patterson. Yes, they gave away a lot to get back into the first round, but Patterson is a player of special ability. He can be a game-changer and he hasn't even approached the limit of his talents. There wasn't much the Packers could do about it, since they were in a situation that a lot of good players were available to them, but you hate leaving a player of Patterson's explosiveness for your competition to pick.
Vic, every time you use "Okie end," I Google it and the only results are your articles. What do you mean by Okie end?
The 3-4 is often referred to as the "Oklahoma defense," so an Okie end is a 3-4 end. Jones is built more like a long, lean 4-3 end, but he has the power and natural instinct to play as a hold-the-point Okie end. At the Senior Bowl, Jones caught everyone's attention by bull-rushing Eric Fisher, and that's what an Okie end must be able to do to be an effective pass rusher. An Okie end must rush through the pass-rush lanes, not around them.
I started to write to question your comment about the 1960s Packers winning in a watered down league but I decided you were right. Then I took a look at the 1960 draft to see what could have been. In that draft alone, the Colts lost three players to the AFL, all of whom made the All-AFL team, including Hall of Fame tackle Ron Mix. The Steelers lost two, including Fred "The Hammer" Williamson. Coaching probably would have kept the Steelers down, but the Colts could have taken a title or two from the Packers. Nice analysis, Vic.
The bulk of the Packers roster was built prior to the advent of the AFL, and the Packers signed their picks during the AFL years. That was the difference.
Does it seem to you as it does to me that here in Packers country there really isn't an offseason?
It's that way leaguewide, but in Packers country it's all Packers all the time, and I like that because I'm a football guy.
Which team do you think made the biggest reach in the first round?
I acknowledge that this is a new game and I'm an old reporter, and I acknowledge that the times have changed and the game is all about offense, and that Tavon Austin is a playmaker and a game-changer, but I can't force myself to sign off on trading up into the top 10 to draft a 5-8, 170-pound receiver.
Justin from Rochester, NY
Has there ever been a first round that epitomized that football is a game of replacement? The Jets lose Darrelle Revis, and they draft a cornerback. The 49ers lose Dashon Goldson, so they draft a safety. The Vikings trade Percy Harvin, so they draft a wide receiver. The defending champion Ravens lose Ed Reed, and draft a safety. It's like clockwork.
It's also important to note that the Jets, 49ers and Vikings each fit themselves to those picks. You don't take guys out of order; you move to where they are.
It was a traumatic experience and, as Mike McCarthy promised, the Packers are doing something about it.
I like the pick, Vic. Do you see him as a hold-the-point or penetrate-the-backfield player?
Jones can do both, though I acknowledge that he'll probably have to put on some weight to be a true every-downs, hold-the-point type of player. Jones has the power and the instinct to hold the point of attack on running downs and bull-rush on passing downs, and he has the quickness and athletic ability to play in space against the read-option. Penetrate into the backfield isn't something he'll be asked to do often in the Packers' scheme, but having the ability to do it means he can chase and tackle a runner. I think Nick Perry has that same ability, and I think Perry was greatly missed in the playoff loss in San Francisco. In my opinion, Perry and Jones give the Packers two effective weapons against a read-option attack.
Do you know what I love? That your scouting buddy Tony Pauline pointed out Datone Jones at the Senior Bowl to you and since that time I feel like I have heard his name mentioned at least 10 times linked to the Packers, and we got him. I'm hoping we didn't miss anything by not taking Sylvester Williams.
I'm not as concerned about not taking Sylvester Williams as I am about not taking Cordarrelle Patterson, but as a wise man once said to me: "You can't draft everybody." On the first day of full-pads practice at the Senior Bowl, I asked Tony to point out the defensive linemen that could play in a 3-4. He pointed to Jones and my first reaction was that Jones looked awfully lean for a 3-4 end. Tony said, yeah, but he plays like a 3-4 end and he's already put on a lot of bulk and he can add more. So I watched him, and I saw a really good, tough defensive end, and I never forgot what Tony said because when Tony talks, I listen.