Chris from Washington, DC
Vic, how much do teams consider the other teams when creating their draft board? I know you don't want to waste an early pick on a guy you could get later, but it only takes one other team to see what you see and snatch him up early.
You don't consider other teams when you do your board, but you consider other teams' needs when you target the guy you want. Teams do mock drafts repeatedly, trying to get a bead on what other teams will do with their picks. You want to get a feel for what might be available when it's your turn to pick, or to where you might have to move to get the guy you've targeted.
What do you think of Jared Abbrederis? I may be biased because I am a UW fan, but he seems like an under-the-radar kind of WR that could really do some work in the NFL.
Nobody is under the radar when they've been invited to play in the Senior Bowl. As Phil Savage, the game's director, said: "These are the best of the best." Abbrederis reminds me of a small Joe Jurevicius. I love the interview I had with him on Wednesday. He's down to earth, which is often the case with walk-ons, and he's goal-oriented. Abbrederis gets it, and he's possibly the best route runner at the Senior Bowl.
How different could the Vikings look with Norv Turner as offensive coordinator and the potential addition of Derek Carr in the draft?
Carr has size, mobility and arm strength. He is, without a doubt, the cream of the senior crop at quarterback. I think he might be the best of all the quarterbacks. He has one strike against him: small hands. That makes playing in a dome perfect for him, though he would have to wait for a new one to be built if he were to be picked by the Vikings, which some are projecting. Turner is the fixer of quarterbacks and offenses. He'll work magic with Christian Ponder. This bears watching.
Vic, what suggestions can you give to average fans for evaluating draft talent?
Watch one player against another player, and then watch another player against that same player. For example, Tony Pauline made this comparison on Wednesday: "Aaron Donald destroyed Weston Richburg, and then Richburg destroyed DaQuan Jones." What's that tell you?
Isaiah from Stevens Point, WI
Could Aaron Donald (or guys like him) challenge the leaguethink of bigger, faster, stronger? If he can get lower with enough power to move monsters of men, it becomes a leverage game, doesn't it? Wouldn't that change the dynamic of the whole trench game?
Donald is smaller, faster, stronger. Don't think for one second that he's not physically gifted. There's nobody else at the Senior Bowl like him. He put on a show Wednesday that was better than what he did on Monday. Nobody could block him in pass-rush drills. They couldn't even get in his way. He's collapsed Cyril Richardson's draft stock. The fear with a player who plays as low to the ground as Donald does is that bigger guys will get over him and just push him to the ground. We'll see.
Trey from Jacksonville, FL
What is your impression of the Jaguars coaching staff?
Their practices are up-tempo and high-energy. Everything is about positive reinforcement and encouragement.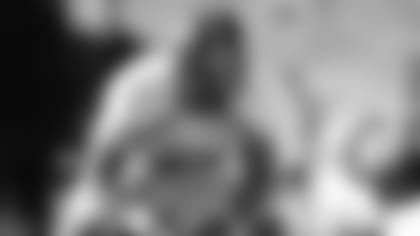 Iowa TE C.J. Fiedorowicz
Vic, with the process of talent evaluation under way, some articles I've read discussed the Packers need for another TE and it made me curious about Finley. What is the latest status regarding the injury? Do you see TE as an area of need for this team?
I don't know what the Packers have decided about Jermichael Finley. Yes, I think a team that uses the tight end in as many roles as the Packers do has a need at that position, especially considering that Andrew Quarless is scheduled to be a free agent. I'll recommend Iowa's C.J. Fiedorowicz, 6-7, 265, a powerful in-line blocker.
Vic, from your comments, this draft seems to lack depth at inside linebacker and safety, the two major concerns for the Packers. Do you see the Packers using their depth at OT for potential trades?
I can't predict trades, but I'll tell you that I've seen some impressive inside linebacker prospects at the Senior Bowl; Chris Borland and Jordan Zumwalt will hit you. Safety appears to be weak; last year was the year for safeties. From what I can tell, the big guys can't play outside the numbers and the little guys can't play in the box.
Scott from Washington, DC
Let's say we draft Donald and some other guys and switch to a 4-3. How long does it take the players to adjust to a new scheme and learn their responsibilities?
It's not rocket science; it can be learned. Two-gap technique is actually more difficult to master than gap-control technique. Aaron Donald is perfect for a penetrate-and-disrupt scheme, but you have to have ends that can get up the field from a wide alignment, and those guys are tough to find. Donald's stock is on the rise based on what he did at the Senior Bowl, but it'll surely fall at the combine when measurables become more important. Somebody is going to get one heckuva football player in the second round. I keep thinking of a great player at Oklahoma a long, long time ago: Granville Liggins.
Scott from Lincoln City, OR
Vic, are you seeing any pure linebackers at the Senior Bowl that can rush, defend the pass and tackle, and won't have the required learning curve of a tweener?
Christian Kirksey of Iowa.
Vic, just curious if you think the Broncos and Seahawks are at a small disadvantage preparing for a Super Bowl game, and not being able to put coaches at Senior Bowl week, or do the scouts just have to do more?
Every team has an army of scouts in Mobile. They'll get all of the information needed. By the way, the Eagles appear to have cornered the market on scouts.
Joseph from Rock Island, IL
Vic, thank you for answering one of my questions, and also thanks for editing out my error, since Romo's botched snap was actually on a very short field goal attempt and not an extra point.
I'm big on stats. It's of critical importance that we get them right.
Keith from Lake Geneva, WI
Vic, tell us what you're seeing so far at the Senior Bowl practices.
I see talent, but not as much as in either of the past two years. I think this senior class lost a lot of its talent last year when underclassmen entered the draft in such large numbers.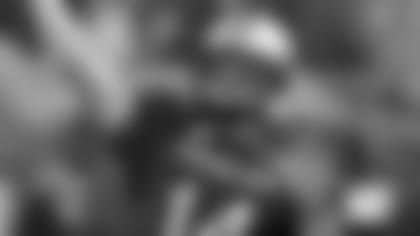 South Carolina QB Connor Shaw
Justin from Nashville, TN
What are your thoughts on Connor Shaw? He had an impressive senior year. He also has a pretty decent arm. I think he has huge potential in the league.
I like his mobility and his grit. I've seen a late-round grade for him, which I think would make him very attractive.
Vic, without the extra point, you would have missed one of the classic endings of all time when John Carney missed the chance to tie the game vs. the Jags 10 years ago. The Saints' radio call of that play is an all-time classic. I imagine you were there in person.
Yeah, I was there, but I don't like that kind of stuff. Ten laterals and hitting the tuba player on the head with the ball in the end zone isn't my kind of football. Truth be known, I'm a scrimmage kind of guy. You could put it on the 20 and I'd be happy.
I know it'll be a bidding war for the Rams' No. 2 overall pick, but what do you think about trading up and getting Clowney?
That would be too costly for the Packers. Jadeveon Clowney is absolutely the most impressive physical talent in this draft, but I sure didn't like what I saw in that bowl game against Wisconsin. I'd have to do more work on that game, if I had the second pick of the draft.
Vic, can regular old fans attend the Senior Bowl practices? I need to get excited for next year and get a break from winter.
You can attend for free. There's a scout side to Ladd Peebles Stadium and a fan side. I sit on the scout side in the morning and on the fan side in the afternoon because the sun goes down on the scout side in the afternoon and it gets cold over there. The scout side was empty this week, so the fans were sitting with head coaches and GMs. It's a wonderful environment; real old-school football scouting. You can say hello to faces you've seen for a long time and everybody has a smile on their face. Hotel rooms are extremely affordable, the food is fantastic and Mobile is charming and just the right size. The most popular bar in town doesn't play music because the Senior Bowl is a reunion of guys in the league who've known each other going back four or five teams ago, and they want to be able to talk and hear each other. The Senior Bowl is for those who belong to the fraternity of football and treasure their membership. It's a wonderful week and Mobile is a wonderful place. I always leave with a case of nostalgia.