Vic, it appears to me the biggest question the Packers face is stopping the run. You have not addressed this much during the last three months. This preseason, and going back to the last month of 2012, teams have been able to run on our defense at will. You can't make quarterbacks passers without stopping the run. How has Capers addressed this?
You're right about last season but wrong about this preseason. Except for Christine Michael, who got his yards mainly against reserves, the Packers run defense has been pretty good in this preseason. Dom Capers addressed the run by putting a greater focus on it. He talked about that to me this week. He explained that everything they want to do as a defense begins with stopping the run because you have to win first down to create the down-and-distance situations you need to win on third down. My advice is to wait a week. Sept. 8 is right around the corner. It's a measuring-stick game and it's almost here.
Patrick from Hamburg, Germany
Reading about Kevin Dorsey's status, I wondered: Are there any rules on how severe an injury must be to allow a player to be put on IR?
The league employs a "medical examiner," who is used to verify injuries, if necessary.
Dan from Sao Paulo, Brazil
Vic, what's the difference between placing a player on injured reserve or placing him on reserve/physically unable to perform?
Other than for the one IR exemption player, the other IR guys are done for the season, whereas the PUP players will have a window of opportunity to return to the active roster at midseason.
Why won't Capers play Hyde at safety? He's got skill and instincts.
Not so fast, Alan. Micah Hyde is a player of immense importance at cornerback. If Casey Hayward is unable to play in the season opener, Hyde will likely be the Packers' nickel back in that game. Do you think the 49ers might target a rookie in his first-ever game? The Packers need to get Hyde all of the work and experience they can give him at cornerback.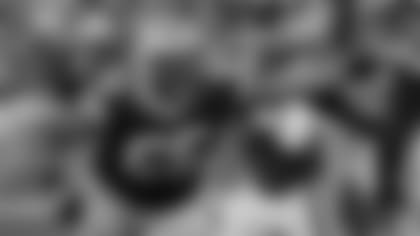 Rookie G Lane Taylor
Name five bubble players to watch in the final preseason game.
Lane Taylor, Chris Banjo, Tyrone Walker, Brandon Bostick and Jordan Miller. Obviously, there are more than five guys on the bubble.
Andrew from Jacksonville, FL
If DuJuan Harris didn't tear an ACL, why not put him on the initial 53 and then on IR? That way he could heal up and come back, right?
His injury sounds as though it will require rehab that would exceed the limits of a return to action this season. A torn ACL isn't the only long-recovery knee injury a player can sustain. The PCL can require a long recovery. A patella tendon injury is another one. So can microfracture surgery to stimulate cartilage growth. These players receive the best medical care and advice. We need to just trust their judgment.
Bram from Colorado Springs, CO
Has it ever been proposed that, instead of having an 18-game schedule, each team gets two byes in a season? This would extend the season for TV revenue and possibly help players recover from injury.
We did that back in 1993. It was bulky and judged to be unfavorable by everyone.
When will the defensive line get Jerel Worthy back this year?
He's recovering from knee reconstruction at the end of last season. We're talking about a 300-pound man on a reconstructed knee. He'll have a chance to return to the active roster at midseason. If he's not ready to play at that time, he would be assigned to injured reserve for the remainder of the season.
Daniel from Greenwood, IN
With all of the new-age quarterbacks coming about, do you ever see a team trying a two-quarterback approach? Having a run threat and a pass threat under center might keep the defense guessing and unprepared.
I think we're going to see a lot of creativeness at the quarterback position over the next several years. That's where the evolution of the game will be most distinct, at the quarterback position, and it wouldn't surprise me to see a two-quarterback system employed. I think we're heading into an era of football that will be highlighted by an intense focus on change and creativity. It'll be the result of a game that is undergoing more change as to how it can be played than at any time since Teddy Roosevelt saved it from extinction. History is merely repeating itself. Here's the issue: Is there enough left in the game to be changed, or have we sapped all of the creativity from it? We'll see.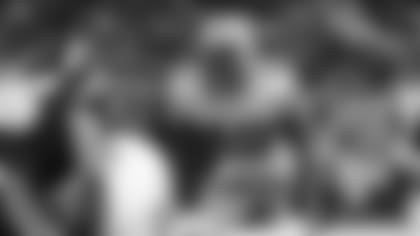 LB Robert Francois
Vic, I wanted to get your opinion on Rob Francois. To me, it seems like he is a completely different player this year; bigger, faster and stronger. He seems to be playing with more confidence, as well. I know he hasn't been playing against starters, but he always seems to be around the ball, making plays. To be honest, I'm surprised more people haven't taken notice of him this year. Any chance he could play himself into the starting lineup? I think he at least deserves a shot.
He's a vastly underrated and underappreciated player. All he does is go to practice every day and hit people. He reminds me of another linebacker I covered a long time ago. His name is Dennis "Dirt" Winston and he was Jack Lambert's backup. Winston was always there when you needed him. He played special teams and he hit people. Maybe we need to keep a sharper eye on Francois in the Kansas City game. I think Francois had a fantastic training camp.
Vic, there is no need to inject more entertainment and less evaluation into the preseason. Preseason is for the players trying to earn a spot on the roster. This is about men applying for a job and being given a fair opportunity to earn employment, which could set them up for a lifetime. This is the chance to fulfill a lifelong dream for these players, which could end because some fans feel they are not being thoroughly entertained. Enough with catering to these selfish people who think everything must be set up for their enjoyment with no regard of the consequences for others. This is not the time to judge the run game, the offense or defense, the game's quality or results. This is the fans' chance to get a peek behind the curtain before the season starts. Thanks for letting this dinosaur vent.
From one dinosaur to another, I know what you mean, Denny, but never lose sight of what drives professional football: sales. In the big cities, where the teams are competing against baseball, basketball and hockey for the entertainment dollar, you're not going to dominate market share by selling the excitement of seeing reserves compete for roster spots. There has to be a blend of previewing the season and evaluating talent. I think we're losing too much of the former, and this isn't something new. This began 10 years ago when Bill Belichick decided to bench all of his starters for the Patriots' final preseason game. I covered that game and I remember how it sent shock waves through the league. As feared, it quickly became a trend. In my opinion, the preseason format is something on which the league needs to focus attention. We need more of that blend. Decreasing the number of preseason games would be the easy solution because coaches would have to dedicate more playing time to their regulars to make sure they're ready to play.
Dave from Los Angeles, CA
Headline: NFL to keep eye on hits to knees. Wake up! What did you think would happen? What is the league going to do next if injuries increase?
The moment the league began its player safety movement in a game whose popularity was always driven by dangerousness, I knew the league was accepting a daunting challenge. We're going to witness how the league addresses that challenge over the next several years. We're going to see a major shift in the game. I think it's exciting.
Agustin from Buenos Aires, Argentina
Vic, do you think Micah Hyde could be the next Charles Woodson? He has great tackling abilities and he can blitz.
Alan from Jefferson City, MO
Love your comment about what to worry about. We will always worry and complain. I'm currently worrying about what trip we'll have to take through the playoffs.
I worry about my family. I worry about their health and their happiness. I go to football games to take time off from worry.
Many people wonder why the Packers website is the last to report breaking news with the Packers. Honestly, it's a disgrace but I understand the idea behind never being wrong. However, why can't you have a forum of the latest rumors? You guys have reporters, right? That's what reporters do is report on what they hear. Doesn't mean it has to be 100 percent correct all of the time; just what the rumors are around the locker room. Get this addition to the website so this can be a one-stop place for Packers news.
Wait a minute, please, until I pull my lower jaw up off the floor. Is this the impact of the Internet on the reading public? Do we no longer expect our media outlets to be accurate? Tell me lies, tell me sweet little lies? Sorry, Dan, you got the wrong website. Neither this reporter nor packers.com is for you.
Vic, let me know what you think of my conspiracy theory: Mike McCarthy will use every opportunity to be cryptic with the injury report as it pertains to Aaron Rodgers this year, to force teams to study more tape of Vince Young.
Not bad. What you're describing is introducing something for which your opponents must spend time to prepare, which might blunt their focus on what should be their most intense preparation. Is that what the 49ers will make opponents do for the read option? Everybody will prepare for Colin Kaepernick running out of the read option, but it's Frank Gore up the middle that is the 49ers' bread and butter.
First of all, I follow you all the time, but your answer about the little girl making the headlines on the news was truly out of line. This little girl lost the first thing she ever made for the county fair and received a blue ribbon on it. I don't think you should be joking about it. Maybe you would like to make a donation to this little girl. Just let me know.
I apologize and to show you how sorry I am for the little girl having her prize-winning quilt stolen, I'll give her two tickets to a Packers home game this season.