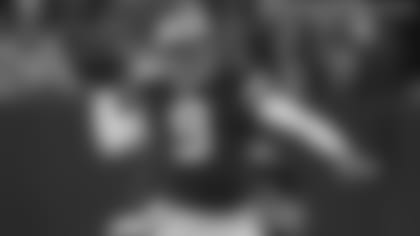 QB Seneca Wallace
We certainly can expect to see a heavy dose of "Bash and Slash" (Lacy and Starks) on Sunday against the Eagles. More interesting is what kind of game the coaching staff will install for Wallace. Any thoughts on how the Packers could best utilize the passing game? I am thinking a lot of passes to the backs out of the backfield.
Wallace is an accurate short-area passer. That's his game. Wallace will throw the slants, the curls, the screens, the flares and, now and then, the deep ball to keep the defense honest and stretch the field. He'll "live" between the numbers; the Eagles know that and will react accordingly. The rest is a matter of execution.
Simon from Copenhagen, Denmark
McCarthy promises Aaron will be ready for the postseason. This guy has absolute faith in his team. So should we.
He wasn't ruled out on yesterday's injury report. Just sayin'.
Vic, I remember as a junior on my high school baseball team, a senior continually making me feel small with verbal abuse, spitting chewing tobacco at and on me, etc. I hadn't really thought about it until now, but that really was a form of hazing. Were you ever hazed?
I've been fortunate enough to avoid that kind of treatment, but I've been witness to it and one particular incident is especially memorable. It was from high school football. A teammate, a kid who struggled to play the game, was taped to the goalpost and footballs were thrown at him. I didn't participate but I did nothing to stop it, either. I knew it was wrong and I did nothing. You remember those moments.
I know this question/comment probably won't get posted but I know all of Packer nation is holding their breath on Rodgers and I have some great news. Rodgers only sustained what we call a chip fracture (I'm a medical student). It's the best news we could hope for because a chip fracture does not limit movement and will not inhibit Rodgers' play. All you need to do is provide adequate pain relief and he's good to go. Expect Rodgers to be back by Thanksgiving or, if we're lucky, even sooner.
Will you be my "source informed of the injury?"
QB Matt Flynn
I was driving home thinking about Matt Flynn. Shouldn't the organization at least take a look at Flynn? Even if it cost a flight to see how much of the offense he remembers, it seems like a smart idea. I see no negatives. My question is does working people out count against your salary cap?
Working out a prospect doesn't count against your salary cap. Chris, don't you think the Packers have a wealth of information on Flynn? Don't you think they've done their due diligence on him and will continue to monitor his situation, which could include working him out? Raiders GM Reggie McKenzie is a former Packers scout. You know what I mean? Trust me on this, folks, the Packers personnel department is on top of this situation.
Jonathan from St. Joseph, MO
This statement from you – "You can't tell the story of the NFL in 2013 without telling the story of injuries. It's the No. 1 story in the league" – got me thinking. The past few years the league has been focused on player safety. Then you see a year like this one. Is the league actually making the game more dangerous with the changes being made so far, or is this just a coincidence?
There is a heightened sensitivity to injuries and their long-term effect. That's what you're perceiving as more "dangerous." There is a reluctance by teams to allow their players to play hurt, as they have in the past. That's especially true of players who've sustained concussions which, in some cases, wouldn't even have been diagnosed in the past. I covered Terry Bradshaw's last game. It's one of the most memorable events I've ever covered; it was also the last football game played at Shea Stadium. Bradshaw had been out the whole season following arm surgery. It was late in the season and he wanted to give it a try, so he talked himself into playing in this game, but then found out late in the week that he didn't have the arm to do it. Not wanting to let his teammates down, he went ahead and played. I asked him after the game how many shots he took to the arm to deaden the pain, and he winced. The first time he had the ball, he marched his offense 79 yards and threw a touchdown pass. The second time he had the ball, he went 80 yards and threw a touchdown pass. Both passes were wobbly and weak. That was it. He never threw another pass. It's a wonderful story of the triumph of the human spirit, but it would never happen today because we are changing the culture. This is the player safety era. It's not only meant to save the players, it's meant to save the game.
Hey, Vic, really like the column and think it's an asset to the organization and the fans. Probably my favorite aspect of the column is your love of battle, not winning battles, but the battle itself. Where did that come from? Have you always been more focused on the journey and less focused on the destination?
You nailed it. I love the confrontation. I'm a fan of the confrontation. I don't need to know what's going to happen. I don't want to know what's going to happen. I like the drama. Surprise me. I have no doubt Sunday will surprise me. It always does in one way or another. It's been that way for me since I was a kid. My dad would get disappointed. I'd ask, "Are we going to go to the next game, dad?"
Did not participate but not out. There can't be anything to that, right?
Probably not, but I like the drama.
Vic, as a complete change of pace from the Rodgers injury questions, looking at the current crop of players in the college system eligible for the 2014 draft, who would be your top three players you would like Green Bay to take?
I'm assuming these players will be eligible: Jadeveon Clowney, Cyrus Kouandjio and Jeremiah Attaochu. I'm not trying to make any statement with these players or the positions they play, and I am fully aware that Clowney will be long gone when the Packers pick. These are just three players for whom I have a particular fondness.
Dan from Grand Rapids, MI
Vic, you said you think it would benefit the Packers more if the Bears were to win on Sunday, but if we beat the Lions and lost to the Bears, why not root for the team we already defeated? We can still sweep the Lions.
That's one way to look at it. Here's my way: It's not only possible, it might be likely the division will end in a tie. Hey, we're at the halfway point and three teams are tied. So right away I turn my attention to the tiebreakers and division record is No. 2 behind head to head. What I don't want to see happen is another team gain a division-record advantage over the Packers. That's why I would prefer a Bears win over the Lions, which would split that series. The Packers, of course, can sweep the Lions and do no worse than a split with the Bears. Given a Bears win over the Lions and Packers wins over the Lions and the Bears, the Packers would be tough to beat in the tiebreakers.
Vic, why is Mike Mayock even a commentator? Have you ever thought about calling games?
Yeah, that looks like the old spider y-2 banana there. They were trying to attack that three shell defense. Probably should've run a stick route or a wheel route. Who would know?
Greg from Westerville, OH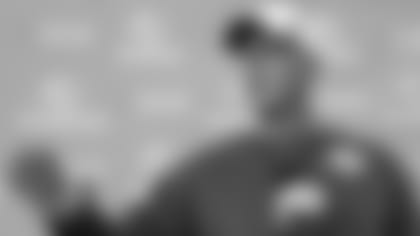 Joe Philbin
Vic, it wasn't long ago that the Packers offensive coordinator, Joe Philbin, got the promotion to head coach that every coaching assistant wants. Now his Miami Dolphins are embroiled in the great bullying scandal that provides us with a daily drip-drip-drip of facts, rumors and innuendos of what goes on in professional football locker rooms. It really only proves that being a head coach is a lot more than just working on X's and O's. How well did you know Joe in his time here in Green Bay? What are your thoughts on him and this whole Miami mess?
Joe is as honorable a man as I've known in this business. What's happening to Joe is the result of a witch hunt that won't go away because it sells. It's driving TV talk shows and when that happens, the story won't exhaust itself until somebody goes down with it. I pray it won't be Joe. He's worked too hard and suffered too much for this to happen to him. There's a lesson in this and I hope Joe and every other coach and executive in the league learns it: Act swiftly and with full transparency. You cannot control the flow of news. Those days are over. Had Joe Paterno acted with immediacy and transparency, he wouldn't have died in disgrace.
Thomas from Park Falls, WI
Vic, I know you liked Lacy a ton even early in mini-camp, like I did. Has he surpassed even your expectations and do you think he will win rookie of the year?
He's the pounder I envisioned. Yes, I think he'll win rookie of the year, but I think he's got a lot more to show us.
Alex from Ft. Sam Houston, TX
Vic, you know dang well the Packers are keeping alive the possibility of Rodgers playing this Sunday for competitive reasons. Not letting the Eagles know for sure is all part of today's game with injuries
Yeah, I know that, and I enjoy the gamesmanship. I got a big kick out of that comment Mike McCarthy made about Rodgers wanting the ball on Saturday. That was beautiful. When that reached Chip Kelly's ears, I have no doubt Kelly thought to himself, "I'd give him the ball, too." I fully expect the Packers to rule Rodgers out on Friday's injury report, but by then the bulk of the preparation will be complete, and the Eagles will have had to spend at least some energy on the possibility Rodgers would play. I truly love the drama.
Reading the troubling news about the Dolphins has made me sad and disgusted, for obvious reasons. In light of this, could you share with us one of your favorite moments from your time with the NFL? Something funny or happy would be nice.
I was in the press box at the Rose Bowl for Super Bowl XIV. All of a sudden, Rossi from "Lou Grant" sits down next to me. It was a huge hit TV show back then; I never missed an episode. He sticks out his hand and introduces himself to me. "Hi, I'm Robert Walden …" I interrupted him. "I know who you are. I watch it every week. What are doin' here?" So he tells me he's here to get a feel for what it's like in the press box. He wants to observe sportswriters in action. I laughed, but he didn't get it. I'm watching the game and he's talking to me, a lot, but I'm not saying much. Eventually, he says to me, "This is a really boring place. You guys don't talk." Well, the movie "Being There" had just been released, so I said to Walden, "We like to watch." I can still see the smile on his face. Enjoy the game on Sunday, everybody, and don't forget about "Ask Vic Halftime."