Would it not make sense to put the extra point at a more challenging distance? Make it, say, a 40-yard kick so it's not automatic. Increase the responsibility of the kicker and increase the chance of teams risking a two-point conversion?
I don't find that part of football interesting enough to see the league go to such lengths, and I think most fans would agree with me. I think we want to see more meaningful action, and that's why I favor elimination of the point-after try. It might also eliminate several meaningless pages of the rulebook, which would please me. Not many people know what a "try safety" is, but it's been in the rulebook forever. Crunch-time field goal attempts are what interest me. I love to see a field goal team execute the snap, the hold and the kick with the game on the line and the pressure intense to execute the process successfully. Frankly, I seldom watch the point-after try. I'm usually busy updating my information on the touchdown.
Michael from Wauwatosa, WI
Vic, do the Packers have any chance to draft Chris Borland? Is there a defensive player you like better that you think we could get with the 21st pick?
Borland isn't a 21st-pick-of-the-draft guy. That's Ha Ha territory. Borland's lack of size makes him one of those down-the-road prospects, but his instincts and love for the game make him one of those guys you never regret having drafted.
Jerry from Wilmington, NC
Vic, what's your take on Belichick's comments about Wes Welker?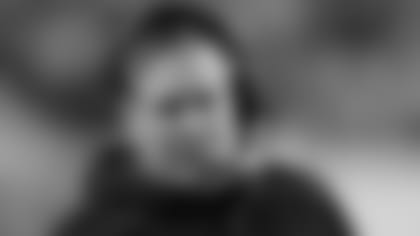 Bill Belichick
They're heat-of-the-moment remarks that would've made Bill Belichick's life easier had he not made them. We all make the mistake of saying things better left unsaid. I'm not nearly as sensitive to what's said as most fans are. I tend to give players and coaches a pass for popping off and I do it for two reasons: 1.) I'm in the quote business. It would be hypocritical of me to ask a guy how he feels and then rip him for telling me. 2.) It's an edge game. It's what I love about the game. I want them to be a little angry. I like it when they're a little angry. It lets me know that all of this is real. Having said all of that, let me also tell you that Belichick was sitting only a few rows behind me at the South practice on Tuesday. It was a windy and cold day, and the most esteemed coach in the business was sitting there watching players whose performances he could just as easily have seen on tape. That's a man who loves the game. That's a man who lives a football life. I haven't always been a fan of his, but he is dedicated to winning.
Vic, I missed reading your descriptions of the cap and cap management last summer. Are you going to bless us with a similar quiz/information session this year?
I've done it twice in my career and it's a very difficult write and read because it involves explaining highly technical stuff that, frankly, 99 percent of fans don't want to know. I consider it to be information critical to understanding the game, but the frustrating part for me is the day after the story is published, my inbox will be full of questions asking why Ted Thompson doesn't sign more free agents. I'll answer cap questions from time to time, in an attempt to drive home the message to someone who cares enough to ask, but anything more than that is largely a waste of time. Fans don't want to read about it; it spoils their fun.
Did you read Bob McGinn's season review from Jan 11th? He states the good and the bad, is critical of a lot of people, accuses several of complacency and doesn't hold anything back. Much of what he says has also been said by people asking you questions, many of which you have discredited or downplayed. Do you disagree with him?
Apparently, I do. Whatever I wrote, I believe to be true. Here's the good: The Packers have quality and depth on offense. I think it can become the best offense in the league next year. Here's the bad: The defense didn't improve in 2013 and it continues to be a work in progress that, in my opinion, needs to acquire more talent to improve in 2014. I think November was a terribly disappointing month for the Packers, but the final five games of the season was one of the best and most exciting stretches of football I've ever covered.
Vic, can you do everybody a favor and share some insight on Kenny Ladler or Deone Bucannon?
Ladler and Bucannon are big safeties from Vanderbilt and Washington State respectively. Neither has done anything to attract my attention on the first two days of practice. I'll be more attentive today. This hasn't been a passing game kind of Senior Bowl. I haven't seen a quarterback connect on a deep ball yet. With the exception of Derek Carr, the quarterback play has been borderline awful, and the wind on Tuesday made the two practices check-down events. The strength of both teams is their two lines. This is a good year, again, for linemen.
I wonder how many of the people who think Sherman's comments were not classy felt the same way when Josh Sitton went off on the Lions. For all those who say they'd be embarrassed if a Packer talked that way, one already has. The Packers aren't free of trash talk. For better or worse, every team does it.
My inbox isn't always classy.
If penalized helmet hits are next in line to join scores and turnovers as reviewable plays, do you think the league will benefit the game by putting a limit on how long officials can consider a ruling?
Hooray, another rule. Football is slowly turning into a game of crime and punishment. I'm against it all. A part of me would just like to go back to the way it was before replay review and live with the mistakes. We still have to live with them, don't we?
Russell from Shorewood, WI
If the Packers stick with their current scheme, do you see a spot for Aaron Donald? I saw a video where Tony Pauline said he might be able to play a 3-4 inside linebacker.
Everybody is trying to find a position for Donald to play. He's a really small guy, but in a hold-the-point drill against a double team on Tuesday, Donald pushed Zach Martin of Notre Dame and Brandon Thomas of Clemson five yards backwards. That's 623 pounds of men. Donald came off the ball so low that he forklifted Martin and Thomas. I couldn't believe what I was seeing. I'd hate to see Donald take his hand off the ground, and he's too explosive to be wasted as a nose tackle absorbing chop blocks and wham blocks. I see him as a three-technique tackle in a 4-3. I think he's a playmaker on the inside. He's a guy that if you don't double-team him, something bad is going to happen to you.
Vic, I loved your comment, "I think Packers fans worry too much about being classy. You wanna play defense or run a charm school?" Our team seems to lack this kind of attitude and emotion for the most part. We need some talented defensive guys with a mean streak, in my opinion. What do you think?
I had a coach who liked to say football gave mean guys a place to go and stay out of trouble. I've always thought of football as a sport for mean guys. It's a place where mean guys learn to play by the rules. In my opinion, that part of the culture doesn't need to change. I'll look the other way on the minor stuff.
Vic, I don't understand how the Senior Bowl can continue to be the best NFL scouting event that it once was, with the increasing number of underclass players declaring for the draft. Isn't much of the college talent gone before they are seniors?
There are over a hundred draft prospects here this week. That's a pretty good start on the evaluation process. The Senior Bowl continues to be the best scouting event for two reasons: 1.) The talent is strong. 2.) They make them hit here. The combine is for running around in your underwear. The Senior Bowl is for dropping your pads. This is football.
Love the Senior Bowl coverage, Vic!
Thank you for those kind words. This is something I feel we need to do to turn the page from season to offseason. Fans need to know the draft evaluation process to have a full appreciation of the year-long game. I need this, too, because I come here with a blank page and leave with a feel for what's ahead. I'm always a little anxious when I come here because this isn't a tightly structured event, as is the custom in the NFL these days. This is old-time football reporting. You have to count on old friends. You have to walk around town and find your guys. Mobile was invented for this. It's perfect. This is where the NFL goes every year to be old school, again.
Vic, when are the compensatory picks awarded to teams?
Usually it's right around owners meetings time in March.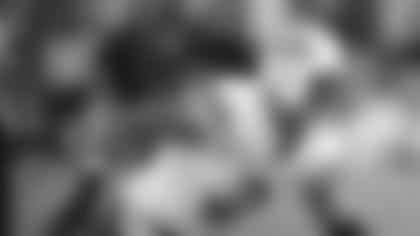 BYU LB Kyle Van Noy
Chris from New Berlin, WI
Is Kyle Van Noy at the Senior Bowl? If so, how is he looking?
Van Noy is an outside linebacker from BYU and he did something outstanding yesterday. I'm not sure what it was because my eyes were watching another drill, but I heard Tony gushing about something Van Noy did, so he has that going for him, which is nice.
Quinton from Nashville, TN
Aaron Donald sounds very impressive. Could a team stand him up at ILB? How would they find out before the draft if he can run backwards and flip his hips?
Matt Millen made the move from defensive tackle to inside linebacker. Donald could probably do it; teams will get a look at his mobility at the combine.
Vic, let's have some fun. Best football names? My No. 1 is Steve Stonebreaker. What's yours?
Vic, are you seeing any tweeners at the Senior Bowl that could be capable of rushing the QB?
They're everywhere: Michael Sam, Jeremiah Attaochu, Marcus Smith and Dee Ford are most prominent. Of that group, Ford is the guy who's caught my eye. He's got the quickest first step, but he's being used as a down end. At 6-2, 240, I think he almost has to play outside linebacker in a 3-4 or he'll be relegated to the role of a pass-rush specialist.
Joseph from Rock Island, IL
Vic, I saw that from 1990 to 2011 there were 359 extra points missed. That's slightly over one per football weekend. There were five missed in 2013. There were 14 games decided by a point or less in 2013. What do you think?
I think I can't remember any of the misses and I really don't want to see a point-after kick missed. It's like seeing someone spill coffee on themselves. I get no enjoyment from it.
Heisenberg from Albuquerque, NM
Why are so many fans so narrow-minded that they think a team has to address its position of greatest need in the first round?
It's because they want to win the Super Bowl next year, Heisy, baby.
Do you think it would have been better or worse for Tom Brady's legacy if he had beaten the Broncos but then lost to the Seahawks? What's better, 3-3 or 3-2?
I don't think it matters. Brady should have five Super Bowl titles; his defense let him down twice. If he had five, he'd probably be considered the greatest quarterback of all time. He's in my top five. Having said that, I think it's over for him and the Patriots. I think age has caught up to both. The days of winning with patches are over.