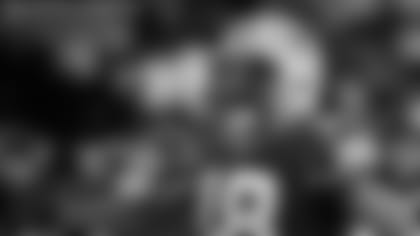 WR Randall Cobb
Matt from Black River Falls, WI
If you could add one player to the Packers roster from any of the other 31 teams in the league, who would it be and why?
A couple of years ago when I was asked this question, my answer was Darrelle Revis. Now my answer is Richard Sherman. Why? Because a true shutdown corner or a change-the-game pass rusher is the single-most important player in the game other than the quarterback, and the Packers have the best quarterback in the league and don't have a need there. A Revis or a Sherman cuts the field in half. He takes your team's best receiver out of the game. He tears pages out of your playbook. I don't see a pass rusher in the game today whose impact is the equal of Sherman's.
Chad from Tarpon Springs, FL
McCarthy said our defense will be better, but what about our offense? This is the most shallow set of wide receivers Aaron Rodgers has ever had to work with, though we do have Eddy Lacy.
I disagree. I think the Packers' receiving corps is deep and is about to get deeper. I also think this could be the most complete offense I have covered in my four seasons covering the Packers. Offense isn't the issue. Defense is.
Vic, why is the draft only seven rounds long? More than 400 undrafted free agents have already been signed by NFL teams since the draft. Why not have teams continue picking players for another three or four rounds? What does the NFLPA gain from a shorter draft?
It gains protection for its veterans, who are paid at a higher scale than rookies. The seven-round limit is specifically referenced in the CBA.
What do you think of Colt Lyerla? He had some great stats at the combine that make him look like a stud, if he can keep his head on straight.
Ted Thompson said, "We did a lot of work on Colt." I have not done a lot of work on Colt. All I know about him is that he damaged a promising football career by committing off-the-field mistakes. When a GM says he's done a lot of work on a guy such as Colt Lyerla, he's saying they have looked hard at his mistakes and what might've caused them and what his response has been since then. It can involve a lot of phone calls to people who know the prospect, and it likely involves a lot of digging by the team's security director. You don't bring a young man into your community unless you believe he can conduct himself according to the rules of society. It would be irresponsible of me to offer an opinion on an issue as sensitive as this; I don't know enough. I defer to Thompson. He's never been a guy to take this kind of stuff lightly.
Kyle from Sheboygan Falls, WI
I know the fans now love to say inside linebacker is the Packers' No. 1 concern, but do you believe this to be true?
Going into the draft, I believed it was critical for the Packers to address linebacker. The group with which they ended the season, in my opinion, underscored the need to deepen its talent. Carl Bradford addresses the position. Is one guy enough? I don't know. I would've liked to have seen the Packers pick as many linebackers as they did wide receivers, but you rank 'em and you pick 'em, and this draft class was thin at inside linebacker. Tony Pauline made that very clear to us months ago. The Packers did address linebacker in a big way in undrafted free agency. There were nine linebackers in rookie camp this past weekend. Maybe they can find a "diamond" in that group. Scheme also enters the evaluation of the position. How might the linebackers the Packers have be used in a scheme that is likely going to be adapted to Julius Peppers' talents? I haven't lost sleep about inside linebacker. Does that answer your question?
What is the question the Packers must answer this season?
At crunch time in the big games against the power teams, and needing to make a stop to win the game, can the Packers defense make that stop?
How do the rookies look so far?
I enjoyed being at Friday's rookie-camp practice and witnessing the first "baby" steps of young men to whom I've fondly referred as "desperate dreamers." Making it in the NFL has always been their dream and, now, here they are. They had to be taught how to stretch the Packers' way, how to line up the Packers' way. Every drill was new to them because it was to be executed the Packers' way. Slowly but surely they began to look comfortable and, as they gained in comfort and confidence, they got faster and everything looked better. It's a good-looking group and a couple of the dreamers, the undrafted and tryout types, caught my eye. The Packers sure don't need running backs, and that's usually when you find another one, and Rajion Neal impressed me as a quick, pads-down runner. Another guy that caught my eye is Cal Poly wide receiver Cole Sanford, who went way up in the air to make a catch over Demetri Goodson. One moment isn't enough, but you remember it.
Nathan from San Diego, CA
Vic, in your article on Ted Thompson, he was quoted as saying: "We strictly went by the board this year and tried to pick the best player. We really did." This seems to imply they don't always go by their board. I was wondering if you could have him elaborate. It would be interesting to know why he might go off the board and also to hear about an example of when he did and how it turned out.
Fans think the media can ask any question it wants and it will be answered. The greater likelihood of asking the questions on which you want Ted Thompson to elaborate is they'll end the press conference. As soon as he made his comment about sticking to the board this year, I thought to myself, "I bet he wishes he could reel that one back in." Trust me, he's gone as far as he's going to go on that subject. Anything more would result in the "proprietary information" answer. I'm sure there have been times, especially in the late rounds, when a prospect the Packers really liked for their special teams, or a dire need at a position has caused them to go off their board. What I sensed in Thompson's answer is that maybe he's succumbed to a particular need in a recent draft or two, regretted it and re-committed to his board this year.
Paulina from Milwaukee, WI
I hate the word Wisconsinite. It sounds like a mineral. I like Sconnie better.
Sconnie sounds like a pastry. I'd rather be a mineral than something soft and cream-filled.
Vic, have you ever followed a talented NFL player who, try as he might, couldn't overcome his drug addiction?
Joe from Eglin Air Force Base, FL
Why does everybody seem to think the Packers have a need at inside linebacker?
It's because the Packers drafted Ha Ha, which eliminated the need at safety and caused fans to need a position at which there was a need. Get me somebody. Anybody. And get me somebody while I'm waiting.
Read and enjoy your column daily. Just finished "League of Denial." I found it to be very sobering. I didn't know some of the players I watched and admired as a boy ended up so bad. Is the NFL in denial?
Just wondering, what's the rationale behind Roethlisberger at No. 5 quarterback in the league? Is it rings, size or something else? Heck, Matt Ryan's not bad and Jay Cutler's good when he's not playing the Packers. Nick Foles needs another year for sample size, but he's up there, too.
The rationale was I looked at the list and decided he was the fifth-best quarterback in the league. It took all of five seconds to come to that decision. On closer examination, I'm surprised by the accuracy of my snap evaluation. What criteria would you like to use? Super Bowl titles and appearances? He's 2-1. Ryan and Cutler are 0-0. Stats? Roethlisberger had a 92.0 passer rating last season, which was better than Ryan, Cutler, Brady, Luck, Newton, Stafford and a couple of quarterbacks that recently won Super Bowls. Touchdown passes? Roethlisberger threw 28, which was more than Wilson, Kaepernick, Foles, Ryan, Cutler, Brady, Newton and Luck, and just one shy of Stafford. Crunch time? Roethlisberger is 15th on the all-time list in fourth-quarter comebacks, higher than every quarterback in the game today except the two Mannings and Brady. Postseason moment? The game-winning touchdown drive and pass in Super Bowl XLIII is a classic. Winning percentage? He's 17th on the all-time list, higher than every quarterback in the game today except Peyton Manning and Brady. It was between Roethlisberger and Philip Rivers, who had a big year last season but hasn't had the career Roethlisberger has. I stand by my evaluation.
Which of the lower draft picks are going to have the biggest impact and why?
Corey Linsley would be a good pick because he could win the starting center job.
Is Coach McCarthy the perfect balance of players' coach and coaches' coach?
I hadn't thought about it but I think he is. He will support and defend his players against anyone that takes issue with them, but when the doors are closed, I suspect Coach McCarthy is very forceful in getting his point across.
Vic, of all the NFC North teams, which one do you think killed it in the draft?
I don't see a killer draft in the NFC North. I see examples of each of the four teams helping themselves, but I don't see a blockbuster.
Vic, we all know you cherish the Wing T. If it's so awesome, why don't you see it in the pros anymore? Is it just nostalgia? Or perhaps rules changes?
Rules changes are a big part of it. The post-and-turn block that was the signature of the Wing T is now forbidden. The formation is too tight for today's game. It's great for being able to do a lot of things in a confined space – you can run power and deception – but today's game is about open spaces and passing the football. It just doesn't translate to the pro game – the last team that used it was the 1978 Kansas City Chiefs. Today's blocking techniques don't fit the Wing T. To make it work, blockers have to come off the ball low and hard. It involves a lot of cut-blocking, pulling and trapping. Today's game is about walling off. The Wing T had its place. It's one of the dinosaurs that helped football evolve. It's an offense built for low. Today's game is about high.
Keegan from Saint Paul, MN
"Let me tell you something, my friend. Hope is a dangerous thing. Hope can drive a man insane."
Hope gives us reason to live. A team without hope is already defeated. Hope is only dangerous when we allow it to become expectation.
Vic, just so we are all clear, what must one do to pass the eye test?
A prospect has to look the part. I mean this as no disrespect to the tryout guys, but the draft picks read from a higher line on the eye chart. It's easy to see.