GREEN BAY – It was the last organized football game they'd ever play, and what a way to go out.
On Nov. 19, 1983, five seniors from St. Norbert College ended their otherwise nondescript Division III careers by defeating Fordham at Lambeau Field. The five were very close friends – a pair of co-captains and a trio of roommates – and decided to commemorate the occasion with a postgame photo on the hallowed ground, before they'd take an official football uniform off for the final time.
A little more than three decades later, when it was announced that college football would be returning to Lambeau with a powerhouse matchup between Wisconsin and Louisiana State, an idea was hatched.
"They started saying there hasn't been a college game there since 1983," said Jerry Lang, one of the St. Norbert co-captains. "I was like, 'I was in that game,' and I had this picture, but I lost it."
So he called one of his former teammates. Tom Fameree still had the photo, so he took it out of its frame, scanned it, and posted it on Facebook. As the friends reconnected and reminisced about their football swan song via social media, Lang began exploring the possibility of re-creating the photo. Why? Why not.
"He took the ball and ran with it," said Dennis Lueck, the other co-captain.
The idea became reality a little over a month ago, as the quintet of Green Knights reconvened at Lambeau with present-day St. Norbert jerseys and helmets and duplicated their positions and poses as best they could.
It was a good excuse for a mini-reunion, but it was also a kick to re-visit their place in history. When the Wisconsin and LSU players emerged from Lambeau's southeast tunnel on Saturday, it was 2½ months shy of 33 full years since college football was last played at arguably the country's crown jewel of football stadiums.
"At the time, it was surreal to be on the same field as all the legends, and Coach Lombardi of course, being the legend," said Todd Schroeder, the backup quarterback on St. Norbert's '83 team. "I'm not sure we did them justice, but it was a lot of fun and meant a lot to us."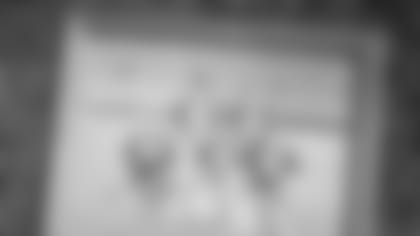 The '83 game was actually the third game in St. Norbert's history played at Lambeau.
Back in 1960, when Lambeau Field was a 3-year-old venue still known as new City Stadium, the Green Knights upset Northern States Conference champion Mankato State, 29-14, behind the power running game of halfback Dave Mahlik (140 rushing yards, including a 53-yard TD) and fullback Larry Schoenberger (89 yards, 8-yard TD), plus a lone pass completion by QB Larry Buch, a 42-yard screen play to Schoenberger for a score.
Then in 1982, a matchup alternately referred to as the Vince Lombardi Memorial Game or Lombardi Classic, pitted St. Norbert against Fordham, a former football power from the Bronx, N.Y. Each school was selected for a reason.
The Green Bay Packers had been holding their training camp at St. Norbert, a small school in nearby De Pere, since 1958, a year before Lombardi's arrival as Green Bay's head coach. The Packers still stay in the St. Norbert dorms for training camp today.
"Every year we looked forward to coming into camp, because the Packers would be breaking their training camp, and we'd get one, or maybe two, unbelievable meals out of their leftover food – steak, shrimp, all that stuff," Lang said. "And then we got back to cafeteria food after that."
As for Fordham, Lombardi was one of the original "Seven Blocks of Granite" on the school's famed offensive line of the 1930s before going on to coach the Packers to five NFL championships in a span of seven years in the 1960s.
Lombardi had died of colon cancer in 1970, and a cancer foundation in his name was established a year later. Proceeds from the Lombardi Classic were to support cancer research in both Wisconsin and New York, and a reported attendance of 5,119 turned out on Nov. 20, 1982, to see St. Norbert rally from a 10-point deficit in the second half with two fourth-quarter touchdown runs by Kelly Englebert for a 14-10 triumph.
Four of the five aforementioned St. Norbert players from the '83 team also played in the '82 game. (Only Schroeder did not, having stepped away from the team that year to focus on getting his grades up for medical school, which he accomplished with a pair of 4.0 semesters, before returning to the team as a senior because he was "missing it so bad." He's now a radiologist.)
Their memories of walking out onto Lambeau Field that first time are pretty vivid. The sheer size of the place awed them. Lang, a native of Beloit, Wis., recalled that the grass was "absolutely beautiful," mostly because a game hadn't been played there since the preseason due to the NFL players' strike.
"It was awesome," he said. "Being a kid from Wisconsin and getting to play a game at Lambeau Field, it was almost beyond a dream come true."

Lang, a cornerback, had an interception with seven seconds left in the game to preserve the tight win.
"He's a very humble guy, but he was a phenomenal football player," Fameree said of his longtime friend and former teammate. "You'd be standing on the sidelines, and you'd hear pads cracking, that was Jerry. He was just dismantling people.
"I always say Jerry spent the first 22 years of his life trying to take people apart, and now he's an orthopedic surgeon trying to put them back together."
The significance of playing against Fordham wasn't entirely lost on the young 20-somethings, though Lueck, an offensive lineman who would go on to become a teacher and coach just like Lombardi, was more in tune than most, having written multiple research papers about the iconic coach in college.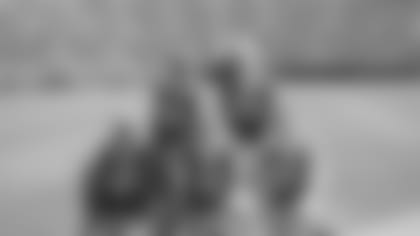 Originally, the St. Norbert-Fordham matchup was intended to be an annual affair, alternating between Green Bay and New York, but the series never materialized. The two teams returned to Lambeau in '83, and with the game scheduled for the first day of deer hunting season in Wisconsin, in bad weather to boot, attendance plummeted. Just 842 people were on hand amidst "intermittent torrents," according to the official box score.
"There were a lot of people in the woods," said Joe Doucette, St. Norbert's punter and tight end. "Somebody talked about back then, I think Lambeau held 55,000 people, and we had 54,000 no-shows."
Doug Hutchison ran 61 yards for a touchdown in the game's opening minute, putting St. Norbert ahead for good in the 18-9 victory. Quarterback Pat Sullivan threw for 159 yards and a TD, a 10-yarder to Steve Heim (five catches, 77 yards), while tossing four interceptions, but the Green Knights were never seriously threatened after Sullivan rushed for a 1-yard score late in the first half for St. Norbert's final points.
Fameree, a fullback, had just missed scoring on the play before Sullivan's 1-yard TD rush, unable to juke a Fordham defensive back near the goal line. He ended up in the local newspaper with his hands raised behind a pile of bodies signaling Sullivan's TD. More important, though, was that Fameree was even on the field, having injured his back in the second game of the season. The Lambeau finale was his return to action.
"It was super special," he said. "That was my goal, to make it back for this game, and Coach was careful, which he should have been. But you're young and you're invincible, and I wanted to play so bad."
After the game, Doucette's father snapped the memorable photo of the five seniors, and Doucette can remember his dad among other dads coming to practice and the dorm rooms in the days leading up to the Lambeau contests in consecutive years.
Jack Doucette passed away in 2008, but his son knows he'd be "thrilled" about the photo re-creation and what it represents for the five friends.
"Great group of people. I'm proud to be friends with them all," Fameree said. "They've all done wonderful things with their lives, too. From doctors to salesmen to schoolteachers – I'm a banker – to a surgeon. Everyone did well."
Everyone's also likely to remember the second photo as much as the first.
"When you look back on things, all the wins and losses kind of fade away. It's this stuff that you remember," Schroeder said. "It's the camaraderie. The relationships are formed, and all of a sudden all the games get a little blurry, but friendships don't get blurry. They stay real solid, real clear in your mind, and that's the beauty of all of it."
34 Tom Fameree
84 Joe Doucette
67 Dennis Lueck
12 Todd Schroeder
22 Jerry Lang