Vic, what would you like to say about the Packers' victory on Sunday?
It was workmanlike. They got it done at crunch time. The Packers took care of business. Now they need to immediately turn their attention to the Seahawks and what I believe is the most important game of the season to date.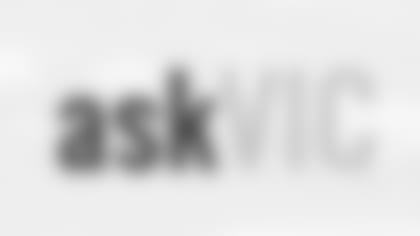 Well, Vic, my Sunday couldn't have gone much better. I harvested a deer Saturday evening with my muzzleloader and butchered it before the game started. The snow added to my satisfaction and the Packers won at home. How was your Sunday?
I took my morning bike ride around the beach, got a nap in before lunch, and then turned on the game. The sight of the snow gave me a chill, so I threw a blanket over my shorts and flip-flops.
Joseph from East Moline, IL
Le'Veon Bell runs like he's just trying to get one yard at a time. He runs as if the farthest his eyes can see is the space in front of him, and he is like a fly or a spider and perceives time much slower than everyone else. He just picks up a yard at a time and it turns into 10.
He reminds me of an old-time back named Lydell Mitchell, an upright dancer of a runner who was at his best as a receiver out of the backfield. Bell is bigger and better. The Packers loved him in the draft.
Justin from Stephenson, MI
Win in the books! On to the Seahawks. This week is gonna be a measuring stick to see where Green Bay fits against playoff caliber teams.
This is much more than a measuring-stick game. Detroit's win in New Orleans makes this a must-win game. It may not turn out that way, but I believe that has to be the attitude going into Week 14.
As expected, Dallas beat Minnesota and we pulled even with the Vikings. Catching Detroit clearly means we must win out and get help from Dallas again to win the division. How else can we get into the playoffs?
The Giants' loss in Pittsburgh helps the Packers' wild-card cause, as does the Redskins' loss to Arizona, though the Redskins' hold the head-to-head tiebreaker over the Packers. December will decide it all, as is usually the case. Who will get hot? What teams will fade? I love this time of year. Just win, baby. Winning works.
Steve from Bullhead City, AZ
How about that defense? Not seeing too many over-the-top completions now. Coverage has improved greatly.
The good teams get good in December.
My prediction for the playoffs in seeded order: Dallas, Detroit, Seattle, Atlanta, Giants and Washington. Green Bay just misses out and makes the seventh seed at 9-7.
I disagree. I think the Packers make it in.
What do you all enjoy most about answering fans' questions?
I enjoy the perspective. Fans think differently than I do. I'll read a question and think to myself, "Why didn't I think of that?" The answer is I don't think with my heart. For the fans, it's all about the heart. I respect that. More to the point, I love that.
Vic, the person who asked Aaron what was wrong with him must have a piece of government plastic in his head and should never put non-nuclear cereal varnish on his sled. That is my opinion and you're welcome to it.
It's non-nutritive, not non-nuclear.
Tom from Collegeville, MN
Great win yesterday. During the postgame interview, Aaron seemed to be pretty curt with the media at times. I would have expected a more peppy Rodgers after a big win.
I like curt. It lets me know the mood is real. I think it's the most important message a player or coach can send to the fans, that all of this matters to them in a deep and meaningful way.
Andres from Cathedral City, CA
Vic, do you have any stories about December?
The 1996 Jaguars were 5-7 heading into December. Their next loss was in the AFC title game.
Jerry from Wilmington, NC
Vic, it's time to know the Packers' identity. What is it?
We'll begin to find out this Sunday. You want a big game? Well, the big game is here, and teams are defined by what they do in big games.
Dean from Leavenworth, IN
Vic, the 98-yard drive was a thing of beauty, and then they followed it up with an 89-yard drive. For a hobbled Rodgers, it was two of the best of his career. What's your take on it?
The Packers played their best football at crunch time yesterday. December is crunch time.
Well, Vic, did you welcome your December friend home with open arms?
Couldn't you feel it? All of the games were bigger yesterday. You can sense the teams that are turning it up a notch, and the teams that are resigned to their fate. This is when you learn about your team and what it has under the hood.
Do you still think 9-7 will win the division?
I wasn't expecting the Lions to win in New Orleans. I'm not so sure about 9-7 now. It might be win-out time.
James from Two Rivers, WI
Will Dom Capers be in Green Bay next year?
I don't know the answer to that question, but I'll tell you this: There's no defensive coordinator I'd rather have against a struggling quarterback.
What a Big Ten championship game! Penn State defeated an excellent Badgers team and has earned a shot at the NCAA title.
Actually, they were snubbed by the selection committee, but I think the Big Ten owes Penn State a big thank you for authoring the Cinderella story of the college football season. I think the Big Ten also owes Penn State an apology for not being especially supportive during that program's dark days. What do I think of the playoff picks? I'm OK with them. I think the committee got the four best teams and I like the regional disbursement. Be that as it may, I think college football needs to examine a system that denied a team that won its conference championship and beat the team that's representing that conference in the playoffs. There's something fundamentally wrong with that.
Jerry from Wilmington, NC
Isn't it great we live in a country where we have the luxury to debate insignificant things like the college football playoff system?
I've reached the point in my life I now savor the things I've spent a lifetime taking for granted. What a wonderful time of year this is. Get ready for the big finish. Make sure you taste all of it.
Who is your favorite college football TV announcer? I like listening to Verne Lundquist call a game.
I felt his sentimentality on Saturday as he called his final SEC game. Lundquist has always taken the high road. It's how history will define him. I enjoy Brock Huard's easy-to-understand analysis. Keith Jackson will always be my favorite.
Jerry from Wilmington, NC
Vic, did you notice how the networks kept playing up the snow in Green Bay? Did you miss being there in it?
I liked seeing it. I don't like feeling it, shoveling it or driving in it. Lambeau Field on a snowy day is a visual delight.