Chad from Tarpon Springs, FL
What makes football more popular beyond the league? The league is run well and has parity, but what makes football more popular than basketball or baseball?
Reckless abandon, lawful aggression, controlled violence and hostile intent are all terms formerly used – in the player-safety era, they are no longer politically correct – to describe and explain football's rise to the top of America's sports popularity. Football is America and America is football. Football is a rough-and-tumble game played in a country with rough-and-tumble roots and which still embraces aggression. The game's tough guys have always been the stars of the game, and physical contact has always been football's charm and that begs the question: Can football maintain its popularity as it replaces danger with safety? As I've written, this game wasn't built on safe. Based on the game's continued popularity during the player-safety era, I think the answer to the question is yes. America is addicted to football. It's who we are and what we do, and I don't see that changing in my lifetime.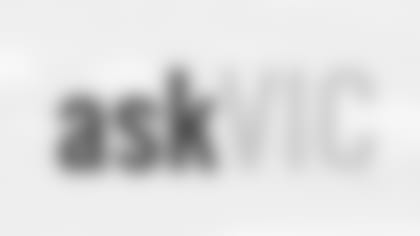 I am curious as to why we waste a spot on the 53-man roster for a long-snapper. It seems to me like a fairly easy job to learn. Why not have one of the backup linemen do it? Or how about, say, the center?
Mike Webster and Dave Widell are the last centers I've covered who did the long-snapping. The problem with having your center do the long-snapping is while he's practicing with the offense, the punter, holder and kicker are practicing without a snapper. Long-snapping is a specialized job and skill. There are a limited number of men who can get the ball back there accurately and within the fraction of a second that's acceptable. If you're outside of those tolerances, you're going to get punts and kicks blocked, and that means you're going to lose. The percentage of defeat for teams that have a kick blocked in a game is daunting. One roster spot for a job so important is a roster spot well spent.
Vic, if you could go back to any age now that you can reflect, what age would you be and would you still do what you're doing?
I would go back to the age I was – I was either seven or eight years old – on the day I wandered onto my hometown high school's football practice and I fell in love with a game that would become a life-long pursuit. I can still hear those pads popping and the coaches yelling. It was controlled violence – How about friendly violence? – and I loved it. I went back the next day and, figuratively speaking, every day since. I think I was born to write stories about football. I'm not sure I could've been successful at an honest job. I'm very fortunate.
What are the writers of the Inbox doing to be new?
I don't know what Mike and Wes are doing, but I know what I'm doing: I'm preparing for a new season; I'm going to be new.
Do you ever think the NFL could have contracts in which all money is guaranteed money? Things are certainly skewed to ownership when a player (and contract) can be cut at any time.
I don't follow that logic. Who among us can't be cut? The FBI director? If I was an owner, this is what I'd say: When you can guarantee winning, I'll guarantee your employment.
Daniel from Los Angeles, CA
I think Montgomery and Ripkowski can be the next Hornung and Taylor. All is left is the production, which I expect to happen.
Easy now, easy.** Joe from Bloomington, IN
With all the offensive weapons, do you see McCarthy scripting a play to give Rodgers the option of handing off to one of two running backs, three tight ends or five wide receivers?
"Less volume, more creativity."
Mathies from Copenhagen, Denmark
In my short time following the NFL, the best linebacker groups I've watched are probably Pittsburgh's Woodley/Farrior/Timmons/Harrison and San Francisco's Smith/Willis/Bowman/Brooks. Which ranks among the best you've seen in your days, 4-3 groups included.
Greene/Lloyd/Kirkland/Brown is the best 3-4 group I've covered, and Lambert/Ham/Russell is the best in a 4-3 scheme.
Vic, do you have a favorite quarterback/receiver duo?
How about trios? I've covered three great ones: Bradshaw/Swann/Stallworth, Brunell/Smith/McCardell and Rodgers/Nelson/Cobb. It's a tie.
One of the problems with the followers of fantasy football is they are often more interested in individual statistics than game results. Personally, I would hope we had no leaders in fantasy and five or six receivers who all perform well, keep the defenses surprised and end up with a Super Bowl.
Whatever it takes. It's another way of saying just win, baby.
As for football movies, how about "We Are Marshall?" Great for that never-give-in attitude and a look at building from the ground up. Don't look back. Everything is there in front of you. If one thing doesn't work out, move on to the next thing.
Matthew McConaughey turned in one of the great over-acting jobs in movie history.
Final word on football movies: "Rudy".
I have a friend who hates Notre Dame. I told him I took my sons to see "Rudy" and they liked it. I said it's a little schmaltzy but it has a nice ending. My friend said, "Why, does he die?"
Patriots, Patriots, Patriots! No team with Aaron Rodgers as its quarterback and Mike McCarthy as its coach is anyone's inferior. I'll go with quotes from Mike McCarthy and Stuart Smalley. "We're nobody's underdog." "You're good enough, you're smart enough, and gosh darn't people like you."
GeneMae from Plantation, FL
Do you think the Packers will win the Super Bowl?
I don't even begin thinking in those terms until Thanksgiving, GeneMae. I think the Packers are a Super Bowl contender, but that's as far as I'll go with any team until we get deep into the season and I know whether or not the quarterback is healthy and playing well.
I know you can't put the toothpaste back in the tube, but I hate flex scheduling, because the Packers always get flexed. I like a couple of drinks with my Packers, but that makes getting up for work Monday morning a little more difficult. I want my Packers at noon!
If you ain't flexin', you ain't winnin'.
Sam Shields had a great name for his position. It got me thinking about appropriate names for players: Bart Starr, Herschel Walker and Lynn Swann are all great. Any come to mind for you?
If I had to change my name, I would change it to Ditka. Yep, Vic Ditka.
Chris from Eau Claire, WI
Where does Rodgers land in the "Top 100"?
I'd put him at No. 2, only because Tom Brady has to be No. 1, right?
Steve from New Britain, CT
What are your thoughts about the UConn Huskies women's basketball team and its coach Geno Auriemma? Is it justified that so many folks hate them for having won so many national championships and for having such long winning streaks? Do you think winning breeds such contempt in all sports?
If we've reached the point that we hate a women's college basketball team, it's time for the president to author an executive order banning ESPN.
Vic, I'm watching "A Football Life" on Lyle Alzado. I'm guessing with you covering the Steelers in the '70s and '80s you covered him often. What do you remember most about him?
He was a willing and entertaining interview. I remember a conference call in which he referred to the tackle he was going to face in the next game as a "Polish sausage maker." The media laughed and so did the tackle. We didn't take ourselves as seriously back then; we had more fun with the game than we do now. Alzado liked the media and the media liked him. It's not a difficult dynamic to achieve. I think today's players ill-advisedly view the media as the enemy. It doesn't have to be that way.