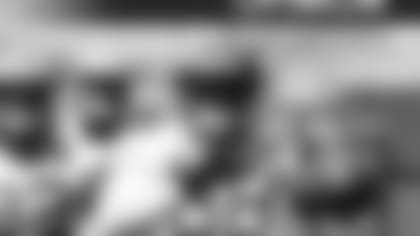 TE Jermichael Finley
Kerry from Margate City, NJ
Raquel Welch was not in "Black Sunday." Terry Bradshaw was, Pat Summerall and Tom Brookshier were, but no Raquel Welch.
I guess we just assumed she was in the movie they were filming in the Orange Bowl that day. I never saw the movie, so I never had reason to know she wasn't in it. I did some investigation yesterday, trying to find out 37 years later why I saw Raquel Welch eating an apple in the back of the press box at Super Bowl X. I called Vito; he didn't know. So I looked it up on the Internet and I got my answer. Apparently, she was performing at the Fountainbleau as part of Super Bowl weekend. What I also found was a picture of a guy holding up the front page of the next day's New York Daily News, which included a picture of Raquel Welch at the Super Bowl. The guy said he sat next to her and he claims that, after a touchdown, she jumped up and hugged him. Then I found this from Dan Jenkins' account of the game for Sports Illustrated: "Even without the excitement on the field, there were enough trappings to make the game memorable -- for one thing, it was surely the first time a press box ever had Raquel Welch hanging around in it." All these years later and I finally find out why Raquel Welch was, indeed, eating an apple in the back of the press box at Super Bowl X. The Internet, despite all of its shortcomings, is a wonderful, wonderful thing.
When the AFL and NFL merged, how did it affect the schedule? Did the conferences get restructured or was there just a lot of interleague play?
Three NFL teams – Browns, Colts, Steelers – joined the AFC, which evened the numbers so the league could divide into two conferences, each with 13 teams and three divisions. The NFC East and AFC East each had five teams. That uniformity allowed for a scheduling format that allowed for inter-conference play, which was a big deal in the early years of the merger because fans hadn't been exposed to teams from the other league. AFL fans would be getting their first look at the Packers, for example, and NFL fans would be getting their first look at Joe Namath and the Jets. The early merger years were a wonderful time in NFL history. You could feel professional football growing. As a young reporter, I came along at just the right time. The best reporters were in baseball and there was opportunity for young guys to carve out a place for themselves in a league that was grateful for any coverage it could get. I always felt welcomed and appreciated. The coaches and players wanted to talk to you. They understood that the media was the gateway to this growth that everyone was feeling.
Should the Redskins change their name?
This is a really difficult issue to resolve. I feel sorry for everyone in this. Brand is very important and the Redskins are a heritage franchise that has spent its existence building that brand. If you kill that name, you kill that song and you estrange the team from its glorious history. You also deeply hurt the innocent fans of that team, and I would hope that all parties involved would be sensitive to everyone involved in this matter. So much would be lost for football fans and the league if that name goes away. Be that as it may, the greatest sensitivity must be for the people that name would offend. I hope this can be resolved.
Vic, you've stated several times that you reserve judgment of a player's abilities until the pads go on in training camp. Because the game has changed and we no longer have drills like the Oklahoma, what drills do you pay attention to these days?
In my opinion, a team's practices are defined by four drills: nine on seven, seven on seven, 11 on 11 (includes two-minute, four-minute drills), one-on-one pass blocking/pass rushing.
Greg from Westerville, OH
Vic, you said you like to discuss history and tradition in the offseason in this column? How about this one? One of the dumbest traditions of the Super Bowl is using Roman numerals to specify the order of the games. Sure, it may have been quirky and original for the first 10 Super Bowls or so, but unless today's fans were taught by nuns in a Catholic elementary school many decades ago (as I was), chances are any fan under the age of 30 has no clue as to what the heck the order of the letters really means.
I agree that we have reached the point of too many letters. Here's the problem, as I see it: The Super Bowl is played in a year other than the season it represents. I'd love for the Roman numerals to be replaced by the year of the season, but that's not the year of the game. Do we use the year in which the game was played and condition ourselves to know it represents the previous year's season? Or do we just go with the standard numerical value – Super Bowl 45, for example? If it was my decision, I'd probably go with the year in which the game was played and try to condition everyone to know it represents the previous year's season.
OK, Mike Neal to linebacker. With Clay Matthews and Nick Perry manning the outside, does that mean Neal plays inside or does he play outside with Matthews or Perry becoming a spy/rover against a read-option? Dom Capers, it seems now has some players to make some plays work.
It's just an experiment. Coach Capers says they're trying to expand Neal's role. Neal is a big, talented guy and you don't want to waste that talent. You want to do everything you can to realize its full value. This isn't new stuff. I've seen this before with players that needed to find a niche. You're too far ahead in the process. You've already gone beyond players and you're making plays. The first thing that has to happen is finding out if Neal can play linebacker. The plays are the easy part.
Kyle from Indianapolis, IN
I'm watching an SEC film about Herschel Walker. He was one tough young man. What are your thoughts on him?
He spent his best years in the USFL. That was his choice. He took the money and it may have cost him some immortality.
Assuming Andrew Quarless is completely back from injury, do you foresee the Packers running a fair amount of two tight end sets? That might allow for improved run blocking without significantly reducing passing production.
Yeah, I can see that. What I'm seeing most of all at tight end in OTAs is Jermichael Finley catching everything that's thrown at him. He has some of the best hands of any tight end I've ever seen. He also has some of the best eyes. The Packers do a dart-throw kind of drill in which the ball is thrown at the tight end from a short distance as he comes out of his break. Finley caught everything on Tuesday. He caught everything with his hands, softly. His eyes picked up the ball no matter where it was thrown. I can only think of one reason he would ever drop a pass, and that would be the result of having allowed himself to be distracted by defenders. If he keeps his focus on the ball, look out. Maybe this is the year.
If you could go back in time and attend one game, which would it be?
If I could watch it from the press box, it would be the "Ice Bowl." I hate cold weather. I would never be able to make it through that game if I had to sit in the stands.
Daniel from Copenhagen, Denmark
Seeing as you covered the Steelers in the '70s, you're bound to have some great stories about those crazy Raiders of the '70s. I've been quite fascinated by that team since I saw the entire "America's Game" series.
They were loaded with personalities. I remember being down on the field in the final minutes of a Raiders win over the Steelers in 1977. Phil Villapiano was heading for the locker room – I think he had sustained an injury – as the clock was winding down. He looked at me and a couple of reporters with me, smiled and said, "The Steelers are history." I put it in my story. The Raiders were always good for a quote. The Steelers, of course, went on to win two more Super Bowls. Those games were so intense that it was as though they were the only games that counted. Pete Banaszak was a running back on those Raiders teams. I did some radio with Pete in Jacksonville and I really enjoyed talking football with him, but we never talked about those games. I wouldn't do it and I'm absolutely sure he also intentionally avoided the subject.
J.D. from Indianapolis, IN
I guess the ESPY's are coming up in a couple of months because I heard a plug for it this morning. It made me think of Jim Valvano's, "Family, religion and the Green Bay Packers" speech, and the thought of that made me smile. Can you think of any similar emotionally charged speeches in the sports world that I should listen to?
If there's one football speech or pep talk I'd like to experience, it would be Weeb Ewbank's pregame address to his Colts team prior to the 1958 NFL title game. The Giants were full of stars: Sam Huff, Kyle Rote and Frank Gifford endorsed everything from razor blades to cigarettes. The Colts were a collection of unwanteds. Ewbank went around the room and reminded them of their roots. He reminded Ray Berry that he was a 20th-round draft pick. He called to Art Donovan's attention that he was a 22nd-round pick and that each of the first three teams for which Donovan played went out of business. Then Ewbank reminded Johnny Unitas that his hometown team had cut him and the Colts found him on a sandlot playing semi-pro ball. Ewbank went around the room and reminded everybody of the route they had taken to this game. He said this was their chance to prove they had been wronged. I doubt the pep talk had any effect on the Colts' performance that day, but I would've liked to have heard it.
Vic, I'm an avid reader of your column and I appreciate your insight. I also enjoy your stories. I was recently pondering how our draft picks are progressing and I realize they are just in OTAs and you can't really tell much thus far. I was wondering if you have any stories about someone that truly was impressive to witness during OTAs.
I saw the Gillett kid, the wide receiver from Eastern Michigan that shares a number with the free agent kicker, one-hand a deep pass. Then, as he jogged back, he tossed a 30-yard pass that spiraled so tightly I could see the laces turn over. I thought to myself, "That's pretty cool." That's OTAs.
OK, Vic, let's get real. Let's say Thorpe kicked a punt 50 yards. If they were measured from the line of scrimmage, that would mean he would have to cover about 60 yards to catch it. Now let's say the hang time was six seconds, which would be incredible in any era. He would still have to run about a 4.0 40 in order to field the punt. On a 70-yard punt, the hang time would have to be eight seconds to maintain the same 4.0 40, and he's not starting from a sprinting stance. Still think there was not some exaggerating going on?
You're talking about a legendary moment in college football history. Here's an excerpt from the Pittsburgh Dispatch's account of that moment: "Thorpe, who kicked wonderfully well for Carlisle, got down under his own bootings, capturing the ball each time. Once he kicked a beautiful long spiral almost into the midst of five Pitt players and got down the field in time to grab the pigskin, shake off three or four would-be tacklers, and dart 20 yards across the line for a touchdown. Tall and sinewy, as quick as a flash and as powerful as a turbine engine, he appeared to be impervious to injury. Kicking from 50 to 70 yards every time his shoe crashed against the ball, he seemed possessed of superhuman speed, for wherever the pigskin alighted, there he was, ready to grab it or to down the Pitt player that secured it. At line-bucking and general all-around work, this Sac and Fox shone resplendent and then some." Here's another newspaper account from that game that respected author Lars Anderson quotes in his book on Thorpe: "The ball was flying impossibly high. The kick ascended to such a height that it momentarily seemed to take the breath away from the crowd, and an instant hush descended over the stadium. Four, maybe five seconds had passed since he'd kicked the ball, and suddenly he was within a few feet of it. Thorpe leapt into the air. It was Thorpe who soared the highest and in a stunning display of athletic grace, snatched the pigskin. He maintained his balance, broke three tackles and staggered 20 more yards to score a touchdown." I don't know, Tim, maybe Thorpe was just bigger, stronger, faster.
I'm 24 and love this game, old and new. I'm currently reading, "When The Grass Was Real," by Bob Carroll. You should check it out.
Bob is the guy who turned me onto the history of the game. I was sports editor of a newspaper where Bob lived and he approached me with the idea of writing a football history column for my sports section. I listened to his pitch and I was fascinated. He wrote a beautiful column and we became friends. Bob passed in 2009, but he left me with what I consider to be his very best work. It's called "Total Football, The Official Encyclopedia Of The NFL." There are two editions and they are marvelous; the best collections of pro football history ever assembled. Bob was one of four main editors and one of the two main historical contributors. The dedication always brings a tear to my eye: "Dedicated to Pete Rozelle, who lifted the NFL to the top of the sports mountain." Bob lived modestly and dedicated his life to telling the story of the history of professional football. Without him, we wouldn't know nearly as much as we do.
I was reading your column and saw your response saying that everyone should play closer to the line of scrimmage. I think this idea would cause more one-on-one matchups on the outside, turning our football that we love into a more arena football type of product. I am against this. Do you see it going the way I perceive it?
No, I don't. Not only would moving the safeties closer to the line of scrimmage promote player safety, in my opinion, I also believe it would open the field as it has never been opened before. Move those safeties up to the line of scrimmage and say hello to the greatest era of deep-ball passing in football history. Move those safeties up to the line of scrimmage and watch the scoreboard light up. Move those safeties up to the line of scrimmage and watch what it does to the running game once those safeties turn and run or the defense doubles the receivers on the outside. It's my kind of football: Run it between the tackles and throw it over the top. It might promote more blitzing and that would require quarterbacks to be more mobile, but I think that's where we're heading anyhow.