Vic, disappointed to see your long-held suggestion for the player celebration circle was not picked up by the league. What do you think of the new rules?
The fans got what they wanted. They'll want more. They always want more and they usually get what they want because that's how the league gets what it wants.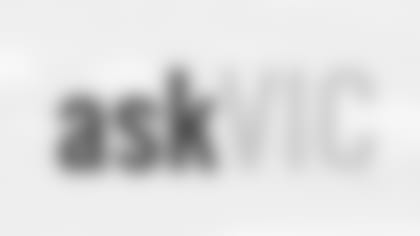 Travis from Bremerton, WA
All of the great quarterbacks that wore No. 12: Aaron Rodgers, Tom Brady, Staubach, Bradshaw, Jim Kelly, Broadway Joe, Ken Stabler; that's some great company. Looks like all you need to do is wear 12 when you make it to the big show and you're on the "A Team." I gotta be onto something here, right?
It doesn't work that way. I've covered quarterbacks that wore No. 12 and didn't make the team or didn't have a successful career. I can remember one of them, Jonathan Quinn, a third-round draft pick by the Jaguars who was as physically gifted as any quarterback I've covered. At 6-6, 243, he possessed Roethlisberger-like size and strength. He was a former tight end whose athletic ability was off the charts. He might've been the most athletic player on the Jaguars. I saw him hit a softball into orbit. Unfortunately, something was lacking from his game and, despite tries with three different teams, he never stuck. Bob Griese is another quarterback who wore 12; he won two Super Bowls in the 1970s, which was 12's era. No. 12 was to quarterback as No. 32 was to running back. John Elway, Brett Favre and Troy Aikman helped usher in the era of the single-number quarterback. Brady resurrected 12's fame; Rodgers has added to it. Players, not numbers.
Hey, Insiders, thanks for all the great work! I like how the title of each column corresponds with a specific answer in the column. Who came up with this idea and what's the inspiration behind it?
I invented it. Not much thought went into it. I just did it. I try to pick subject matter from a question and answer that would lend itself to an interesting headline and accompanying picture. I ask myself: What will make the readers go nuts? The choices are usually plentiful.
I've been to over 30 games in Green Bay. I miss the chants of "Reggie! Reggie!" Why does is seem Lambeau was louder then than it is now? More seats, more people, less noise, just me?
It's just you. Our ears hear what our heart feels.
Green Bay has been rated the drunkest city in America. "The excessive drinking rate among adults in Green Bay is the highest of any metro area in the country." My response is two-fold: Calling Green Bay a metro area is laughable. Don't you need a rush hour or something? Few people can get through the winter up there sober.
I just started going to bed earlier. It was the only place I could get warm.
The overtime change seems much more like a minor appeasement (to the players, I presume) than anything the fans should care about. There have only been nine ties since 1990. Who cares if they take five minutes off overtime?
I think ties are good for the game. Look at the controversy they create, and controversy creates interest. Who knew there was a race for Congress in Montana? The next day, it was a national news story. Ties are every bit as meaningful as a win or a loss.
Vic, on Memorial Day, the Mount Rushmore of NFL veterans? Perhaps, Chuck Bednarik, Rocky Bleier, Roger Staubach and ?
Pat Tillman and Bob Kalsu immediately come to mind. I have a particular sensitivity to the story of Don Holleder, a star college player who was coached at West Point by Vince Lombardi.
Dean from Leavenworth, IN
Vic, when the time comes to trim the roster at the end of training camp, I suspect the difference can be pretty small between being in the bottom few on the 53 or ending up on the practice squad, another team or on the street. If you have two players at the same position and they show similar production, one is a rookie and the other is a first- or second-year player, who would you rather keep? By that I mean would you rather keep the player with more experience but less time to grow, or the rookie who might have more room to grow over the next year or two?
I favor youth, but all three of the players you're offering are young. I'd pick the one I judge to have the greatest upside. Take care of the future and the future will take care of the present. Patches are easy to find. Long-term fixtures are special.
Vic, what is your greatest accomplishment?
It's this column. It's going to outlive me. I like that.
Derek from Eau Claire, WI
If GM Vic had to pick one current head coach to lead his team, who would he pick?
I'll limit myself to the six current head coaches who I've covered and for whom I've got a good feel for their coaching style and philosophies. They are Mike McCarthy, Marvin Lewis, Jack Del Rio, Dirk Koetter, Ben McAdoo and Anthony Lynn. Marvin might be the most underrated coach in the league. He's done more with less. I'm a big fan of Del Rio's run-the-ball, stop-the-run style of football. I once referred to it in a press conference question as "big boy football," and he smiled; he liked the reference and I liked that even more. I will always remember Dirk for something he said as an offensive coordinator: "If you can do it once, you can do it every time." I think Dirk is perfect for today's game, and he's got "The Man" in Tampa to be successful. Ben is a natural. I sensed that the first time I met him. He was always one step ahead of my next question, and that's a quality that plays especially well in New York. Anthony is disarming, and it's a wonderful trait that's becoming more difficult to find in these adversarial times. He'll be a consensus builder in San Diego. Coach McCarthy is the man I'd pick to coach my team and it's for at least three reasons: 1.) He's skilled and creative in the concepts of contemporary offense. 2.) He sees the big picture. 3.) He's an astute manager of people.
As a Packers fan of 24 years who was born and raised in Wisconsin, do you think we have what it takes this season to win the Super Bowl? What do we still need to improve on?
It begins on defense. Young players need to lead the way. It's their time.
Jered from Baton Rouge, LA
Are there any flaws in Aaron Rodgers' game?
I've covered two Hall of Fame quarterbacks, Rodgers and Terry Bradshaw. Bradshaw had a flaw in his game – he couldn't throw the check-down and dump passes – but it was disguised by the era in which he played. Bradshaw played in the bomb-ball era, and nobody threw it better. One more thing I'll say about Bradshaw: When the games got bigger, so did he. His postseason stats would represent the best season of his career, and that's big in my book. Rodgers is the total package. He makes all of the throws, and nobody thinks his way around a football field better than Rodgers does. I see no flaw in his game.
I have several football memoirs, as my granddad was a collector. My favorite, by far, is "Fighting Back" by Rocky Bleier. Do you have a favorite sports memoir or autobiography?
"The Making of the Super Bowl" by Don Weiss. It's a reminder of pro football's humble beginnings and its meteoric rise to popularity. For me, it's a feel-good book about an era that defines what I love about the game.
How should you respond to fans sitting behind you in Lambeau when they tell you to sit down when you stand up to cheer the Packers defense on third down?
I read Wes's answer to this question and I decided I wanted to take a shot at it: Befriend them.
Sean from Springfield, OR
Chip Kelly is joining ESPN. Why didn't the Chip Kelly system work in the NFL?
I think it is working. It's evolving, and that's how change succeeds; it happens incrementally. Kelly took it to the extreme and I'm not sure the game was ready for the big gulps he was forcing it to swallow. Be that as it may, his style of football is the future.
James from Albuquerque, NM
Is there any interest or room to sign someone like Dwight Freeney or Elvis Dumervil?
If you need to patch, you patch, but I favor youth. In my opinion, if you don't favor youth, you'll be forever patching.