On the first Saturday of every month, Mark will write about a topic of interest to Packers fans and the organization, and then answer five fan questions. Fans are encouraged to email Mark with their name and hometown at:MurphyTakes5@packers.com.
Through the full five weeks of training camp and the first three weeks of the regular season, the NFL lived a charmed life when it came to COVID-19. There were minimal positive tests and no games were impacted. That changed this week with the outbreak within the Tennessee Titans organization. It all started last Saturday when a Titans assistant coach tested positive and was not allowed to travel with the team to Minneapolis for the game against the Vikings. After the team returned to Nashville, coaches and players started testing positive. So far, they've had a total of 13 positives, seven players and six staff members. The league initially was hoping to move their game against the Steelers this week to Monday, but when the positive tests kept increasing, the league decided to not play the game this week. It will be rescheduled later in the year by adjusting teams' bye weeks.
The outbreak in the Titans organization is certainly a wake-up call for the Packers and every NFL team, and shows the significant challenge of trying to play football during a pandemic. This is particularly true for the Packers, given the increasing number of positive tests and hospitalizations in Wisconsin. While we are testing daily, testing alone will not keep our players and staff safe. All of our players and staff must remain vigilant, and continue to wear masks and stay physically distant, while also being careful about where they go when they are away from the facility. Away games present an added risk with players and staff spending so much time on planes and busses, often close to each other. As a result of the Titans' outbreak, the NFL has implemented enhanced protocols for teams exposed to COVID-19. Hopefully we've all learned a valuable lesson from this and will work to avoid similar outbreaks.
In a recent memo, the league's chief medical officer, Dr. Allen Sills, put it well: "There's one simple rule to remember, act as if every person you come in contact with has a COVID infection and take appropriate precautions."
Now, on to your questions…
Brandon from Sheboygan, WI
(Brandon also posted this letter on Facebook.)
Dear Mr. Murphy, I am writing to discuss the most recent events surrounding the police shooting of Jacob Blake by officers of the Kenosha Police Department and how your organization has publicly responded to this incident. I am aware that the behavior of police officers in this country is under enormous scrutiny and some people are concerned with the quality of their character. With the amount of responsibility afforded to law enforcement professionals, it is fair that the public holds them to a very high, but reasonable standard. The trust from every person is necessary in order for the police to be effective in serving their citizens. This is something that the majority of the 900,000 police officers in this country understand intimately.
It has become pretty clear that many people seem to find it concerning that an organization with monumental influence like the Green Bay Packers is quick to villainize police officers and make strong public statements without waiting for investigative facts to be obtained. These irresponsible actions make it even harder for the good, hardworking police officers to be effective in their duties. For a second, just think about how challenging it will be for the police officers that protect your sporting events if the attendees don't respect or comply with the officers tasked with keeping the peace at Lambeau.
When professional athletes who are held in the highest regard by our youth are willing to speak poorly about the quality of police officers, it makes our chances of maintaining good relationships with our young people impossible.
I have served as a police officer for over 15 years and my wife has served as an officer for 13 years. We both have served with uncompromised professionalism and integrity. What we have found during our careers is that a majority of law enforcement officers are just like my wife and I. We care deeply about all citizens and the problems facing our communities. We care about how people are impacted by society's misfortunes and how we are in a position to make an actual difference because we see the issue firsthand.
The frustrating part for my wife and I (and so many like us) is that we have spent thousands of dollars supporting your organization and have to see your team publicly speak out against us. We have attended countless games, spending hundreds of dollars on each occasion. We have spent thousands of dollars on merchandise. We have been patrons of the 1919 restaurant on dozens of occasions and also take the stadium tour continuously to immerse ourselves in the rich history of your organization. We have always considered ourselves so lucky that we live so close to one of the greatest sports franchises to ever exist. I even proposed to my wife seconds after the national anthem played during a nighttime Packers vs. Bears game in 2009.
I would hope that rather than just speak about these issues with the media, your employees are truly interested in bridging the gap between law enforcement and the public to make an actual positive change. My wife and I are offering the opportunity to help repair this situation by meeting with anyone in your organization that is deeply concerned with the character of American police officers.
We would be happy to discuss our training that guides us with decision-making in tense, uncertain and rapidly evolving situations so we can help educate anyone that doesn't understand the decision-making process of officers. We would also love to share the experiences of all of the people that my peers have helped throughout the years.
I really hope that you understand that the feelings conveyed in this letter align with a significant portion of your fanbase. If your fans stop attending games, buying merchandise and financially supporting your organization, it is going to be difficult for the Green Bay Packers to survive. Much like police officers, you need the community to value and respect your team, in order to be successful.
I took forward to hearing from you.
Brandon, thanks so much for your recent letter. I appreciate your thoughts on our statements regarding the police. I hope to clarify our goals associated with the recent statements.
First, I thank you and your wife for your service to our community. Your chosen careers are commendable and greatly appreciated.
As you may know, the Packers have a long history of support and partnership with our law enforcement agencies here in the Green Bay area, as well as across the state. From significant donations to the Green Bay Police Foundation to autographed items that are sent out to law enforcement organizations for fundraising events, our support takes many different forms.
Additionally, our coaches and players have made appearances at events and participated in programs with our local law enforcement agencies.
I share this information as an illustration that our strong support of law enforcement and expression of concern over recent events involving law enforcement officers are not mutually exclusive.
We do know that an investigation is taking place with regard to the Jacob Blake shooting. We respect that process, but we also are concerned with a person being shot seven times in the back. That is an outcome we do not accept. We feel it is an example of excessive force of which we've seen way too much recently. Black people face this at disproportionate levels when it comes to interactions with law enforcement. Our players and the organization are bringing attention to these issues in the hope of furthering meaningful dialogue that will affect positive change.
To that end, we have had recent conversations with Gov. Evers and Assembly Majority Leader Jim Steineke, as well as Green Bay Mayor Eric Genrich. We have learned what they are working on at the state and local levels to address these challenges.
I should also share with you that we had an opportunity to meet recently with Green Bay Police Chief Andrew Smith and two of his officers. We have great respect for Chief Smith and his team. They, along with officers from other agencies, provide our security on gamedays at Lambeau Field and through the course of the year at many functions. Chief Smith shared with us the current training methods and best practices they are using to de-escalate the violent situations they encounter, as well as plans for new training methods they will be using in the future. The Green Bay Police Department also is working with social workers from Brown County to respond to calls that include situations for which the social workers are best trained. We continue to offer our support to Chief Smith in areas of which the Packers can make an impact. In fact, based on input from Chief Smith, we will be helping them purchase body cameras for the Green Bay Police Department. We also plan on doing the same for the Village of Ashwaubenon and the Brown County Sheriff's Office.
I hope this information helps you have a better understanding of the Packers' recent calls to action in these areas of concern. We intend to continue to use our voice to encourage all our fans to engage in these difficult conversations with humility and an openness to see different perspectives. These are challenging times, and I've never seen our country more divided. Hopefully the Packers can play a small part in bringing our community together.
We appreciate your support of the Green Bay Packers.
Hi Mark, the Packers have had three straight amazing offensive performances this year. Is Aaron Rodgers feeling more like himself this year or is Aaron Jones peaking this year?
The play of our offense has certainly been the story of the first three games, Samuel. I think a number of factors have contributed to the strong performances. First, it's the second year in Coach Matt LaFleur's system, and I think everyone is more knowledgeable and comfortable this year. Aaron Rodgers is obviously playing at a high level and is in total control of the offense. Also, he and Coach LaFleur really seem to be in sync, and we are doing a great job in keeping defenses off-balance. The play of our offensive line has been excellent in both the running and passing games. Finally, our run game has been very effective (especially with Aaron Jones) and that has made our play-action passing game very dangerous.
Hello, why no fireworks for touchdowns during home games?
Nancy, I'm sorry to say this, but no fans means no fireworks.
Mr. Murphy, I wanted to reach out to ask you to rethink some of the decisions that you have made regarding fans at home games this year. Green Bay is the most unique market in the NFL and without the Packers the market would be a fraction of the size that it is. Your decision to not have fans (without considering the owners' input) in attendance will singlehandedly put local establishments out of business. Don't worry, your corporate sponsors will make it, but the local taverns that actually add character to Green Bay will cease to exist next year. I strongly encourage you to allow a limited capacity of fans in the stands and 50% capacity for tailgating starting Nov. 1. The Kansas City Chiefs were able to celebrate their Super Bowl championship with 16,000 fans in Week 1. One fan tested positive for COVID-19. One person. Considering these results, I strongly ask you to reconsider your decision and to allow fans for the third home game. The Green Bay Packers and their fans have the strongest relationship in the NFL, and I believe that the organization could have shown much more support to their fan base during these times.
Thanks for raising this issue, Kyle. As a community-owned team, we are very cognizant of the impact that our home games have on the local economy. We also realize that many local businesses are struggling during the pandemic and would benefit if we had fans at our games. However, I also believe that we have an obligation to keep our local community safe. As mentioned above, the COVID numbers in Wisconsin are going in the wrong direction (on Thursday, there were a record 2,887 new cases and on Wednesday a record 27 deaths) and Green Bay is a hot spot within the state. We have not yet made a decision regarding whether to host fans for our Nov. 1 game, but the decision will be based on advice from local health experts. Dr. Michael Landrum, the infectious disease specialist from Bellin Health, has been particularly helpful. The keys will be to significantly reduce the positivity rate and the community infection rate. This graph with data from Johns Hopkins University shows how high Green Bay's infection rate is compared to other NFL cities.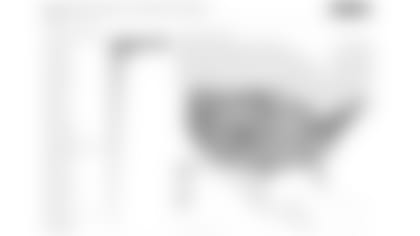 We care about our local businesses, but we also don't want to host fans and contribute to another outbreak that will make it even more difficult for local businesses in the long run. We urge everyone to follow the proven measures that will stop the spread of the disease. As you make plans to watch Monday's game, please be smart. If you are with people outside your household, please socially distance, wear a mask and practice hand hygiene.
Hi Mark, why is it that the Packers use so many timeouts in a game because the play clock is running out? Game in and game out, we are yelling at the TV to hurry up so we don't have to waste a timeout due to the play clock running out. As you know, these timeouts are critical to have in your pocket at the end of the half and the end of the game! How often do we wish we had not had to waste timeouts when we really need them at the end of each half? Has anyone ever gone back over the last year(s) and see how many of these timeouts have been used like this?
I know that Aaron needs to look over the defense, but we seem to break the huddle with so little time left on the play clock. Is this because the plays are coming in so late or is there some other reason? We are a professional team and this just should not happen as often as it does.
Thank you for your time and GO PACKERS!
You raise a very interesting issue, John. One of our biggest advantages as a team is that we have an experienced quarterback who can force the defense to tip its hand and then get us into the right plays. In order to do this, though, he needs time, and this is one of the reasons we are often up against the play clock. Another advantage of this is that defenses are more likely to jump offsides at the end of the play clock (and Aaron is very effective at drawing defensive players offsides). Now, obviously part of this issue is how quickly we get the play called, but overall, I think the positives outweigh the negatives for us. Finally, over the years, I've found that yelling at the TV is not effective.