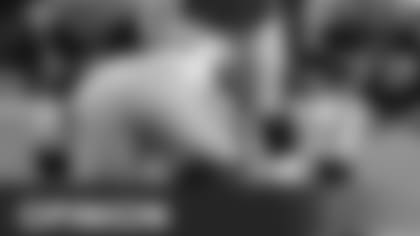 Patriots QB Tom Brady vs. Packers in 2010
Vic, do you think Alabama defensive lineman Jesse Williams would be a reach where the Packers are drafting in the first round?
Tony Pauline doesn't. Tony loves Williams; thinks he fits late in the first round. The only thing I'll add to that is: In a draft that's deep in hold-the-point defensive linemen, can I find that guy in one of the later rounds? What if there are two or three guys tied at the top of your board, all of whom play different positions? Do you take the guy at the position that's thin and might offer your only chance to address it? These are the kinds of questions you have to answer to get the most bang from your draft class, and still be true to your base philosophy.
Danny from Columbia City, IN
When a team drafts a player, does that player have to play for that team? Or do they have the choice to decline signing a contract with the team that drafted them?
They don't have to sign a contract, but they can't sign with another team. If they fail to reach an agreement with the team that drafted them, they will go through the draft process again next year. Or they can be traded to another team by the team that drafted them.
I'm kind of hoping for a major snowstorm to hit New York on Super Bowl Sunday, that way they can play the game on Saturday night, like it should be. Any chance they'd ever move the big game to Saturday?
What if they had a forecast for a huge snowstorm on Super Sunday? That's an intriguing question. I don't know what they would do. The Super Bowl isn't just about a game. It's about moving a whole lot of people in and out of a city and lodging them during their stay. One of the biggest challenges of the whole week is getting people out of "Dodge," so to speak, the day after the game. The airport is jammed with travelers. The airways belong to the NFL the day after the game. Imagine what a mess the whole thing would become should a snowstorm paralyze New York the day of or even the day after the game. I don't know if they'd move the game to Saturday in the event of a bad forecast, but I guarantee the league has already considered such matters. Hosting a Super Bowl in New York in the middle of winter could become a very problematic endeavor.
What is Lambeau Field like at this time of the year? Do tourists/fans visit the stadium very much?
The tours are ongoing, but what's most striking about Lambeau Field these days is that the south end zone expansion is heading into its final phase. The jewel that's going to be revealed when next season begins is beginning to shine.
Steven from Nashville, TN
How do you rank the toughness of this year's schedule?
Damon from Bakersfield, MO
The next Madden cover vote is now going on, which not only includes some of today's great players, but also great players of the past. What great player from the past should be put on the Madden cover? I like Jerry Rice.
I immediately thought of Chuck Bednarik, but that would be blasphemous. Yeah, Rice would be good.
I just read about the scathing scouting report on Geno Smith. What do you and Tony Pauline think of Smith, an overhyped gimmick or a true star prospect?
Yeah, I read that report. Ouch! What I saw at the combine was a player who was much more groomed than I had expected. He spoke intelligently to the media. His fundamentals were sound during his workout. Smith certainly passes the eye test. Tony's knock on Smith is that he falls into bad habits; he's not a disciplined passer. I can't help but wonder how much of that is a product of the system he played in at West Virginia. It's a wild, frantic-looking offense that includes everything but discipline. Remember, you don't draft players for what they are, you draft them for what they will become. If I'm looking for a quarterback, the question I'm asking myself about Smith is: Can I teach him to play my way? If you believe the answer to that question is yes, then he's your guy. He's got the physical tools to play the right way, it's just a matter of disciplining him to play that way and only that way.
Why not print some answers that are not politically correct. Why do you never criticize Ted Thompson? He signs no free agents, he is afraid to spend money, while the Bears, Vikings, 49ers and others are getting better. Why doesn't he do something besides signing a DB dropped by Buffalo? Get some proven players instead of guessing at the draft. The Packers need a GM with some guts to take chances. People are right when they say you answer with the draft-and-develop line that management gives you. Try another line; that one is old and boring.
Why don't you calm down? Really, these rants by people such as yourself that would collapse the careful management of the team's salary cap and long-term future of the franchise with a one-week spending spree in free agency have become too much for measured minds to endure.
Vic, I don't know how much attention you're paying to the greatest plays bracket on nfl.com, but DeSean Jackson's punt return has reached the final four.
I'm not paying attention to it, but if I understand the criterion correctly that it's about the scope of the play, then the first play that comes to my mind is James Harrison's interception for a touchdown in the Super Bowl. How does it get any wilder than running 102 yards through an entire team and then falling dramatically into the end zone as the clock expires on the final play of the first half? As I watched it happen, I just stared at the TV, thinking to myself, "Is this really happening?"
Paul from San Tan Valley, AZ
First of all, Vic, please don't change anything about your column or how you speak with us fans. Were the Packers ever considering Nmandi Asomugha for the cornerback position? I know he's had some issues, but the Niners signed him for relatively little money. He may not be the toughest corner out there, but he has terrific experience.
The 49ers obviously believe Asomugha still has game. We'll see. Are we, again, overreacting to a player acquisition based on what the player once was? I'm looking for long-term solutions. This draft is loaded with long-term cornerback talent in the second-fourth rounds. With all the picks the 49ers have, they should be able to tap into that crop of corners.
Bob from Grand Rapids, MI
So, if you were surprised by the lack of rancor in our answers, I guess that means Packers fans can be considered winsome after all.
I think it means that things change when you're the one answering the question, instead of asking it. In most cases, I felt as though I was reading legal briefs. I got nearly a thousand e-mails and most of them answered every one of the 15 questions, and the answers were thorough, to say the least.
Jimmy from Hainesville, IL
I had an ex-girlfriend who was a good, loyal Packers fan, tell me, after we broke up, that as much as she wanted the Packers to win each week because she loved them, too, she wanted them to win so I wouldn't be in such a bad mood the whole next week.
She sounds like a great girl.
Dustin from Salt Lake City, UT
Vic, do you think the success of Brady and the Patriots has raised expectations for fans? I know they haven't won one for a few years, but they won three and then have appeared in two more while always seeming to be in the hunt.
That's a good point. Tom Brady and the Patriots have become the standard by which we measure success, and they have set the bar very high. What if they had held on for the win in the two Super Bowls they lost to the Giants? I guarantee that in today's world of lack of respect for everything old, the Patriots' five-title run would be more revered than the Packers'. There would even be wild suggestions of Bill Belichick being a better coach than Vince Lombardi. As celebrated as Brady is, I still believe he is one of the most underappreciated quarterbacks in the history of the game. His impact is not fully recognized. How many careers did he launch? Hey, Belichick was 5-13 and on his way to being fired when he made Brady his starting quarterback; Brady literally saved his coach's job. Brady is what's special about the Patriots. Without him, they're just another team.
Emmanuel from Morgan Hill, CA
Is there a possible chance Nick Collins and Charles Woodson could return? Two amazing veterans.
It's time to move on, Emmanuel. I know Packers fans love their players, and that's one of the reasons the team has a Hall of Fame, but this has always been a game of replacement, and it's never been truer than it is today. This is a game of next. Find the next star before the star you have gets hurt. All of my attention now is on the draft. Where are the stars? Which teams will draft them? The ones that do will be the teams that contend for titles in the future.