THE MODERATOR: Good afternoon, everybody. Thank you for joining us on this NFL Network conference call. We are pleased to be joined by Steve Mariucci, who is an analyst on NFL Network's NFL Game Day show. He was Brett Favre's quarterback coach in Green Bay from 1992 to '95. Brett led the NFL in passing yards those four seasons and ranked second in passing touchdowns.
Also we have Sterling Sharpe, co-host of NFL Network's Playbook show, which is on twice a week, Thursday and Friday at 8 p.m., and reaired each Sunday morning beginning at 11 a.m. Sterling played with Brett in his first three seasons in Green Bay from 1992 to '94. Had 300 catches, 41 touchdowns in that span. Sterling was the first ever player to have 300 catches in a three-season span, and his 41 touchdowns ranks second behind Antonio Freeman's 57, the most to a single receiver from Brett Favre.
Thank you for joining us, gentlemen. I would like to open it up to questions from the media.
Q. Steve, can you tell us the difference between Brett that you coached from '92 to '95 and the guy you see on television today, if the approach has changed at all?
STEVE MARIUCCI: His hair is much grayer. We can see that. He's playing with a young team and he's the veteran of that team. Obviously when I was coaching him it was really the opposite. He was the youngster, he was the new kid on the block, and he played with other veteran guys like a Reggie White and Sterling Sharpe, Brian Noble, those kind of players, who were veterans watching him grow up and go through the growing pains really of being an NFL player.
His role is a little different now being the captain of that team and a veteran and having to try to bring along these younger players, whether they be offensive linemen or running backs now. But he still plays with the same energy, the same enthusiasm for the sport. I see him smiling and jumping around on his players.
I love to see that, because it looks like he loves to play the game. Too often, you know, people look to it as work, and it's their job. But he still looks at it as a game, and he plays it as such. That's how he practices, as well.
I don't see any drop-off in his enthusiasm.
Q. Sterling, was there anything you helped him learn as a quarterback in the league when you played for him, with him, from '92 to '94?
STERLING SHARPE: I don't think so. The only thing I used to say to him on game day, other than talking about coverages and what we saw, was, 'Just let us help you.' I think it allowed him to go out and play carefree.
To piggyback what Steve was saying, when I played with him and he was the young guy, he trusted us. Especially he trusted me. So he gave me more opportunities. He didn't have to be perfect. I think the difference I see between him now is he's trying to be perfect because he's not sure if the young guy -- I mean, I know he has Donald Driver, a guy he's very comfortable with, but he's trying to be perfect with maybe the other young guys.
I think it's changed in his performance. Because he's trying to be perfect, he may hold on to it a little longer, may do things that remind people of the guy Steve and I had back in the early days.
But I don't think I taught him anything because, you know, we all had jobs to do, and Steve Mariucci, when I was there, did an outstanding job in getting Brett to trust him, trust his teaching. It was just fun going out and letting the guy do what it is he does, let our offense take the shape that it took.
STEVE MARIUCCI: I remember, Sterling, you were kidding around one practice. You go, 'Brett, remember your progression, 84, 84, 84' (laughter). You know what? He would remember that because he knew that he had to get you the ball.
I know this: Brett Favre would have been to the Super Bowl sooner had he had Sterling Sharpe all the way through, because Sterling Sharpe left the Packers early because of an injury. Had Sterling been there, Brett would have been even more successful sooner.
STERLING SHARPE: I think also, Steve, my email address was specifically based on playing with Brett Favre. My email dress is throwto84. If you ever had any doubts, just throw it to me (laughter).
Q. In baseball it's pretty clear that Hank Aaron's record was the record for hitters. What do you think is the equivalent of that record for a quarterback?
STERLING SHARPE: Brett Favre's consecutive game streak, by far. I mean, the fact that he's approaching Dan's 420 touchdowns, all the things. I think the fact that he has showed up every single week is my equivalent to what Hank Aaron did.
STEVE MARIUCCI: And it's a little bit like a Cal Ripken longevity-type record, endurance-type record.
However, the numbers are going to show that Brett, you know, is statistically the best quarterback to play the game because of so many years of production. However, the way I look at it, which one is the most important statistic? Touchdown passes, completions,
There's a lot of ways to play quarterback. There's a lot of different types of quarterbacking and styles of quarterbacking. There's the athlete. There's the passer. There's the leader. There's the tough guy. There's the winner. A lot of different styles of quarterbacking are in the Hall of Fame, okay?
But I think the most important statistic that I think Brett can be proud of is the most wins, because whatever style of quarterback you have, whether you run the wishbone, the run-and-shoot, the West Coast offense, what you want your quarterback to do is win games for you.
Brett's done more of that than any quarterback that ever played the game. That's why in my mind he goes down as amongst the greatest, because he's won more than anybody else.
STERLING SHARPE: You don't get credit for the wins if you're not playing.
STEVE MARIUCCI: That's right. You've got to play. And, Sterling, you know this. When he started that streak, you know, against Cincinnati at home when Don got hurt, remember?
STEVE MARIUCCI: He threw to you on the sidelines on an 'all go,' hit Taylor for the touchdown to win in the end. We won't talk about him holding for the extra point. But that was the beginning. Of course, the next game is when he started. He was not always healthy. You're not always healthy when you play this game.
There were so many things he had to overcome with some injuries and some surgeries, suck it up and play anyway, practice anyway. It was amazing. Yes, he was a little bit lucky not to have the major injury. But, boy, he sucked it up in practice and probably played in some games that some others would not have played in.
Q. What do you make of the idea that Brett is probably going to set the touchdowns mark and the most interceptions mark in the next couple weeks?
STERLING SHARPE: That's just how he plays. The thing is, I loved playing with him as a receiver. He gave you a chance. I know all I asked for playing with him was give me a chance to make a play for you, because I was the older guy, he was the younger guy.
But without the interceptions I don't think you have the guy we're talking about right now that has all the touchdowns, all the wins, all the success he's had. That's just a product of who he is, how he plays.
STERLING SHARPE: Playing with him and then going to the TV, it's hard to make that difficult assessment on other quarterbacks because, you know, Rex Grossman is a guy we criticized heavily for turning the football over, but he doesn't come back and -- he can't wow with you two throws.
Brett can wow you with two throws. He can wow with you a touchdown pass that gets about four feet off the ground from the 19-yard line. He can wow you with a throw over his shoulder that's intercepted by the other team. Very rarely do you run into a guy that can wow you on two separate throws, one positive and one negative.
STEVE MARIUCCI: I agree with Sterling. Brett's style, that gunslinger attitude, it's very high risk and high reward. He's going to take chances because sometimes he feels he should and he needs to. He's going to shoot it in there because he thinks his arm is a cannon, and it is. Sometimes the other team is going to catch it.
If you look at sports, you know you're going to have the home run hitters. The big hitters in baseball are going to strike out a lot because they're swinging for the fences quite often. That's what Brett does. He's going for it. He's going to throw interceptions.
Keep in mind, he's got the most attempts, too. The ball is in the air the most times. So you're going to lead the league in several things: completions, interceptions, whatnot. But I agree, it's the style of play which is very high risk and high reward.
Q. Physically what has been the one aspect that has been at the root of this remarkable longevity for him? Arm strength? What makes him still able to do what he does at his age?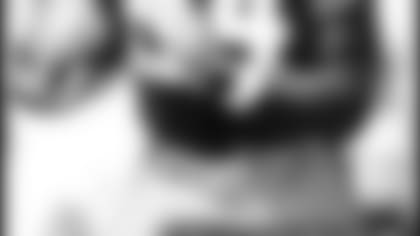 STERLING SHARPE: I think how he was raised. I have to give it to his mom and dad on that one. I think for me personally, for a guy to show up for work knowing that your performance is going to be critiqued by a lot of different people, knowing that the guys you're playing with are counting on you, I think that comes from home.
I think the way his family raised him, he doesn't complain and he doesn't explain. That's what I loved about playing with him. That's what I love about talking about him on TV now, watching him play. He doesn't complain. He doesn't complain. Everything begins and ends with him.
Whether the Green Bay Packers win or lose, it's on him. I love that about him. I don't think you can teach that. I don't think you can teach a guy to be that way. I think you either get out of bed with it, come from home with it, or you don't have it. And Brett has that. I believe that's a direct result of his family.
STEVE MARIUCCI: Irving Favre and Bonita did a great job. He played for his dad, a football coach. Coached him in high school. He didn't let Brett throw the ball very often. Hand it off, win games. Brett had to accept playing and doing what he's been asked to do by the coach. He still does that today.
He's never one that criticizes coaching or suggests a lot of things. He goes, 'Let me know what you want, I'm going to get it done.' That's, like Sterling said, from mom and dad.
I've said several times that he's certainly one of the toughest people in sports. What I mean by that is a couple of types of toughness. There's physical toughness, which shows every Sunday because he does take some hits and he keeps playing. He has 200 some games in a row, which has never been done by a quarterback before. So the physical toughness is very evident.
But the other thing that doesn't show all the time, but you got to know this, is he's such a mentally tough person. He has had to overcome many personal tragedies in his life, obstacles in his life personally and with the deaths of his loved ones, his father, his father-in-law, his brother-in-law. He's had some other issues he's had to deal with. Those things are difficult. Those things can climb up on you and wear you down. He seems to find a way to handle those emotionally and mentally and still continue to play well.
We all saw him play one of his best games after his dad died on Monday Night Football at the Raiders. He's got an ability to do that, which is so unique, so unusual. To know him personally, how he deals with that, is nothing short of amazing.
Q. Steve, in terms of the shelf life of quarterbacks, Brett has certainly surpassed that. Does that sneak up on a quarterback, that aging? Is there all of a sudden one day you kind of don't have it, thought you still did?
STEVE MARIUCCI: You know, there's a lot of different reasons why the players in the National Football League end their careers. A lot of different reasons. Sometimes it's injury. Sometimes they get beat out. Sometimes they lose their fastball. Sometimes a draft choice might be in the team's plan. Sometimes your salary's too much for a team to handle. There's a lot of reasons why a guy ends his career.
Brett has had opportunities to say 'enough.' I've talked to him in the summers over the last two years about that very thing. Because, as you know, he's been having to answer questions regarding retirement. He swayed back and forth at some points. But I think he made the decision to come back and play knowing he's going to play with a young bunch of guys.
The chances of being a good team are slim because they're so young. But, like I said earlier, he loves playing so much, he loves the Packers organization so much, that he says, 'You know what, I'm going to keep doing this.' I've heard him kid to me already. He said, I might just keep playing.
This is not necessarily his last year. It's going to depend on how he feels, how he feels about his team, what their chances are.
But I do know this: he plays because he loves the game. It's not so much because of the money or the adulation. He plays the game because he loves to play the game. That in itself is important.
Q. Nolan Ryan, Roger Clemens, has his arm lasted longer than most guys?
STEVE MARIUCCI: He's been lucky that he hasn't had tendonitis, rotator cuff injury. He's had a broken thumb on his hand. He's had some of that. He's had a little sore shoulder now and then. But I think he's learned in time to rest his arm in the off-season, play some golf, rest his arm.
He doesn't throw as much in the off-season as he used to do. Even if his arm starts to -- his arm strength starts to tail down a little bit, it's still more than enough arm strength. I've seen him break a hand wide open in practice throwing a big route.
Terry Mickens, he sliced his hand right down the middle he throws it so hard. Sterling would stand 10, 15 yards away from him. Brett used to fire passes at him. Sterling would catch the ball. It was a challenge because it was such a jugs gun kind of an arm.
But I don't see his arm tailing off at all. He's still throwing a hundred-mile-an-hour fast ball.
STERLING SHARPE: Nolan Ryan has to stand however far home plate is from the pitcher's mound. That's his game. The system doesn't allow Brett to throw all those passes because you have screen passes and you have your check-downs over the ball where the ball comes out of nowhere.
You can't throw those as hard as you would normally throw a 15- or a 10-yard out. So I think because of the system, because he's asked to make so many different throws, he doesn't have that arm problem because he's not throwing 160 miles an hour on every throw.
Q. We know what it was when you coached him. Can you talk about coaching against him?
STEVE MARIUCCI: When I was in San Francisco and in Detroit, I haven't had a whole lot of luck. I think my record against Brett is 3-9. I remember in San Francisco I would meet with the defense. Most of my time was obviously on the offensive side of the ball, but I would have some meetings with the defense talking Brett, the offensive system that we knew well, what Brett's thinking.
When it's in the red zone, he's thinking touchdown, check-down, and he's going to go for the end zone first. That's where he's looking first. We would fire balls in there at practice with jugs gun, try to get the linebackers, DBs catching as hard a passes as you could possibly fire at 'em.
We didn't usually have a guy on the team that could simulate that very well. So we would use the jugs gun to fire balls at the defensive guys to try to get used to catching a fast ball that Brett will throw.
Then, of course, you had to keep guys in coverage, because when Brett leaves the pocket, Sterling very well knows that anything can happen. He can see you downfield, any corner of the end zone. He can lay it up there because he likes to lay it up there because good things have happened for him.
You would have to practice those sort of things in that fashion for Brett Favre that you didn't usually do during the weeks.
Q. I'm looking at a game in San Francisco in '99. He was 24 for 35 against you with two touchdowns. I don't know if you remember that game, anything from any of those particular games, that stand out.
STEVE MARIUCCI: The one that stands out -- they all stand out. But the one, the NFC Championship Game he beat us at our place at San Francisco at Candlestick in the rain. I was watching him. It was really my first year in San Francisco. We met in the NFC Championship Game.
He was just having a ball out there. He seemed to be in such control of everything that was going on. We had a great quarterback in Steve Young, too. They played a couple of great matchups. The very next year was when Steve Young threw to Terrell Owens to win the game at our place in the playoffs.
There were some really good battles with two great quarterbacks. It was kind of an honor to be in those games with those guys.
Q. Could you offer up a quick recollection of what your first impressions of Brett Favre were when the Packers acquired him.
STERLING SHARPE: I had none. Don Majkowski was our quarterback. I played with Don. I knew Don. I knew what he was capable of doing. Bringing in Brett Favre, it was just, Okay, we got another backup quarterback.
I was always under the impression that was somebody else's job. When Ron signed him he came in, my impression was that, Okay, Don gets hurt, which he has proven he would do. Obviously they got a guy that can come in and run the offense, help us be successful.
STEVE MARIUCCI: Do you remember, Sterling, that year Mike Tomczak was the other backup quarterback? He started some games the year before for Don when he was hurt. So he held out of training camp wanting to have starter money, ended up coming to training camp late.
That allowed Brett Favre to be the backup. Had Mike Tomczak come to camp on time, Brett probably would have been third.
But my first recollection, Ron Wolf came to me. I was the new coach there, new quarterback coach, under Mike Holmgren. Ron said, 'Hey, Steve, take a look at this kid, Brett Favre. He's with the Falcons. I like him. Let me know what you think.'
There wasn't a lot of film to watch at the Falcons because I think he threw five passes all year. Two of them were intercepted for I think touchdowns (laughter). So I had to go back to Southern Mississippi film and watch him play in college, which is a lot of what you see now.
I said, 'Well, he sure has a strong arm, he does some crazy things.' A couple days later Ron traded for him, a first-round pick. I didn't really know what we were doing other than getting this country kid that had a strong arm, had a reputation of being a tough guy. We gave up a No. 1 pick for him.
Ron Wolf obviously knew what he was doing because he worked him out for the draft and that sort of thing before I got there. But that was my first recollection.
He only had like five pass attempts in his redshirt year in Atlanta and a couple were picked.
Q. You talked about the interception thing a little earlier. Does that taint some of the other marks, also have the most interceptions of anybody to play the game?
STERLING SHARPE: Not in my mind, because in my mind, I'm looking at some of the other guys who are high-interception, low-touchdown, and I'm saying to myself, Wow, the guy is about to throw 400 touchdown passes, however many interceptions.
Giving your guys an opportunity, I think his touchdowns are higher than his interceptions, and that's what you have to have. I just think that's the way he plays. That's who he is.
I think because he's thrown so many interceptions and because the team has still won, it's hard to put him in a category where it taints it a little bit just because he's won more games than any other quarterback to ever play. That's saying a lot when you start talking about some other guys, Bart Starr, others. For me it doesn't, because it's who he is, how he plays.
The team now understands it. I think it's a little tougher on him now because he really can't free will it as much because, you know, because of the young guys he has, all the newness, the head coach, all the players he's playing with. So for me I don't think it taints it at all.
STEVE MARIUCCI: Yeah, ditto. I don't think at all, not one inch, because he's going to fire it in there and he's going to take some chances and he's going to make life exciting. If you look at his 400-plus touchdowns, a lot of those were tight fits. A lot of those were, 'How did he get that in there?' You know, an inch or foot away from being knocked down or intercepted.
Some of those interceptions are because he's trying to make a play, because he's done it so many times before. And the fact that he's going to take risks sometimes allow him to be more productive by getting the ball in there, throwing a lot of touchdowns, throwing a lot of completions. He made life very, very exciting for everybody. It wasn't always easy to coach him because he might not check it down, check it down sometimes, or what the defense gives you. He's going to take some chances sometimes.
But more times than not he would end up with a touchdown or a completion than the interception. It's just part of what you got with Brett Favre. It's like an exciting player that's a great runner or a high-risk offense. The wishbone is high risk, all right? Because there's going to be the ball on the ground every now and then.
But it's such an exciting offense you're going to get a lot of big plays, too.
Q. You saw the game the other day against New York. He was efficient.
STEVE MARIUCCI: Completed first 14 coming out of the second half.
Q. How much longer can he go at a level where you say he's a guy you still want to be your quarterback?
STEVE MARIUCCI: You know, they have a little bit of a dilemma there because Brett Favre is a permanent fixture in that town. When you think of Green Bay, you think of Brett Favre.
Aaron Rogers is the heir apparent. A good young quarterback from Cal who is just sitting, sitting, and sitting. How many times, Sterling, did we have backups that didn't get on the field? Ty Detmer, Mark Brunell never got on the field because Brett never came out.
Hopefully they can get Aaron Rogers signed to another contract to be the next guy when that occurs because, I'm telling you, if Brett continues to have fun, if he stays healthy, he might keep playing, all right? He might keep playing. He hasn't made that decision yet to retire.
The other thing that's going to be very tempting for him, he's got a young team that's getting better. He might just want to be part of another Super Bowl run. As long as his body holds up, he might just keep on trucking.