The Cenex question of the month is from Tom from Colby, WI
Will Johnny Manziel be the first quarterback to be drafted?
I don't see Manziel as an in-the-pocket quarterback. In my mind, Manziel has to play in the NFL as he did in college for him to be successful, and I agree with Ron Jaworski and others who've said that if Manziel plays with the improvisational style he did in college, the risk of injury will be significant. In my opinion, he's too small and he plays too daringly to expect him to have longevity in the NFL. I wouldn't make him the first quarterback picked. I would have no interest in him, but someone will take him high. He'll be picked in the first round and probably high in the first round because someone will watch tape of Manziel in a Texas A&M uniform and see him doing the same things in an NFL team's uniform. Manziel is a crowd pleaser. He can give a team with tickets to sell a lot of buzz, and that's why he'll be overdrafted.
Jordan from Minneapolis, MN
Do you think Aaron Donald is worth changing our scheme for? He seems to be too great of a talent to pass up, even though we are not quite built for the scheme he would fit.
Scheme can be changed to accommodate talent. That's what coaches do. Dom Capers could quickly adapt his scheme to accommodate Donald. Again, don't think scheme, think player. The 1999 Jaguars are the best example of fitting players into a scheme. Capers took over a 4-3 defense that was built around a defensive end named Tony Brackens. Capers maintained the 4-3 look but built 3-4 principles into it and that defense went into the final month of the season on pace to break the league's all-time points-allowed record. The same thing could be done in reverse with Donald.
The addition of one key player on offense (Lacy) made a huge difference. Here's thinking an equally strong addition on defense can make a similar difference on the other side of the ball this year.
One player can do that. A cut-the-field-in-half cornerback can make a huge difference in pass defense. A disruptive defensive lineman or an impact linebacker can make everybody up front better. One player can do that, especially if young, draft-and-develop players begin to emerge as significant contributors. The Packers need to get significant contributions from those young players. I'm talking about players such as Casey Hayward, Datone Jones, Jerel Worthy, Nick Perry, Davon House, etc. They need to stay healthy and take their games to a higher level. That's the expectation for them, and it should be. A draft-and-develop team lives or dies on the development of its draft picks.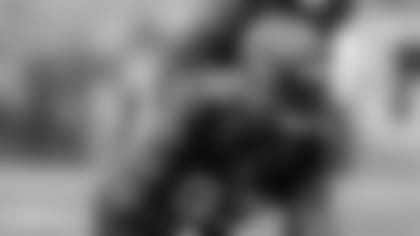 Bengals DE Michael Johnson
Thomas from Milwaukee, WI
Could Michael Johnson play OLB in a 3-4?
Spend a ton of money in free agency to experiment? I wouldn't do that. I think you have to keep Johnson's hand on the ground and ask him to do what he did to make you want to sign him, and you adapt your scheme accordingly. Again, Bruce Smith was a 3-4 defensive end. Don't allow your creativity to be paralyzed by alignments. It's what you do in those alignments that define your scheme.
Vic, so you're saying the way to go is for young talent with the draft-and-develop mentality and to not spend crazy and gamble in free agency unless it's for the right price and addresses a need? It seems like you are suggesting this but not coming right out and saying it.
Ted Thompson is fond of saying his father was a frugal man. It's a wonderfully glib way of explaining his approach to free agency. I had a paper route when I was a kid. In those days, we went door to door to collect the money. It cost 42 cents a week for daily delivery of the newspaper. If I didn't do my collections the day after mill payday, which was every other Wednesday, I didn't get paid. When you grow up in a place like that, you understand the value of money. You learn to budget and to save. The vigilance with which the Packers protect their salary cap is their guarantee of extended good times. I think they're going to spend in free agency, because they have the money to do it without having to reach into future caps, but I have complete faith the Packers will spend their money wisely. Me? I wouldn't spend a dime in free agency. I'd make Thompson look like George Steinbrenner. I try to be open-minded about free agency because I know it interests fans, but it's just not in me to spend a lot of money on players that are available to me because their former teams don't want them. I think you can find good players in free agency, but I think you'll lose far more often than you win. Coach Noll was fond of saying "you don't build through the waiver wire," and as far as I'm concerned, free agency is the waiver wire. Is that strong enough for you?
Is there ever a time to overpay a player? When is it?
If he's one of yours, a guy you've observed day in and day out so that you know everything there is to know about him, and if his body is relatively young and injury free, and if you can structure a contract that won't damage future salary caps and gives you an escape late in the contract should his skills erode, go ahead and pay the man. Give him the big sting, which is to say a signing bonus that'll guarantee him and his family financial security for life. I'm OK with that kind of precedent because that's the kind of player I want on my team and I want the players on my team to know we'll reward that kind of guy.
In a traditional coach/GM setup, how much input does the coach have on what free agents-to-be are retained or not?
Bobby Beathard told Joe Gibbs to go on vacation. When you come back, I'll hand you your team. It worked. Paul Brown and his coaches did the scouting. It worked. In most models, the GM asks the coach for his opinion on players, and then uses that information to shape the team's approach. There is no one way to do it, but I think coaches need to be kept out of cap decisions. That's high finance and I think it's best that the GM and his cap man are left to shape the team's cap plan. Coaches want to win now, and they should think that way, but somebody needs to look at the big picture. Take care of your future and the future will take care of the present.
Vic, fans ask what player will be most improved; you keep saying Nick Perry in your answers. Do you have some kind of man crush on him? He is a first-round bust. Clay indirectly stated that more difference-makers were needed to help him.
I really dislike the term "man crush." It's so trendy. It's so Starbucksish. As for my opinion of Perry, he's a first-round pick. That means expectations for him must be high. My repeated mentions of him are the result of my expectations for a draft-and-develop system to produce first-round stars, not busts. It has to be that way for this system to be successful. You can't start throwing high picks out the door after two seasons. That's draft and discard, not draft and develop.
Tim from Melbourne, Australia
This is my favorite part of the work day, lunch time. I can open up my web browser, go to packers.com and see what's in store in today's "Ask Vic." My question is when are you eligible to be an undrafted free agent? I find that many retired AFL (Australian Football League) players go to the States to try out for the NFL as punters to prolong their sporting careers. I was of the thinking you had to go through the college system to play in the NFL.
Every person in the world is automatically eligible for the NFL draft for one year of their life. You don't have to apply for draft eligibility to be eligible for the draft, unless you want to be eligible for the draft in a year other than the year you are automatically eligible. Once the draft in that year has been completed without that person having been drafted, they may be signed as a free agent.
How do players like Avril accept a back-loaded offer? He had a $3.75 million cap hit last year; he'll be a $9.25 million hit this year. The first year seems undervalued and in the second year it's likely they will be cut and never see that pay day.
Cap hit isn't necessarily money paid. Cliff Avril got a $4.5 million signing bonus in 2013; that's real money. Only half of that amount went onto Seattle's 2013 salary cap. The other half of that signing bonus, as it related to 2013, is known as cash over cap. The deal is balanced so that Avril got $6 million in real money in '13 and would get $7 million in real money in '14. The big hit is in '14, but the real money is evenly distributed, and that was Avril's main interest. What the Seahawks did by spiking the salary in '14 is to have protected their cap in case Avril was injured or underperformed. Cut, he'd be a big cap savings in '14. Since he didn't underperform and didn't sustain a significant injury, he becomes a big cap hit this year, but he's scheduled to be an unrestricted free agent in 2015, so the team is likely to do a new deal with Avril that will likely lessen his cap hit in '14. It's high finance and people with the brains for this kind of stuff hold their teams' futures in their hands. The cap runs your team.
Reggie White
Ron Wolf, in my humble opinion, was a great GM. He drafted well and, yet, he still went after free agents such as Reggie White, Sean Jones and Eugene Robinson to fill in the holes and lead the Packers to two Super Bowls. What is the difference between Ted Thompson and Ron Wolf ?
The difference is the eras in which they worked. Wolf couldn't do today what he did in the 1990s. There are no Reggie Whites in free agency now. Wolf took advantage of a system that was new and teams didn't fully understand. They do now.
Robert from Saint Charles, IL
Vic, the Chicago Tribune, as a final memory of the Jerry Angelo years, published a list of the 13 free-agent signings and re-signings he executed in 2011 alone. With the release of Adam Podlesh, not one of the 13 is still on the roster.
Most Packers fans see $35 million of cap space and ask, why keep rolling over year after year? We could've front-loaded a contract to eat up a bunch of cap space for that year and had a very manageable cap for the following years. For example, why not sign Byrd?
OK, Travis, you've signed Jairus Byrd. You're getting the credit for it, but you'll also have to accept responsibility for it. Let's see how this turns out. We'll revisit the results of your aggressive action next year at this time, or maybe sooner. Good luck.