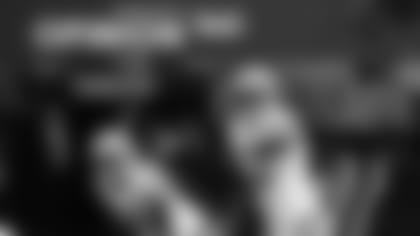 QB Vince Young
How has Vince Young looked in practice recently? Is he showing anything that would make us believe he still has a little bit of "Texas Vince" left?
He can still run, and it's that element in his game that continues to make him attractive as a backup quarterback because you know you have a guy that, when all else fails, can pull it down, take off and get you a first down. I like what he offers the Packers as a backup quarterback, which is to say a guy that has won 31 games as a starting quarterback. He's been in the playoffs. He's won big games. The one thing we know about Young is that the game is not too big for him, and that's something you can never know about a quarterback until he plays in a crunch-time situation. What did we know about Matt Flynn before that game in New England? Hey, it's not as though I'm jumping on the bandwagon. I wrote it before the Packers signed him. I think this team needs a veteran backup quarterback. I see no reason this team can't keep three quarterbacks on its 53-man roster. We're talking about a very valuable position. If you lose "The Man" for a game or two, you'll need that third guy to become the second guy. Is the 53rd man on the roster really that important? You can't find that guy on your practice squad when you need him?
Vic, who seems likely to end up on the PUP list? When does that decision have to be made and what are the pros/cons of putting someone on PUP versus injured reserve?
Derek Sherrod is an obvious candidate to begin the season on PUP, which is his current classification. Nothing has to be done; he just stays there for the first six weeks of the season. At that point, the Packers will have a window to evaluate Sherrod's progress before having to make a decision to either move him to the 53-man roster, waive him injured, do an injury settlement with him or put him on season-ending injured reserve. PUP buys you time without losing the player for the season. There is no disadvantage.
Jonathan from Madison, WI
The zone-blocking scheme sounds a lot like Lombardi's run to daylight, in that the runner is looking for what the defense gives him. How similar are the two?
They're similar in that regard; the hole or running lane isn't predesignated. The back runs to a zone and looks for a running lane or daylight, as Lombardi aptly called it. The difference between Lombardi's run-to-daylight scheme and today's zone-blocking scheme is that the "stretch play" that defines the zone-blocking scheme didn't exist in Lombardi's day. Not only was it yet to be invented, the rules that forbid offensive linemen to use their hands in blocking would've made the "stretch play" impossible to execute. Lombardi's "stretch play" was the "Packers sweep," which was about linemen pulling out ahead of the back and leading him around end, as opposed to the "stretch play," in which the line moves laterally as a unit, forming a wall behind which the back cuts when he sees daylight.
Jeff from East Lansing, MI
Seeing Le'Veon Bell's injury on his fourth carry and multiple submarine style hits on ball carriers throughout the preseason, I have started to wonder if the increasingly drastic helmet-to-helmet rules are going to result in a lot more leg injuries. Does this lower the value of power backs with less elusiveness?
I think you've taken your theory a little too far, but I think it's obvious that if you force players to tackle lower, the result will be more leg and foot injuries. You have a tackler going low and a runner who's not permitted to drop his head to protect himself from low blows. The combination of tacklers going low and runners not being allowed to lower their head is going to result in an explosion in hurdling, in my opinion, and hurdling is dangerous stuff. A runner can get turned in mid-air and land on his head. I am bitterly opposed to this new rule that forbids runners from lowering their head to protect themselves, for fear of making helmet-to-helmet contact. In my opinion, that's incidental contact, not intentional or wanton.
Vic, I've heard about a lot of teams switching to a 3-4 defense the past few years. Is this because the game is changing from a run-oriented game to a pass-oriented game and 3-4 is better against the pass?
The game is moving toward more pass defenders for the obvious reason that football has become a passing game. Linebackers are better pass defenders than defensive linemen, and defensive backs are better pass defenders than linebackers.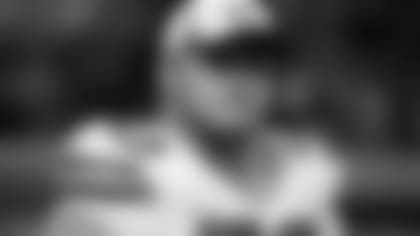 G T.J. Lang
Vic, T.J. Lang said, "We're going to play with an edge. We're not going to be known as a soft team." Maybe we should keep calling them soft.
It's the ultimate insult to a football team. It clearly struck a nerve with this team.
Brian from Coralville, IA
What is the most important feature a defense must have to be successful against the read-option? Is it the defensive line, linebackers or just the right scheme in general?
It's not the scheme. It's the right players, because only players can execute the scheme. Chalk doesn't move. Against the read-option, which is defined by an athletic quarterback, you need athletic defenders. You need guys that can run and hit. You need guys that can play in space and make an open-field tackle.
Cameron from Las Vegas, NV
I wanted to get your attention.
Vic, is there a college conference that scouts look at most? Also, what position would you consider be the most important to have depth?
The SEC is the best conference in college football for finding big-guy talent. No team would ever understaff its scouting of the SEC. The most important positions at which to have depth, in my opinion, are the big-guy positions because the big guys are the toughest ones to find.
What are the rules for a player to qualify for the Comeback Player of the Year Award? Could Johnny Jolly be a contender, or is it strictly an injury-related award?
If Jolly isn't a contender for that award, then they should discontinue the award. Life's injuries come in many forms, and none of us are above the threat of the kind of injury Jolly had to overcome. His was an injury to the spirit, and he had to summon all of his spirit to make the comeback he has. That comeback, however, isn't complete; it's just starting.
Jim from Traverse City, MI
With all the injuries the team incurred last year, especially hamstrings, what has the team done to address the conditioning of the players to eliminate these types of injuries?
Let's make this a multiple choice answer. To deal with all of the injuries the team incurred last year, especially hamstrings, the Packers: A.) Hired an astrologer. B.) Started drafting players that don't have hamstrings. C.) Fired everybody and hired all new people, even though they use the same training methods, because when things go wrong everybody should be fired so the fans can feel good. D.) Asked me what they should do. E.) Studied on the matter by consulting with their medical team and other experts in the field of sports medicine, implemented changes in the conditioning and practice regimens, and then crossed their fingers and hoped no one would get hurt. F.) Decided to play music during the breaks in training camp.
Vic, despite what I'm about to say, I consider myself a strong Packers fan, as well as an optimist. What I saw in the highlights from the Rams game was a fumble on the 2-yard line, and later an interception in the end zone from about the same place. I would say the defense didn't play that well to let them get those opportunities. Moreover, if the Rams scored on each play, and the final was 21-19, would we all be so wild about the Packers' supposed progress this week?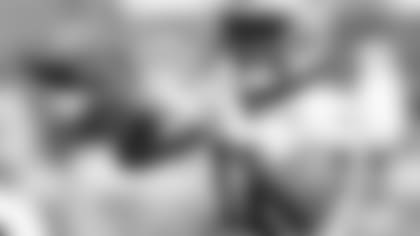 WR Jarrett Boykin
When Greg Jennings was on "First Take" a month or so ago, he mentioned that people were going to know about Jarrett Boykin very soon. How has he been doing in camp?
Boykin impresses me as a guy who's at his best when he's working the sideline.
Vic, thunder and mini-thunder, I love it. How do we make that a thing?
Don from Cedar Rapids, IA
Please discuss what "tackle eligible" is all about. Why does it have to be announced when a player becomes tackle eligible?
When the tackle is at the end of the line, he's an eligible receiver, but he must report to the officiating crew his intent to be an eligible receiver because the number he wears does not correspond with that of a naturally eligible receiver.
You've mentioned that coaches tend to have a few "circle" games on the schedule every year. Which game (or games) does McCarthy have circled this season?
I didn't say coaches have circle games. I said teams have circle games, which was my way of defining high-profile games on a team's schedule, but I can say without any hesitation the opener against the 49ers is absolutely a circle game for Mike McCarthy. Why? Because it's the next game. Then, of course, there are the other obvious reasons.
Vic, can a head coach be a nice guy while he's working? Can he let his players get close or does he have to make so many hard choices he needs to keep his distance and be tough?
There's something called a porcupine principle or theory. It holds that porcupines have to stay close enough to keep each other warm, but not so close that they would stab each other with their quills. Apply that to coaches. They have to stay close enough to their players for their players to know they care, but not so close that they are unable to do what's right for the team, which often means making a cold and calculated decision. Head coaches have to be two people: the one that cares and the one that cuts.
Regarding the Packers converting third-and-ones, who are the best drive-blocking linemen on the team? Are we asking for something they just can't do? Do we have enough torque up front?
Josh Sitton impresses me as the best drive blocker.
Jeffrey from Valdosta, GA
How did you get your hair as white as your teeth?
All right, I confess. It's not natural. I dye it.
Vic, can we expect a lot of Davon House this Friday? He looked to really step it up against the Rams and shed the rust.
That's the Davon House I know. Yes, I expect a lot.
What happens on the sideline during a game? Is there some sort of seating chart so to speak?
Yes, there is a seating chart. Position groups sit in designated areas, which is where their coaches are positioned. The head coach and the play-callers need to know exactly where everybody is on the sideline so they might communicate their calls quickly and accurately.