Chai from Wiesbaden, Germany
Thanks for keeping things honest, as always. With the draft moving to May, how do you see this affecting players (incoming and veterans), NFL teams and college football?
It'll give rookies less time to acclimate to pro football; I think that's the obvious impact of moving the draft back a few weeks. How much that impacts the rookies' ability to contribute will determine the degree of impact it'll have on veterans. There was a period of time in the NFL that rookies by and large were observers, especially if they played positions at which the learning curve was especially demanding. Might we be headed for that again? I would say no, simply because injuries are forcing rookies to play earlier than their skills would demand, so I think moving the draft back is going to place an even greater premium on coaches getting rookies ready to play. Maybe the game will have to be simplified a little more. Wouldn't that be wonderful? As far as the impact on college football, I can't see anything that jumps out at me. Maybe it would delay the jump scouts would get on the "junior" class.
In the interest of fairness, has everyone overlooked the fact that Pete Carroll is also a khaki pants guy?
Real men wear khakis. All attempts to force us to wear something else are a conspiracy to control us. Good luck with Harbaugh.
"I don't have that list in front of me." I laughed pretty hard at that. Maybe you could give us a little more of Mr. Pauline's thoughts?
I don't have that list in front of me.
If Raji was playing himself out of a contract, why didn't the coaches sit him? Plus, if his attitude is less than giving 100 percent, kick him out of the locker room so he doesn't affect the other players. He was well paid to play. I am appalled.
Easy, Norman, easy. You misunderstood what I was saying. I wasn't saying B.J. Raji didn't play hard, I was saying he obviously was playing out his contract, much as Joe Flacco did in 2012. A player is making a bold statement when he does that. He's saying he'll allow his body of work to determine his worth on the open market.
I believe improvement on the Packers defense is very simple. The defense needs to get bigger, faster and meaner. Sure, there have been missed assignments, but bigger, faster and nastier players can make any scheme look great. Now it is up to Mr. Thompson to fill the roster under the cap.
Bigger, faster and meaner are all good traits on the field. One of the problems with meaner, however, is that it's often difficult to find the off switch when the game ends. The Packers put a premium on acquiring law-abiding players, and Packers fans take pride in that. I've covered meaner. I'm a big fan of meaner and I once had this debate with a reporter friend and we finally agreed that you don't have to do those things to win, but teams that win do those things. Those teams also tend to have some off-the-field issues. Are you willing to accept those issues?
Ramiro from Mira Loma, CA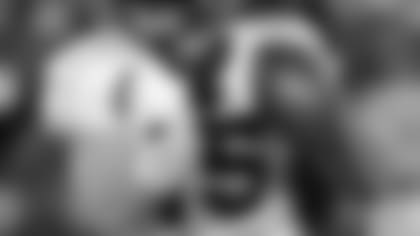 Former Broncos quarterback Tim Tebow
Do you think there's a chance (Tim Tebow) plays in the NFL again, even if it's not at quarterback? I think he's good for the league, in his own Tebow way.
I think he'll get another try in the league and it'll be at quarterback, and I'll use Pat White as an example. I don't think Tebow has the skills to be a quarterback of significance in this league, but he'll get another shot, and the game is trending in his direction. In all seriousness, he taught us a lot about where the game is headed and what pushes our hot button. He's one of the most popular players in NFL history and that shouldn't be ignored, it should be modeled.
Blaine from Menomonie, WI
Vic, why do many of our fans not appreciate the uniqueness of this run the Packers have had?
It's because the Packers represent the greatest source of happiness in their lives and when that happiness becomes sadness, it's too much to bear. We need to find happiness in something other than winning the Super Bowl. The final five games of the Packers' 2013 season are some of the happiest days of my life as a sportswriter. I wish I could go back to the Atlanta game and do it all over again.
How hard is it to get a job in the NFL at any level of employment, and how did you get your big break into the league?
The NFL isn't where you go to start; it's where you go to end. This is the top, Jay. These are the finest minds in football and I'm thankful for the chance to watch them work and report on what they do. Here's how I got my big break: I accepted a job out of college as a sports/general-assignment reporter for $7,200 a year. One of my first assignments was to write a story on Amtrak's new New York to Chicago service on the Broadway Limited. I rode the train from Pittsburgh to Chicago to New York to Pittsburgh. Between New York and Pittsburgh it sideswiped a passing train, which knocked out the electrical in my car, including the air-conditioning. I had an eight-hour layover in Union Station in Chicago and a 10-hour layover in Pennsylvania Station in New York, and during the trip I considered choosing another career, if and when the train ever got back to Pittsburgh. It takes a long time to get to where I am, Jay. Most of that time, I just wanted a free hot dog at halftime.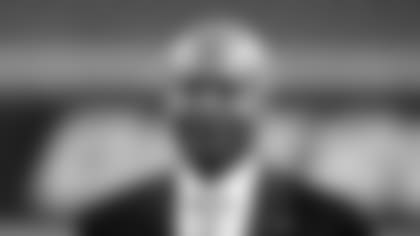 Detroit Lions head coach Jim Caldwell
Vic, what is your take on the new head coaching hires in the NFC North?
Jim Caldwell is a kind of anti-Schwartz. There's nothing explosive about Caldwell. Jim Schwartz gave the Lions the boldness they needed coming off 0-16; Caldwell will provide the poise they need now. He's an offensive-minded guy who'll give the Lions a stronger presence on that side of the ball, and I think he'll offer a calmer and steadier influence for Ndamukong Suh, who needs to become the Lions' leader on the defense. I think he already is, but not always in the right way. It's about time Mike Zimmer got a head job. He deserves the shot and, in my opinion, he got the plum job of all the openings. I think the Vikings are a team and a franchise ready to explode.
Why is the free agency period before the draft?
The players want it that way because it makes it more likely teams will waste money in free agency on patches they could've acquired in the draft.
What goes around, comes around. This weekend's conference championship games remind me of the old NFL and old AFL. The 49ers and Seahawks are good running teams with hard-hitting defenses, while the Broncos and Pats have high-octane offenses.
Only one of those teams is an old NFL team. Isn't that interesting?
Vic, I saw a segment on NFL Network on the 1972 Dolphins, and I realized they had to go on the road in the AFC championship game in Pittsburgh. Why did they go on the road and were not at home?
Homefield advantage for the playoffs was on a rotation basis back then, and it was the AFC Central's year to have homefield for the playoffs. The temperature in Pittsburgh at kickoff that day, Dec. 31, was 63 degrees and would edge higher. The Dolphins had a lot of breaks go their way in their run to 17-0. By the way, the game was blacked out to local TV.
Lasse from Svendborg, Denmark
The way football games are being produced by the networks these days does not enhance my enjoyment of the game. I was watching Super Bowl XIII the other day and it was a joy to watch. The game was shown with basically two camera angles. Today's productions are kind of schizophrenic. You constantly view whatever is going on from a different angle. To me, it obscures the simplicity and beauty of 22 guys chasing each other around a field.
I think TV does a fantastic job of painting the picture that is pro and college football, but the noise levels are starting to bother me. The crowd noise for the college title game was so high that I had difficulty hearing the broadcasters, and last weekend's NFL games were even more painful to my ears. The incessant howling and celebration of howling in the Seattle game, which then caused Carolina fans to do the same the next day, gave me a headache, and then Peyton Manning's Tourette-like barking at the line of scrimmage made me hit the mute button. I have no doubt TV is going to give us more of the same this weekend. For whatever reason, fans are in love with all of that "Omaha" baloney. I don't get it.
Paul from Kilrush, Ireland
Vic, whilst our defense is obviously our No. 1 priority in the draft, do you think Ted might spring a surprise and use the first pick on a TE?
Teams now employ a draft strategy I refer to as "targeting." It allows them to address a dire need or focus on a player they love without going off their board. They target a guy and then they move to where that player fits. Eddie Lacy is a classic example of a targeted player. I would expect more of the same, whether it be for need or because the Packers fell in love with a guy.
I keep hearing all this talk about the window of opportunity closing for Rodgers in Green Bay. How do you feel about this topic and do you think the Packers will ever load up on defense for another serious shot at a title?
I hadn't heard anyone mention it until after Aaron Rodgers made remarks following the loss to the 49ers about this having been his ninth season. All of a sudden, we had a window issue. Was Rodgers just saying what was on his mind, or was he making a pitch for some free-agent spending? Hmmm.
Do you think it's better to have a quarterback that likes to run or a quarterback that is able to stay in the pocket?
I wouldn't want a quarterback if he lacked mobility. I think it's critical that he be able to escape the rush or he invites the rush.
Trevell from San Diego, CA
It's obvious the Packers need to improve the defense in the offseason. Do you think they will stick to the trends of late and not make many moves in free agency, or will they go out and sign a high-profile free agent to help this defense next season?
If they can find a high-profile free agent, or any other kind of free agent, they believe is worth the investment it would take to acquire him, there's no doubt in my mind they'll go after that guy. The problem is that it's difficult to find a player in free agency you won't have to overpay. The Packers will not ruin their cap for a guy. I am certain of that.
How much cap room do the Packers have?
It's not a valid question because a team can make as much cap room as it wants, or bring money forward with roster bonus and make itself tight against the cap. The Packers will leave just enough cap room for emergency moves during the season. What that ensures is an even distribution of their cap space so they might be a playoff contender every year.
The one thing I give Belichick credit for is his pioneer work in adapting to the salary cap. That is and always will be his greatest work.
I would agree with that, but I would also give him credit for his boldness. He did a very unpopular thing when he cut Bernie Kosar due to "eroding skills," but Belichick was right on the mark. He coaches to win.
Vic, if possible, please ban the person posting under username pack1. This person is ruining the comments section for everyone. Thanks.
Come on, pack1, we all belong to the fraternity of football.