Scott from Lincoln City, OR
Vic, why does it seem like the middle of the field is always open for the opposing team? What's it take to shut that area down?
It would help the secondary to not have to involve the safeties in run support or in rushing the passer.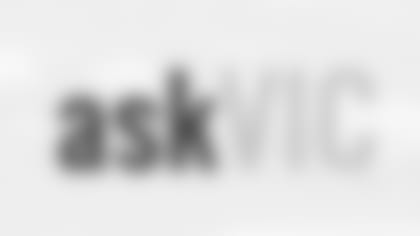 Live to fight another day? Discretion is the better part of valor? Take your pick.
When your stories leave with Capers, we'll all be better off. You old troll, you know nothing about winning.
Kabir from Ponte Vedra Beach, FL
Still expecting your December friend? The offense shows signs of life but the defense seems to be circling the bowl. Have you ever seen such a rapid decline before? Did the team recover?
I covered a team that lost its first two games of the season by a combined 92-10 score, and it came a play away from the AFC title game.
Vic, we've reached the point of saturation on the injury front. That was a tough game to watch, especially considering the strides our offense took, though its success couldn't make a difference. Is it finally too big of a hill to climb?
I believe 9-7 might win the NFC North. For the Packers to win the division at 9-7, they'd likely have to sweep their three division games.
Insiders, panicking will do nothing. My question to you is this: What can the Packers do now? Win is the obvious answer, but what are some things they can do to rally together to win?
One of my favorite football expressions is: Play above the X's and O's. The other team also has X's and O's. Football is more than a chess game. It's a game of human confrontation. Big plays win and big plays are usually the result of playing above the design. The Packers need to make big plays.
I'm actually getting tired of writing in with legitimate questions and never getting them answered, instead some really horrible questions/comments about firing Aaron, McCarthy and Thompson show up. Here goes nothing. I have never been a fan that would count the Packers out but, with all the injuries, do you honestly think we have a chance to make it to the playoffs and then possibly have a shot at making a run to the Bowl? I know the NFC North isn't by any means out of reach, but it's tough to watch these last few games.
Whatever chance the Packers have, in my opinion, begins with running the ball and stopping the run. It's tough to win when your opponent consistently runs the ball and stops the run.
Win, lose or draw, my boys are getting a good lesson in being a loyal fan this year. My boys started complaining about the team last night, so I told them about the Packers in the '80's. You should have seen the surprise on their faces when I told them I was 10 when the Packers had their first (non-strike) winning season in my life. Of course, I want the Packers to rally this year, but I'm grateful for this chance to teach my boys the value of loyalty.
I know a coach who, shortly after being hired as a young assistant, had a college call his head coach and ask for permission to talk to the young assistant about a coordinator's job. The head coach asked the young assistant if he wanted to interview for the college job. The young assistant coach said he did. The head coach then denied permission. A couple of weeks later, after the college hired a coordinator, the head coach fired the young assistant coach. When he fired him, he said, "Now you'll learn a lesson about loyalty." Teach your children well.
Well, Vic, it's all over for this season. Not just because of the record but because of how the team is trending and injuries. But you know what? I'm OK. A high draft pick and a change of some coaches will inject new life into the franchise. I also realize the Packers' struggles are not my own. I'm just an observer.
It's all we can do, watch.

Peter from Belleville, WI
I'm hoping we can get a top 10 pick next year. It would be nice to pick early in the draft for a change.
There's a cost that goes with picking high or low. It is an undefeatable system. Eventually, it always wins.
Well, that was about as much fun as smashing my thumb with a hammer. At least in the '70's and '80's we were prepared for it.
Winning can become a burden.
Cameron from Springville, UT
What was the biggest play we let happen? I definitely think it was the three deep bombs. Is your opinion the same?
On the scoreboard, they were the difference in the game, but what might've contributed to those deep passes?
One thing I've noticed recently is the draft and develop method worked in 2014 when the team was fairly healthy. Now, with the team very banged up, the weaknesses of drafting and developing are exposed. What do you think?
Drafting near the bottom of the order for a sustained period of time can impact roster depth negatively.
Would it help if the Packers played three-deep coverage routinely?
Cover three? That's primarily a college defense from the power-run days. Three across the back? You're going to have a lot of trouble stopping the run. It all begins with the run. If you can stop the run with your front seven and keep your safeties back, you'll force your opponent to throw underneath.
Vic, do you think we can overcome all of these injuries?
A player here and there returning to action would make a big difference. Where's the stretch play? It was the Packers' signature running play, but it seems to have left with Eddie Lacy. So much about this team has been changed by injuries.
Gaspar from Mexico City, Mexico
So how did we go from having the easiest schedule to practically being eliminated?
Maybe the schedule isn't so easy.
I said it last week and I'll say it again, the only thing more predictable than the gameday performance of this team and this coaching staff are the excuses we'll hear from Vic on Monday. What'll it be this time, Vic?
The Redskins outplayed the Packers.
Insiders, I miss the days when our punter was our biggest concern. What about you?
It was summer, the weather was warm, hopes were high and we had a terrible case of wide receiver fever. Life was good.
Lucas from Stevens Point, WI
Four words: Only two games out.
There are only six to play. Urgency is all about us.