Ryan from Noblesville, IN
I have an idea for a good deception play. Rodgers starts walking back and forth along the line of scrimmage yelling for audibles and then purposely lines up to take the snap from the guard. It then gets snapped to the running back or to Cobb for a play action.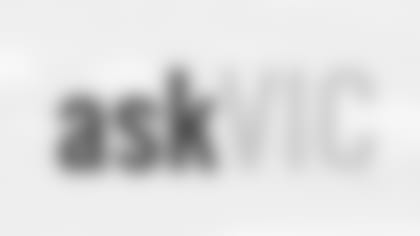 I actually saw that play used. Kordell Stewart was acting confused and appeared as though he would call a timeout when the ball was suddenly snapped to Jerome Bettis, who ran with it. I remember thinking to myself the only thing more embarrassing than using that play is being beaten by it.
Mario from Kettleman City, CA
Are there more Packers fans in the state of Wisconsin or outside the state?
Derek from Eau Claire, WI
The Packers have a reasonable chance to fight and claw for a playoff spot. If they are hot, then maybe this is the year. That is as optimistic as any team should be at this time of year. We are lucky.
The Packers will begin training camp as one of the league's Super Bowl favorites. It's been that way for all of the years I've spent covering this team. I haven't forgotten what it's like to cover a hopeless team: no drama other than how high the team will pick in the next year's draft. Enjoy this run, folks.
Vic, I do believe one or two players can truly make a difference. Our secondary could go from being a weakness to a strength, especially at the safety position.
The Packers have drafted early and often for their defensive backfield. When a team invests as many high picks in one area of their team as the Packers have, it almost has to be a strength for the team to be successful.
Joseph from East Moline, IL
What is your favorite position in football and why?
It's running back and it's because I've always regarded that position as defining the essence of the game. I'm a product of the "football is first and foremost a running game" era. The running back was "The Man." That's changed, of course, but it never will for me. For me, football will always be a pads-down game. I won't change because I don't want to change. I find more honor, more personality and human confrontation in thump and drive than I do in run and jump. What Ezekiel Elliott did last season is good for football.
To piggy back on the comment about Metallica playing at Lambeau Field, I've seen them at U.S. Bank Stadium and just recently at Soldier Field. After seeing them at Soldier Field, I made it a goal to see them at Lambeau and at Ford Field in order to complete the NFC North stadium sweep!
Any of you guys going to see the eclipse from inside the path of totality? I think Vic is already there.
I don't use drugs, if that's what you're suggesting.
I remember playing a spring baseball game at UW-Parkside and it was snowing. There were no dugouts to hide from the elements and not a tree in sight to block the wind. One of those days when your nose runs as fast as your legs to keep warm.
Thank you for sharing that fond memory with us.
Klaus from Erfurt, Germany
Are team feel good enough for the next season?
If you really think football players are the greatest athletes in the world, let them enter the decathlon and find out.
I think football players would perform admirably in the decathlon. I can think of several I've covered who would've been naturals for the decathlon. You've convinced me that my opinion is correct.
Craig from Cedar Rapids, IA
If Atlanta took Favre in the second round, who did Green Bay take in the first? Did the player have a good career?
The Packers selected Ohio State cornerback Vinnie Clark 19th overall. He didn't stick for long in Green Bay. He then played briefly for Atlanta and New Orleans. I covered Vinnie for a few years in Jacksonville. What if the Packers had picked Brett Favre in the first round in 1991? I think the result would've been the same, except Ron Wolf would've had an extra first-round pick to use in rebuilding the team. That's where it gets interesting.
Adam from Trempealeau, WI
What's your earliest football memory?
I remember lying across my parents' laps, wrapped in a blanket and being cold at a high school football game. I can more vividly recall my father taking me to a Giants-Steelers game a few years later. I was captivated by the colors: the Giants' scarlet red numbers and stripes on their white jerseys, the Steelers' gold helmets and pants. Charlie Conerly was the Giants' quarterback; Bobby Layne was the Steelers'. All these years later, I'm still captivated by the panorama of colors a football game offers.
Michael from Elberton, GA
Vic, you were around the Jags the first time Coughlin ran the team. What do you think about his second stint in Jacksonville? Hope you are enjoying the offseason.
Tom Coughlin and the Jaguars will be the No. 1 story of the 2017 NFL season.
I'm loving the articles with Kendricks saying how Aaron throws a fastball or change up depending on coverage. There was a similar article with Bennett saying how Brady wants you to do things his way because he's limited, while Aaron will adjust to you. Those are the kinds of insights only players can give. How do we get more of this kind of analysis?
It's the product of a trusting relationship between the players and the media. Develop trust and you'll get that kind of information.** Julian from Menasha, WI
Where's the respect for Metallica? I don't think one of the biggest bands in the world is going to have trouble drawing a crowd.
I'll be the first in line to buy a ticket.
Mike, I went on a tour of the stadium last week around noon. Got to see where you view games from and saw where the food is provided. My only thought was how many hot dogs has Vic consumed up there?
It's easily over a hundred. That's more than 50 feet of hot dog. I'm ashamed.
Do you think an NFL team would incorporate a uniform design like a camouflage from the animal kingdom? I would love to see a jet sweep from an entire team dressed like zebras.
I will remember today's column for the worst inbox of questions in "Ask Vic" history. Memories make us rich.
Ted Thompson and Mike McCarthy both seem to subscribe to a philosophy of drafting and playing "Packer People." I think this is a term describing good guys with high character, you know, like sportswriters. Somehow, I think it translates to Minnesota nice. I'm willing to bet and, Vic, you can probably back me up on this, the Steelers' definition of Steeler people doesn't sound anything like Minnesota nice. I don't want "Packer People" playing linebacker in the NFL. Or Vic, has your time in Green Bay softened your approach to the game?
"Mean Joe" Greene is a good guy, but I never thought of him as being nice. There's room for a mean good guy on the Packers defense.