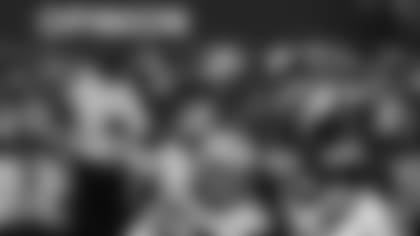 Packers LB Clay Matthews tries to get around Vikings LT Matt Kalil in Week 17 at the Metrodome last season.
Jerry from Wilmington, NC
Hey, Vic, how did the "Ask Vic" concept originate? It seems other teams are doing something similar on their websites.
The Jaguars had to gut their roster due to the worst salary cap mess in the cap's short history, and a lot of fans didn't understand the inner workings of the cap, so the webmaster asked me to do a cap column. He's the guy who created the column's name. It was just supposed to be five cap questions a day and their answers. It grew.
Jocelyn from Crawfordsville, IN
Vic, you've talked about what the NFL did to gain its top spot in American sports popularity. What does it have to do to remain there?
It has to protect the game that allowed the NFL to become as popular as it is.
Talent, fearlessness and love of the game; I can't argue with that, but with every rule there must be an exception. According to the Hall of Fame selection committee, Curtis Martin was great, but according to the player, he never liked football. Was Martin a great player in your eyes and can you think of any other Hall of Famer who never really liked the sport for which he was later honored?
He must've loved something that drove him to play the game with the dedication he did, because he was as durable as they come and nobody plays this game without being injured, yet, Martin only missed four games in 10 years. He played in all 16 games in eight seasons and he rushed for 1,697 yards, his best-ever total, in the next-to-last season of his career. Martin had a very tough childhood, and what you might be hearing is some commentary from the dark side of that experience. Maybe it's difficult to profess a love for something as tough as football when you spent all of your youth having to be tough. He rushed for over 14,000 yards, mostly for Jets teams that weren't playoff contenders. Maybe football was the vehicle he used to prove his worth and that's what he loved. Maybe football gave him the financial means to end the tough times for him and his mother and that's what he loved. It doesn't matter what drives a player, as long as he is driven. Martin was driven. He loved something and he transferred it to football.
You only watch the two Open tournaments intently? Are you giving the Masters second-class status? That is blasphemous! The Masters is the annual sign that summer is upon us and arguably the best of them all.
That's your opinion. For me, it's the same guys hitting out of the same "divots" on the same golf course year after year. I don't like Mint Juleps and I prefer high rough to flowers. I wanna see those guys stretched to their limits. I wanna find out who has the talent to play every kind of shot, create unconventional ways to score, and the mental toughness to stay the course. I like the USGA's mantra that it's not their intent to embarrass the world's greatest golfers, only to identify them. Courses don't embarrass golfers; golfers embarrass themselves. I thought Rory McIlroy did that on Sunday when he childishly leaned on an iron and bent its shaft for having hit a bad shot. This year's U.S. Open was sensational. We found out that a 6,800-yard course can beat the best golfers in the world. We desperately needed that because golf courses are eating up too much land, too much water and too much of our disposable income. We need smaller everything. Maybe Merion will start a trend toward smaller.
As far as I know, there isn't a rule forbidding the Oklahoma drill. So, if the Oklahoma drill is the best way to get the best information about players, as you claim, why aren't the smartest minds in football using it?
It's a way; not the only way. Most of all, the Oklahoma was great for creating a confrontational mindset in training camp. The media today, I'm sad to say, would vilify a coach for running the Oklahoma if a player was to become injured in the drill. Coaches aren't going to invite that kind of trouble. That's the personality of today's media I don't like and I reject. We often act as though this isn't a contact sport. A player can blow out his knee running a pass route and we're fine with that, but if a player blew out his knee in an Oklahoma, a large segment of the media would pillory the coach for causing the injury by running an unnecessary drill. Blocking and tackling are unnecessary?
Vic, do you think Favre was right when he said he thinks Rodgers will break most of his records? Besides Favre's consecutive-games streak and Favre's interception streak, which of his records do you think Rodgers will break?
I think you're taking those comments the wrong way. I take those comments to mean a relationship we all want to see repaired is, in fact, in a strong state of repair. Records don't interest me in the least because I don't need records to tell me Brett Favre and Aaron Rodgers are great quarterbacks. Close the record book and look into your heart. That's where the real game lives.
Vic, let's say that for some reason the Packers start on a downward spiral, would you quit and move on to cover a different team? Would you stay and cover them through a terrible season or, say, several?
It's not like that for us, Ryan. Your question is a classic example of the disconnect between fans and media. So many fans just don't understand what this is for us: It's our job and I am greatly appreciative of the job I have, win or lose.
Austin from Sioux Falls, SD
What four NFC teams do you have winning their divisions and what wild cards?
I hadn't thought about it, but since you've asked, my four picks to win their divisions would probably be the Packers, Giants, Falcons and 49ers. Wild cards? I'll go with the Vikings and Saints. What are the chances it'll end up that way? Very slim. The NFC has great balance and it's wide open. Nothing would surprise me, and I genuinely mean that.
Vic, I understand we're a finesse team, but have you ever seen a team this effective in the passing game transform into a strong devoted-to-the-run type of team, like Coach McCarthy wants?
The 49ers did it. They were a poor rushing team when they won their first Super Bowl in the 1981 season; their top two rushers didn't combine for a thousand yards. By the time they won their second Super Bowl, they were the No. 3 rushing team in the league. As much as Bill Walsh was a passing game wizard, he understood and appreciated the value of balance. His teams were not soft.
Why don't the Packers bring back the Packers sweep this year?
Three-technique defensive tackles and penetrate-and-disrupt, gap-control defenses would blow it up. It's a different game.
Without Donald Trump, does the USFL still exist today? That league had more than enough star power, in my opinion, to get off the ground.
I think they made a big mistake in folding the league. Their ownership lacked vision and stamina. It was vision and stamina that allowed the AFL to get over the hump, but the USFL quit when times got tough. They flamed out. They did too much too soon and quit too early. What they didn't see was that their concept of a spring season was doable. We have a spring season now, OTAs, and fans have a genuine interest in it, which amazes me. Fans want football year-round; the USFL was right but it obviously didn't believe it was. The USFL also didn't have the vision to see fantasy football in the near future. It was right around the corner and it would've driven the USFL's popularity, just as it's driving the NFL's. Football is not real estate. A lot of captains of industry and financial wizards think you can run a football franchise as though it's just another business, and it's a big mistake to think that way.
Vic, where have the great football books gone? When I was a kid, there was "About Three Bricks Shy of a Load" by Roy Blount, "The Crunch" by Pat Toomay, "The Thinking Man's Guide to Pro Football" by Paul Zimmerman and Jerry Kramer's classic that started it all and made me a Packers fan. Tell me, Vic, where are the good books today?
I was a newbie reporter covering the Steelers when Blount wrote his classic. I watched him work and then I read the book, and I remember thinking to myself, "I wanna write like that." Maybe we know too much about the game today. Maybe we've become so obsessed with schemes and stats that if it isn't on a video or in a list, we don't want to see it. My greatest lament is I don't think we have anybody with the guts to write as Dan Jenkins did in "Semi-Tough." Good reporting and good writing, however, are still there. "When Pride Still Mattered" is a classic. I enjoyed "Resurrection: The Miracle Season That Saved Notre Dame." Read everything. That's how you find the good books.
If a player could only have one trait, what would you rather have: talent, hard work or intangibles?
Talent; there's no substitute for it.
Is Spofford a players, not plays guy?
I don't know. Why don't you ask him?