Vic, how did the schedule-maker know our defense was gonna need an early bye? Just incredible foresight, I suppose.
A bye is good any time, because football players are always recovering from injury.
Vic, what do you think about the defense so far after three games? They had five starters out against the Lions and did well.
The 2014 Packers defense was the best I covered in my years in Green Bay. I think this year's defense can be better than the '14 defense.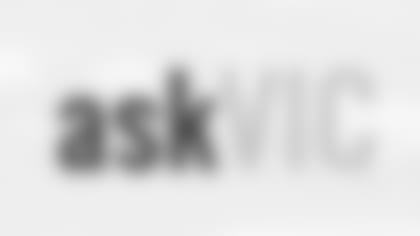 I would hope the inbox is celebratory, but a part of me has a sickening suspicion most of the inbox is a misinterpretation of the second half.
It's Atlanta 2014 all over again. It's the dominant question in my inbox. It's as though everyone was afraid the question wouldn't be asked.
How does a team totally dominate the first half of a game and then look out of sync in the second half? Is that coaching adjustments that aren't working or execution of the adjustments?
In my opinion, teams that get big leads have a natural tendency to begin playing against the clock.
Mario from Montevideo, Uruguay
Just win, baby. Yes, but?
There are no buts. The worst thing you can do to an opponent is beat them. Just win the game and move to the next one.
Louis from Warrington, UK
The Packers' offensive crisis ended on the first drive of the game when Aaron Rodgers' receivers separated themselves from the coverage to become easy, wide-open targets for a quarterback who's the most accurate passer I've ever covered. If the receivers get open, Rodgers will put the ball on their hands.
I missed the game, so the stats tell me Rodgers is back and he discovered Nelson. Lacy is a bull. Our defensive line is still shutting them down. What did your eyes tell you?
The game confirmed my pregame analysis. I expected the Packers to win comfortably. I have a very high opinion of this team, and what happened in Minnesota did nothing to change that opinion, mostly because I have a similarly high opinion of the Vikings. One of this fan base's problems is it doesn't want to acknowledge the Vikings' quality.
Great special teams play, Ty Montgomery making that split-second decision on a kickoff at the 1-yard line. Can you explain the rule to your readers?
Randall Cobb introduced us to that rule against Tennessee late in the 2012 season, when he stepped out of bounds and fielded a kickoff. If the return man is out of bounds when he fields the kick, the kick is deemed to be out of bounds. In each case, it's a great special teams play because it's the result of great special teams coaching.
"Tell me when you'll have injuries and I'll tell you a good time for the bye week." Prophetic words from Vic. Recovery from injuries the storyline of the bye week?
Yeah, that's the storyline of any bye week, but being the Packers were 6-0 heading into last year's bye week, I think the big storyline this year will be to keep the motor running.
Why does Mike McCarthy go into a prevent offense when ahead? He could have lost the game. One more score would not have hurt.
OK, I'll explain it. Every play you don't run is one more play to which you don't expose your players to injury or wear and tear. The Packers beat the Lions with a scant 50 plays. Fifty plays! That's amazing. That's beautiful coaching. That's expert management of a game and a team.
Nathan from Baltimore, MD
Why didn't the Packers employ the "Ketchman prevent defense" in the second half? They could have thrown the game away.
Mark my words, the day will come when a team will play the "Ketchman 0-0-11." Imagine a four-minute play that expires the clock. They couldn't even stop for the two-minute warning.
Vic, we seem to be snapping out of the offensive funk with today's game, but after viewing the Vikings/Panthers game, I'm more convinced last week's numbers were the result of being up against what is maybe the best defense in the conference. The Vikings dominated the current MVP and his team as much or more than us: three interceptions, eight sacks and double-digit knockdowns. How good is the Vikings defense?
It's really, really good. I flipped back and forth to watch some of the Vikings game, especially when it was crunch time in that game, and I can tell you the Panthers looked beaten and bewildered as they watched the Vikings expire the clock.

Vic, I like the way Martinez's nose bleeds.
It bleeds well, but not as well as Bobby Layne's nose bled. When God made Layne's nose, He said, "And on the seventh day, you will bleed."
Steve from Lake Stevens, WA
I've read this forum long enough to know what the reaction to this game will be in your inbox. So, let me throw you a curve: What did you see in this game?
I saw a dominant team. The outcome was never in doubt.
I'm trying to see this game from a big-picture perspective, and all I can ask is: What makes this team take its foot off the pedal?
It's how football is played in the NFL. This isn't the Big Sky Conference.
Lorant from Budapest, Hungary
What's up with this "West Coast offense" thing? It was mentioned during the game and I remember reading it somewhere during the week. I had never heard of it before, that's why I find it strange everyone is suddenly talking about it.
Its roots can be traced back to Bill Walsh's days as an assistant coach to Paul Brown in Cincinnati. This isn't something new. The "West Coast offense" is based on timing and quick throws to receivers that come open quickly. Yesterday, the Packers' receivers came open quickly and Aaron Rodgers put it in their hands on time.
Why don't they pull Rodgers when they're ahead by 17 points going into the fourth quarter?
That's a different kind of question. This is why I don't like big-lead games. The issues tend to be meaningless.
I can't put my finger on it, but I feel like this team is at the beginning of something really special. Too early to declare they have "it"?
Yes, it is. Next weekend's games mark the end of the "real" preseason, in my opinion. "It" is for December. You either get "it" or get out.
Tristan from Washington, DC
Vic, I hope you're well. Pretend you're back on the beat. What is the first question you ask Aaron Rodgers and Mike McCarthy after yesterday's game? I'd like to hear your opening question.
What was different today from last week?
Vic, many of the third-and-long plays the Lions were able to convert looked as though they were able to find a sweet spot in our zone coverage, where the corner would stop covering the receiver after he left his zone, but before the safety has a chance to pick him up. How does the defense prevent this in the future if they continue using zone coverage?
It's called passing off the receiver from one defender to another. The coordination or execution of passing off the receiver has to be tighter. The expectation is it will tighten as the season progresses.
Vic, what percent of your inbox is upset despite the win because the Packers did not achieve FULL CONSISTENCY? Why don't they understand the team lining up in front of you is trying to win, too?
It's also important to understand that if you want to spend the preseason protecting against injury by not playing your starters, FULL CONSISTENCY is an unrealistic expectation early in the regular season. Prepare or protect? Pick.
Craig from Brookfield, WI
Illegal gesture? When did this game played by the toughest of men become a flippin' day care center?
I'm with the league on this one.
Mike from Mount Prospect, IL
Vic, this question may get to you too late, but I just saw Arnold Palmer passed away. As a Pennsylvania native, I'm wondering if you ever met him. He was my hero growing up.
The flair with which Palmer lived life was, in my opinion, his greatest act. From that beautifully God-awful swing to the little airport in Latrobe that bears his name and welcomed home the plane he flew, Palmer's legend was defined by the kind of coolness only a few of us are granted. I was in the press tent on that Friday in the 1994 U.S. Open at Oakmont, when Palmer played his final Open round. Thirty-two years earlier he lost in an 18-hole playoff to Jack Nicklaus and the torch was passed, but was it really ever passed? Nicklaus became the better golfer, but Palmer was always "The King." I remember three things about that Friday: 1) It was brutally hot; Colin Montgomerie nearly died from the heat. 2) Palmer referred to himself as a sun-bit old man as he wept in front of the media. 3) The day concluded with O.J. Simpson taking a ride in his Bronco, the irony being the day was defined by arguably the most famous athlete and the most infamous athlete in history. Has anyone ever written or uttered a bad word about Arnold Palmer? His is a life lived well.