Vic, Montgomery really looked like he was coming into his own the previous few weeks. Can you explain his lack of touches?
When you're down 21-0, your game plan and strategies for managing the game go out the window. You need chunk yardage. I suspect the game plan cast Ty Montgomery in his receiver-out-of-the-backfield/running back role but, trailing by multiple scores the whole game, the Packers weren't in position to influence the Titans defense according to formations.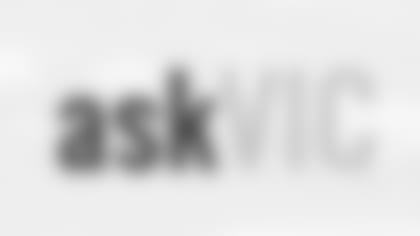 Kelly from Springfield, MO
Do you think Seattle will be the hardest game in the rest of the regular season?
How does it get any more challenging or daunting than next Sunday's game at Washington? I think we need to stop looking any farther ahead than the next game. Urgency has arrived.
Do you believe something is really wrong with this team? Don't give me the injury excuse, either.
Let's go back to the training camp mantra: Win the one-on-ones. That's what's wrong. The Packers aren't winning their one-on-ones. Why? When that question is answered, the Packers will be on the road to repair.
Vic, that was tough to watch. What is your opinion of what's happening with the Packers? Is this just poor execution? Or poor leadership? The mental mistakes in this game were horrible.
I'm not big on the chemistry thing because I don't know how to accurately measure it, and I think blaming a lack of leadership can also become an excuse. Yes, it's poor execution. The Packers didn't do what they planned to do. Again, why? In time, we'll know the answer to that question. Until then, I'm going to adjust my reaction to the unknown. I'm not going to worry about making it into the playoffs or homefield advantage or winning the Super Bowl. I think we've done too much of that.
Maybe the NFL's ratings problem is related to the last team with the ball with a minute to go wins. Defenses don't seem to be able to seal the deal.
The good offenses can't be stopped.
Vic, maybe I'm just trying to be an optimist, but I think three losses in a row could help our fan base improve as people. Sometimes you have to lose so you can appreciate winning.
We can ease our pain by simply adjusting our perspective.

Just a pathetic, uninspiring effort by the Packers. When will McCarthy hold the players accountable? A game like this, the Packers should have taken a bus back to Green Bay.
Everyone is held accountable every day. That includes coaches, players and personnel people. Every practice is videotaped and reviewed. This is the most accountable industry I have ever known. I suspect you're more interested in punishment than accountability, but that's not realistic.
Jerry from Wilmington, NC
Vic, it seemed like the defense prepared for the Titans to run a different type of offense. Do you think they were expecting Mariota to run more?
I think the Packers were expecting the league's No. 3 rushing team to run the ball, and it did, on the Titans' first play of the game, for 75 yards and a touchdown. How do you blame that on preparation?
The Vikings lost. The NFC North is still a three-horse race and the winner will be decided in the last three weeks of the season.
I hope you're right, but I'm not going to allow myself to think that way anymore until we get to December and I know this team is in the race and playing well. Just give me one win. That's all. Just win in Washington. I don't want to lose my December friend.
I traveled all the way from Norway for this game and the Packers didn't show up for the first quarter. Is it OK to feel betrayed by the players?
It's not betrayal. If playing well was a light switch, the players would turn it on and never turn it off. They're not losing because of their effort, they're losing despite their effort. When you become a football fan, you sign up for disappointment. It's inevitable. What are Saints fans and Steelers fans feeling today?
The game was not decided by the refs but I think that was a really bad game called by the refs. I haven't seen a game where the refs huddled more than the players. Vic, what's your thinking on the officiating?
I went over the penalty cliff yesterday. It was too much to endure. I found myself just wanting the games to end. I had never previously felt that way in all the years I have loved and covered football. I don't know whether to blame the players for committing the penalties, or the officials for calling too many of them, but I've reached the saturation point. TV even shows us plays that should've been penalized. We've all gone penalty crazy and I blame it on replay review. It's created a penalty witch hunt. In my opinion, the excess of penalties being called is the league's No. 1 problem, and it's damaging the game's entertainment quality. In my opinion, replay review has changed the game in a very negative way.
Vic, please tell me when the offense is going to play a complete game. Today they waited until they were 21 points down.
That's not it. We talked about this last week. When a team leads by a big score, the script gets flipped. The team leading tends to become conservative and the team losing becomes desperately aggressive. As I've said in the past, I think it's a mistake to evaluate performances in lopsided games because we really don't see a team's true personality in that kind of game.
James from Panama City, FL
Why do the Packers stick with draft and develop? It's regressed this team to average or below average.
It's working for the Cowboys. It's working for a lot of teams, and it's worked for the Packers for a very long time.
Prior to 11/8, every political expert and pollster had Clinton winning the election and they were all proved dead wrong. Prior to this NFL season, every football expert I read had the Packers rated as very talented and a serious contender for the NFC title and a Super Bowl berth. As of 11/13, all those experts have also been proven dead wrong. Not only is this Packers team not talented, but since they have now shown themselves to be 22 points worse than the not-so-hot Titans, they are worse than mediocre. I will never trust a so-called expert ever again. Having said all that, the Packers are still only one game out of first place in their division and certainly still in the race. My question to you, injuries aside, because I feel you can't blame this fall from grace just on that, what the heck happened to this team?
The honest answer is I don't know. My guess is the Packers are going through the natural attrition cycle. Staying on top for a long period of time, as the Packers have, is very difficult to do. If they can fix what's wrong, they can extend their run another year. That's the goal. I think we spend too much time worrying about what's going to happen. Just watch. Everybody knows how I feel about expectations. I don't like dwelling on them because I believe they promote a lack of respect for how difficult it is to win, and for how much we should value the wins we're afforded. Expectations can also create massive disappointment. An old friend of mine, a very successful high school football coach, was fired after several winning seasons. When I asked him why he was fired, he said, "I guess they got tired of winning." I implore fans not to let that happen to them. Don't keep raising the bar higher and higher to the point of inevitable frustration. That's what expectations can do. Please, adjust yours. I think this is a good week to do that.
Well, there is no denying the Packers' record tells the story. Vic, tell us who the Packers are.
The identity of this team has yet to be revealed. I think the Packers have spent the past two seasons trying to be what they were. I think they need to discover and embrace what they are. The next seven games will tell us.
The most painful thing about the Tennessee game was having to listen to Jeff Triplette try to explain all the penalties.
When he pointed the wrong way during that convoluted explanation of multiple penalties, I said, "Where's the Tylenol?"
What do you think it will take for this team to turn it around and start winning again?
The running game fixes everything. Teams that run the ball stop the run. They dominate time of possession and limit their opponent's opportunity to score. They feel good about themselves. Teams that run the ball have toughness. They impose their will and they're tough to beat at crunch time. Teams that run the ball are respected.