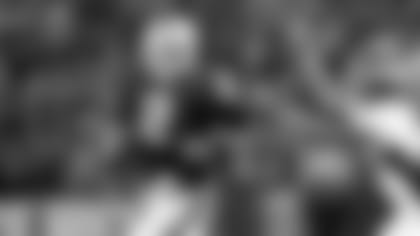 QB Terrelle Pryor
Vic, I've been a draft junkie for two decades now, and tried to be open to the new three-day draft format. I don't like it. Bring back the Saturday-Sunday marathons of old. Can you pull strings and make that happen?
I can go back to the days of 17 rounds over two days, and picks coming so quickly that we didn't have enough time to write our story about the last pick before the next pick was being announced. The draft is a big-time television production. I'm OK with the format. I think it's a major improvement that first-round time on the clock has been reduced from 15 minutes to 10 minutes. I also like the prime-time quality to the draft.
Vic, in your opinion, how long do you give a player to prove he's worth his signing or he's a bust?
If he's a first-round pick, I think you give him into his third season. You have too much money and too high of a pick invested in him to quit on him as quickly as you might on a seventh-round pick. You saw something in him to cause you to make him a first-round pick, and I think you have to exhaust every effort to find the talent you had identified. If he's not making significant gains in year three, it's go time.
The NFL is in the entertainment business. Inviting Tom Savage to the green room reeks of forced drama. Great for TV; terrible for the QB. I'm glad he isn't going to attend.
Savage is one of the fastest-rising players in draft history. I asked a scout about him last fall and the scout said Savage had a strong arm and would be a candidate for a practice squad. Now, there's talk he might push himself into the first round. Teddy Bridgewater is said to be in free fall, and Savage is in meteoric rise. Why? It's the pro-day syndrome. Bridgewater didn't test well; Savage did. Savage is a big guy with a powerful arm and classic release. He took a terrible beating behind an awful offensive line last season, and the toughness he displayed in taking that beating is also impressing teams. He's not mobile, and I see that as a negative in today's game, but the NFL perceives that Savage could be the surprise story of the draft and that's why the league invited him to the draft. You want the surprise of the draft to be there when his name is called. I wish he had accepted. I don't get the embarrassment part. It's not as though he could fall. He barely carried a draftable grade for most of last season. He's a good story. I like good stories. I think it's a little bit of a negative that he's afraid to attend.
Vic, both games I've been to have been in the depths of winter when the ground was frozen, but we're planning on going to a warmer game this year. What I'm wondering is if it's warm and rainy, do people still let you park in their yards?
I don't have that list in front of me, Joe. I'm sorry, I couldn't resist. You can park in my yard.
So if every team's board is different, and you believe scheme should be considered when grading a player, why shouldn't need be factored into the equation as well? Or perhaps it is.
When you grade a player according to the physical demands you'll place on him, you're judging his talent to execute those demands, and I see that as grading him according to his strengths. When you judge him according to your needs, you're grading your weaknesses.
You have been saying over and over again, players, not plays. Fit the scheme around your players, yet, you just said in this last "Ask Vic" that Aaron Donald should be graded lower because of the Packers' scheme. Isn't that fitting the players into the scheme?
I guess it is to a degree, but I think there has to be reasonability in the process. There's a big difference between creating ways to use what you have, as opposed to drafting players you have to create ways to use. Yes, you have to be able to fit your scheme to your talent, as Dom Capers did last season in tweaking the scheme to fit Mike Neal into it as a linebacker. It allowed for expanded use of a player that was drafted solely to play defensive end. I'm all for finding imaginative ways to use the talent available to you, but you can't get wild with it. I believe players should be evaluated according to what you're going to ask them to do. That's my opinion. I think every team needs an identity. If you're constantly changing your scheme, you have no identity. This, in my opinion, is where scheme is truly important. Players need to know what's expected of them and they need to believe they can fulfill that expectation. Their talents have to blend with the talents of the players around them. One makes the other a better player. Scheme defines you when your players can execute it. Aaron Donald can two-gap; I saw him hold the point against double-team blocks at the Senior Bowl. It's his ability to penetrate and disrupt, however, that is his greatest strength. I haven't read a draftnik that doesn't agree with me that Donald fits best as a three-technique tackle in a 4-3 scheme.**
Dan from North Las Vegas, NV
I'm not interested in the draft until after our picks have shown just how they've panned out. Not knowing the Packers' opinion beforehand, I just can't make myself form a very incomplete perspective. I have no problem waiting two or three years. Is this wrong, Vic? Am I missing out?
If everybody applied this kind of logic to the draft, I'd be out of business. I need illogic. I need impatience. You're no fun.
After looking over the schedule and the strength of our opponents, I see the Green Bay Packers at no less than a 13-3 record for the season. How does that assessment compare with yours?
I don't like predicting records because it doesn't include predicting injuries. If I was going to predict a record, I would certainly wait until at least training camp. How do you do it before the draft? Here's what I will say: I think the Packers have a 13-3 kind of offense. Defense? That's where the big question is. The answer to that question will likely decide the Packers' fate in 2014.
Based on the recent history of the franchise, is it too much to expect this year's first-round pick to have an immediate impact regardless of what position it is? It seems the Packers prefer to develop their young players slowly.
The Packers drafted three players – Eddie Lacy, David Bakhtiari and Micah Hyde – last season that had a major and immediate impact. How many teams can say the same?
Vic, I'm confused about your view on drafting Aaron Donald. Don't you want to find good players and put it on the coaches to properly utilize them? Bruce Smith? J.J. Watt?
I covered a lot of Bills games back then. They had great talent on defense: Smith, Cornelius Bennett, Shane Conlan, Darryl Talley and a lot more, but they got walloped by the Redskins and Cowboys in three consecutive Super Bowls and I never thought the Bills defense played up to its talent level. Frankly, I always thought Smith was miscast. I never saw him as a 3-4 end and I think it hurt the Bills, especially in Super Bowl XXV, when the Giants ran it down the Bills' throats and dominated time of possession with a Super Bowl-record 40 minutes and 33 seconds TOP, including 22 minutes in the second half. I also think Watt is a bad fit in a 3-4. He's the best penetrate-and-disrupt defensive lineman in the league, but who's doing the two-gapping? How do you have Watt on your defensive line and finish 23rd in the league against the run?
Michael from Elizabethtown, KY
The Packers have the highest potential payout in workout bonuses in the NFL this offseason at $4.3 million. I'm not sure what to think of this. Is it that hard to get players to come to Green Bay in the offseason? Will they not show up without these bonuses? With as big of a contract as some of these players receive, shouldn't they feel obligated to come? Or is this some sneaky way to get around the cap?
There's nothing sneaky about it. It's meant to ensure that the Packers have a strong turnout for offseason conditioning. It's symbolic of the emphasis the Packers put on offseason conditioning. We had 50-some days of below-zero temperatures this past winter. I'm looking at the long-range forecast and I'm seeing a lot of 40s. Most of these guys are from warm-weather climates, they have personal workout regimens and they like to work out in warm weather. You don't want to leave anything to chance. Offseason conditioning is important. This is a good way to promote participation.
You were discussing how Pryor is an interesting prospect because of his athletic ability to spread the field with speed. What would you think of a younger, possibly faster version of him in Jordan Lynch?
Easy, Darrin, easy. I really like Lynch, but at 6-0, 217, he ran a 4.76 40 at the combine and a 4.75 at his pro day. Terrelle Pryor, who's 6-6, 240, ran 4.32 at his pro day for the supplemental draft. To put that into perspective, Colin Kaepernick runs 4.53 and Russell Wilson runs 4.55. I doubt Pryor will ever be a starting-caliber NFL quarterback. He lacks the skill set to play the position at this level, but look at those size-speed numbers again and tell me they don't interest you. I can't remember ever seeing size-speed numbers like that. Where would the Seahawks have found that kind of size and speed in the seventh round of the draft? I'll be very interested to see how Pete Carroll uses Pryor. I see him as a slash that might make Wilson's improvisational skills even more effective.
Tracy from Harrisburg, PA
Has anyone ever proposed moving the location of the draft around the country each year like the Super Bowl? I'm sure draft day is very important to the players that get selected, but it's the fans that generate the revenue in the NFL. I think it'd be a neat fan experience to have the draft close by every once in a while. What's so important about Radio City Music Hall? Is it just tradition?
I'm hearing that moving the draft to May had nothing to do with Radio City Music Hall. I'm hearing that the draft was moved to May because of something called "sweeps."
It's not about what a player accomplished in college, it's about projecting what he can do in the NFL. How does a scout determine which players have high ceilings and which ones don't?
Good scouts have a crystal ball. They can see into the future. They can look at a prospect and envision him in a role. I'll use Aaron Donald, for example. I see him lining up in the gap and beating his man off the ball. I see his quickness off the ball creating a lot of false starts from antsy offensive linemen trying to beat the count. If Donald is the penetrate-and-disrupt tackle he was in college, he'll tear a lot of pages out of opponents' playbooks; you can forget about pulling your guards. I see Donald penetrating into the backfield and forcing backs wide. I see him collapsing the pocket. Frankly, it doesn't take much of a crystal ball to see all of that, but what about the prospects with the more hidden talents? Everybody could see how Eddie Lacy would be used, but how about Johnathan Franklin? It's all about roles. A prospect has to fit into a defined role for him to be successful. John Kuhn is the perfect example. He didn't fit in Pittsburgh's offense, but he fits in Green Bay's. Somebody in the Packers' personnel department saw that fit.**
David from Sweetwater, TN
Just curious what you and Tony think about Zach Mettenberger? I know we don't need a QB, but I feel he will be the best to come out of this draft.
You love the size and arm strength. You worry about his lack of movement and off-the-field issues. In what round does your love ease your worry?