Vic, what a (great) round of golf!
I enjoyed the British Open. Henrik Stenson and Phil Mickelson played golf at a sensationally high level, and the NBC broadcast crew was as good as the golf. Johnny Miller was at his all-time best yesterday. Miller's best line of the day was his, "This is his Billy, Billy club." I also completely agree with Miller that Tiger Woods and Rory McIlroy went overboard with the weightlifting. You don't have to lift weights to sink putts. Make putts, not muscles.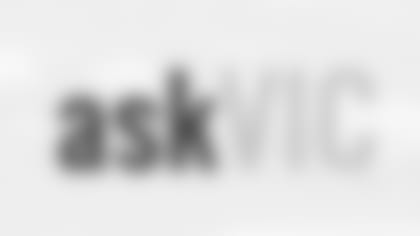 Vic, NFL Network has said the Vikings have a better team than the Packers, outside of the quarterback position. Many would disagree. What are your thoughts?
I love the Packers roster. Here's the bad news: I think the Vikings have an equally talented roster. Week 2 will come quickly. Don't let the anxiety overcome you.
Anton from Burgenland, WI
Vic, once you see the TV programs, you'll want to wake up at 5:30. Did TV lose its innocence when football became popular?
I think TV has leaned too hard on sports, specifically on football, for programming. I don't see the kind of creativity that gave us "MASH" and "Cheers" and "Seinfeld," or even "I Love Lucy," for that matter.*
I don't know who this will reach, but I almost shed a tear with Vic's final answer. Then I realized it was the most perfect way to transition to this new era. So I just wanted to say thanks, Vic, but hopefully not for the last time. I look forward to what's to come.
This is the start of something new. All bans are lifted. Forget about what we were; let's concentrate on what we can become. Let's be new.
Vic, on Sundays, when you're watching the games, will you find yourself looking for the elevators as soon as the final seconds tick away? How difficult will the adjustment be going from reporter to normal viewer?
It's my greatest relief that I won't have to worry about getting from the press box to the postgame interview room without missing much of the action. I won't have to worry about elevators or Internet connections or interview rooms that don't have a TV monitor or about five-second delay or even TV monitors with the in-stadium feed instead of the TV network feed. As silly as this might sound to you, I judge a franchise on the quality of its postgame interview room. The good franchises pay attention to detail.
Is this another year of the 3-4 defense, a defense predicated on having four exceptional linebackers, which we don't have?
Julius Peppers is headed for the Hall of Fame and, as it stands now, Clay Matthews will be a strong candidate for election to the Hall of Fame. If the young linebackers step up, look out. Yes, this will be another year of the Packers playing the 3-4 defense.
Come, on, Vic, you're from Pennsylvania. I can't believe you're such a pansy.
Well, you're wrong. My tolerances end at 50 degrees and one-and-a-half baths.
Eduardo from Tijuana, Mexico
How does the gameday experience become way better in Lambeau than any other venue in U.S.? What's different?
The people are different. They're winsome. The fans make the experience what it is. If they change, so will the quality of the experience.
Vic, maybe there's another purpose for the wing tips and you just haven't found it, yet.
Maybe they're my forever and ever shoes. Do they even put shoes on you? I want shoes.

Vic, I was wondering if you ever came close to getting drafted?
My draft lottery number was 15 and I was beginning to get mail from my draft board in 1973 – my student deferment would expire in June – when Nixon ended the draft.
My husband passed. He loved your column very much and I was looking at some of his old emails and things on our computer and ran across things he mentioned of this website only to notice comments from posters sounding like they are going to miss you this upcoming season. Somewhere my husband is watching. My husband was predicting a very special season this year.
In heaven, everybody gets free "Sunday Ticket."
Holger from Guayaquil, Ecuador
Now that you are going to write or comment about a game you will only watch on TV instead of being in the stadium, how different do you think your feel for the game will be?
I'll miss seeing the clouds roll in over the top of Lambeau Field, or feeling the mood of the crowd as I walk among them to and from the pregame radio show, but reporters in the press box rely as much on TV as fans do. We need to see the replays, too. TV gives us a closer look than might otherwise be available to us. Will I lose some feel? Yeah, I'm sure I will. There's something about being there that can't be equaled.
Sue from Grand Rapids, MI
I spent some time in Cleveland when I was young. I think the "Ask Vic" community should nominate Vic for the "Chuck Heaton Award," for a journalist who best exemplifies the sensitivity and humility that, along with his journalism heart, were traits exhibited by Chuck Heaton during his exemplary career as a sportswriter at "The Plain Dealer."
I remember waking up in Cleveland the day of the game, picking up "The Plain Dealer" and reading Chuck's time-honored lede: "A crowd of more than 80,000 will jam Cleveland Stadium today to see the Browns and Steelers renew their turnpike rivalry." It was old-school sportswriting, but it was timeless, reverent and dramatic. And I remember Chuck telling us about little Patty, before we knew who little Patty would become. I have time now to think of these things. They're the memories that make me rich.
Vic, you've avoided my questions/comments for years. I understand. Your snarky responses will not be missed. Have a great retirement. P.S. I can predict your coy response to this if you'd print it: "Thank you, I will." And now you would say, "You nailed it." You're so predictable.
Any news on a "Packers Everywhere" pep rally in Jacksonville?
There will be pep rallies in Canton, Jacksonville, Minnesota, Atlanta and Tennessee. The Packers will issue a press release in early August that'll provide details for all of the pep rallies.
What did you think of The Open Championship?
I've already commented on the golf and the telecast. Both were top notch. As for the course, I thought the greens had a living-room-carpet quality to them. They were flat and slow. I think the British Open courses need some updating. They depend too much on weather. Twenty under par is not a major test.

Last June, in a "Video Ask Vic," you stated Aaron Rodgers' top competition, if every current player were to be re-drafted, would be Andrew Luck. Do you still feel this way?
Yes, I do. One injury season hasn't changed my opinion. Luck is the young prototype. If the game evolves as I believe it will, Russell Wilson will become the new prototype.
Jeff (Doc Cardio) from Miami, FL
Vic, the data on heart patients and continuing medications is not good, so please do your best to listen to the doctors and stay physically active. It helps the heart and the brain. You will be missed.
Do you happen to know when I'll be missed?
I came to your column late, but it quickly became my favorite for Packers news. I haven't seen such enjoyable, snarky banter anywhere else.
There is a wonderful freeness of expression in this column that must continue.