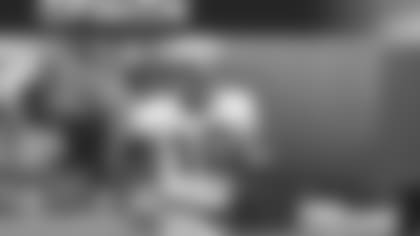 WR Jeremy Ross
The regular writer of "Ask Vic," packers.com Editor Vic Ketchman, is taking some time off. Staff Writer Mike Spofford is temporarily filling in to answer your "Ask Vic" questions.
Hey Mike, keep up the great work! I'm curious, what's your favorite part about doing "Ask Vic"?
Seeing, and posting, where all the fans and readers are from. It's remarkable and it's, well, just cool.
Brett from Brisbane, Australia
Welcome back, Mike. It looks like we will need a new KR/PR. Do you think Johnathan Franklin could be the man for the job? Or can you pick the player who you think will get the job?
Franklin could be a candidate. I saw Micah Hyde trying it way back in rookie orientation, along with a bunch of other players. A lot of veterans on the roster have experience at it in their careers. I think it's wide open, but the player who will be given every opportunity is Jeremy Ross. Yes, he had the fumble in the playoff game, but he flashed a ton of ability late last season, and he has vowed to be ready for this chance. He might have to win a roster spot as a receiver first, though, because it could be difficult to make the team strictly as a returner. If nobody steps forward and seizes the job, I wouldn't be surprised in the least if the duties remain with Randall Cobb.
Mike, I see the tight end position as one of the deepest and most talented positions on the team right now. I feel that there are at least six tight ends ready to contribute this year. How many do you think they'll keep, and who will it be?
With Andrew Quarless looking back to full strength (I wrote about that back in OTAs), the addition of Matthew Mulligan, the continued development of D.J. Williams and Ryan Taylor, and the long looks due Brandon Bostick and Jake Stoneburner, the Packers have plenty of tight ends behind Jermichael Finley, which is how Mike McCarthy likes it. They're versatile, important pieces to his offensive system. The Packers have kept five before, and I could see that happening again, though you never know. Mark from Minneapolis, MN, asked last week about fullback John Kuhn's role and roster status, and that very well could depend on how many tight ends are kept. McCarthy regularly shifts tight ends into the backfield for pass protection and other duties. There's a lot to sort out here.
Michael from West Bend, WI
Steve Atwater use to knock the snot out of people, smile and then help them up. A certain play where he creamed a much bigger Christian Okoye comes to mind. He said being nice to them afterwards messed with their heads. That's the NFL I miss these days.
I'm pretty sure Atwater would be forking over some chunks of his hard-earned money if he played today. He's also the guy everyone forgets about in discussing the Broncos' win over the Packers in Super Bowl XXXII. He laid it all on the line that day.
Mike from Pickerington, Ohio
Mike, I know plenty of teams have looked to a rookie running back to shoulder the load for them. However, I can't remember any team that's asked this of two rookies. Is this unprecedented by Ted Thompson and the Packers?
In 2005, Thompson's first year as GM, the running back position was so clobbered by injuries that the Packers ended up getting notable contributions from two rookie backs, Samkon Gado and Noah Herron. Also, in 2010, rookies James Starks and Dmitri Nance were called upon at different times. But those were certainly different circumstances than this.
Mike, yes the Packers have won division titles without much of a running game, but have done little in the playoffs without one. I have to believe that without the emergence of Starks, they don't win in 2010. He gave them a more-than-respectable running game.
Very true, and many agree with you. But to play devil's advocate, keep in mind that after his 123 yards rushing in the wild-card win at Philly, Starks had 192 yards on 58 carries in the remaining three postseason wins. That's an average of 64 yards per game and 3.3 yards per rush. The Philly game was huge and perhaps gave the upcoming opponents more to think about, but consider this: The following year, Starks and Ryan Grant combined for 76 yards on 14 carries (5.4 avg.) in the playoff loss to the Giants, and last year DuJuan Harris and Randall Cobb combined for 76 yards on 13 carries (5.8 avg.) in the loss to the 49ers. In the end, what I'm saying is don't overestimate what Starks did three seasons ago. I believe the Packers' goal for their running game now is to be more than "more-than-respectable," but I don't see McCarthy "running uphill," to use one of his favorite phrases, when he has a QB like Rodgers under center.
Tom from Chesterfield, VA
McCarthy has committed to the run game. Thompson has given him a couple of thoroughbred RBs. Barclay has a rep as a physical, nasty, road-grader kind of O-lineman. Doesn't this bode well for him winning the RT job in training camp?
Barclay will be in the mix for that job, absolutely, but we're a long way from picking a winner. Marshall Newhouse has two years of starting experience at a more difficult position, left tackle. David Bakhtiari was drafted in the fourth round and is considered by some draft analysts a sleeper. It's possible Derek Sherrod comes back and enters the fray as well. There's a lot to sort out. Many of you, including Rob from Brookeville, MD, and Paul from Grand Rapids, MI, asked about Andrew Datko. Beginning with the rookie orientation camp (which as a practice-squad player, Datko was allowed to participate in again) and through OTAs, Datko was taking a lot of snaps at guard. We'll find out in camp if this is a cross-training move or a permanent position switch from tackle. Versatility may be his ticket to sticking around.
Mike, I know it's tough to compare players of different eras, but do you see any player currently that can match the dominance that Don Hutson had in his era?
No, unless Adrian Peterson breaks Eric Dickerson's single-season rushing record (2,105 yards), which has stood for 29 years now, and rushes for 2,000-plus for three or four years in a row in the process. I won't rule out either possibility after what I witnessed last year, but I marvel at what Hutson did every time I look into it. He led the league in TD catches nine times and in receiving yards seven times, both of which are still NFL records. Jerry Rice is next with six times in each category, and Rice played 20 seasons to Hutson's 11. Hutson's career TD reception record lasted 44 years until Steve Largent broke it in 1989. If my research is correct, when Hutson retired after the 1945 season with 99 TD catches, Jim Benton retired two years later and was second on the league's all-time list with 45, less than half as many. It took until the 1960s for anyone to get three-quarters of the way to Hutson. Unbelievable.
Jeff from Albuquerque, NM
Mike, you know, I have not seen this question at all in the column. Next year, players will be fully padded for the first time in a long time. How will this affect many of the speed guys on the team? The power guys should have no real issue I would guess. Thoughts?
The new rules regarding pads will apply to all players, so the more poignant question is probably whether wearing pads will affect different players differently. I can't answer that. Players who rely on their speed will have an adjustment to make, but they'll start making it in training camp.
Jeff from Fayetteville, NC
OK, Vic, I have asked several questions in the past which you have totally ignored (I have feelings too, you know); however, I do have a serious question for you at this time. Have the Packers ever conducted a training camp or considered conducting a training camp outside the state of Wisconsin?
You obviously ignored who's currently writing the column, so let's call it even. From 1951-53 under coach Gene Ronzani, the Packers trained in Grand Rapids, MN. According to team records, that's the only time since Curly Lambeau began conducting training camps in 1946 that the Packers have held theirs outside Wisconsin.
Chris from Chippewa Falls, WI
Mike, what determines the play to which a QB audibles? Does a play called in the huddle have corresponding alternatives, or is it the QB's prerogative to choose a play he likes based on the defense? Also, if there are pre-designed alternatives, do they change from week to week with the game plan? Or, are the plays bundled together for the season?
The answer is a qualified yes to all of your questions. I'm not an expert in audible systems, and no team will ever reveal everything about how theirs works, but there are different types of audibles. Some plays called in the huddle are run-pass options, and the QB makes the call at the line of scrimmage, usually with a key word or sound in his cadence. Even simpler, QBs and WRs often have non-verbal signals that can indicate a route change at the last moment, but no one else is changing assignments. Other audibles can require a completely different formation the offense must shift into, and the QB has to make sure there's enough time on the play clock to pull it off if he sees a particular defensive look. Some audibles are simply built-in options within a play call, whenever it is called. Others can be married up for a specific game plan, based on an opponent's tendencies. There can be a lot going on from the time the offense breaks the huddle to the time the ball is snapped.
Corri from Douglasville, GA
Now that there is no Desmond, does my guy Francois finally get his shine?
With Bishop's release, Brad Jones and A.J. Hawk are the starters at inside linebacker. It's worth noting that when Jones missed an OTA practice that was open to the media, Jamari Lattimore was working with the No. 1 defense in his place. Terrell Manning, seventh-round pick Sam Barrington and Francois (along with Lattimore) will all be jockeying for depth-chart position, with a primary role on special teams their best shot at seeing the field in Week 1, barring injury.
Hi Mike, just read the article about A.J. Hawk and was wondering on the chance he might do some interviews during training camp for packers.com?
I think Hawk will be a little busy for that, but we're working on a possible new video personality for training camp this year. Stay tuned.
Hey Mike, Vic has always said that "the real season starts in December" and from what I've read, it would seem as though you agree with that. Does that change how you watch and enjoy the other (September through December) regular-season games?
No, but you bring a different perspective to those early-season games. Just look at the last three years. In 2010, the Packers were 3-3 after six weeks with injuries galore and won the Super Bowl. In 2011, the Packers were 13-0 in mid-December and got bounced in their first playoff game. In 2012, the Packers were 2-3 after that second half in Indy got away, yet they clinched the NFC North with two games left and came within a field goal of getting a first-round bye. As I've said before, it's a long season, and so much changes about a team and its season from start to finish.
Has anyone speculated on what compensatory picks we will get in the 2014 draft for Jennings, Walden, and Crabtree? This approach of letting vets go and not signing free agents seems to be catching on in the NFL, as witnessed by San Francisco and Baltimore this past year. Is it trending there or my imagination?
San Francisco came into the draft with more than a dozen picks and Baltimore was in a salary-cap mess, so I wouldn't base a trend on their actions. As for compensatory picks, that's one of the most mysterious formulas ever concocted. In general, it's based on the value of the contracts signed by the outgoing/incoming free agents, but there's no way to predict the end result. The Matthew Mulligan signing comes close to canceling Crabtree, but Jennings and Walden both got lucrative deals. That could yield, collectively, a pick as high as a fourth- or third-rounder, or separate picks in the fifth and seventh, or something else entirely. Your guess is as good as mine.
Scott from Lincoln City, OR
Hi Mike. I checked out your "Best by numbers" articles and the only voting results I saw was B.J. Raji winning it for No. 90 with 47 percent of the vote. Would you please give us a summary of the voting results for each number? Thanks.
There was a technical quirk with doing those running polls so the results unfortunately didn't remain available for viewing. Here you go: In addition to Raji, the other winners were Ahman Green for No. 30 (88 percent), Jim Taylor for No. 31 (74 percent), LeRoy Butler for No. 36 (69 percent), Fuzzy Thurston for No. 63 (72 percent), Donald Driver for No. 80 (77 percent), Sterling Sharpe for No. 84 (80 percent), and Ron Kramer for No. 88 (38 percent).
Tom from Truth or Consequences, NM
Is it really such a "big adjustment" for Bulaga, Sitton, Lang, and ....whoever to switch sides on the line?
All their footwork and hand placements are reversed and all the play calls have to be flipped mentally in their head. I can't imagine it's easy. As I pointed out in the "Final Thoughts" video Vic and I did wrapping up OTAs, the key is the Packers made this decision early and began the transition in the spring, rather than in the preseason games. The more time the linemen have, the better.
Hey Mike, so if you develop arthritis in your fingers and we have to let you go, will you be writing for the Vikings?
Of the dozens of inquiries that came in about the Vikings' track record of signing former Packers, this was my favorite. Rimshot for Bruce.
Randy from Medicine Hat, Alberta
Mike, did you throw out an electric football game like Vic did when he was a kid, or are you from the Madden generation? If you are a Madden gamer, which year is your favorite?
Not a Madden gamer. I had a friend when I was a kid who had the electric football game. In my own house, I went through a couple different versions of hand-held electronic football games. I can still hear the "double whistle" signaling the end of a play when I think about it.
Ryan from Platteville, WI
Hey Mike, when you filled in for Vic a while back you answered a question regarding the Big M. Are you from Platteville? If so, what's your favorite Platteville memory?
That's my hometown. My favorite memory was chasing after Jim McMahon on his motor scooter as he cruised around the college campus during Bears training camp, and when I finally cornered him for an autograph, he pretended to fall off the scooter and injure his wrist, claiming there was no way he could sign. When I just smiled and laughed, rather than throw the fit he might have been expecting from an undersized 12-year-old, he grabbed my pen and signed, then patted me on the head and said, "Take it easy, kid." It wasn't Mean Joe Greene with a Coke bottle and jersey, but I'll take it.