Ryan from Hangzhou, China
Vic, everybody knows about the Favre trade. What was your opinion when you heard the Packers traded a first-rounder for an unproven second-year player drafted in the second round?
I remember thinking, "That's the guy who beat Florida State." That's all I knew of Brett Favre at that point.
At risk of sounding young, unknowledgeable and unappreciative, what did Ron Wolf do beside instigate the Favre trade? That trade was amazing and essentially reinvigorated a declining organization but was, at least in my mind, extremely lucky.
It wasn't a wild-hair trade. Wolf was crazy about Favre in the draft. He was in love with his talent. As it turned out, his evaluation of Favre was spot on. The genius in acquiring Favre is the courage it took for Wolf to commit to that evaluation a pick higher than the one the Falcons used to draft Favre. Wolf went all in on that trade. A couple of years ago, during the summer of Wolf's Hall of Fame induction, he talked about his mindset in making that deal. He talked about regretting decisions he made in Tampa, and that in his second chance at building a football team he was going to do it his way. What else did he do? Well, of course, he signed Reggie White in free agency, so you could say Wolf was the first NFL executive to appreciate the impact of unfettered free agency. He continued to use free agency to fortify the roster, as other teams struggled to understand how to use the system effectively. Wolf's drafts also produced a lot of depth. Never fear sounding young or unknowledgeable.  I was both for a long time, but I asked questions and Coach Noll graciously answered them. He was my best teacher.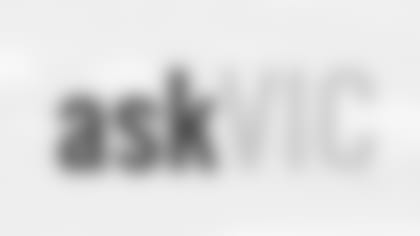 Dave from Lake Zurich, IL
Why do players agree to a salary cap? I assume it's negotiated in the CBA. A friend asked me and I couldn't answer.
The players agree to a salary cap because it defines a specific percentage of revenue the players will receive collectively and which they find satisfactory.
In the almost 100-year history of the Packers, how close were they to moving and where would they have moved to?
I think the greatest threat of relocation occurred in 1949, as the team appeared headed toward bankruptcy. It was thought Curly Lambeau was trying to put together an investment team that would move the team. Lambeau and the Packers parted ways and the franchise suffered through some very dark days until Vince Lombardi arrived. It was also thought the franchise was vulnerable to relocation in the '80s, as Lambeau Field fell far beneath NFL quality and revenue-generating standards. The first time I covered a game at Lambeau Field, I was shocked by how Spartan the facility was. There was talk of the team being moved to Milwaukee. The renovation of Lambeau Field saved the franchise for Green Bay. It says everything about Green Bay that a town as small as it is could and would commit to saving its team. In the process, it saved the town and the team's combined identity.
If you had a choice, would you rather cover football before the advent of computers/Internet or during the present?
I've done both and the current way is leaps and bounds better than the way it was. In the old days, newspapers were good at informing their readers of what happened yesterday, and that was good enough because that was the best we could do. In the old days, once the plane left the ground, reporters were in what I called "blackout reentry" mode. These days, reporters can send their stories back to the office while in flight. Now, the news is immediate, even from 37,000 feet.
Vic, Aaron Rodgers is a master at catching 12 defensive men on the field or drawing a team offside and then going for the big play down the field. Is there any other quarterback as successful in these areas?
Boomer Esiason is the first quarterback I can remember being a master of the no-huddle gotcha. Rodgers is the all-time best at it. He's one of many masters of the hard count.
Sean-Luc from Oceanside, CA
Luke Getsy noted that Trevor Davis has immensely improved and believes he will put up some big numbers in the preseason. What player, barring injury, do you see surprising us all and lighting it up in the preseason games, Vic?
I think it'll be one of the rookie running backs.** Tyler from Vacaville, CA
I just wanted to talk about how perceived safety rules and business decisions don't align sometimes in the NFL. Case in point, at least one area where the NFL misses is with alternate uniforms and throwbacks. How much fun would it be to have an entire week of the NFL season devoted to throwback uniforms and NFL history? Perhaps a team like the Titans doesn't necessarily have a throwback, but it could be so much fun to see the Bucs' old unis and the Patriots', along with many other teams and even the referees. Think of all the merchandising for the fans. The one helmet rule is really a bummer, and one that even college football doesn't seem to care about.
It's fashion vs. identity; that's the issue. A lot of fans like change, but at what cost to a team's identity? Mystique is critical to a team's allure. I don't think a team can create mystique by changing its appearance from week to week. I like what the league is doing with throwbacks, but I would prefer that it not be expanded. A throwback week? I'd be OK with that, but let's not make it two. A team's helmet is its signature look. That's the one, in my opinion, that should remain the same. Change the helmet and the Packers aren't the Packers. When I was a kid, Alabama wore a white helmet with its white road uniforms, and its red helmet with its red home uniforms. I guess even Alabama needed to define its identity.
Adam from Grand Rapids, MI
What sport has the best athletes? I think it's basketball. No other sport combines high intensity with constant explosive jumping. Soccer has high endurance with minimal contact and almost no explosion. Football is all explosion with not as much endurance. Hockey occupies its own space. There are plenty of comparisons, but I honestly don't think basketball players have any competition when it comes to pure athleticism. Thoughts?
Football can play basketball, but basketball usually can't play football. You're forgetting about fearlessness and toughness. In my mind, they are also athletic skills. Football produces the best athletes.
People throughout the media and the league itself are always raving about the fact the Packers are a special team because it's owned by the fans and how wonderful that is. However, the league prohibits this from ever happening again with its ownership rules. Business, hypocrisy or both?
It's business. No business wants to divulge its operating strategies, strengths and weaknesses to competing businesses.
I totally agree with Ron Wolf as the third statue at Lambeau, but I would suggest a statue of Wolf shaking hands with Bob Harlan. If not for Mr. Harlan deciding football duties belonged in the hands of football people, we would not have had Wolf. I'm old enough to remember the feast/famine/feast journey of the Packers. Bob Harlan returned us to the feast. I would love to see him honored with a statue.
I'm not big on statues – memories are much better memorials – but if I had to vote for one, it would be a statue of Bart Starr talking to Vince Lombardi along the sideline during the "Ice Bowl." What was decided for that game-winning play is the signature moment in franchise history.
Who are your picks, one on offense and one on defense, to have breakout years?
Aaron Ripkowski and Kyler Fackrell.** Bart from Tucson, AZ
Do players who were on the same college team often hang together? I think Ty Montgomery, Blake Martinez and Kyle Murphy played together at Stanford.
It's been my experience players create friendships across college and regional lines. They bond for a variety of reasons, and sometimes the friendships are the most unlikely. How about Gale Sayers and Brian Piccolo? The NFL is a wonderful melting pot.
Does Rodgers tie or pass Brady on Super Bowl wins?
I doubt Tom Brady will be tied or passed by anyone ever, especially if Stephen Hawking is correct that we need to leave Earth now.
"The QB salary cap balance seems difficult to maintain given the overinflated QB market. How can someone maintain a balanced roster when such a high percentage of the cap pays for a quarterback?" Now ask those teams without an elite QB (and the contract to go with it) how many would take the challenge of finding balance, and I'm guessing everyone would happily take it.
In my opinion, the next great innovation in the NFL will be the system quarterback. Somebody is going to find a way to deepen the pool of talent at the position by simplifying the position, and that's going to create the salary cap balance that'll allow teams to commit more money to other positions.