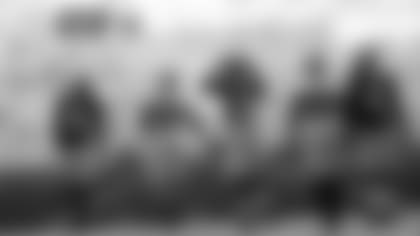 Robert from Waxahachie, TX
With all of the discussion on defense and the draft regarding pass-rusher versus secondary in this slow time of the season, wasn't Nick Perry's contract an idea where priorities could possibly be placed on draft weekend? I think signing Perry gave the Packers another few swings at the plate regarding the draft and would like your opinion please.
Absolutely. The Packers know who their starting outside linebackers are, but we've seen how important it is to have a solid rotation behind Clay Matthews and Nick Perry. They're counting on Kyler Fackrell, Jayrone Elliott and Vince Biegel to step up to the challenge. It's going to be a younger group than previous years, but I don't think that's necessarily a bad thing.
With the loss of Julius Peppers, will Vince Biegel be able to fill that role or could the Packers look to the market for some help?
It's going to take more than one player to replace a 15-year veteran and nine-time Pro Bowler. Peppers was exceptional in Green Bay. I never expected him to have 25 sacks in three seasons. Biegel is an intriguing prospect, but Peppers' snaps and production will need to be divided among the room, not just one player.
Ryan from Noblesville, IN
Biff, I noticed on the DeAngelo Yancey "It's time to get to work" video that you are interviewing someone else and your head is looking up at a great bean stalk that soars through the clouds. Who were you interviewing and do the Packers have good health insurance with excellent chiropractor deductibles? I guess your job can be a real pain in the neck.
OK, this made me laugh. I was standing next to Ted Stefaniak, who was holding the microphone for our Packers video guru, Tyler Gajewski. If you've ever met Ted, he's a former college basketball player who was blessed with the gift of height. I was not. So I was just acknowledging to him how much taller he is. I'm glad it was captured on film.
I look back to the NFC Divisional round against the Cowboys, and the Packers moved Ty Montgomery all over the field to dictate where and how the Cowboys played defense. I could see the same versatility out of Josh Jones. The Ty Montgomery of the defense if you will.
Josh Jones is an exciting prospect. There's no doubt about it. I'd still try to keep expectations realistic for him, especially in the spring. Ha Ha Clinton-Dix played well as a rookie in 2014, but the Packers still took the first two months of the season to work him into the defense. The presence of Morgan Burnett, Clinton-Dix and Jones gives Dom Capers some really interesting chess pieces to play with, though.
Don from Cedar Rapids, IA
Why do you think there are so many holding and "blocking in the back" penalties on kickoffs and returns? Shouldn't special-teams players know those simple rules and avoid such costly penalties?
That's what happens when you have 22 of the fastest, most athletic humans in the country ping-ponging across the football field at full speed. You don't want to make a habit out of it, but it happens.
There've been a lot of questions whether Ty has the physique to hold up over an entire season. Do people not realize Montgomery has 15 pounds and 2 inches on recently drafted "pounder" Jamaal Williams?
Runners set their own course. As Vic pointed out in Monday's column, Maurice Jones-Drew is the perfect example of that.  You don't need to be 6-0, 235 to be a pounder. If you run with the right amount of power and aggression, you can pound the football between the tackles.
"How can a 212-pound running back be a banger?" Which weighs more, a pound of lead or a pound of feathers? It's not only the weight, it's also the density.
Loved the Jamaal Williams Q&A. Seems like a really fun, down-to-earth, genuine guy. I'll miss Eddie's personality on this team for sure, but I'm excited to get to know the new guys like Jamaal coming in.
The Packers made the right move in drafting two backs in 2013 to improve the running game. While Johnathan Franklin sustained an unfortunate injury, Eddie Lacy paid them back immediately for the investment. They didn't draft a running back until the third day this time, but this seems like a callback to that philosophy four years ago – Bring in three legit prospects and see what happens.
Braden from Brookfield, WI
Hypothetical, a team's starting QB goes down with an injury. Hundley performed well in the preseason and this team is interested in trading for him. How comfortable are you in letting Hundley leave?
It depends on the compensation. If I'm the Packers, I'm in no rush to trade Hundley, who's under contract for two more seasons. Each day Hundley spends with Aaron Rodgers and Alex Van Pelt benefits all parties involved.
Do the rookies stay in GB after orientation, or do they go home until they are required to come back?
In my quick polling of rookies, it sounded like most were heading home. That's not uncommon. Most of these guys have been through a whirlwind over the past few months. This next week gives them a chance to collect themselves and their belongings. Once they get back, it's all football.
After how many years of NFL experience are players no longer eligible for the practice squad? I'm guessing the Packers will lose a player or two this season.
You maintain your eligibility until you've been on the game-day roster of a team for 10 or more games in a single season. After that, you are only eligible as a veteran exemption. Teams are allowed a maximum of four players with this designation. In the simplest terms, it covers any player who hasn't appeared on the game-day roster more than 32 times in the regular season. Practice squad is tricky. I remember Scott Tolzien not thinking he was eligible in 2014. However, he was eligible because he'd never appeared on the game-day roster during his two seasons in San Francisco.
Do those drafted get an immediate bonus so they can survive until the first regular-season game? What about the undrafted guys?
Every rookie who is drafted gets a signing bonus. College free agents also receive a small bonus in most cases. Players also receive a stipend for each day they participate in the offseason program.
Mark from Stewartville, MN
Will the Packers' offensive line be OK without T.J. Lang?
It won't be easy to replace Lang as a player or a leader, but the Packers have given themselves plenty of options with Jahri Evans, Kofi Amichia, Don Barclay, Kyle Murphy, Lucas Patrick and a promising collection of rookie free agents. Having four returning starters still gives Green Bay plenty of confidence the offensive will remain a strength.
Wes, in regards to Kevin King being the "total package," he wouldn't be the first. The last player to wear 66 before it was retired was Larry Pfohl, aka Lex Luger, the total package.
Don't think for a second this didn't cross my mind after Hardy Nickerson said it. Afterward, I immediately began re-watching old WCW matches.
Alan from Albuquerque, NM
Does the Packer rookie orientation and team indoctrination differ much from the rest of the league?
Every team handles rookie orientation differently, but history is a big part of the presentation in Green Bay. I actually was talking to former Packers running back Gary Ellerson about it during the on-field work Friday. He told an interesting story about how Forrest Gregg brought the rookies to Fuzzy Thurston's place in town after rookie camp was completed, and introduced them to Fuzzy, Jerry Kramer and Tony Canadeo. Preparation is important, but so is understanding franchise history because, hey rookies, you're a part of the legend now.
Justin from Powhatan Point, OH
Insiders, regarding the open guard position, McCarthy stated earlier this year that Spriggs will not be playing guard. However, he did not say Bulaga wouldn't be playing guard. I have a hard time believing Thompson traded up to get Spriggs to have a quality swing tackle.
He actually did say Bulaga wouldn't be playing guard. The tackle posts are two of the most important positions on offense. I don't think it's unreasonable to invest a second-rounder in the position to provide depth.
Vic said OTAs are about learning. Makes sense for the rookies. How about the veterans? Sure, you can never stop learning. But at some point the learning changes, from the playbook to...what? What do the veterans learn in OTAs? Learn about the new players/coaches that have joined in the offseason? Learn about the coaches' ideas for the next season?
Every year, there's a handful of adjustments returning players must make, whether it's overall scheme, a drill or general philosophy. OTAs allow veterans to get back into football mode. Jordy Nelson made a good case for that last year. It's one thing to train and prepare, but you need reps to be ready for the regular season.
Looks like we have a UDFA competition brewing for long-snapper and Brett Goode looking in from the outside. Why do we waste a roster spot on this? Is there not a player currently on the roster who can long-snap the ball and play a skill position?
Because the other 50 non-specialists on the roster have other positions they're worrying about 24/7. Long-snapping is an art form and you really see the value of the position if an injury should arise. At best, the emergency backup is passable. At worst, well, you hope it doesn't come to that.
Harold from Los Angeles. CA
Do you think Charles Woodson will go into the HOF as a Packer?
You don't go into the Pro Football Hall of Fame with a team like Major League Baseball. However, Woodson's seven seasons in Green Bay are what catapulted him into Canton. He was Ted Thompson's Reggie White.
Travis from Livingston, LA
With King's and House's strengths being press coverage, could you see the Packers playing more press in the future? Seems like they could have the talent to play physical like Harris and Woodson used to play.
They already play a lot of press-man. I don't know whether King and House are going to make them do it any more than usual. That was pretty much LaDarius Gunter's calling card all of last season.
I'm very excited about Kevin King. I know it may be a little early to ask this but, is there another CB who reminds you of him?
Not really. I know you guys have heard us talk about his size, but you really don't appreciate how tall he is until you're standing next to him. It's rare to find a 6-foot-3 cornerback as fast and agile as King was at Washington.
Frankly, I'm a little surprised that LeGarrette Blount isn't getting more interest from teams. At 6-0, 250 and sub-4.6 speed, that's a moving boulder that cannot be contained. What's the word?
That's the life of a veteran running back in 2017.
Thomas from Park Falls, WI
Do you take the over/under Week 1, Eddie Lacy 118 yards rushing versus GB defense?
Lacy has never run for more than 85 yards in his four previous openers. Take that for what it's worth.
I might be getting ahead of myself, but if Taysom Hill shows the ability to develop into a starter one day, do you think he could be the heir apparent to Aaron Rodgers?
Let's see the guy throw the football a little bit before we start forecasting his future. He has great size, speed and measurables. We'll find out the rest this summer.
Great Fletch quote! "It's all ball bearings these days. You boys need a refresher course."
As I told Spoff on Friday, I need to see "Fletch." I'm embarrassed to say those brilliant one-liners are lost on me.
Steve from Broadstairs, England
I am looking to buy a new jersey for the upcoming season. I already have an Aaron Rodgers one. Any suggestions?
I hear Spofford jerseys are quite popular. Am I right, Jerry?