Vic, can you explain the difference between a player's cap number and his salary?
His salary is the compensation for which he is being fully paid in the current year, and 100 percent of his salary appears on that year's cap. His cap number includes his signing bonus proration, which might have been paid in full in a previous year.
Richard from Lake Havasu City, AZ
Vic, the way I see it, teams like the 49ers and Seahawks are good for the Packers. Why? Because they're going to push everyone to be a better team.
The 49ers and Seahawks are setting the bar very high for the other teams in the NFC. They are the standard and if you have to go through them, then you need to be able to play their kind of game, which is what I call "Big Boy Football." We saw evidence of that this weekend. The Saints and Panthers each began the game with hits that were flagged for personal fouls. The Saints and Panthers wanted to let the Seahawks and 49ers know right from the start that they were going to play "Big Boy Football." By the end of the game, however, it was obvious they each need a few more big boys.
Vic, can we stop talking about how bad of a play caller McCarthy is because he didn't try to run it in from the 9-yard line? I watched the 49ers stone the Panthers, arguably one of the league's best rushing teams, not once, not twice, but three times inside the 5. Perhaps, the old ball coach knew what he was doing when he didn't go jumbo and try to pound it in?
The Panthers' self-esteem suffered a massive blow when they couldn't pound it in. That's what power teams do to you. They make you feel bad about yourself.
After watching Carolina, Seattle and San Francisco again this weekend, one glaring observation jumped out at me: The Packers don't have anywhere near the team defensive speed these teams do, and all three of those teams bring a whole lot of nasty to the point of attack. What do you think?
They have more speed on defense than the Packers do. It's a speed game on defense. Fast defenses are good defenses. Draft more speed.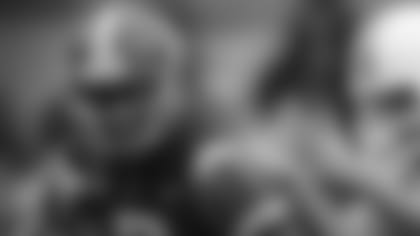 Alabama S Ha'Sean Clinton-Dix
Roland from Glen Cove, NY
Vic, I know it's probably too early, but if Clinton-Dix is available at 21, wouldn't this be a perfect marriage of need and value?
Judging by the runaway volume of emails proclaiming Ha'Sean "Ha Ha" Clinton-Dix the perfect fit for the Packers in the first round of the draft, he is clearly the early leader for the "What If His Name Was Otto Schmidlap?" award. I would also say that it's Jan. 13, a week before the Senior Bowl begins, in a year in which the draft is being pushed back to May, so I don't think we need any groundswell campaigns for Clinton-Dix at this time. Easy, everybody, easy.
Dave from Culver City, CA
Vic, another team holds San Francisco to 23 and can't manage to turn that into a win. For the most part, the playoffs have been low-scoring affairs. Considering all the changes in the league that cater to the offense, does that surprise you?
I don't agree with your viewpoint. The Chiefs-Colts and Colts-Patriots games were not low scoring. The 49ers-Packers game had a lot of yards, 662, in it for a game played in near-zero temperatures. Saints-Eagles produced 50 points and 690 yards, Chargers-Bengals produced 757 yards and yesterday's two games were each over 600 yards of offense. Those games were played at just about the league average for yards gained. One thing you must take into consideration is that we've only had one game played in a dome in these playoffs. This is an outdoors playoffs and several of the games have been played in conditions that favor defense. The AFC title game will likely be a showdown of offense. I think you're reacting to the two teams in the NFC title game. They each have powerful defenses, but I think there's a big difference between the Seahawks and 49ers. The Seahawks, in my opinion, are a defense-only team; the 49ers have a powerful offense loaded with big-time weapons. The 49ers elect to play low-scoring games because that's the style of play Jim Harbaugh favors, plus, his young quarterback isn't a gunslinger type, yet. Harbaugh wants to win the battle of the line of scrimmage, dominate time of possession and play to the strength of his defense. I think the Seahawks almost have to play that way. The stats don't support that opinion, but that's what my eyes see.
The Packers have tried draft and develop and it has gotten us a defense that has been ranked almost dead last in the last three years. Whatever they are doing, it's not working. How do they get better?
First of all, let's get the facts straight: dead last in 2011, 11th in 2012 and 25th in '13. The Packers defense bottomed out in '11 and required rebuilding. I think it's fair to say it's still in that rebuild mode, and it was set back a little this past season with injuries to a few of those rebuild players, such as Casey Hayward and Jerel Worthy. How do the Packers get better? By continuing to add talent and patiently developing that talent. That's not what you wanted to hear, is it? You want me to say they should sign some expensive free agents and commit all of their resources and a considerable chunk of their salary cap future to big-name, free-agent acquisitions. You've come to the wrong column for that opinion. Rob, take a look at the 49ers and Seahawks defenses. Patrick Willis, NaVorro Bowman and Aldon Smith are all draft picks. The 49ers have been assembling that defense over a long period of time. Along the way, they added Justin Smith in free agency. They could do it and not kill their cap because they've got a quarterback playing on his rookie contract. Earl Thomas, Kam Chancellor and Richard Sherman are all draft picks by the Seahawks. They were able to add Cliff Avril and Michael Bennett in free agency because the Seahawks also have a quarterback playing on a rookie contract. The Packers don't have that luxury and, soon, the 49ers and Seahawks won't have it, either. For the Packers, draft and develop isn't only a choice, it's a necessity.
So if I'm correct, the Panthers ranked near the top in total defense, run a 4-3, have one of the best young linebackers and a good rush end, but lost to the 49ers. Should they change to a 3-4 or fire the defensive coordinator?
Expectations aren't as high in Carolina. They're very pleased to have enjoyed the kind of season they had, and their hopes are buoyed by the team's prospects for the future. Expectations are a mood killer. Maybe we should temper ours.
Colin from Sioux Falls, SD
What do you think of the new Pro Bowl draft? Why were zero Packers voted in this year?
I'm trying not to know anything about it. The Packers didn't have any players selected to the Pro Bowl because Aaron Rodgers and Randall Cobb missed too many games to be selected.
Vic, I went on the ESPN website and saw a poll asking what the best rivalry in football is. I was astounded to see the 49ers-Seahwaks had five times as many votes as Bears-Packers. I thought rivalry came with tradition, not what's the most exciting game at the moment.
Football fans live in the present. Everything now is bigger, stronger, faster, better. Seattle-San Francisco is the game's hot-new rivalry.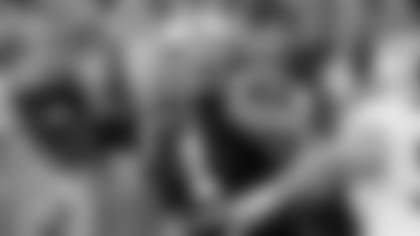 Panthers QB Cam Newton
Vic, after watching the 49ers destroy the highly ranked Carolina defense, it makes me appreciate what the coaching staff and players did in our playoff game. With all the injuries, we stood toe-to-toe for four quarters and could have won that game. That's much more than the Panthers can say. I look forward to a fun offseason getting the Packers in position for a Super Bowl run in 2014. Clearly, they have closed the gap on the 49ers and I look forward to a big season.
I think you're being a little harsh on the Panthers. That was their coming-out party. The Packers aren't going to be chasing the 49ers and Seahawks only; the Panthers are also going to be a force for the future in the NFC.
Would you use the transition tag on any of our free agents this year?
I don't like the transition tag for retaining players. In my opinion, when you use the transition tag, all you're doing is allowing your competition to negotiate a contract by which you have to live. The intent of the transition tag is to allow teams and players to find out what a player's market value is. In nearly every case, they find out somebody is willing to overpay. Why use it?
Well, no surprises in the final four. I like SF to beat Seattle, then Denver. Who do you like?
Nate from Daufuskie Island, SC
Vic, I loved watching the way the Patriots beat the Colts with their running game. Granted, the Colts have a soft run defense, but I couldn't help but think this was a preview of the kind of offense the Packers can have next season.
Bill Belichick is an amazing coach. He might be the best football coach of all time. Imagine the boldness and discipline of committing a run-the-ball game plan when your quarterback is Tom Brady. I don't think my opinion of Belichick has ever been higher. I acknowledge that he was 5-13 and on his way to being fired when he made Brady his quarterback, and that Belichick's success is largely a result of Brady, but great coaches get the most out of the talent available to them, and nobody has been better at that than Belichick. By the way, I've always viewed "Ask Vic" as a travelogue, and Nate comes to us from one of the most beautiful places on Earth. I recommend researching it. I didn't know y'all had TV on Daufuskie.
Thoughts on three out of four teams that had the bye week winning and moving on?
Noise didn't work for Carolina. Seriously, I'm going to have to mute the two title games. The constant howling is giving me a headache, and I can't bear to hear Peyton Manning say "Omaha" one more time.
Vic, why can't we get the right players for Dom's 3-4 scheme? We almost always score enough points to win, but we cannot stop the other team with our defensive personnel.
In the NFL, teams have to wait in line to pick their players, and the Packers have been at the back of that line for a long time. When that happens, it often takes longer to get the players you need. You have to do what you can with what you have. Belichick is the best at that. LeGarrette Blount came to the Patriots in a trade that returned little to the Bucs. Blount is scheduled to become a free agent in March so, in effect, Belichick was renting a player for a year. When you're capped out, you have to be very good at identifying and acquiring talent in ways other than the draft. Blount is a home-run acquisition for the Patriots, but they'll likely lose him and have to do it all over again. It's not a formula with which most teams would find success. Is it Belichick, or is it Brady? Maybe it's both.