The Packers quarterback was named NFL MVP for the third time in his career on Saturday night, becoming just the sixth player in NFL history to win the Associated Press award three times.
Rodgers, 37, accomplished the feat after throwing for 4,299 yards, a career-high 48 touchdowns and only five interceptions. His 121.5 season passer rating is second to only his 2011 campaign when he fashioned an NFL-record 122.5.
So how did Rodgers do it? Here's a look into how Rodgers and the Packers navigated an uncertain 2020 NFL season to turn in one of the most decorated quarterback seasons in league history.
Rodgers came out sharp during training camp, delivering the ball with a little more power and precision in the first week of training camp following a league-mandated ramp-up period in response to the COVID-19 pandemic. Rodgers was finally asked about his strong start after successfully leading a two-minute drive at the end of practice on Aug. 24, completing 6-of-7 passes to set up Mason Crosby's "game-winning" 47-yard field goal. While he declined to go into specific detail at the time about the secret to his summer success, Rodgers felt it had something to do with a recent film session from the 2010 season.
Rodgers: "I felt like the last couple days have been pretty good for me. We were watching some old film of some of the cutups. As we do the installs, we'll put some film alongside it. And I just noticed something from a clip from 2010, actually. It kind of hit me. I know it was 10 years ago, but the next day I went out to practice and started working on what I saw on the film, and the last couple of days kind of happened."
Matt LaFleur, Packers Head Coach: "I think (Luke) Getsy found some old clips of a certain play and implemented those into the cutups that we were showing the guys. I'm not exactly sure what he saw but I like how he's playing right now."
Getsy, Packers quarterbacks coach: "Fortunately, I was able to be here before and know that system, too, so I was able to kind of reflect and compare some of those things."
Davante Adams, Packers receiver: "There's a certain type of look in his eye he has … As soon as we leave a meeting, he's popping headphones back on. I don't know what's he's listening, too, but whatever it is, I need to listen to that as well."
Tim Boyle, Packers quarterback: "This is probably the best mood I've seen him in training camp. Not that he's been in bad moods, but he's spunky, he's throwing jokes around. I think part of it is the comfort level of the offense."
LaFleur: "He is very decisive, and he is letting it rip and he's throwing extremely accurate. He's playing with a lot of confidence."
Mike Zimmer, Vikings head coach: "I've been watching Aaron for way too many years, and some of the things he does, I just have to stop the tape and it kind of takes your breath away. … Everything's going to be a little bit easier for him, just like it basically is for us in the second year of the system. So, I would anticipate big jumps."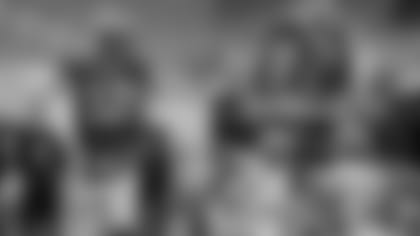 The jump was substantial. Rodgers threw for 604 yards and six touchdowns in back-to-back wins over the Vikings and Detroit Lions to open the regular season. As a team, the Packers joined the 1991 Buffalo Bills (87 points, 1,119 yards) as the only teams in NFL history to register at least 85 points and 1,000 total yards in the first two games of the season, according to Elias. The Packers would go on to start the year 4-0, while Rodgers completed 98-of-139 passes for 1,214 yards, 13 TDs and zero interceptions for a 128.4 passer rating. In doing so, Rodgers became just the third QB in NFL history (Peyton Manning and Patrick Mahomes) to have 1,200-plus yards, 13-plus passing TDs and zero INTs through the first four games of a season. Statistically, Rodgers had his best performance of the year in a 30-16 rout of the Atlanta Falcons, completing 27-of-33 for 327 yards and four touchdowns, three of which went to third-year tight end Robert Tonyan.
Adams: "Everybody was trying to say he's back to being the old A-Rod. I see that old A-Rod, whoever that is, daily. … Knowing what type of competitor he is, I guess I knew far ahead of time."
Tonyan, Packers tight end: "Before the season, I already knew it was going to happen. I already knew it was going to happen. That's all I've got to say."
LaFleur: "He wants to be the best and usually he is the best every Sunday when we're out there. Again, we're fortunate to have him as our leader. He's the one driving the ship out there."
Crosby, Packers kicker: "Every time I think we're in a situation where I'm gonna go out there and kick a field goal, he seems to keep finding ways to get that ball in the end zone."
Rodgers: "The stuff I did mentally this offseason that was really good, just developing my own personalized practices and disciplines to get myself in the right head space mentally, that's helped out on the field being even more relaxed than usual."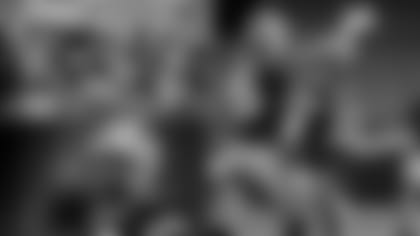 An exceptional start quickly grew into an exceptional season. Only twice in 18 games (including playoffs) did Rodgers register a passer rating less than 100. But it wasn't just his passes that set the tone for Green Bay. It's how Rodgers went above and beyond to provide leadership to a young team, whether it was being jovial in practice or speaking out in the locker room.
Marcedes Lewis, Packers tight end: "Whether it's in meetings, practice or before the games, whenever we hug each other before each of those situations, it's, 'Let's go lead. Let's lead from the front, lead the right way.' And just the way he goes about his business, I respect him so much."
LaFleur: "His voice carries a lot of weight in that locker room."
Allen Lazard, Packers receiver and former undrafted free agent: "He was kind of always giving me a few tips here and there, always kind of encouraging me, said he really appreciated my game a lot, so just hearing that … was huge for a boost of confidence."
Tonyan: "(He was) super reliable and approachable to guys who wouldn't normally want to come up and talk to Aaron and get advice from Aaron. He's just a good dude and a great leader."
David Bakhtiari, Packers left tackle: "I see it all the time. It's nice and refreshing to see that he's more comfortable letting everyone else see his more lighthearted side. His sharpness, that's the Aaron I know, it's the Aaron I've become accustomed to. That's the standard for him. I expect nothing less of him."
Corey Linsley, Packers center: "He's really the guy leading us and keeping our eye on the prize … because he has that wisdom. He knows what it takes to get there. He knows what it takes week in and week out to continue on that journey."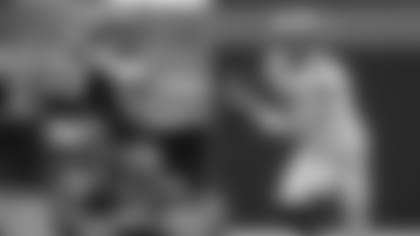 There was a lot on the line when the Packers traveled down to Soldier Field for their regular-season finale against the Chicago Bears. Green Bay was looking to claim the No. 1 seed in the NFC playoffs for the first time in nine years, while Rodgers looked to put the finishing touches on an MVP season. Neither the Packers nor their quarterback left any doubt. Rodgers threw for 240 yards and four TDs to power Green Bay to a 35-16 win over the Bears. It marked the first time the Packers had won 13 games in back-to-back regular seasons in 23 years.
Adams: "The MVP should be locked up. There's nothing else to really talk about. You look at what we've done and what he's been able to do, and they've hit him with everything. Said he didn't have any weapons, and we go out there and go 13-3 regular season."
Bakhtiari: "You look at his numbers, you look at his efficiency, you look at his decision-making, you look at how he brings up everyone on the offense. I see him every day, going in and out, I don't think there's a smarter guy in the NFL. … For me, 37 years old, you're balling, man. What more do you need? Look what he's doing."
Lewis: "I don't know if I've been around more of a complete player at that position, ever, in my life. Not just what he can do physically on the field but how he approaches the game, how he carries himself around the building, how he treats people, just his mentality."
James Jones, former Packers receiver and current NFL Network analyst: "When I'm watching him this year, it looks like I was watching a 22-year-old Aaron Rodgers, man. Just how he was delivering the ball, all the different arm angles he's still throwing the ball with."
LaFleur: "I will say that this is as good as I've ever seen anybody play, just his ability to go out there and get us in the right looks and shoot, even, you know, when I make a bad call he definitely makes us look good. In my eyes, he's an MVP player. No doubt about it. And I wouldn't want any other quarterback on our football team."
Nathaniel Hackett, Packers offensive coordinator: "He's been out on a mission. His ability to focus and be serious and make sure everybody's doing the right stuff, holding everybody accountable. But at the same time, he's still enjoying it and having fun."
Rodgers: "(It's more) just proving to myself again the level I can play at after a couple of years where I felt like I played well (but) the results didn't always line up with how I felt I was playing. It's nice to have everything line up."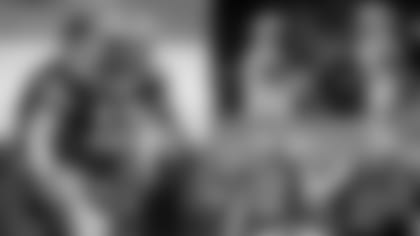 Rodgers threw for another 296 yards and two touchdowns in the Packers' 32-18 win over the Los Angeles Rams in the NFC Divisional playoffs. He'd throw for another 346 yards with three TDs and one interception the following week in the NFC Championship Game against Tampa Bay, but Green Bay fell short 31-26 to bring the 2020 season to a close. Rodgers' three touchdowns made him the first player in NFL history to throw multiple TD passes in nine consecutive postseason games, while he tied Brett Favre for third all-time with his 44th career touchdown pass in the postseason.
Linsley: "I told this to my wife, I'm going to tell my kids one day, 'Do whatever you want but if you don't got it, you're not going to be Aaron Rodgers.' Just watching him work and seeing someone who is ridiculously gifted and has the passion and the determination, the desire to want to be great as well and have that all culminate into one guy, it's been pretty amazing. I'll be thankful for that."
Lucas Patrick, Packers guard: "When you lose like this, these ones sting pretty bad. I can't thank Aaron enough for what he's done for my career. I definitely wanted to go out there and win it for him. Just got to reload and come back next year and hopefully do it for him. That man's a good leader, he's a good person."
LaFleur: "The guy's the MVP of this league. He's the heart and soul of our football team. So, hell yeah, he better be back here. He's our leader. Just so appreciative of him buying into what we're trying to get done around here and leading that group."
Two days after the NFC title game, Rodgers made his usual Tuesday appearance on "The Pat McAfee Show." In wrapping up the 2020 season, McAfee asked Rodgers about what exactly it was that he saw from his old practice film last summer. The secret? Rodgers sinking into his hitch at the top of his drop-back. Due to a series of knee and leg injuries, Rodgers realized he hadn't been putting as much weight on his knee when he stepped into his throws. Working with his trainers in California and the strength-and-conditioning staff in Green Bay, Rodgers began squatting more to strengthen his legs and regain trust in his knee. What followed was a return to his MVP form.
Rodgers: "Part of the reason I got back into squatting was because I wanted to build that thing back up so I could put a ton of weight and pressure into that knee and those legs. Because the deeper I was sinking into my hitches, the more on-time I was throwing the ball. I really just saw how much of an emphasis I was doing that in 2010, 2009, 2011, and what that was allowing me to do was I was throwing the ball on time. In all these games I was watching, my timing was very, very good. It was literally the entire route tree and concepts, I was able to perfectly hitch to them and that's why I felt I was so accurate. From that point forward, I really watched a few of those things, and the next day I went out and worked on them, and things just started clicking. It was kind of like a daily reset for me to just really feel into those feelings that I hadn't had, and I started realizing with confidence that the leg strength that I had 10 years ago was back."
On Saturday, Feb. 6, 2020, Rodgers accepted his third MVP award through a video message during the NFL Honors ceremony held inside an empty Sofi Stadium in Inglewood, Calif. Along with thanking his teammates, coaches and everyone who helped him reach this point, Rodgers used a portion of his 1-minute allowance to reflect on a season unlike any other.
Rodgers: "It's an honor to win this award for the third time. 2020 was definitely a crazy year filled with lots of change, growth, some amazing memorable, moments. One-hundred eighty days of having my nose hairs scraped, playing for very little fans or no (fans) the entire season. I got engaged and I played some of the football of my career. ... I just encourage people to read books, to meditate, speak things to life, manifest the desires of your heart, question everything, and spread love and positivity. Thank you so much. Peace and love. Good night."