Tom from West Palm Beach, FL
I was surprised at how successful Rodgers was passing the ball, given our injuries at WR and Joe Haden being assigned to Jordy Nelson all afternoon. Was Rodgers' success a result of the Browns stacking the box against the run, or did guys just step up and make plays?
Aaron Rodgers' success is a result of Rodgers' talent. He is a huge talent. I saw him on a couple of occasions yesterday make a subtle move up or sideways in the pocket, causing big, athletic men to fly past Rodgers as though they were deflecting off an invisible shield. Yet, Rodgers never took his eyes from downfield and he was completely relaxed as all of this was happening. I've never covered a quarterback who possessed more courage in the pocket. This is a special player and he's playing at the highest level of his career.
Kumar from San Antonio, TX
Vic, long time reader here. After seeing the hit on Jermichael Finley, I can't help but think we need to do more about player safety. There must be an alternative that protects players from freak accidents and deters them from hitting the way they do now.
The safeties must be removed from the deep middle of the field. They have to be repositioned because it is the hang-back, run-up hit that is threatening the future of the game. My suggestion has been and continues to be a rule that requires all defensive players to be within at least 10 yards of the line of scrimmage at the snap of the ball. Why? Because we have to get the safeties turning and running with the receivers, instead of hanging back and waiting for the receiver to arrive at the collision point. This simple change, in my opinion, might be a game changer. It would eliminate the Jermichael Finley-type injuries.
LB Jamari Lattimore
Ted seems to have a good feel for inside linebackers. Jamari seemed to play really well again.
Jamari Lattimore has been a jar on the shelf. Yesterday, he led the Packers in tackles. He also had a sack, a tackle for loss, a quarterback hurry and a pass defensed. This is why it's a young man's game. When you develop a young player, his arrow is almost always pointing up when you need him, as opposed to a stop-gap veteran who's just trying to get another paycheck.
Vic, early this preseason you said on several occasions that this Packers team is "loaded with talent." Are we starting to see the look out or is it too early?
Randy from Medicine Hat, Alberta
"The thing I've learned about playing this game is that football is about men that go out and take what they want," Marcedes Lewis said after the Jags lost 24-6 to the Chargers. I wondered if the players read your articles; now I know they do.
That's not what it is. "Take what you want" is a football mindset. Coaches don't want their players to play with the attitude to "take what they give you." That's media talk. Coaches want their players to impose their will, and that's what Lewis is describing. Good teams win the physical confrontation, and that's what allows them to win the play-calling battle, too.
I could feel your anxiety all week with the mounting injuries. All I could think was what a perfect time to deal with them, considering we are hitting the easy part of the schedule.
You're perceptive. I couldn't help but think the Packers might have hit the injury saturation point. They were without their two featured pass rushers, their most versatile offensive player, and a star wide receiver. The Packers' response erased all anxiety. That game was over early. I thought the Packers were better prepared and played with much more energy than the Browns did. I continue to be amazed at the Packers' ability to overcome injuries. This is a fantastic coaching staff, and it must also be acknowledged that Aaron Rodgers is the guy that makes it possible to plug players in and not suffer a setback.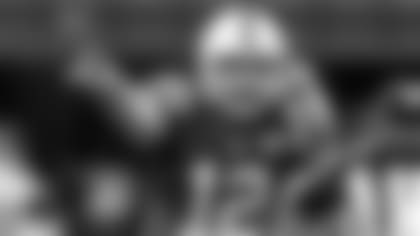 Colts QB Andrew Luck
Are the Colts the team to beat in the AFC? They have knocked off the Seahawks, 49ers and now the Broncos. They seem dangerous. Your thoughts?
Yes, I believe the Colts are the team to beat in the AFC. Andrew Luck outplayed Peyton Manning last night, and in the "House Peyton Built." Chuck Pagano and Ryan Grigson have done masterful work in re-tooling that defense. The Colts have a very favorable schedule the rest of the way. They could be a look-out team.
Vic, is it really necessary for a defender to hit a player who is on his way to the ground with another defender on his back?
No, it's not necessary, but it's football and it's meant to be played all-out to the whistle. Football is a physical test. It's a king-of-the-hill, survival-of-the-fittest game. That's its charm and its allure and if we take that from the game, it'll surely die. The challenge the administrators of the game face is to allow that kind of all-out physical aggression without promoting unnecessarily dangerous consequences. How can it be done? That's the question that has to be answered.
I have a few questions about the pictures quarterbacks see on the sideline in between each series. How immediate do they get those? When they come off the field, are they looking at the pictures from that drive that just ended? If so, how do they get them to the sideline so quickly? Do they have a printer on the sideline?
They are pre-snap and at-the-snap pictures that allow quarterbacks to confirm what they saw at those particular times. The pictures are shot in a team's video booth and each team has a printer on its sideline that allows for immediate access.
Vic, I was only able to watch the last half of the fourth quarter, but I really got excited by what I saw out of the young defense in that time. I get a better feeling about this win than I did for the Baltimore game. How about you?
I was a little stunned by the Packers' emotional reaction to their win in Baltimore. Yeah, the Ravens are the Super Bowl champs, but I didn't see the same powerhouse Ravens team I had come to expect of them. I was more impressed by the Packers' performance against the Browns. I think the Browns are a better team than they showed yesterday, and I think the Packers are responsible for the Browns not having played very well.
Simon from Mountain View, CA
Is Jarrett Boykin really that good?
He might be that good, but I'm absolutely sure the guy throwing him the ball is that good.
Nick from Springfield, MO
Is it safe for me to make the statement that even though the season is still young, this Packers team looks like the most well-rounded team we've had in a long time? Good defense and a running game isn't as flashy or fun to watch, but I am loving the look of this squad, minus the injuries.
It's the best Packers team I've covered. It has a higher ceiling than the other two.
I must say that I have a new appreciation for the tenacity of Mike McCarthy's play calling. Keep passing!
Clearly, Coach McCarthy's game plan was to attack early. I think he wanted to make sure his team stayed aggressive in the face of injuries. The Packers threw on each of their first seven plays of the game. They got a 14-0 lead and, in a manner of speaking, turned the game over to their defense. I think the Packers caught the Browns flat-footed.
These Packers are starting to look like a completely different team. I think the transition is nearing completion and the injuries might have helped a little. The defense is playing well and I love the way we're pounding the football. Once we get a few key players back from injury, look out.
As I wrote in my "10 things" editorial, injuries will focus a team, and I think that's exactly what happened for this game. When a team loses star-quality players to injuries, its healthy players can't depend on someone else to get it done, they have to get it done. Injuries promote accountability. Coaches can really sell the do-your-job mindset and I think that's what McCarthy's staff did last week.
Leonardo from Las Vegas, NV