Kelvin Bell was on the recruiting trail recently when the Iowa defensive line coach pulled up Lukas Van Ness' Hudl highlights from his glory days at Barrington (Ill.) High School.
At first, you might think Bell centered his attention on Van Ness' pass-rushing prowess, digging beneath the surface in search of hidden traits on film that hinted at his pupil's collegiate dominance.
But that's not what interests Bell the most. When reviewing the tape, what Bell really appreciates is the effort put forth by the gangly kid playing left tackle for the Broncos.
Not because it increased Van Ness' college prospects or added any stars to his Scout.com page. Van Ness was there because that's where his football team needed him to win.
"He's playing both ways, wearing the neck roll and that No. 77," Bell said. "That's something that gets lost in recruiting and really when you're talking about the evaluation of football players. Because everyone wants a position now. Nobody wants to be the best football player they can be."
The first thing to know about Lukas Van Ness is he was a competitor before he was a 6-foot-5, 272-pound football prodigy whose physique earned him the nickname "Hercules" at the University of Iowa.
Positional labels have never defined him. Start him or bring him off the bench, line him up inside or outside, Van Ness is going to blaze a path to the quarterback. No gripes. No complaints. Just grit.
As much as unreal measurables and a lightning-quick first step led to the Packers using their first-round pick on Van Ness in April, the 21-year-old pass rusher's versatility, patience and coachability may be the strongest assets in an expensive toolbox.
"He possesses everything that we're looking for. His height, weight, speed – all those tangible things," said Jason Rebrovich, Van Ness' position coach in Green Bay. "He's very open and he's played multiple positions when he was in college, so he has a lot of good background with the things we're asking him to do early on."
Still, this was no overnight success story. Van Ness' ascension has been a slow, relentless grind. His three-year journey from three-star recruit to the 13th overall pick is a mere snapshot of a much larger portrait.
And it's only just beginning.
"For me, I'm just blessed," Van Ness said. "This is an awesome opportunity for me to be here as you mentioned and every day I'm just coming in and putting my head down and trying to work."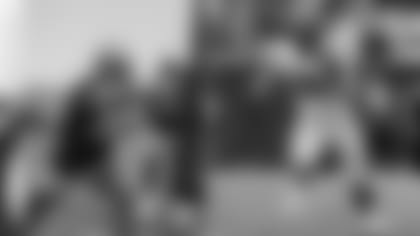 Beginnings of the beast
In fact, hockey was his first love. He wore skates by the time he was only 3 and struck an imposing stature at 6-foot, 5-inches tall in high school.
His size discrepancy over his peers was even more pronounced whenever he put on his skates and Van Ness played to his size. An enforcing defenseman, Van Ness racked up 235 minutes in penalties over three high school seasons.
It wasn't intentional or devised. It was just the nature of the beast, being occasionally a foot taller than his competition. For a kid his size, Van Ness also had remarkable balance.
"(Hockey) taught me to use my eyes, use my vision, trust in what I'm seeing," Van Ness said. "I have size-17 feet. I was carrying some boats around as my skates. It was almost like I had five-pound weights skating around, getting good conditioning, so my motor, my effort, physicality, all that I believe came from hockey."
Van Ness' love affair with football began his freshman year and eventually took hold as his primary sport. As Van Ness learned, he just loved to compete. It didn't matter where he played.
As a senior, Van Ness recorded 67 tackles with 17 pressures and five sacks, and Iowa proved to be a perfect fit to play at the next level.
"I was a little bit of an under-recruited guy, undersized. I felt like the strength program would develop me into an NFL-caliber player." Packers LB Lukas Van Ness
While Van Ness' parents, Jason and Leanna, both attended Iowa State, what Lukas remembers the most from his childhood is his dad bringing him to an Iowa football game. The experience of touching helmets as the players passed by left an indelible impression on him.
Van Ness had the frame the Hawkeyes look for in pass rushers, but he walked on campus around 220 pounds. He spent his redshirt season entirely in the weight room, following the same plan of similarly built Iowa pass rushers, Chauncey Golston and A.J. Epenesa, before him.
"I was a little bit of an under-recruited guy, undersized," Van Ness said. "I felt like the strength program would develop me into an NFL-caliber player.
The weight room is the lifeblood of Iowa's football program. It's also where the path to the NFL began for former Packers Bryan Bulaga and Mike Daniels, who also were late-bloomers coming out of high school.
"Honestly, if Lukas Van Ness is the Lukas Van Ness that he is right now coming out of high school, he's going to Ohio State," Bell said. "He's going to Alabama. He's going to Georgia. He's not coming to Iowa. We have to be able to find those frames and those guys who are willing to do the grit-and-grind work to become the best version of themselves."
And Van Ness did, reporting back in the fall around 260 pounds. His willingness to play left tackle in high school was reflected in how he didn't bat an eye at the idea of lining up as an interior defensive tackle rather than an edge rusher as a freshman.
Van Ness got off to an impressive start, recording four sacks in his first four college games. He was in Bell's office on almost a daily basis – asking questions about the defense, his assignments and what he needed to work on.
"No one met with me more than Lukas Van Ness," Bell said. "That's why he was able to contribute early on at a position where a lot of people say, 'Well, he's not supposed to play there.' Well, he played there."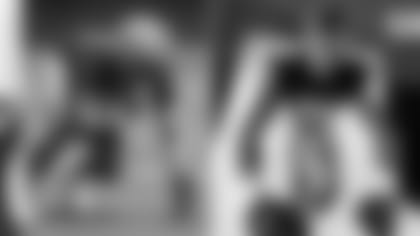 The breakout…and then breakout
In the week leading up to Iowa's rivalry game against Nebraska, a nasty flu bug swept through the Hawkeyes' locker room and wiped out most of the team.
Tyler Goodson was one of the lucky ones. The current Packers running back was one of the few healthy Hawkeyes that week, quarantining at his girlfriend's house to avoid illness.
Days from the game, there were questions about whether the teams would even play.
"I thought we were going to cancel the game," Goodson said. "But pretty much everybody came back. I don't know how. It was a miracle."
Indeed, most of Iowa's roster rebounded to make the trip to Lincoln, but a week filled with adversity and Theraflu created a backdrop for a sluggish road start. The Hawkeyes fell behind 21-6 midway through the third quarter and swapped in Spencer Petras at quarterback for Alex Padilla, both of whom battled the flu that week.
As the game moved into the fourth quarter, something crazy happened. After chipping in a field goal, Iowa blocked a punt for a touchdown to pull within five, 21-16. Two plays later, with Nebraska facing a second-and-11 from its own 6-yard line, Luke Van Ness happened.
"It was like 'OK. We got something here.' For a guy to not start, come in and have like seven sacks in a season is pretty crazy to me." Former Iowa RB Tyler Goodson
Lined up at three-technique, Van Ness bullied his way through a combo block from center Nouredin Nouili and right guard Broc Bando to drop Cornhuskers quarterback Logan Smothers for a safety with 9 minutes, 56 seconds to go. It's a play Van Ness considers his coup de gras from his three years in Iowa City.
Iowa tied the game at 21 on its next offensive possession before Petras' 2-yard TD run with 2:56 remaining sealed a 28-21 win, completing an impressive 22-0 comeback in the final 15 minutes, 27 seconds of regulation.
"It was like a lot of games that year – we felt like we had the game won and just ended up letting it slip away," said former Nebraska receiver Samori Toure, who had a game-high six catches for 67 yards in the loss. "Lukas' sack, and the punt block, really turned the momentum. I definitely remember seeing him in that game and just how much of a difference-maker he was."
Goodson had a stellar performance in his own right. He rushed for a career-high 156 yards on 23 carries, highlighted by a 55-yard run that helped set up Petras' go-ahead score late in the fourth quarter.
Standing the on field after the unlikely victory, the soon-to-be All-Big Ten running back had a difficult time processing what he'd just seen. Goodson remembers leaving Memorial Stadium that afternoon with the full realization Van Ness could be special.
"It was like 'OK. We got something here,'" Goodson said. "For a guy to not start, come in and have like seven sacks in a season is pretty crazy to me. I just give kudos to him about the hard work, the dedication and how much of a great kid he is, not just on the field but off the field."
Van Ness' hype train never slowed, as he began playing more on the edge of Iowa's defensive line last fall. Rotating in behind redshirt seniors John Waggoner and Joe Evans, Van Ness developed into a stealth missile whose location opposing offenses couldn't fully predict.
Van Ness recorded 37 tackles (10½ for a loss) and six sacks in 13 games. He also earned Big Ten special teams player of the week honors after blocking a pair of kicks in that game against Iowa State.
"We always knew he had it in him," Goodson said. "He had all the physical abilities – physical, strong, swoll. It's him mentally slowing down and learning how to be a pro and how to carry himself around the building. Once he developed into the guy he is today, he became a beast on the field."
Always pointing up
Throughout his sophomore year, Van Ness was peppered with questions about whether he would turn pro.
After recording four tackles (1½ for a loss) and contributing a sack in Iowa's 21-0 win over Kentucky in the Music City Bowl, Van Ness finally made his decision.
"It was an emotional, special game for me," Van Ness said. "Following the game, I sat down with my parents, my close family circle, and decided I had this opportunity in front of me, and it's been a dream since a young age. I was ready to take that opportunity."
It was difficult for Van Ness to make the call on New Year's Day to tell Hawkeyes coach Kirk Ferentz, defensive coordinator Phil Parker and Bell he was leaving, but the Hawkeyes' program was supportive.
"I'm thinking I have a potential All-American coming back who has a chance to be defensive player of the year in the Big Ten. That's where I thought his trajectory was going in 2023. Now the Packers, they get a chance to get all that." Iowa DL coach Kelvin Bell
Three months later, the bet paid dividends when the Packers phoned Van Ness at his family's home in Fontana, Wis., to inform Lukas he was destined for Green Bay.
In the process, Van Ness became the fifth Hawkeye the Packers have drafted in 13 years and Green Bay's first first-round pick from Iowa since Bulaga started that stretch in 2010.
"On Dec. 30, I look at my defensive line and I'm thinking I have a potential All-American coming back who has a chance to be defensive player of the year in the Big Ten," said Bell of Van Ness. "That's where I thought his trajectory was going in 2023. Now the Packers, they get a chance to get all that. There's where I see it. I think his needle, his arrow is still on the upswing."
Van Ness has yet to put pads on underneath his No. 90 Packers jersey but already has left an impression on his new teammates. Veteran linebackers Preston Smith and Rashan Gary praised Van Ness' attitude, demeanor, and herculean build, with Gary adding, "Van Ness is going to be one hell of a player for us."
From a fit standpoint, Van Ness' background as an across-the-front linemen is desirable in defensive coordinator Joe Barry's scheme. While Gary rehabbed from reconstructive knee surgery, Van Ness rotated this spring with Smith, Justin Hollins, and Kingsley Enagbare.
"I think it's scary when you get a young player like that, to kind of close your eyes and think what those guys will be three, four, five years down the road." Packers defensive coordinator Joe Barry
Once Gary is cleared, Van Ness also could push inside to help as an interior rusher on passing downs – an option Green Bay's defense has lacked since Gary tore his anterior cruciate ligament last November in Detroit.
"When he walks in the room, he's a big man," Barry said. "He's got length, he's got explosion and then you look at the fact he's 21 years old. So, I think it's scary when you get a young player like that, to kind of close your eyes and think what those guys will be three, four, five years down the road when they are 25, 26 years old."
Bell played at Iowa with Packers defensive line coach/run game coordinator Jerry Montgomery, whose son Jayden is a redshirt freshman linebacker for the Hawkeyes. Anytime Montgomery was around, the two old friends would talk about Van Ness' prospects.
Knowing Green Bay's background, Bell believes Van Ness will fit right in with the defense from both a mental and physical standpoint. Two weeks shy of his 22nd birthday, Van Ness can't wait to get going.
"I've been a Midwest boy my entire life, going from Illinois to Iowa and now Wisconsin," Van Ness said. "Just really excited to get up here and learn a little bit of the lay of the land and get my career started."