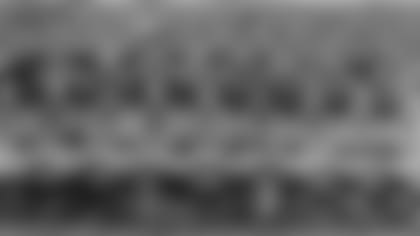 Cliff Christl started gathering oral histories with former Packers and others associated with the team in 2000 and will continue to gather them as Packers historian. Excerpts from those interviews will be periodically posted at www.packers.com.
Bernie Scherer played end with the Packers from 1936-38, serving as a backup on the 1936 NFL championship team. He played for Curly Lambeau and several of his teammates were named to the Pro Football Hall of Fame, including Don Hutson, Johnny Blood and Arnie Herber.
Scherer: "He was kind of an innovator. He never got real close to the players. John Torinus (former newspaperman and later a longtime member of the Packers' executive committee) used to call Lambeau Mr. Hollywood. He was a good-looking guy and he liked women. It was all secretive. Lambeau was sort of a disciplinarian. But he didn't even talk to a lot of guys. When he let a guy go, he wouldn't even call him in the office. He'd send him a telegram and say; 'You're out, good-bye.'"
On what training camp was like in the 1930s:
Scherer: "We'd maybe work out for 10, 12 days, a couple of times a day, then go up to Upper Michigan or somewhere, play an exhibition game and come home. Then we'd practice maybe another four or five days and the season would start. We had a schedule, but we had a lot of fun, too. We'd play touch football and stuff like that. Then when we had two-a-days, we had one early in the morning and one in the afternoon that wasn't too bad. So in the afternoon we were free, and Lambeau didn't want us to gamble and do stuff like that, so Hutson, (George) Svendsen, (George) Sauer and I would all go out to the Oneida Country Club and play golf. They'd let us play free and George Bertrand, who owned the nicest sporting goods store in Green Bay, furnished us all with golf equipment for practically nothing."
On beating Cedar Rapids, 75-0, in a preseason game in 1938 in Ironwood, Mich., (one of the stops this year on the Packers' annual Tailgate Tour):
Scherer: "I never took such a long train ride in my life. On both sides of the track, it was forests. We got to that little town and they just had a semipro team. They didn't have much of a team. Then I imagine once the season started, a lot of those people came down and watched our games."
On the fans in Green Bay:
Scherer:"They were wonderful fans. They were the kind of fans who supported the team all the way. Everybody helped us, the American Legion especially."
On where he lived in Green Bay:
Scherer: "I lived at the (Hotel) Northland. George Svendsen, George Sauer and I were roommates. All we paid was $5 a month. Three of us lived in there for $15 a month. We had three in one of those big sample rooms, where merchants would come in and sell their wares to the people in town. They were big rooms. They had one on each floor. Most of the other guys stayed at the other hotel (the Astor)."
On where the players usually ate:
Scherer: "We ate at the YWCA. All you could eat for 75 cents."
On the locker room at old City Stadium:
Scherer: "Our dressing room wasn't much bigger than the living room in my house. Everybody had a locker, but it was a little, old iron locker. You'd be surprised what us old-timers went through."
On practicing in Central Park before the 1936 NFL championship that was played in New York:
Scherer:"We got on a bus and went up and practiced there. People would come and watch us. Men and women would be walking their dogs and coming and talking to us. That's where we practiced: Central Park."
On the Packers' postseason barnstorming tour after winning the '36 title:
Scherer: "On the way out, we played the Brooklyn Dodgers in Denver in a snowstorm, then we went on to Kezar Stadium and played the Salinas Iceberg Packers, a semipro team, which was a farce. Then we went down to LA and made a motion picture for MGM ('Pigskin Champions,' a Pete Smith sport short) and played a couple of games against the Bears in Gilmore Stadium."
On the financial particulars of the trip:
Scherer: "The Packers picked up our board and room, and gave us spending money. I don't remember what it was, but they gave us good spending money. Most of us stayed at that Hollywood Hotel where George Burns and his wife stayed. The people who promoted it had to give Lambeau a guarantee. Otherwise, we wouldn't show. The same when we made that motion picture for MGM. They gave Lambeau a real good deal and he gave me $1,000. I don't know what he gave everybody else. I don't know what he gave to Hutson. I'm sure Hutson got more."
Scherer: "He was the Jerry Rice of my era. He'd jump up with two guys and get the ball, and once he got the ball, it was his ball. When he hit the ground, he wasn't tethered down. Boy! He was gone. He was just so tricky. He wasn't big, he was just fast and agile, and he ran with a peculiar lope. He was hard to cover."
Scherer: "Nobody knew much about what he did. He was really secretive. But what a handsome guy and a helluva player! He wasn't wild. He was just one of those guys who had a wonderful time and nobody ever knew about it. We'd go out after a game on Sunday -- all go down to the brewery and have a beer, then go eat for 75 cents. Johnny never came. He'd disappear and we'd never see him until Monday. A very talented player."
Scherer: "He was different than the rest of us. He wasn't too educated. I don't know how to describe him, but I don't think he ever had any close friends. He was a drinker and smoker."
Comparing Herber to Cecil Isbell, who played only five years but twice led the league in passing:
Scherer:"They were different kind of players. Herber was a better long passer. Isbell could run better. Herber couldn't run at all. The best of all was Bobby Monnett. He could run the ball and throw the kind of pass you liked to catch. All-around good player. Triple threat. A real good team man and a clutch player. I thought more of him than Isbell or Herber."
On Milt Gantenbein, the end opposite Hutson and one of the unlikely heroes of the '36 title game:
Scherer: "He was always steady and available. He wasn't the kind of guy you would think would be much of an end. He was only about 5-10. But he had a rock of a build. He was real sturdy. He was hard to handle from a defensive point of view, and he could catch passes pretty good for a short guy. He was our defensive captain."
Scherer:"He was one guy who didn't wear a helmet. He thought his hair protected his head better than a helmet."
Scherer died in 2004 at age 91. The above excerpts were taken from three different interviews conducted from 2000 to 2003.